Lucas Di Grassi takes pole in Mexico City
A tense qualifying session for the first race of the 9th season of Formula E saw Di Grassi take pole in Mexico City! Here is how it all played out.
Group A:
The first Qualifying Session in Formula E got underway with Group A going out first.  At the half way point of Group A, Lotterer, Di Grassi, Buemi and Guenther were all in the top 4. Rast, Sette Camara, Da Costa, Vergne  Frijns, Fenestraz and Bird all needed to improve.
Lotterer, Di Grassi, Buemi and Fenestraz all went through to the duels.
Knocked Out in Group A: 
Da Costa, Vergne, Sette Camara, Rast, Guenther, Frijns and  Bird.
Group B:
In Group B, the remaining 12 drivers headed out to the track to try and get in to the finals. At the half way point, Ticktum, Hughes, Mortara and Wehrlein were all through with Evans, Cassidy, Vandoorne, Rowland, Dennis, Muller and Nato all needing to improve in order to get through.
Dennis, Ticktum, Wehrlein, Hughes are all make it through to the duels. 
Knocked Out in Group B: 
Nato, Muller, Rowland, Cassidy, Mortara, , Vandoorne, Evans.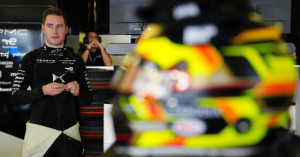 Quarter Finals:
In the first Quarter Finals it was Lucas Di Grassi bs Sebastian Buemi. Di Grassi headed out first. Buemi had an early lead by 0.085 and increased it by 0.163 at the midway point. Di Grassi started to catch Buemi towards the end but Buemi lost time in the final sector and Di Grassi got through by 0.019!
In the second Quarter Final it was Sacha Fenestraz and Andre Lotterer.  Fenestraz went out first and Fenestraz had a very healthy lead by 0.25 but Lotterer was catching him. Lotterer got ahead of him and beat Fenestraz by 0.04 of a second!
In the third Quarter Final it was Jake Hughes and Dan Ticktum.  Hughes went out first and had an early lead over Ticktum. Ticktum started to catch him but Hughes beat Ticktum by 0.134!
In the fourth Quarter Final it was Pascal Wehrlein and Jake Dennis. Wehrlein went out first but Dennis got an early lead. He then built it to over 4 tenths but he got through by only 0.02!
Knocked Out in Quarter Finals:
Buemi, Fenestraz, Ticktum, and Wehrlein.
Semi Finals:
In the first semi finals it was Andre Lotterer and Lucas Di Grassi. Lotterer went wide on the middle of the lap and that put Di Grassi over 1.5 seconds ahead of him. Di Grassi went though to the final after that error from Lotterer.
In the second semi final it was Jake Dennis and Jake Hughes. Jake Dennis went our first but Hughes got the jump on Dennis. Dennis quickly got some more time and started to catch. Jake Hughes had some slides in the final moments of the lap so Dennis got through to the final.
Knocked Out in Semi Finals:
Hughes and Lotterer
Final:
In the final it was Lucas Di Grassi and Jake Dennis. Di Grassi went out first Di Grassi got an early lead and Dennis had 2 errors early on the lap. This lead Di Grassi to win the final!
Final Winner: 
Di Grassi
Did you expect Lucas Di Grassi to take pole position in his first race with Mahindra?  Do you think he can maintain pole to take the first win of the season?