Round 13 of the 2020 MotoGP Championship took place on the 7-8 November at the Ricardo Circuit, Spain.
Pol Espargaro (Red Bull KTM Factory Racing) took his 2nd pole position of 2020 in what can only be described as wet conditions just 0.041 seconds ahead of Alex Rins (Team Suzuki Ecstar) followed by Takaaki Nakagami (LCR Honda Idemitsu) in a truly thrilling qualifying shoot out.
The starting grid for the race looked like this:
Row 1 : P.Espargaro : Rins : Nakagami Row 2 : Zarco : Mir : A.Espargaro
Row 3 : Miller : Oliveira : Morbidelli Row 4 : Binder : Quartararo : Dovizioso
Row 5 : Bradl : A.Marquez : Crutchlow Row 6 : Bagnaia : Rossi : Petrucci
Row 7 : Savadori : Rabat :
Maverick Vinales started from the pit lane as a result of penalties issued to Yamaha for engine valve issues.
With 27 laps of racing, the red lights go out and the racing begins with the pole sitter, P.Espargaro getting off to a great start going first into Turn 1 followed by Rins and Nakagami. By Turn 3 Mir has taken Nakagami into 3rd place and at Turn 8 A.Espargaro and Quartararo both have a synchronised crash into the gravel. Quartararo manages to re-join the race but A.Espargaro was not so lucky.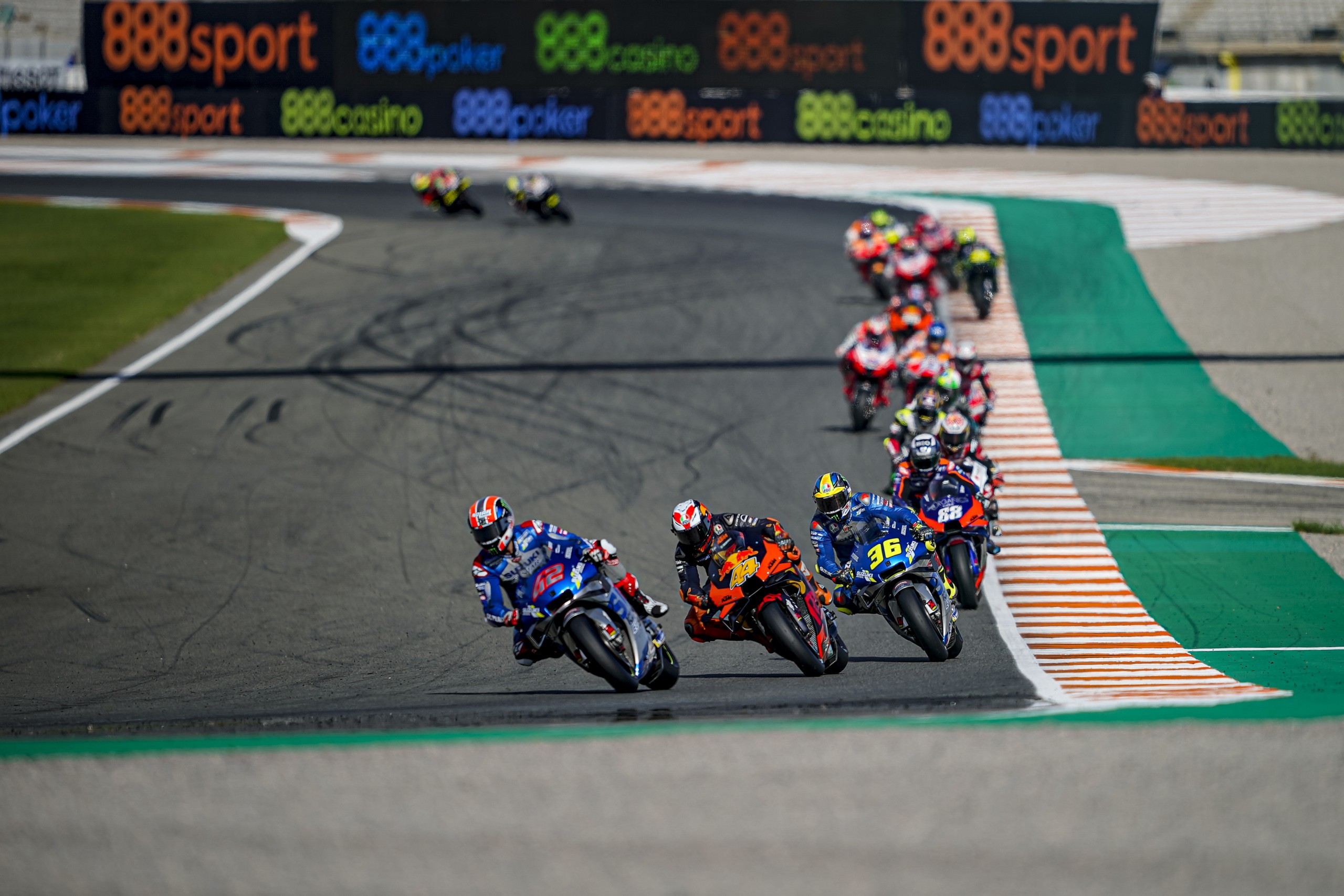 Oliveira passes Nakagami on lap 2 pushing him up to 4th place and Rins took P.Espargaro on the inside in a smooth pass taking the lead. Mir is having a sneaky peak too but was not able to make a pass. Savadori crashes on Turn 14 on the following lap but manages to re-join the track.
Lap 4 and we see Mir pass P.Espargaro on the inside into 2nd place with Suzuki now in first and second place. The following lap Rossi comes to a stop on the track with what looks like engine issues and an early end to his return after being absent for the last two races (due to testing positive for Covid-19).
By lap 6 Vinales is up into 16th place from his pit lane start, Bagnaia goes down at Turn 2 and then Crutchlow at Turn 8, not a good season for either of them so far. A.Marquez takes Dovizioso into 9th place on lap 7 and Mir is right on the heels of Rins – can the Championship leader win his first race of the season today?
By lap 11 the gap between P.Espargaro and Mir is just 0.4 seconds, the KTM rider is not letting Mir out of his clutches. Morbidelli passes Dovizioso on the following lap into 9th place and now has his sights set on 8th place A.Marquez.
On lap 14 Vinales is now up into 14th place and Rabat heads into the pits and retires from the race. Nakagami has passed Olivieria into 4th place and is starting to close the gap on P.Espargaro.
Lap 17 sees Rins goes wide and Mir take full advantage of this and passes him on the inside taking the lead and by the following lap the gap between the two is 0.3 seconds.
Miller passes Zarco on lap 20 into 6th position. Mir is now pulling out a lead ahead of Rins of 0.6 seconds by the following lap and Nakagami has closed the gap on P.Espargaro to 1.8 seconds.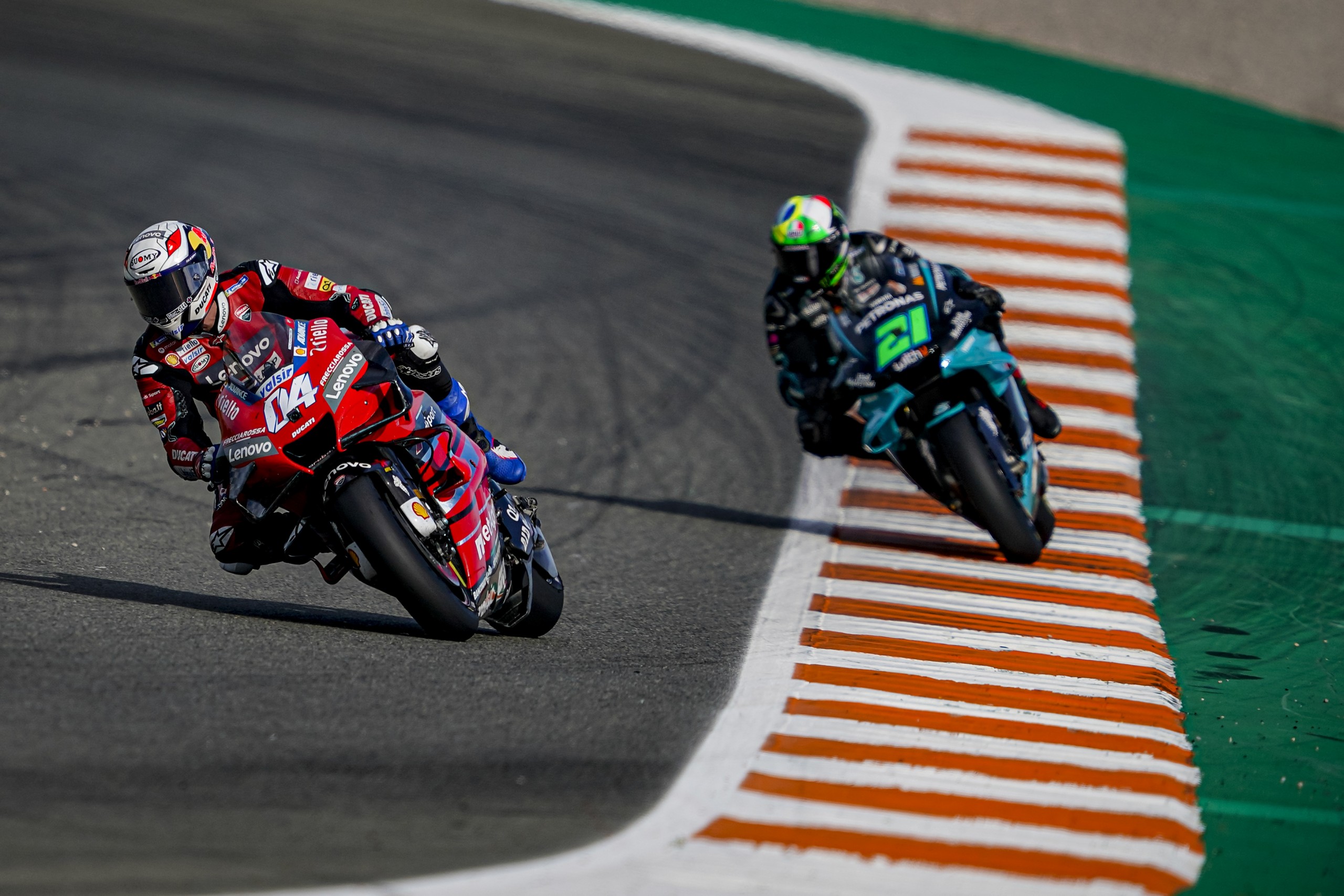 By lap 23 P.Espargaro is closing the gap on Rins and Dovizioso is all over A.Marquez looking to pass and on the start/finish straight on lap 24, Dovizioso makes the pass going into Turn 1 but leaves nowhere for A.Marquez to go except into a wet patch on the track and he goes down slides off into the gravel.
Mir now has a 1.3 second lead over Rins and Nakagami is closing the gap on P.Espargaro but with only two laps to go can he close the gap enough to make a pass? Dovizioso has moved up into 7th place having taken Zarco and Vinales has moved up to 13th place.
By the last lap Mir has a comfortable lead over Rins and takes his first MotoGP win ahead of Rins in 2nd place, P.Espargaro in 3rd and Nakagami in 4th place.
Mir now has a 37 point lead in the Championship ahead of Dovizioso followed by Rins in 3rd place and Vinales in 4th. There are 50 points up for grabs at the next two races – can Mir secure the Championship next weekend at Valencia or will it go down to the wire in Portimao the following weekend?????
Featured Image Courtesy of Suzuki Racing