Round 12 of the 2020 MotoGP Championship took place on the 24-25 October at Aragon, Spain.
Takaaki Nakagami's (LCR Honda Idemitsu) claimed a stunning first MotoGP pole, the first time since Makoto Tamada in the 2004 Valencia GP a Japanese rider has started from pole position. Nakagami was quicker than 2nd place rider Franco Morbidelli (Petronas Yamaha SRT) by just 0.063 seconds and claiming his first front row of the season in 3rd place is Alex Rins (Team Suzuki Ecstar).
The starting grid for the race looked like this:
Row 1 : Nakagami : Morbidelli : Rins Row 2 : Vinales : Zarco : Quartararo
Row 3 : Crutchlow : Oliveira : P.Espargaro Row 4 : A.Marquez : Lecuona : Mir
Row 5 : A.Espargaro: Miller : Binder Row 6 : Bradl : Dovizioso : Bagnaia
Row 7 : Petrucci : Rabat : Smith
With 23 laps of racing, the red lights go out and the racing begins with the pole sitter, Nakagami getting off to a great start going first into Turn 1 followed by Morbidelli, Rins and Zarco. Turn 2 sees Binder and Miller touch with both riders going down and out into the gravel putting a very early end to their races. Nakagami then runs wide at Turn 5 and goes off into the gravel, ending his race and hopes of a podium finish.
Morbidelli is up in front ahead of Rins and Zarco. By lap 2 Mir is up to 5th, Quartararo 6th, Crutchlow 7th and A.Marquez is in 8th place. Lap 3, and Morbidelli has put in the fastest lap but Rins is right on his tail.
The following lap A.Marquez has passed both Crutchlow and Quartararo up into 6th position and is now closing the gap on Mir. Morbidelli is holding a steady lead and both he and Rins are pulling out ahead of third place rider Zarco. On lap 6, Mir passes Vinales and then two turns later A.Marquez follows by too and is now up to 5th place.
The gap between Rins in 2nd place and Zarco in 3rd is now 1.8 seconds and by lap 8 both Mir and A.Marquez are closing in on the 3rd place rider. Coming into Lap 10 sees P.Espargaro pass Quartararo very quickly followed by Oliveira but by the end of the lap Quartararo has claimed the place back from Oliveira.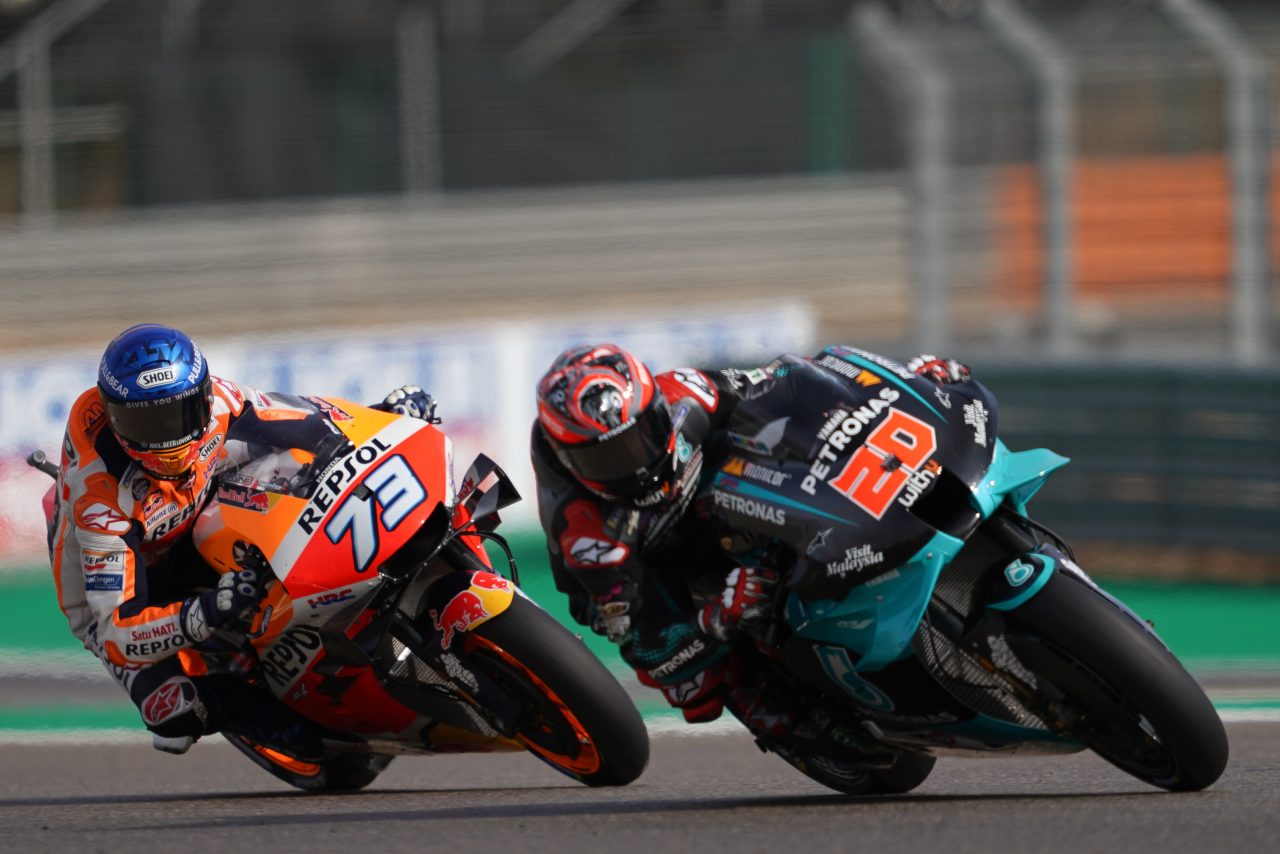 Mir passes Zarco to take 3rd placed on lap 11 with A.Marquez also having a look too. By the end of the lap A.Marquez manages the pass but in Turn 1 on lap 12, Zarco takes the place back and three turns later A.Marquez passes again but this time he makes it stick and is now chasing down on Mir. Unfortunaely, two laps later at Turn 2, A.Marquez crashes out thus ending his race.
For the last few laps Quartararo and Oliveira have been having a great scrap in 7th and 8th and have swapped places several times with some brilliant racing going on between the two riders.
Lap 17 sees Dovizioso getting it very wrong in the corkscrew and dropping from 10th to 12th place. Morbidelli is still holding a steady lead by lap 18 with a 0.8 second lead, can he hold off the pressures from Rins for the last six laps?
On lap 20 P.Espargaro has passed Zarco up into 4th and Petrucci has passed Dovizioso up into 12th. Morbidelli has now pulled out a 1.3 second lead on Rins and the following lap sees A.Espargaro coming to a stop at the side of the track with what looks like mechanical issues.
Going into lap 23, Morbidelli now has a 1.3 second lead over Rins and is looking good to take the win having ridden a superb smooth and consistent race from the start and indeed takes the chequered flag to take his second win of the season followed by Rins in 2nd place and Mir in 3rd.
There are three rounds left of the MotoGP season, 1 in Portimao and 2 from Valencia with the Championship standings looking like this:
Mir : 137 points
Quartararo : 123 points
Vin : 118 points
Morbidelli : 112 points
Dovizioso : 109 points
Rins : 105 points
What a brilliant weekend of racing from Aragon. Don't forget to set your alarms for the next round on the 7/8 November.
Karen Bristow
Featured Image courtesy of Suzuki Racing