26TH OCTOBER 2020 BY ADAM WHEELER
Dixon crowned six-time champion to outshine Newgarden victory
Josef Newgarden's last gasp attempt to be crowned IndyCar champion could only be accomplished with a win. Anything short of victory on the streets of St Petersburg would leave almost no path to deny Scott Dixon his sixth world championship.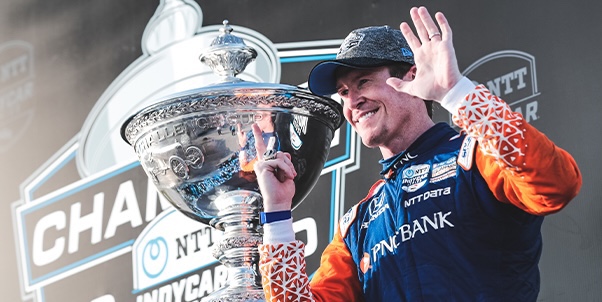 Newgarden, who started in eight, carved his way through the grid culminating with a spectacular two-car pass to take the lead and indeed the win. However, this wasn't enough as Dixon was able to follow through from eleventh to finish in third place and thus the title.
"Six is good. Seven sounds better, that's the goal," Dixon said.
Scott Dixon's sixth championship title takes him into IndyCar folklore, residing amongst the very best in history. He now is only one championship off the most successful IndyCar champion of all-time, A.J Foyt (7).
With victory at St Petersburg Newgarden achieved his series-best fourth win of the season. The Tennessee born two-time defending champion now loses his title but was remarkably magnanimous in defeat.
Newgarden went to victory lane to congratulate his rival.
"We weren't good enough,"Newgarden said. "We'll reset, we'll hit them harder next year and I promise you, we will be in the fight."
It is indeed incredible that it was nearly seven months ago that the 2020 season was abruptly abandoned. St Petersburg was originally scheduled to take place in March but was postponed to the last race of the season. A sold-out crowd of 20,000 spectators was the largest crowd of the whole season, which lost races in seven cities, had just one street course event with Sunday's finale, and still managed to complete a 14-race year.
It was a finale to remember which was plagued with error-prone ending mistakes which saw three different Andretti race leaders crash out and Newgarden there to capitalise.
The start of the race was dominated by Alexander Rossi who took the lead of the race from pole sitter Will Power with an apparent down-shift issue. Power who was in a tight race for third in the final standings, then made an uncharacteristic mistake crashing into the barrier and promptly retiring from the race thereafter. The Australian threw his gloves in anger and admitted to driver error.
"I just lost it. Had a moment,"he said. "I was definitely frustrated there, making a mistake and hitting the wall. It's my bad. It put us out of the race and that's a bad situation."
What followed were three cautions over 10 laps, the third on the restart of lap 47 brought out by Australian Supercar champion Scott McLaughlin who spun on his debut. The debutant collected into Rinus VeeKay, who clinched the 'Rookie of the Year' title on the same day his contract was renewed for a second season with Ed Carpenter Racing.
Despite the crash and ultimately finishing in 22nd, McLaughlin hailed his experience in IndyCar as an exciting one:
"Awesome. Far out. The best day of my life, besides my wedding,"
After the first round of pit stops, it seemed Alexander Rossi was in control of the race followed by his two Andretti teammates Colton Herta and James Hinchliffe. However, Rossi went into a spin on lap 70 collecting both the
Rossi had been determined to extend a streak of at least one win a season that dates to 2006 when was Skip Barber's youngest champion at 14-year-old.
His long and frustrating season ended with a 21st-place finish for the Andretti Autosport driver.
"Just lost it. It sucks, this is the first time I've crashed while leading," Rossi said.
Chaos continued when Marco Andretti, who had magnificently fought his way from near the back to seventh, spun while racing for the final spot in IndyCar's bonus programme which would have gifted an extra $1 billion to the Andretti team.
Moreover, there was a spin for Andretti's James Hinchliffe who had been running in the top three for most of the race.
In a bizarre turn of events, the pace car which had been used for an unusually high number of caution laps reported it was on low fuel. Quickly after that, Andretti's Colton Herta, who had inherited the lead from both Rossi and Hinchliffe spun making it a day to forget for the Andretti Autosport team.
Newgarden took control soon after, but soon had the McLaren SP driver of Pato O'Ward on his tail. Unfortunately, the Mexican could not gain on the American who stretched his lead to nearly 5 seconds by the chequered flag. O'Ward eventually settled for second.
All the earlier attrition helped Dixon slip through the field to third. There was nothing Newgarden could do, even on a day he did everything he had to, to deny Dixon a sixth championship.
Dixon, a 40-year-old considered the best of his generation, ranks third on IndyCar's all-time wins list behind A.J. Foyt. His first title was in 2003, his first season with Chip Ganassi Racing, and his latest championship comes as the team has welcomed NASCAR's seven-time champion Jimmie Johnson to the organization.
Colton Herta was able to finish the season in third in front of Pato O'Ward, who in his first full IndyCar season, finished fourth in the standings.
Race Classification
1. Josef Newgarden
2. Pato O'Ward
3. Scott Dixon
4. Sebastien Bourdais
5. Ryan Hunter-Reay
6. Simon Pagenaud
7. Marcus Ericsson
8. Charlie Kimball
9. Graham Rahal
10. Takuma Sato
11. Colton Herta
12. Max Chilton
13. Alex Palou
14. James Hinchcliffe
15. Rinus VeeKay
16. Oliver Askew
17. Conor Daly
18. Felix Rosenqvist
19. Jack Harvey
20. Marco Andretti
21. Alexander Rossi
22. Scott McLaughlin
23. Santino Ferrucci
24. Will Power