Round 8 of the WorldSBK took place at Estoril and in order to keep the championship alive and stop Jonathan Rea (Kawasaki Racing Team WorldSBK) from claiming his 6th consecutive World Title, Scott Redding (ARUBA.IT Racing – Ducati) needs to win here this weekend.
It was an incident packed Superpole where we saw both Rea and Redding crash out with both bikes badly damaged. Fortunately for Rea, he had set a lap time before his crash which meant that although he was unable to get back out on track to set any further lap times, he started from 15th on the grid unlike Redding who started at the back of the grid having not set a time.
Claiming his first ever pole was Toprak Razgatlioglu for the (PATA YAMAHA WorldSBK Official Team) ahead of Leon Haslam (Team HRC) and Garrett Gerloff (GRT Yamaha WorldSBK Junior Team).
Race One
The starting grid for Race 1 looked like this:
Row 1 : Razgatlioglu : Haslam : Gerloff Row 2 : Davies : Rinaldi : van der Mark
Row 3 : Lowes : Bautista : Fores Row 4 : Sykes : Folgar : Baz
Row 5 : Caricasulo : Laverty : Rea Row 6 : Mercado : Ferrari : Morais
Row 7 : Takahashi : Granado : Cresson Row 8 : Redding
With 21 laps of racing, Race 1 got underway with Razgatlioglu getting off to a great start and in the lead at the first corner with Rinaldi up to 2nd and Gerloff in 3rd. Rea had moved from 15th place to 7th and Redding into 15th.
By Lap 2 Rea has moved up to 5th place having taken Lowes and van der Mark and passing Haslam into 4th place the following lap. Turns 9 and 10 sees Rea pass Rinaldi up into 3rd.
Razgatlioglu is pulling out a lead on 2nd place Gerloff by lap 4, van der Mark and Davies both take Haslam pushing the Honda rider down to 7th. Redding is now up into 12th place but unfortunately on the next lap we see him slow and pull over at the side with what looks like mechanical issues. Rea just needs to finish the race now in a points position to become world champion.
Van der Mark is hot on the heels of Rea but lap 8 sees van der Mark go down into the gravel at turn 7 and out of the race. Rea takes Gerloff on lap 9 and now has his sights firmly set on the leader. Haslam takes Lowes on the inside closely followed by Bautista and Davies passes Gerloff and starts to chase down Rea.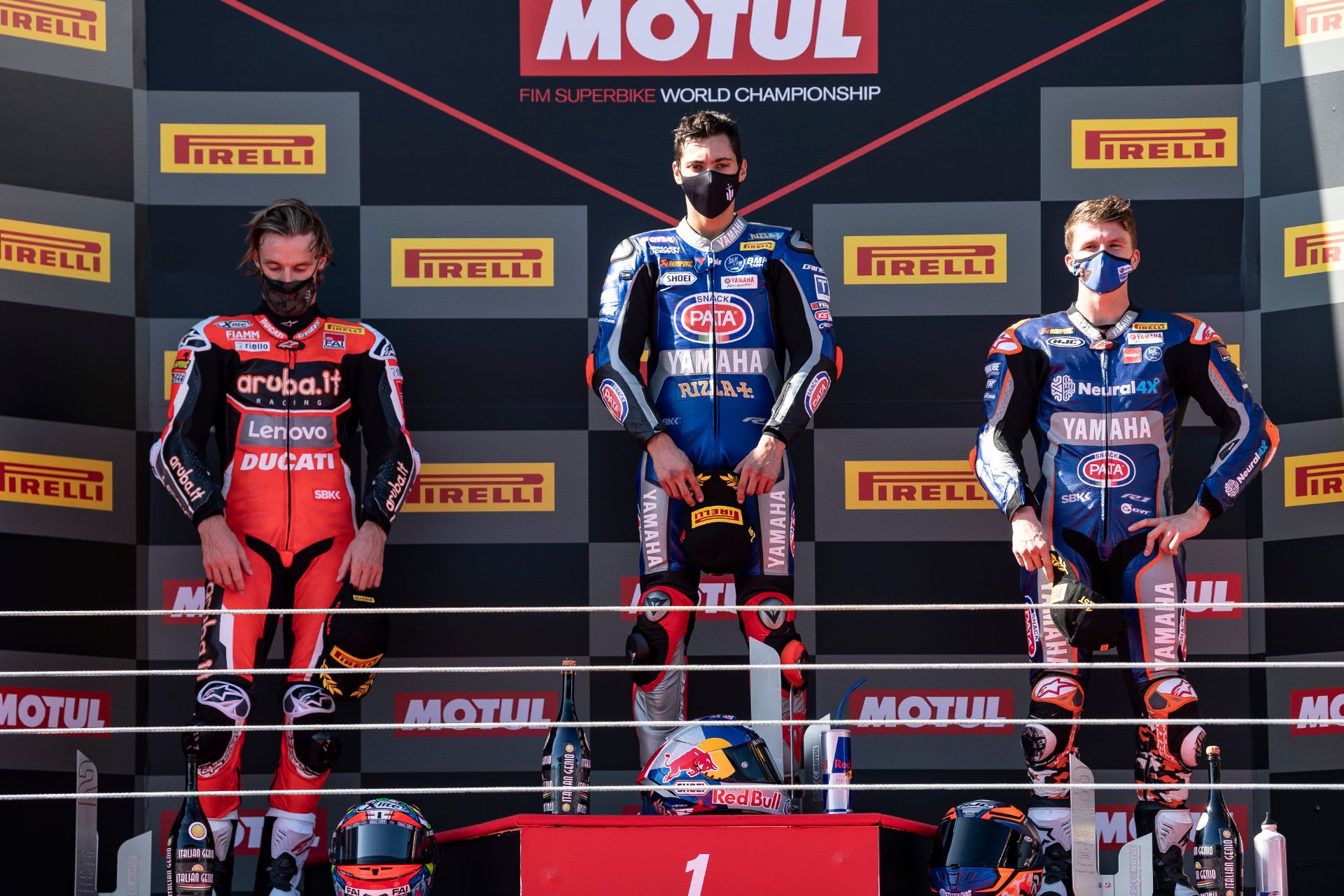 The start of lap 12 sees Davies pass Rea up into 2nd place and a few corners later Rea runs wide allowing Gerloff to slide past on the inside. Lap 14, Razgatlioglu has a 4.3 second lead over Davies in 2nd place and at Turn 1 Rea takes 3rd place back from Gerloff but Gerloff is not giving up and is glued to Rea's rear and the following lap takes the place back.
On lap 17 Haslam takes Lowes at Turn 1 but a few corners later runs wide allowing Lowes to take the place back. Razgatlioglu has the race under control and is riding a superb race. Bautista goes down and into the gravel at Turn 6 on the following lap thus putting an early end to his race for the 5th time this year.
We see Haslam and Lowes switch places on the next two laps in their fight for 5th place but it is Razgatlioglu who is the comfortable winner today with over a 4 second lead ahead of 2nd place Davies, Gerloff in 3rd and Rea in 4th.
Jonathan Rea (Kawasaki Racing Team WorldSBK) has now secured his 6th consecutive WorldSBK World Title and is a very deserved Champion indeed.
Race Two
After a brilliant race one, Race 2 is set to be as nail biting too and with 21 laps to go the starting grid looks like this:
Row 1 : Razgatlioglu : Gerloff : van der Mark Row 2 : Davies : Rea : Redding
Row 3 : Bautista : Haslam : Rinaldi Row 4 : Lowes : Fores : Sykes
Row 5 : Folgar : Baz : Caricasulo Row 6 : Laverty : Mercadi : Ferrari
Row 7 : Morais : Takahashi : Granado Row 8 : Cresson
A fantastic start by Razgatlioglu who is first into Turn 1 with Davies up into 2nd and van der Mark in 3rd. 4th place Rea makes contact with van der Mark going into Turn 10 but both riders manage to keep hold of their bikes. By the end of the lap Davies has taken the lead from Razgatlioglu.
Lowes is on the heels of van der Mark on the following lap and Redding is looking to get past Rea. At Turn 4 on lap 3, 3rd place Gerloff goes into the gravel at Turn 4 putting an early end to his race.
By lap 7 Davies is pulling out a comfortable lead. Rea is now closing down Razgatlioglu and lap 8 sees Rea take the place on the start/finish line only for Razgatlioglu to take it back again. Lap 9 we see Rea repeat the overtake on the start/finish line but going into Turn 1 he loses it going up the inside of Razgatlioglu and sliding across the track. Rea manages to rejoin the race but is now in 16th place.
Van der Mark is up into 4th place by lap 10 with Lowes 5th. Bautista and his teammate, Haslam, are fighting for 6th position. Lap 13 is unlucky for Baz and Folgar who both clearly have mechanical issues and are both slowing down and then pull off the track.
Redding is reducing the gap on Razgatlioglu and Turn 7 on lap 14 Lowes goes into the gravel, he tries to rejoin the race but is unable to. What is this going to mean for the manufacturers championship now that both Rea and Lowes are out of the race? Fores has to finish the race in order for Kawasaki to win.
Lap 17 sees Redding take 2nd place from Razgatlioglu, Razgatlioglu is in fighting form and nearly gets the place back but in the end is unable to. With two laps to go, Ducati are 1st and 2nd and the battle for 6th place is hotting up between Rinaldi, Haslam, Fores and Caricasulo.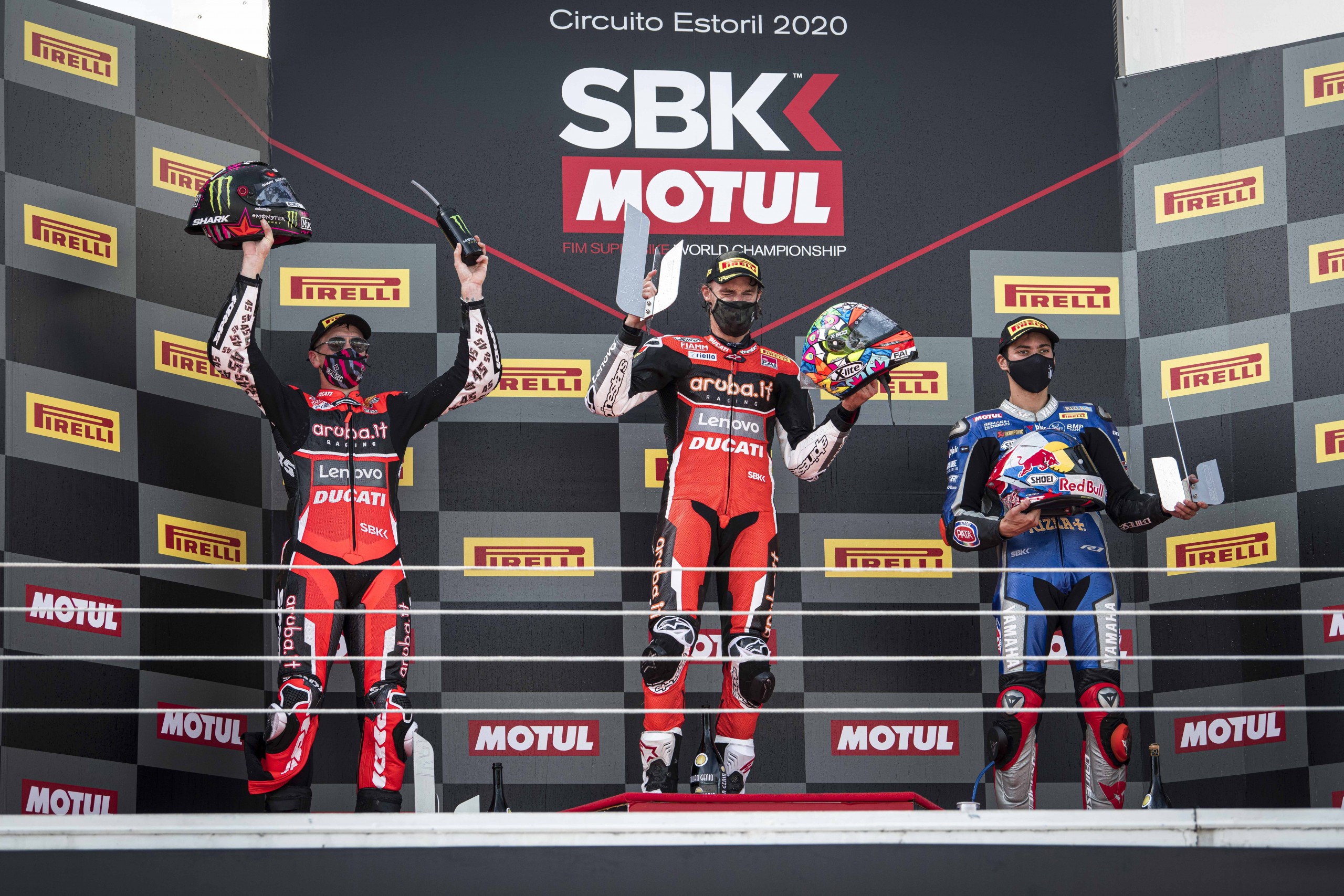 The final lap finally comes and Davies has a 3 second lead over 2nd place Redding and he takes a very comfortable and well deserved win.
Kawasaki win the manufacturers title over Ducati by 1 point. An extremely close and well fought championship battle.
Another brilliant race and a fantastic final weekend of racing to end the 2020 WorldSBK Championship.
Standings
The Driver's / Team Standings at the end of Round 8 at Estoril on the 17/18 October looked like this:
| | | | | | |
| --- | --- | --- | --- | --- | --- |
| Pos | Rider | Points | Pos | Team | Points |
| 1 | Jonathan Rea | 360 | 1 | Kawasaki | 392 |
| 2 | Scott Redding | 305 | 2 | Ducati | 391 |
| 3 | Chaz Davies | 273 | 3 | Yamaha | 330 |
| 4 | Toprak Razgatlioglu | 228 | 4 | Honda | 166 |
| 5 | Michael van der Mark | 223 | 5 | BMW | 101 |
| 6 | Alex Lowes | 189 | 6 | Aprilia | 4 |
| 7 | Michael Ruben Rinaldi | 186 | | | |
| 8 | Loris Baz | 142 | | | |
| 9 | Alvaro Bautista | 113 | | | |
| 10 | Leon Haslam | 113 | | | |
| 11 | Garrett Gerloff | 103 | | | |
| 12 | Tom Sykes | 88 | | | |
| 13 | Xavi Fores | 61 | | | |
| 14 | Federico Caricasulo | 58 | | | |
| 15 | Eugene Laverty | 55 | | | |
| 16 | Leandro Mercado | 24 | | | |
| 17 | Marco Melandri | 14 | | | |
| 18 | Jonas Folgar | 19 | | | |
| 19 | Sandro Cortese | 14 | | | |
| 20 | Sylvain Barrier | 12 | | | |
| 21 | Maximillan Scheib | 11 | | | |
| 22 | Takumi Takahashi | 6 | | | |
| 23 | Matteo Ferrari | 5 | | | |
| 24 | Christophe Ponsson | 4 | | | |
| 25 | Roman Ramos | 4 | | | |
| 26 | Lorenzo Zanetti | 3 | | | |
| 27 | Valentin Debise | 2 | | | |
| 28 | Eric Granado | 1 | | | |
| 29 | Xavier Pinsach | 1 | | | |
Featured Image courtesy of Yamaha Racing