Cast your mind back twelve months, plus a bit more to June 2019. Dani and Carlos took a popular win in the service park. Having not competed since Mexico 2020, the Hyundai crew showed their class to take a very good victory in the delayed Rally Italia Sardegna this season. Here's the story how it happened.
Thursday as ever saw shakedown take place, and there were a few key moments. In the first run through, Kalle set the fastest time in his Yaris, and then promptly put the car on its roof after the flying finish!
Ultimately, Ott was fastest in shakedown, with Elfyn and Seb second and third. The Welshman set the same time as his former Estonian teammate. There was also a Citroen C3 WRC being driven by former Hyundai, Citroen and Volkswagen pilot Andreas Mikkelsen, running on the new Pirelli tyres in shakedown, the new tyre supplier running in shakedown and then also running in the power stage on Sunday, with 2003 world champion Petter Solberg driving and Andreas sitting alongside him on the pace notes.
Friday
With 95km's over six stages on the first day, this was the start list for day one – Evans, Ogier, Tänak, Rovanperä, Neuville, Lappi, Suninen, Greensmith, Katsuta, Sordo, Loubet.
At the end of the opening test, SS1 Tempio Pausania 1 – 12.08 km the two M-Sport Fiesta's were at the top of the field, with Teemu winning the stage by 12 seconds from his teammate! We all know what he said in the interview at stage end! Elfyn and Scott, the first car into the stage, were holding fourth overall, 13.4 seconds from the Finn, and last seasons winner Dani was third. Ott didn't have a good start, losing 14 seconds in the stage. Oliver Solberg deserves a mention, after setting the seventh fastest time in his Fabia R5, quicker than Thierry, and only 16 seconds from the leader!
Dani moved closer to the front in SS2 Erula – Tula 1 – 21.78 km with a time seven seconds faster than Teemu, and now the gap between them was just five seconds. First to finish the stage was Elfyn who reported that it was a bit slipperier than expected, ending up fifth fastest and holding fourth overall at this point. Sadly, we lost Esapekka Lappi after his car overheated. Seb was now in third overall.
Elfyn took his first stage win of the weekend, winning SS3 Tempio Pausania 2 – 12.08 km from Seb and Dani. A good drive from the Welshman, despite being the first car through! Suninen remained in the lead as he and Dani were very closely matched in the stage and the gap just five seconds between the top two.
Into SS4 Erula – Tula 2 – 21.78 km and Dani won the stage, from Thierry, who was nine seconds slower in the stage, but second fastest and Kalle who was third. Dani was now in the lead, having passed Teemu who was 12 seconds slower than the i20 driver and only fifth fastest. It was going very badly for Ott, who was only ninth fastest in the stage and now almost two minutes from the lead.
After the lunchtime break, we had two stages to complete the day. The break gave the Hyundai team the opportunity to find out what the suspension problem was with Ott's car.
Into SS5 Sedini – Castelsardo 1 – 14.72 km and it was another stage win for Dani, with a fired-up Ott only nine tenths slower and second fastest. Teemu was third in the stage and remained in second overall. Thierry moved past Elfyn in the stage with the Welshman going only eighth in the stage.
SS6 Tergu – Osilo 1 – 12.81 km ended the day and it was another stage win for Dani, with Thierry second fastest. The Belgians pace lifted them ahead of Seb and into third overall. Ott was third fastest in the stage, making it a Hyundai 1-2-3, and this brought the reigning champion up into eighth overall.
Classification after Day One
| | | | | |
| --- | --- | --- | --- | --- |
| 1 | D. Sordo | C. del Barrio | Hyundai i20 Coupe WRC | 1:12:40.9 |
| 2 | T. Suninen | J. Lehtinen | Ford Fiesta WRC | +17.4 |
| 3 | T. Neuville | N. Gilsoul | Hyundai i20 Coupe WRC | +35.2 |
| 4 | S. Ogier | J. Ingrassia | Toyota Yaris WRC | +36.0 |
| 5 | E. Evans | S. Martin | Toyota Yaris WRC | +51.9 |
| 6 | G. Greensmith | E. Edmondson | Ford Fiesta WRC | +1:07.1 |
| 7 | P. L. Loubet | V. Landais | Hyundai i20 Coupe WRC | +1:33.5 |
| 8 | O. Tänak | M. Järveoja | Hyundai i20 Coupe WRC | +1:53.7 |
| 9 | K. Rovanperä | J. Halttunen | Toyota Yaris WRC | +2:32.3 |
Let's hear from the drivers
Hyundai Motorsport
Dani Sordo (1st)
"I am happy to be back in the Hyundai i20 Coupe WRC and pleased to return to this rally which has so many special memories from last year. I have been feeling really competitive all day and some of the stages have been really nice. We made a good tyre choice and we are in an encouraging position. It is only the first day, so we have to keep our feet on the ground. We want to continue like this for the rest of the rally; everyone is pushing hard but we're here to fight."
Thierry Neuville (3rd)
"Honestly speaking I was expecting better from our day. We didn't have a great start to the rally on this morning loops. We weren't comfortable with the settings of the car. We did the maximum to improve our times by trying some different things. I was able to push a bit – actually I pushed quite hard in SS4 and that showed as we set the second fastest time. We made the necessary changes to the car for the afternoon and I felt immediately more comfortable. Unfortunately, and bizarrely, we stalled twice today. It never happened to me before, but the second time the car wouldn't restart. We lost about 12 seconds in all, which is important time in such a close battle. Tomorrow, with the changes we've made, I am confident we will have better pace."
Ott Tänak (8th)
"It has been a demanding day and we're obviously disappointed. We were getting some suspension issues from the start of the day, and it proved to be something that we could not repair on the road sections with the tools and bits that we had. It is difficult to say what happened exactly, but we could do nothing about it. In the afternoon stages, everything was working fine from our side, just a big amount of cleaning but generally no drama and no surprises. We will try to keep going as we did this afternoon; our position is not great so let's see. Hopefully the fight is now a bit more straightforward."
M-Sport WRT
Teemu Suninen (2nd)
"We had a really good morning and I think we proved what we can do. On that first stage I knew it was going to be challenging for everyone and I tried to take as many seconds as I could – which worked out really well. We lost some aero after that which cost us some time, but it was still a good morning.
"Then in the afternoon the tyre choice didn't really work out for us. We thought it was going to be a bit warmer, but the sun went down just as the last stage started and I wasn't able to make the most of the hard tyres.
"Still it was a really good day for us, and tomorrow we just have to focus on our own driving and let the others do their own thing. The stages will be a bit faster tomorrow, but the main thing is to do my best – because that's the way to get the best results."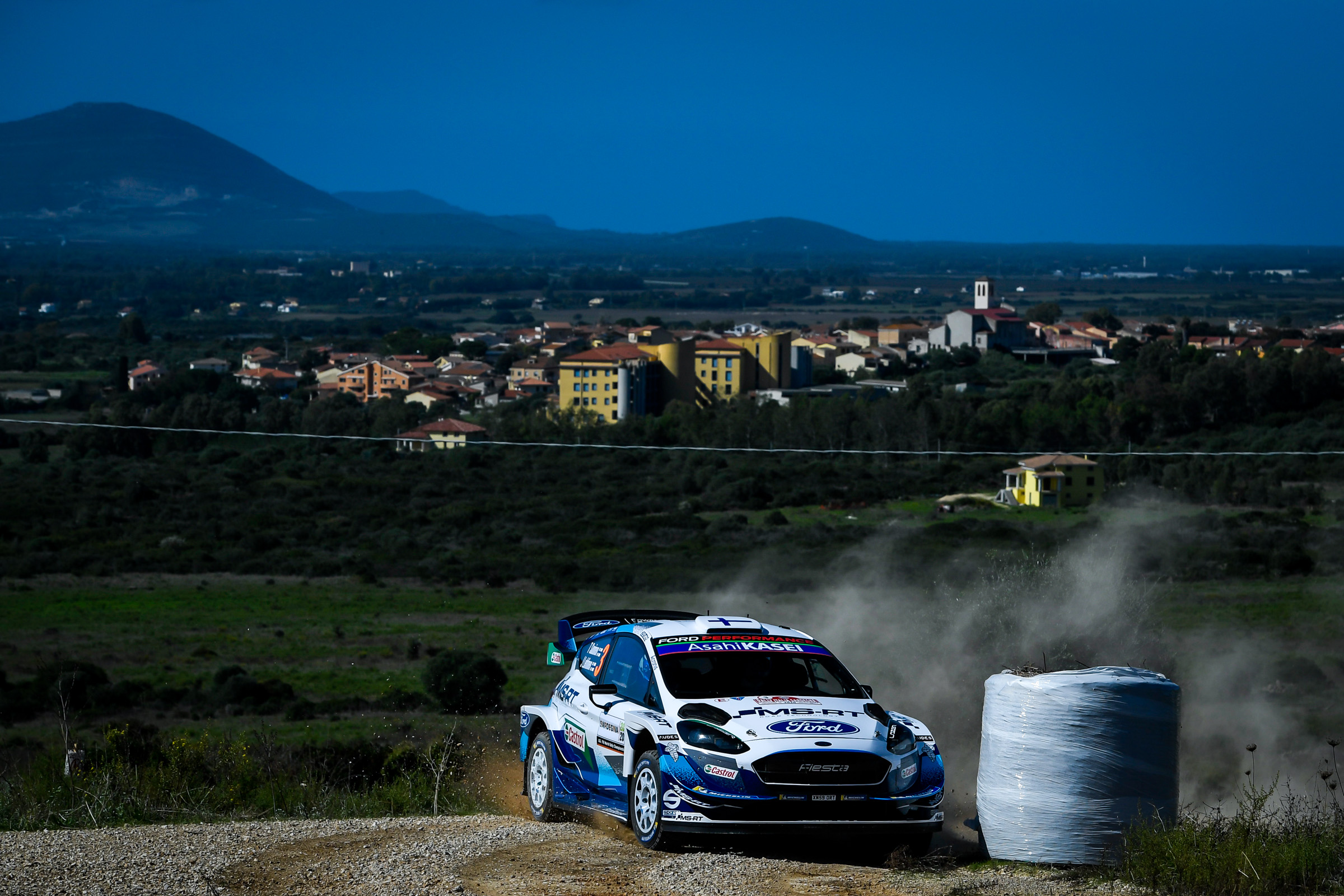 Gus Greensmith (6th)
"This has definitely been one of my better drives and I'm pretty happy with the way things have gone. There were a few little mistakes here and there, and I was a bit disappointed with myself on the first stage this afternoon (SS5) as I think we could have really taken a big chunk out of the people around us. But the time wasn't too bad, and I can definitely see an improvement which was exactly what we wanted from this weekend."
Esapekka Lappi (DNF)
"Our initial pace was really promising so it's really disappointing that things had to end the way they did. It was all over pretty quickly to be honest. About 300 metres before I stopped, we got all the warnings on the screen and the steam from the bonnet and we knew then that it was over. We had a good look and couldn't see any impacts, but there was no water left in the engine and unfortunately we won't be back out again tomorrow."
Toyota Gazoo Racing WRT
Sébastien Ogier (4th)
"It was a good start this morning. We were all fearing this first stage a little bit, which was very challenging, very narrow and we were happy to make it through with a good time. Overall, the morning loop was good: We were in third and the two cars in front had a big advantage from their start position. The afternoon was more difficult for us like we had expected. We tried what we could but we lost a bit too much time. Tomorrow should be better with a better road position. I'm looking forward to having some better grip hopefully and to try to make some good times."
Elfyn Evans (5th)
"The morning was quite good for us. The first stage was particularly slippery and I was surprised on the second pass how much grip we had, and we had a good run. There was a bit more loose gravel on the second stage but overall we came through it quite OK and managed to lose not too much time. The afternoon stages had dried quite a lot since the recce and there was a lot more loose than expected and we really suffered a lot. It's not been an easy day, which we knew would be the case. But tomorrow our road position will be better and hopefully we can look to fight with those around us."
Kalle Rovanperä (9th)
"This morning we took the wrong tyre choice, with three mediums and two hards. I don't have the experience here to know how much the tyre will wear, and it was quite tricky to drive with one hard tyre on the car all the time and in the end, we didn't need them. I was preparing to have a better feeling in the afternoon, with some small changes to the car, but we got a steering-related issue at the start of SS5, so we had to drive slowly through both stages to bring the car back to service.  Tomorrow we will have to now open the road so it's going to be a difficult day."
Saturday
With 101km's over six stages in day two, the running order would be key once again, with the leader from day one being the last car through. The running order looked like this – Katsuta, Rovanperä, Tänak, Loubet, Greensmith, Evans, Ogier, Neuville, Suninen, Sordo.
The first stage of the day, SS7 Monte Lerno 1 – 22.08 km features Mickey's Jump and this year was just 500 metres into the stage. The top three was Seb, Elfyn and Thierry with just 3.6 seconds between them. The two leaders, Dani and Teemu were fourth and fifth fastest, Seb's pace lifted him up into third overall, and was now just 8.4 seconds behind Teemu.
Dani was back to his best in SS8 Coiluna – Loelle 1 – 15.00 km, winning the stage from Elfyn and Thierry. Unfortunately, Teemu's run near the front came to an end as he set the sixth fastest time and ultimately dropped two positions into fourth with Seb moving into second and Thierry into third. Ott was also moving up the order, now into seventh.
The rerun of SS9 Monte Lerno 2 – 22.08 km was won by Seb from Thierry and Dani who continued to lead the rally from the Frenchman by a huge 31 seconds. Elfyn was closing on Teemu as well in their battle for fourth overall, the gap now just two seconds between the former teammates.
SS10 Coiluna – Loelle 2 – 15.00 km, and Thierry was fastest from Dani and Elfyn, once again just three seconds covering the top three. Both the Belgian and the Welshman moved up the order, with Thierry moving into second place and Elfyn passing Teemu. The top four cars were Hyundai, Hyundai, Toyota, Toyota. Ott continued to climb up the leaderboard and was now into sixth overall.
Seb won SS11 Sedini – Castelsardo 2 from Thierry and Ott. Elfyn was sixth fastest, and holding onto fourth overall behind Dani, Thierry and Seb. Going well was Oliver again, setting the seventh fastest time in his Skoda Fabia, and he moved ahead of Jari Huttunen into eighth overall.
The final stage of the day SS12 Tergu – Osilo 2 – 12.81 km was won by Seb as well, and this pace lifted him ahead of Thierry who was third in the stage behind the leader who was still Dani Sordo. Elfyn doubled the gap to Teemu, going 4.6 seconds faster then the Finn and securing fourth at the end of day two.
Classification after Day Two
| | | | | |
| --- | --- | --- | --- | --- |
| 1 | D. Sordo | C. del Barrio | Hyundai i20 Coupe WRC | 2:14:35.5 |
| 2 | S. Ogier | J. Ingrassia | Toyota Yaris WRC | +27.4 |
| 3 | T. Neuville | N. Gilsoul | Hyundai i20 Coupe WRC | +28.9 |
| 4 | E. Evans | S. Martin | Toyota Yaris WRC | +58.4 |
| 5 | T. Suninen | J. Lehtinen | Ford Fiesta WRC | +1:06.9 |
| 6 | O. Tänak | M. Järveoja | Hyundai i20 Coupe WRC | +2:25.3 |
| 7 | P. L. Loubet | V. Landais | Hyundai i20 Coupe WRC | +3:37.0 |
Let's hear from the drivers.
Hyundai Motorsport
Dani Sordo (1st)
"We end today in the same way we finished on Friday, feeling very positive and pleased with our performance. We have had to be careful to manage our tyres today, making the right selection for each loop and pushing when we could, while also conserving when needed. At the end of the final stage of the day, our tyres were finished so we had to take it a bit more cautiously. In rally, we know from experience that there is no such thing as a comfortable advantage. We have to maintain this pace and rhythm on Sunday morning if we want to get the job done."
Thierry Neuville (3rd)
"I was happy with our morning, even if I feel that carrying an extra spare was not the best option. Our target was to get P2 and to try and increase our gap. We ended the loop with a stage win and were ready to resume the fight in the afternoon. There were different tyre strategies at play and the times were really close. I tried very hard but Ogier seemed to have a bit more speed. Unfortunately, we lost 1.5-2-seconds on the bridge in the final stage, when I was late on the brakes. When you're pushing to the max, these things can happen. We go again tomorrow."
Ott Tänak (6th)
"Today was a clean day with no drama. More or less everything was working well and we did what we could. I guess we achieved all that was planned, so there was nothing more we could have done ourselves. The feeling with the car was all good. Tomorrow, we can expect more of the same typically Sardinian stages – narrow and twisty. Our first priority is to get to the Power Stage and then try to push. Every point is critical at the moment."
Toyota Gazoo Racing WRT
Sébastien Ogier (2nd)
"I feel pretty happy with my day today, winning four stages out of six. Unfortunately, the two other stages were not so good and were a bit costly in terms of time: On the first pass I was not on the limit enough and on the second one I really tried harder but I stalled the engine in a hairpin and lost some seconds. But overall, it's still a positive day. Tomorrow we're going to fight for second place and put the pressure on the leader until the end. You never know what can happen on these tricky stages."
Elfyn Evans (4th)
"Overall, the morning loop wasn't bad. For the most part I was driving pretty well. I just gave away too much time in SS9, being a bit too careful and too focused on being smooth and not pushing hard enough. Then in the first stage of the afternoon I tried to push a bit more and ended up going slower, so in the final stage I just kept it clean. Now we need to keep hold of fourth tomorrow, that will be key. It's not going to be possible to catch the guys in front on pace alone on such short stages, but we have to keep going until the end."
Kalle Rovanperä (DNF)
"On the second stage of the day, we went a bit wide in the final part of the stage: It was a narrow section where we had some things to avoid on the inside. We hit a tree on the outside and then the impact sent us into a second tree, and the damage was too much for us to restart tomorrow. It was clearly not our weekend, starting already from the shakedown. We had a bit of bad luck also yesterday which was not our fault, but today was my mistake. It's been a tricky weekend."
M-Sport WRT
Teemu Suninen (5th)
"It's been a challenging day for us. It started okay this morning – we lost a few seconds to the guys at the front but we were on good pace with Elfyn. Then we had some issues with the handbrake and lost a lot of time in the slower sections.
"But we came back again in the afternoon – taking time out of Elfyn on the first stage [SS11] and then losing a bit to him on the second [SS12]. It's going to be a tight fight tomorrow, and I will give it my best. It's only two seconds per stage, and we will keep the pressure on."
Gus Greensmith (29th)
"It was one of the best days of my career yesterday. I was really pleased with the way I was driving and really pleased with the car – everything was working well. It started okay again this morning – maybe my pacenotes were a little bit slow and the second spare wasn't the best choice, but we seemed to make it work.
"Unfortunately, we then had a low voltage warning on SS9 and as soon as we left the stop line the whole car died – right in the bottom of a dip! So even though we managed to change the alternator belt, we could never get enough momentum to bump start it. After about 45 minutes of trying we had to call it a day, and tomorrow we'll just focus on continuing the improvements we have made so far."
Sunday
With 42km's over four stages, the question was could either Seb or Thierry do anything about Dani? The start list looked like this – Katsuta, Greensmith, Loubet, Tänak, Suninen, Evans, Neuville, Ogier, Sordo.
Seb flew through SS13 Cala Flumini 1 – 14.06 km and with Dani Sordo only fourth fastest behind Thierry and Elfyn, the gap was now just fifteen seconds between the top two. Thierry was right with Seb, just 1.7 seconds between them in their fight over second overall.
The short blast of SS14 Sassari – Argentiera 1 – 6.89 km was taken by Thierry with Dani and Seb second and third fastest. Now the gap between second and third was just one tenth of a second! Dani's lead was actually increased a little to just over sixteen seconds now. Elfyn was a comfortable fourth both in the stage and overall, as well.
SS15 Cala Flumini 2 – 14.06 km, the penultimate stage was won by Seb, and the gap opened up a little to 1.7 seconds to Thierry in third. What would we see from the Belgian in the final stage? Dani was just bringing the car home for a very good victory, his lead now 9.2 seconds over Seb.
The final stage then, SS16 Sassari – Argentiera 2 [Power Stage] – 6.89 km. The top five fastest were Ott, Thierry, Seb, Elfyn and Dani. Thierry was 2.7 seconds faster than Seb, and passed him for second overall as well. Seb missed out on second position by just one second in the end.
Final Overall Classification – Rally Italia Sardegna
| | | | | |
| --- | --- | --- | --- | --- |
| 1 | D. Sordo | C. del Barrio | Hyundai i20 Coupe WRC | 2:41:37.5 |
| 2 | T. Neuville | N. Gilsoul | Hyundai i20 Coupe WRC | +5.1 |
| 3 | S. Ogier | J. Ingrassia | Toyota Yaris WRC | +6.1 |
| 4 | E. Evans | S. Martin | Toyota Yaris WRC | +1:02.3 |
| 5 | T. Suninen | J. Lehtinen | Ford Fiesta WRC | +1:33.9 |
| 6 | O. Tänak | M. Järveoja | Hyundai i20 Coupe WRC | +2:27.5 |
| 7 | P. L. Loubet | V. Landais | Hyundai i20 Coupe WRC | +4:43.8 |
| 8 | J. Huttunen | M. Lukka | Hyundai i20 R5 | +8:41.7 |
| 9 | K. Kajetanowicz | M. Szczepaniak | Škoda Fabia R5 | +10:02.9 |
| 10 | P. Tidemand | P. Barth | Škoda Fabia R5 | +10:20.9 |
Let's hear from the drivers
Hyundai Motorsport
Dani Sordo (1st)
"This is an amazing result and I am really happy to have taken my second victory for Hyundai Motorsport, at the scene of my first one last year. This place is really special, and we have seen a strong performance across the whole team. I am not particularly pleased with my pace today; we had a big lead coming into Sunday morning, but I wasn't able to set the same times as Thierry and Ogier, so things were a bit too close by the end of the Power Stage. Still, we were able to get the job done and to help the team move into the lead of the manufacturers' standings. Mission accomplished. Finally, I would like to take this opportunity to send – on behalf of myself and Carlos – our deepest condolences to the family and friends of Laura Salvo. We will always remember her."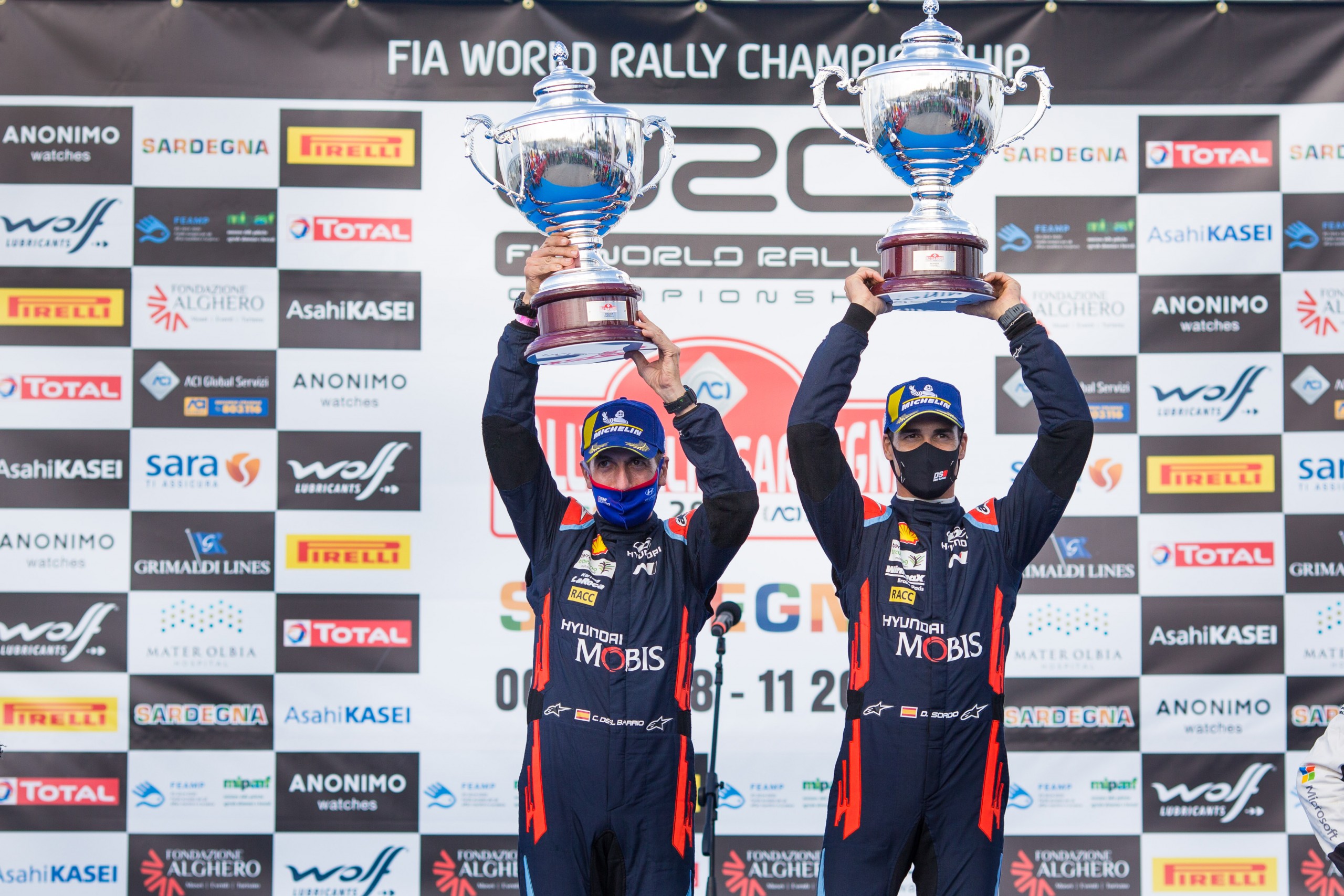 Thierry Neuville (2nd)
"I am so happy to finish in second place and to collect four points from the Power Stage. The result moves us to third in the drivers' standings after a fantastic battle with Sébastien. I really enjoyed it. We did the best we could all weekend after a few issues which lost us some valuable time. Huge congratulations to Dani and Carlos for a beautiful victory, and to the team for this incredible 1-2, which has really helped our position in the manufacturers' championship."
Ott Tänak (6th)
"It has been a difficult and disappointing weekend for us. From the suspension problems on Friday, we knew we wouldn't be able to mount a serious challenge. We still kept pushing and supporting the team as best we could. Aside from the issues on Friday, the car has been OK, but we know we could have done so much more this weekend. We managed to complete the rally on a more positive note with five points in the Power Stage. The team is working really hard, as it has all season long, and they are doing a great job. We haven't had things go our way, but we'll push through and surely improvements will come."
Toyota Gazoo Racing WRT
Sébastien Ogier (3rd)
"It's been very intense for more or less the whole weekend. Of course, at the end, third place maybe doesn't show the performance that we had here, but that's how it is. We had to be second on the road for a big part of the rally and a lot of time was lost there. After that it was always going to be difficult. But I think we tried our best and I cannot be disappointed with my performance, I gave everything I had and it's still solid points for the championship. I'm getting more and more settled in the Yaris WRC and the performance is there. I just need to continue with that and I'm confident about the future."
Elfyn Evans (4th)
"Today the main objective was to stay ahead of the driver behind and make sure that position was secure. Unfortunately, I didn't get as many points on the Power Stage as I would have liked, but all in all at least we secured the result and came away with solid points at the end of the weekend. Of course, you always want more than fourth place but we knew coming here starting first on the road was going to be tough, and we were almost out of the fight for the podium by the end of the first day. We continued to push but the times were close and, in the end, I think fourth was realistically the most we could achieve. Going onto asphalt, being first on the road should normally be an advantage and we'll be hoping that will be the case."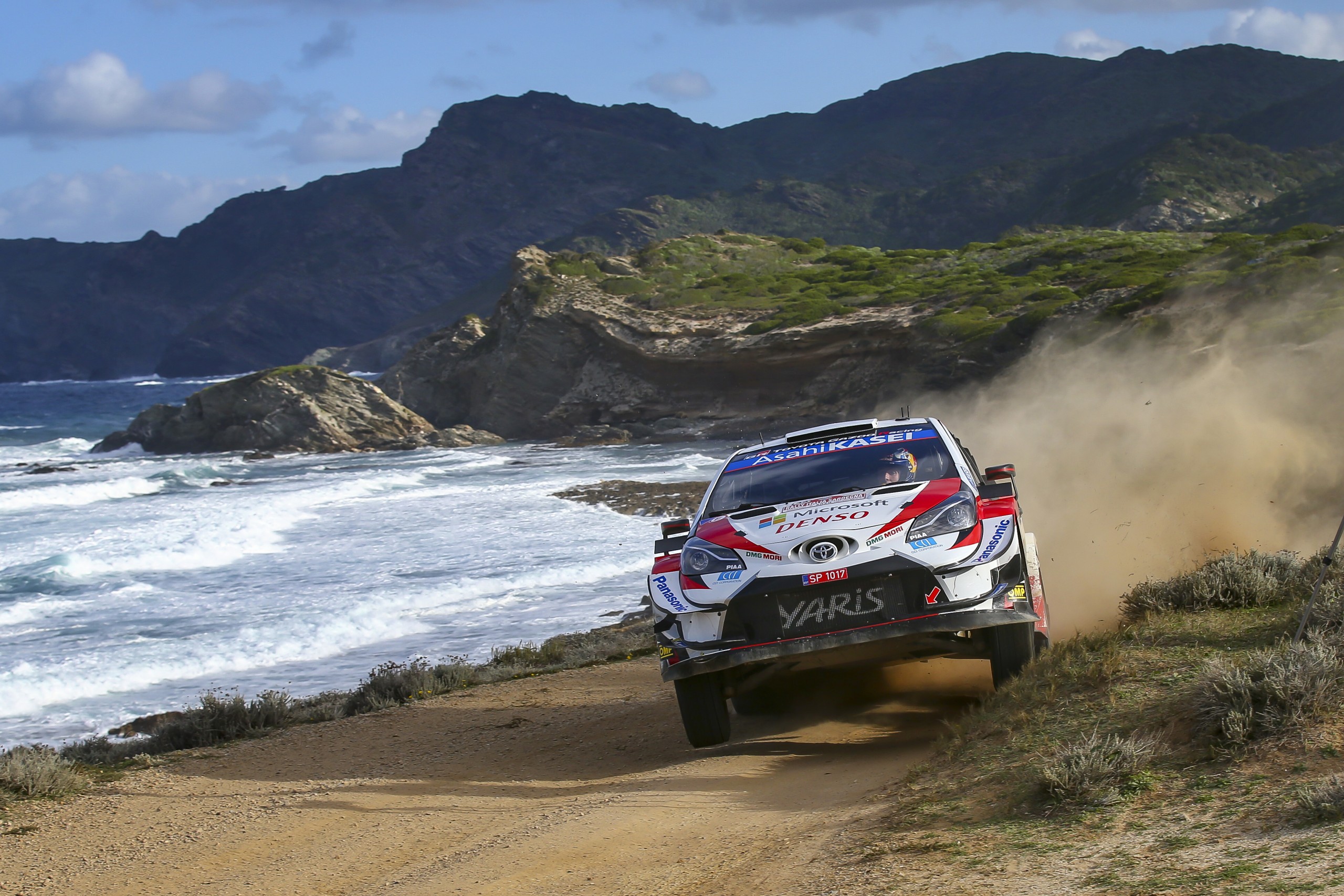 M-Sport WRT
Teemu Suninen (5th)
"We started this rally really strongly and had great speed in the slower sections – proving that we can be competitive when the conditions are right. But we also had some small issues and were struggling a bit in the faster sections – meaning that fifth was the best we could do this weekend. Still there are a lot of positives that we can take away, and we'll focus now on the Tarmac rallies where the Fiesta has always been strong."
Gus Greensmith (25th)
"I think we made some really good steps forward this weekend, and a lot of that was due to the time I spent at M-Sport before the rally. Going through all of the data with my engineer we were able to find a lot of ways to improve and also tried something new with the set-up which gave me a lot more confidence. For me it was definitely one of my better performances. It was pretty disappointing about some of the issues we had, but that's rallying and we've shown that we can fight a lot closer to the top."
2020 FIA World Rally Championship for Drivers' Standings
After round six
| | | |
| --- | --- | --- |
| 1 | E. Evans | 111 |
| 2 | S. Ogier | 97 |
| 3 | T. Neuville | 87 |
| 4 | O. Tänak | 83 |
| 5 | K. Rovanperä | 70 |
| 6 | T. Suninen | 44 |
| 7 | E. Lappi | 38 |
| 8 | D. Sordo | 26 |
| 9 | C. Breen | 25 |
| 10 | S.Loeb | 24 |
2020 FIA World Rally Championship for Manufacturers' Standings
After round six
| | | |
| --- | --- | --- |
| 1 | Hyundai Shell Mobis World Rally Team | 208 |
| 2 | Toyota Gazoo Racing World Rally Team | 201 |
| 3 | M-Sport Ford World Rally Team | 117 |
| 4 | Hyundai 2C Competition | 8 |
Warren's Thoughts
At Hyundai it was a good drive by Dani Sordo. Five stage wins gave him the lead, and he was able to keep his pace high enough so that when others hit the pace that they needed to challenge, he had enough in reserve to hold on the lead and therefore take the victory. Unfortunately, the issue with the subframe being underweight by 24kg's has slightly taken the shine off the result. The significant fine that the team picked up because of this will set some minds at rest, but others may think more should have been done. Ott Tänak was really held back with his woes on Friday, but once the problems were resolved, he was on the pace. Sadly, it makes it even harder for him to retain his title. Thierry kept his title hopes alive with a strong drive, and nearly took the win from his teammate. He is now Hyundai's best hope for the driver's championship.
At Toyota the championship leader, Elfyn Evans did what he could given that he was opening the road on Friday, including a stage win and finished in fourth. His teammate, Seb, did what he could to finish higher up, but third overall could have been second, and a smaller gap to close come the end of the year. Kalle showed well, but retirement beckoned for the young Finn.
Finally, at M-Sport they started really well, holding a 1-2 after the first stage, with Teemu 'Sending It'! As the rally went on throughout Saturday, the pace was too much for the Finn to hold the faster cars behind and ultimately ended the event in fifth. We didn't get to see what Esapekka could do, after his engine overheated and he retired. Gus Greensmith went well, setting eleven top ten times. Reliability cost him a decent result, but we shall see what he and Elliot his co-driver can do in the last couple of events.
One more thing to mention is that Petter Solberg and Andreas Mikkelsen teamed up in a Citroen C3 WRC running on next year's Pirelli tyres, with the younger Norwegian on the stage notes as they completed the final stage. We don't know what time they set, but nevertheless it is a significant moment for the tyre manufacturer.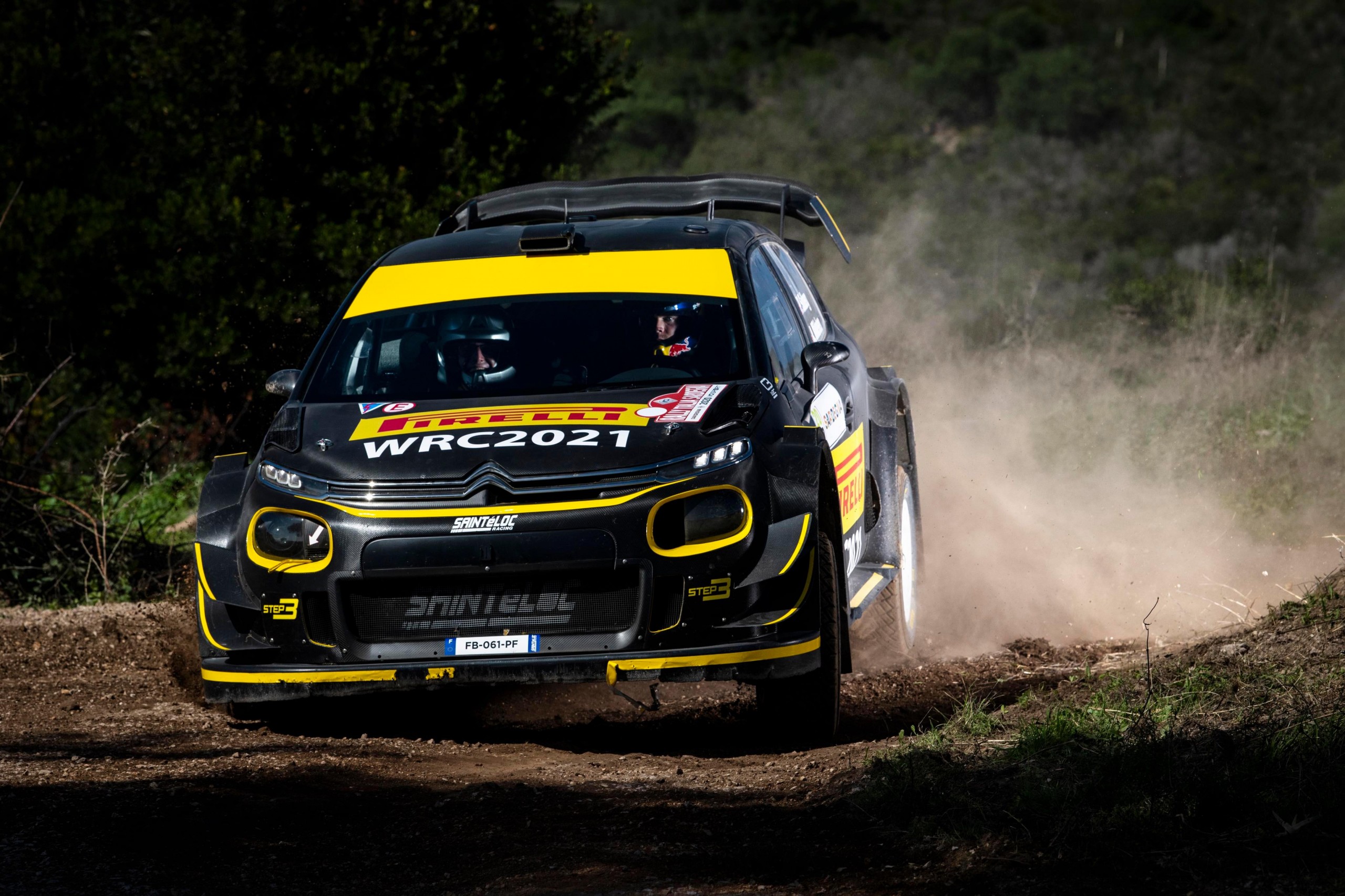 Looking ahead, we now have two events left to complete this season. Ypres in Belgium at the beginning of November, and now in December, Rally Monza. This event was announced on Friday afternoon!