Shakedown saw a fight for the fastest time between Thierry and Ott with the Belgian emerging fastest. The Toyota's were next, with Kalle and then Ogier and Elfyn with Loeb sixth fastest. Fastest of the M-Sport Fiesta's was Teemu and then Gus and Esapekka. Loubet went well in his i20, setting the second fastest time on the second run through!
Friday
Thierry Neuville took the first stage of the weekend, winning SS1 İçmeler – 13.90 km from nine-time champion Loeb, with Ott making it a 1-2-3 for Hyundai. Elfyn was next up in his Yaris, with Ogier fifth and Teemu the fastest Fiesta.
Ogier took SS2 Gökçe – 11.32 km, from Loeb and Kalle. Loeb's pace moved him into the lead from Thierry and Ogier, whilst Elfyn held fourth overall.
Classification after Day One
| | | | | |
| --- | --- | --- | --- | --- |
| 1 | S. Loeb | D. Elena | Hyundai i20 Coupe WRC | 18:50.9 |
| 2 | T. Neuville | N. Gilsoul | Hyundai i20 Coupe WRC | +1.2 |
| 3 | S. Ogier | J. Ingrassia | Toyota Yaris WRC | +1.3 |
| 4 | E. Evans | S. Martin | Toyota Yaris WRC | +2.1 |
| 5 | K. Rovanperä | J. Halttunen | Toyota Yaris WRC | +2.7 |
| 6 | T. Suninen | J. Lehtinen | Ford Fiesta WRC | +4.2 |
| 7 | O. Tänak | M. Järveoja | Hyundai i20 Coupe WRC | +4.8 |
| 8 | E. Lappi | J. Ferm | Ford Fiesta WRC | +6.6 |
| 9 | G. Greensmith | E. Edmondson | Ford Fiesta WRC | +16.1 |
| 10 | P. L. Loubet | V. Landais | Hyundai i20 Coupe WRC | +28.5 |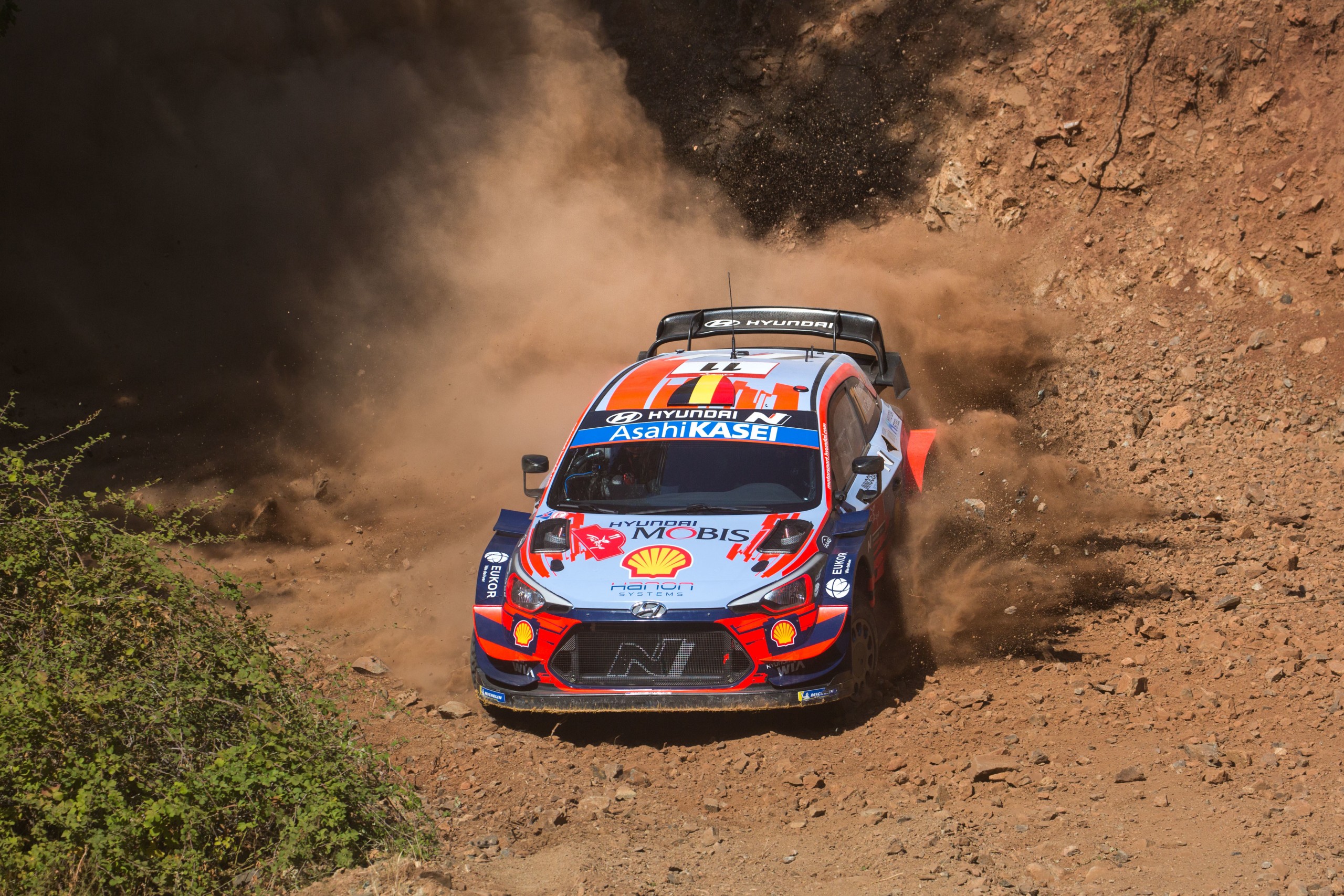 Saturday
The start list looked like this – Loubet, Greensmith, Lappi, Tänak, Suninen, Rovanperä, Evans, Ogier, Neuville, Loeb.
The first stage of the day, SS3 Yeşilbelde 1 – 31.79 km saw Ogier win the stage from Thierry and Elfyn, who'd jumped into third. The gap between Ogier and Neuville was just 1.7 seconds at the top of the leaderboard. It was a disaster for Ott however. 25km into the stage he'd stopped and the reason was that he had a steering problem. He was out for the day.
Next up, SS4 Datça 1 – 8.75 km and Ogier opened up the gap to Thierry, with the gap afterwards now three seconds between them. Elfyn continued to hold third overall, and was now eleven seconds from the lead. Best of the M-Sport drivers was Teemu, and he was in sixth overall, and 45 seconds from the lead, but still in the running for a good result.
Thierry came back at Ogier on the next one SS5 Kızlan 1 – 13.15 km, halving the gap to the leader. Was this the start of the push to remove the Toyota driver from the lead? Elsewhere, the gaps remained much the same.
After the service break, the second run of SS6 Yeşilbelde 2 – 31.79 km saw Thierry set a really fast time, jumping into the lead. Sadly, Ogier's good run in the lead was brought to an end with the Frenchman coming to the stage end with a left front puncture. Elfyn was now in second place overall and 21 seconds from our new leader. Ogier still held third however.
Thierry also took SS7 Datça 2 – 8.75 km as well, with Ogier second in the stage. Elfyn could only manage the seventh fastest time and dropped behind his teammate, and Loeb was now just 8 tenths from the Welshman.
It was a stage win for Loeb in SS8 Kızlan 2 – 13.15 km which moved him into second overall behind his Belgian teammate, who now held a 33 second lead. Esapekka was finding some pace now, going fourth fastest in this one. Just such a shame that he's lost so much time already. Ogier and Elfyn held third and fourth overall.
Classification after Day Two
| | | | | |
| --- | --- | --- | --- | --- |
| 1 | T. Neuville | N. Gilsoul | Hyundai i20 Coupe WRC | 1:36:38.6 |
| 2 | S. Loeb | D. Elena | Hyundai i20 Coupe WRC | +33.2 |
| 3 | S. Ogier | J. Ingrassia | Toyota Yaris WRC | +33.2 |
| 4 | E. Evans | S. Martin | Toyota Yaris WRC | +1:00.8 |
| 5 | K. Rovanperä | J. Halttunen | Toyota Yaris WRC | +1:18.8 |
| 6 | T. Suninen | J. Lehtinen | Ford Fiesta WRC | +1:35.0 |
| 7 | E. Lappi | J. Ferm | Ford Fiesta WRC | +2:28.0 |
| 8 | G. Greensmith | E. Edmondson | Ford Fiesta WRC | +3:15.4 |
| 9 | P. L. Loubet | V. Landais | Hyundai i20 Coupe WRC | +4:20.4 |
Hyundai Motorsport
Thierry Neuville (1st)
"This afternoon went much better than the morning. We worked a lot on the set-up, and I was much happier with the car on the repeat loop, especially in the rougher sections. We found what we were looking for and, although it's not quite 100%, we're heading in a good direction. I am very pleased with the work of the team that has allowed us to fight at the front. Tomorrow is going to be the toughest day of the rally; we will have to avoid punctures and damage, while also pushing to drive fast. I am going to try my best and hope we'll come through in one piece!"
Sébastien Loeb (2nd)
"We were frustrated after the first loop because a poor tyre choice lost us a lot of time, when we were determined to give it everything. In the afternoon, thankfully, we were able to fight back. We were still at the limit with the tyres, so we had to save a bit on the middle stage, but we managed it well. We have been able to regain ground to second overall, but it's too early to think about what we might be able to achieve tomorrow. There are still a lot of kilometres to cover."
Ott Tänak (DNF) Rally 2
"Not much positive for us to report today, as we were forced to stop on the first stage of the day with a steering issue. There was no warning, it was quite instant and nothing we could do. It had generally been a pretty demanding stage with very low grip and a lot of cleaning. The conditions were not particularly harsh, just loose. Tomorrow, we will go again and try to score some points in the Power Stage; there's little else for us to do unfortunately."
Toyota Gazoo Racing WRT
Sébastien Ogier (3rd)
"It was a good morning loop for us, winning two stages and being in the lead of the rally. The car was working well and we had some ideas to make it even better for the afternoon. Unfortunately, it was not exactly the afternoon we were looking for. But it's part of the game sometimes in motorsport, and in the end I'm happy to still be here tonight. Of course, it is frustrating not to be in the fight for the win, but at least we are still in a position to fight for the big points and for the podium. I'm sure the team can fix the car tonight and we can finish the rally well tomorrow. There are still some long stages with conditions that are probably even more challenging than today, so nothing is over yet."
Elfyn Evans (4th)
"It was a decent morning for us. Already from the first stage it was very hot in the car, but everything was working well. We had a good feeling in the car and the rhythm was good. We knew the afternoon would be tough. The time in the long stage was not so bad but my tyre wear was much higher than expected. We need to study it to find out why, but I wasn't managing the tyre well. That made the next two stages very difficult: It was a case of trying to manage it as best as we could. It's still all to play for tomorrow. The long stage will be very challenging and there could still be an opportunity to be on the podium, so we have to go and try our best."
Kalle Rovanperä (5th)
"The morning was quite OK for me even though the road was quite slippery and it was still cleaning. The afternoon was really tough. On the longest stage we had a puncture: The conditions were really rough and rocky all the time so it's impossible to know where we got it. After that we had to be careful to get through the other two stages. The overall position is still good for us though, and tomorrow is a long day so anything can happen. If we can keep this position or even gain something more, that would be good."
M-Sport WRT
Teemu Suninen (6th)
"I've been quite happy with the day. I felt like I was driving well and that our tyre management was good. We were pushing hard while still taking care of the tyres and we were able to set some good times this afternoon. But then on the last two stages we had quite a lot of dust in the car when one of the small windows on the side popped open – which was really distracting. Tomorrow the plan is to continue what we are doing and get through the day. We have some really rough stages – the roughest of the weekend I would say – so we need to keep our eyes open and make sure we get to the end with some more good times."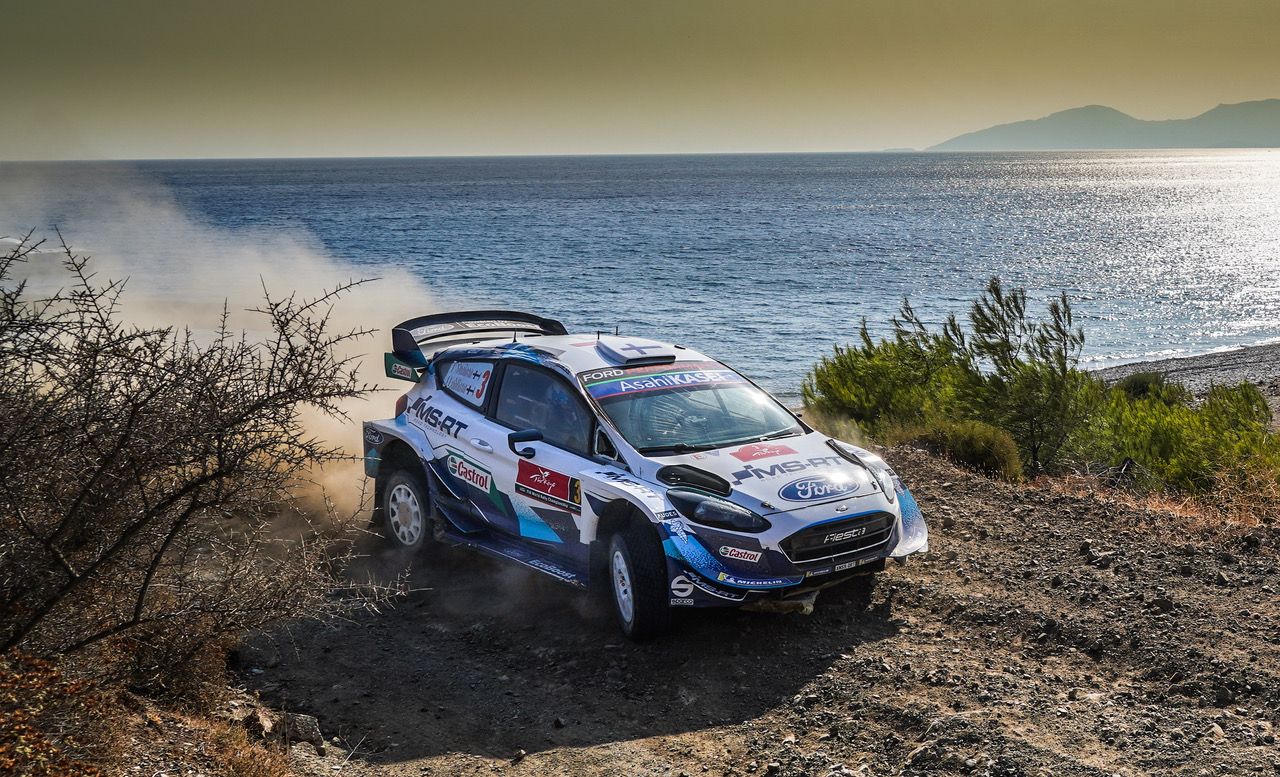 Esapekka Lappi (7th)
"It's been really hot and challenging out there today – it's tough on the cars, on the tyres and on the crews as well. It was tricky running so early on the road, but we tried to drive well and learn as much as we could about the car on these kinds of roads. We learnt quite a lot and things got better this afternoon, but there's still some more to do so let's see what we can discover tomorrow."
Gus Greensmith (8th)
"We were making quite a few changes after each stage and on the long one this afternoon the splits were looking really strong. But unfortunately, we picked up a puncture. I'm not sure where we got it, but we did, and for the last two I had a bald tyre on the rear which made things pretty interesting with some pretty big slides! I'm trying to do the best I can and it seems to be getting better with every stage. We've been pretty good on the rough sections, and that's what we'll have to contend with tomorrow so let's see what we can do."
Sunday
With four stages to run, totalling almost 89km, the drama would really happen in the first stage of the day. The start list looked like this: Tänak, Loubet, Greensmith, Lappi, Suninen, Rovanperä, Evans, Ogier, Loeb, Neuville.
As Ott started the first stage of the day, SS9 Çetibeli 1 – 38.15 km, there was a problem for the Estonian pairing! Their intercom had failed, and Ott couldn't hear what Martin was saying. Martin resorted to using hand signals to guide Ott through and they still took second fastest in the stage, behind Elfyn who was 30 seconds fastest than the Hyundai crew. It was a stage of drama, with first Loubet and then Suninen stopping. The Finnish pairing had broken his left rear suspension and they were out. The stage was living up to its reputation to be a car breaker. Then Ogier had a puncture at 18km and stopped to change the wheel. Lappi then also got a puncture at 10km, and so did Kalle! Rally leaders, Thierry and Nicolas were another crew to suffer a puncture, albeit much closer to the end of the stage at 25km's. Loeb also suffered a puncture, losing a minute and twenty seconds! Elfyn now led, from Ogier who was 47 seconds from his teammate and Thierry dropped to third, just one second from second place.
Thierry won SS10 Marmaris 1 – 6.22 km, and moved ahead of Ogier into second place. Loeb and Ogier were second and third fastest in the stage. The new leaders Elfyn and Scott were fifth fastest, and were now just making sure that they completed the remaining stages with no problems.
There was more drama in the rerun of SS11 Çetibeli 2 – 38.15 km! Our leader suffered a stall in a hairpin, but was still second fastest behind Thierry. Ogier was the big loser though, with engine failure, and he stopped at 16.7km's into the stage. Lappi completed with a puncture, but was still faster than his teammate Gus Greensmith by 7.3 seconds who was now in fifth overall. Loeb was now into third overall, with the demise of his former Citroen teammate.
A tweak to the running order then before the final stage of the rally, and the starting order looked like this: Brynildsen, Fourmaux, Tidemand, Heller, Avci, Bulacia, Kajetanowicz, Tänak, Lappi, Greensmith, Rovanperä, Loeb, Neuville, Evans.
Thierry won SS12 Marmaris 2 [Power Stage] – 6.22 km, with Ott just four tenths from the stage victory, picking some points up, but not the result that he and Martin wanted. Elfyn was third fastest in the stage, sealing a very good third victory. Kalle and Loeb completed the top five in the power stage.
There you go then, with all kinds of drama on the morning of the final day, Elfyn and Scott took a remarkable victory, with Thierry and Nicolas taking second position, and Seb and Daniel completing a good third place for Hyundai.
Final Overall Classification – Rally Turkey
| | | | | |
| --- | --- | --- | --- | --- |
| 1 | E. Evans | S. Martin | Toyota Yaris WRC | 2:43:02.7 |
| 2 | T. Neuville | N. Gilsoul | Hyundai i20 Coupe WRC | +35.2 |
| 3 | S. Loeb | D. Elena | Hyundai i20 Coupe WRC | +59.4 |
| 4 | K. Rovanperä | J. Halttunen | Toyota Yaris WRC | +2:35.9 |
| 5 | G. Greensmith | E. Edmondson | Ford Fiesta WRC | +4:08.3 |
| 6 | E. Lappi | J. Ferm | Ford Fiesta WRC | +5:36.2 |
| 7 | K. Kajetanowicz | M. Szczepaniak | Škoda Fabia R5 | +12:35.5 |
| 8 | P. Tidemand | P. Barth | Škoda Fabia R5 | +12:59.7 |
| 9 | A. Fourmaux | R. Jamoul | Ford Fiesta R5 | +14:42.6 |
| 10 | M. Bulacia | M. Der Ohannesian | Citroën C3 R5 | +14:46.4 |
Toyota Gazoo Racing WRT
Elfyn Evans (1st)
"It obviously feels good to come away from a really tough rally with a win. We showed some good pace from the start. We were perhaps not the fastest driver out there this weekend, but we were there or thereabouts and we knew that today was going to be critical. We really tried to focus on keeping it in the middle of the road and that paid off for us, and I'm happy to come away with all those points. It's probably not the sweetest victory because we know that others had some bad luck, but this is the nature of Rally Turkey and we knew this coming into the weekend. It's a great result towards the championship and a good position to be in."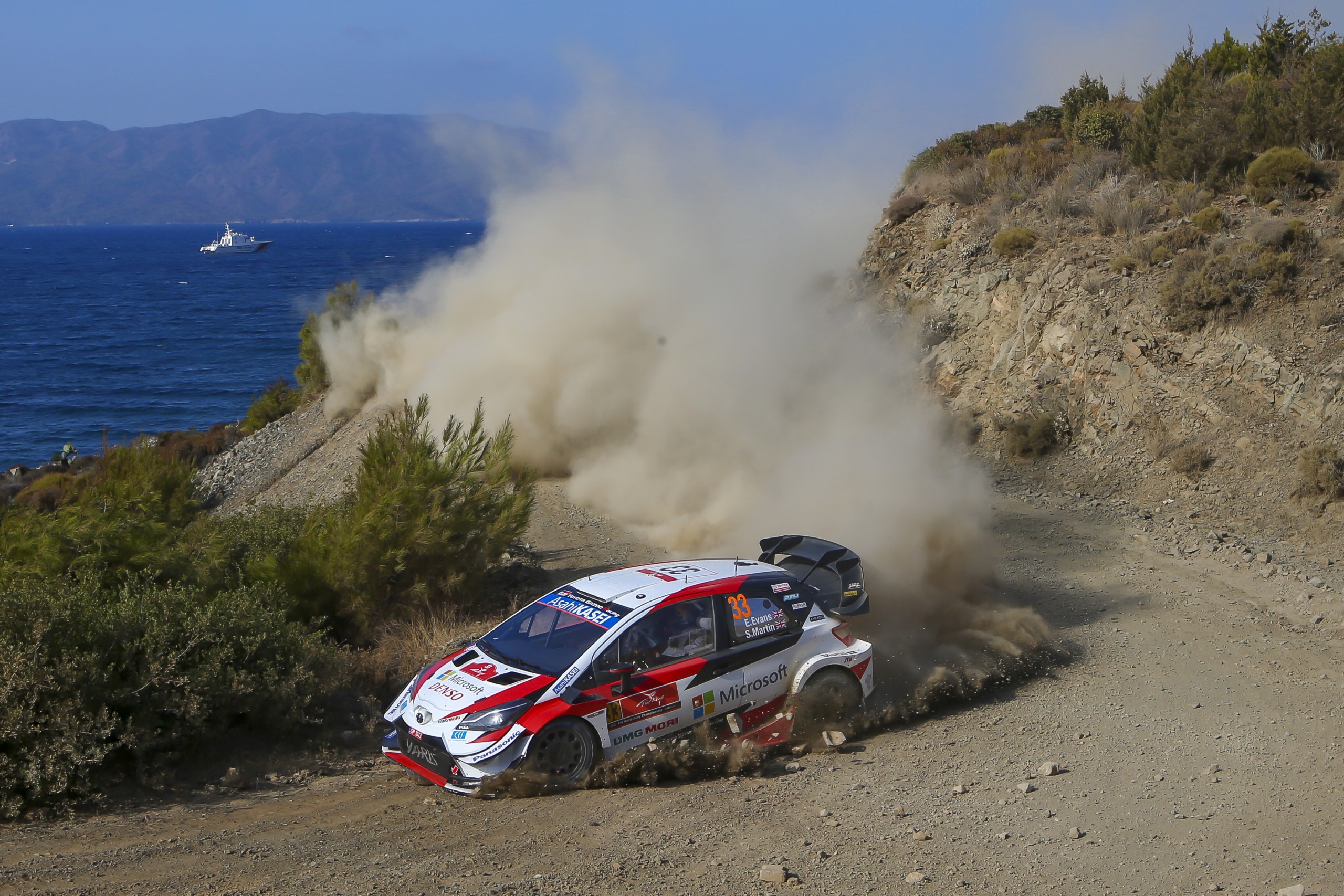 Kalle Rovanperä (4th)
"This is another good result for us. It's nice to keep finishing these rallies with good points. I have to say a really big thank you to the team, because they are doing a very big job in a rally like this to keep the car in a good condition as it's really rough for the car. The long stage today was tough as we expected. On the second pass we were really careful to save the car and the tyres. Then in the Power Stage we couldn't push too much because we wanted to get the points for the manufacturers' championship, but we still managed to set a nice time and get some more points."
Hyundai Motorsport
Thierry Neuville (2nd)
"I have the feeling we deserved to have taken more away from this weekend, but it is still a great feeling to be back on the podium again. We showed a strong performance and the car was working really well; we made some changes on Saturday afternoon and the speed was definitely there. Unfortunately, we were among the unlucky crews to pick up a puncture on the first stage today, which prevented us from taking the victory. Still, we fought back to take P2 and five Power Stage points, so from a championship point of view it was a good move. Even if we didn't take the win, we did the maximum we could. I have to say thanks to the team for all their efforts."
Sébastien Loeb (3rd)
"It has been a tough final day of this rally. The first stage this morning was a bit of a lottery and we didn't get the right numbers! There was a lot of dust and I was driving carefully because I knew there was a chance of a puncture, and suddenly that's exactly what happened. We only had ten pages of notes left so we decided to bring the car to the end, but I lost the tyre completely so had to drive really slowly. We were still in the battle for the podium. Our aim in the second loop was the get the car through safely and we were able to do that to secure third place – and a great podium finish."
Ott Tänak (17th)
"Since the beginning of the weekend, it has been a very challenging event for us. Friday night, we had some demanding conditions, then on Saturday morning we had to retire with the steering issue. Today, we had to drive through the first three stages with a target of getting something from the Power Stage. I didn't really have the full commitment to go flat out, somehow it was only at 90%, but we made it through and got four extra points which is much better than nothing."
M-Sport WRT
Gus Greensmith (5th)
"I'm pretty pleased at the end of this one and happy with how our weekend panned out. That long stage today was so rough, and considering where we were, I decided that caution was the better act of valour. That turned out to be the right decision – it worked out, and we come away from this weekend with our best ever result.
"I was hoping that we would be able to transfer our Shakedown pace to the rally, but without a pre-event test that proved difficult and we still made a lot of improvements over the course of the weekend – so a big thanks to the team for that. And I think I've also made an improvement inside the car. Whereas I might have just sent it once upon a time, I'm now focused on being mistake-free and getting the mileage under my belt – and the confidence will come with that."
Esapekka Lappi (6th)
"It's always a challenge coming here, but I think you also need a little bit of luck and that wasn't really on our side today. That long stage is the roughest of the weekend and we got a puncture on both passes through there. The first one was quite early on so we had to stop and change, and the second was about five kilometres from the end.
"It was a shame because the times on both passes of that stage were actually looking pretty good. We'd made quite a few changes throughout the weekend, and it looked as though everything was starting to come together. So hopefully that's all good information that we can take forward to Sardinia in two weeks times."
Teemu Suninen (DNF)
"It's really disappointing how we had to end the day as I think we could have achieved another good result this weekend. I would say that we were quite unlucky. There were so many big rocks on the stage and so many people having problems – unfortunately for us, our problem was quite a big one as the damper was completely broken and it meant that we couldn't continue.
"It's a shame because I think we were driving well and the time looked pretty okay too. We've still learnt a lot this weekend, and it's all good practice for Sardinia where we'll try again to close the gap and bring home a good result for the team.
"And there was some good news from today as we found out that my engineer Callum has become a father for the very first time – so I would like to say a big congratulations to him and his girlfriend."
2020 FIA World Rally Championship for Drivers' Standings
After round 5
| | | |
| --- | --- | --- |
| 1 | E. Evans | 97 |
| 2 | S. Ogier | 79 |
| 3 | O. Tänak | 70 |
| 4 | K. Rovanperä | 70 |
| 5 | T. Neuville | 65 |
| 6 | E. Lappi | 38 |
| 7 | T. Suninen | 34 |
| 8 | C. Breen | 25 |
| 9 | S.Loeb | 24 |
| 10 | G. Greensmith | 16 |
2020 FIA World Rally Championship for Manufacturers' Standings
After round 5
| | | |
| --- | --- | --- |
| 1 | Toyota Gazoo Racing World Rally Team | 174 |
| 2 | Hyundai Shell Mobis World Rally Team | 165 |
| 3 | M-Sport Ford World Rally Team | 101 |
| | | |
Summary
This event lived up to its reputation as the modern-day Rally Acropolis. Just when you thought it was settled, the first run of the Çetibeli 38km stage threw Thierry's hopes for victory right out.
Elfyn and Scott were a minute from the leader at the start, but came through to win that stage, and take the lead of the rally. All three crews in front of them suffered punctures, and lost so much time. It was a great victory for the Toyota pairing, and as you can see, this has moved them back into the championship lead.
Thierry and Nicolas kept their heads and showed their pace, coming through to second place, after winning seven stages. Definitely one that got away from the Belgian pairing though, who at least got their second podium of the year, after their win in Monte Carlo.
Seb Loeb and Daniel Elena showed their class, with a first podium since Rally Chile last year, but again a puncture meant that they were always playing catchup.
Kalle has proved that Tommi made the right decision, with a good drive to fourth place, now holding fourth in the championship.
At M-Sport, Gus Greensmith got his best finish to date, with fifth place. What could he do next time out in Rally Italia? He still has a lot to learn from his teammates. Teemu would have been ahead, but for the damage to the left-rear wheel and suspension.
Next up is Rally Italia Sardegna in two weeks' time! Another gravel event, and as championship leaders Elfyn and Scott will open the road. Pop back before the 8th of October to check out my preview for this event.