Round 5 of the 2020 MotoGP Championship took place on the 11-13 September at the San Marino Circuit, Italy.
Qualifying was dominated by Yamaha who took the first four places on the grid with a second pole position of this season for Maverick Viñales (Monster Energy Yamaha MotoGP) who was just 0.3 seconds ahead of Franco Morbidelli (Petronas Yamaha SRT). The championship leader Fabio Quartararo (Petronas Yamaha SRT) starts the race in 3rd followed by Valentino Rossi (Monster Energy Yamaha MotoGP) who takes 4th spot on the grid. This is the first time in MotoGP that Yamaha have had a 1-2-3-4 qualifying.
Unfortunately Cal Crutchlow has been declared unfit for the race. Cal has not recovered from his recent operation as well as he would have hoped but does plan to be back on the track at Barcelona.
The starting grid for the race looked like this:
Row 1 : Vinales : Morbidelli : Quartararo   Row 2 : Rossi : Miller : Bagnaia
Row 3 : Rins : Mir : Dovizioso   Row 4 : Zarco : P.Espargaro : Oliveira
Row 5 : A.Espargaro : Nakagami : Petrucci  Row 6 : Binder : Rabat : Lecuona
Row 7 : Bradl : Smith : A.Marquez
With 27 laps of racing, the red lights go out and the racing begins with Rossi getting off to a great start but Morbidelli getting off to an even better start and is first into Turn 1 followed by Rossi, Miller, Vinales and Quartararo.
By lap 2 Rins and Mir are closing in on Quartararo. Rossi is right on the tail of Morbidelli looking for his chance to slip past and the gap is building between 3rd place Miller and Vinales in 4th.
Bradley Smith crashes out at Turn 14 of lap 4 putting an early end to his race and a long lap penalty is issued to Lecuona who stalled on the grid of the warm up but instead of starting from the back of the grid he took his grid place, hence the penalty.
The pace of the front runners is good with Morbidelli still out in front followed by Rossi and Miller by lap 7. Vinales has passed Quartararo and although Quartararo tried to get the place back, Vinales made the overtake stick and kept the place but at Turn 4 of the following lap, Quartararo goes down and although he manages to pick the bike up and get back on the track, he is now down in last place.
Lap 9 sees Rins make a move on the inside of Vinales followed by Bagnaia who is now up into 5th place. The gap at the front of the grid between Morbidelli and Rossi is 0.3 seconds on lap 10 but two laps later it has increased to 0.7 seconds. Rins is on the back of Miller looking to get past and manages to take the place at the beginning of lap 14. Bagnaia is also having a look to see if he can get past Miller and goes up on the inside to cleanly take the place and is now up to 4th. Miller has lost 2 places in the space of 2 laps.
Lap 15 and the gap between Morbidelli and Rossi is now 1.1 seconds but by the following lap it is 1.7 seconds. Morbidelli seems to have this race under control and is setting a good even pace. Mir is now up into 6th place and although he has a big wobble on lap 17, he manages to hold onto the bike and place.
Bagnaia is right on the heels of Rins and lap 18 sees Mir pass Miller up on the inside into 5th place. Rins and Bagnaia are now hot on the heels of Rossi. Quartararo goes into the pits on lap 19, comes out again on the following lap and goes down at turn 6 – cold tyres perhaps?
Morbidelli has extended his lead to 2.7 seconds by lap 20 and we see Bagnaia go up the inside of Rins into 3rd place and then the following lap straight up the inside of Rossi into 2nd with Rins also having a look to see if he can get past too. Despite a late braking manoeuvre in which it looks like Rins is going to make the move past Rossi, Rossi is not giving up the place and holds onto his place for the moment.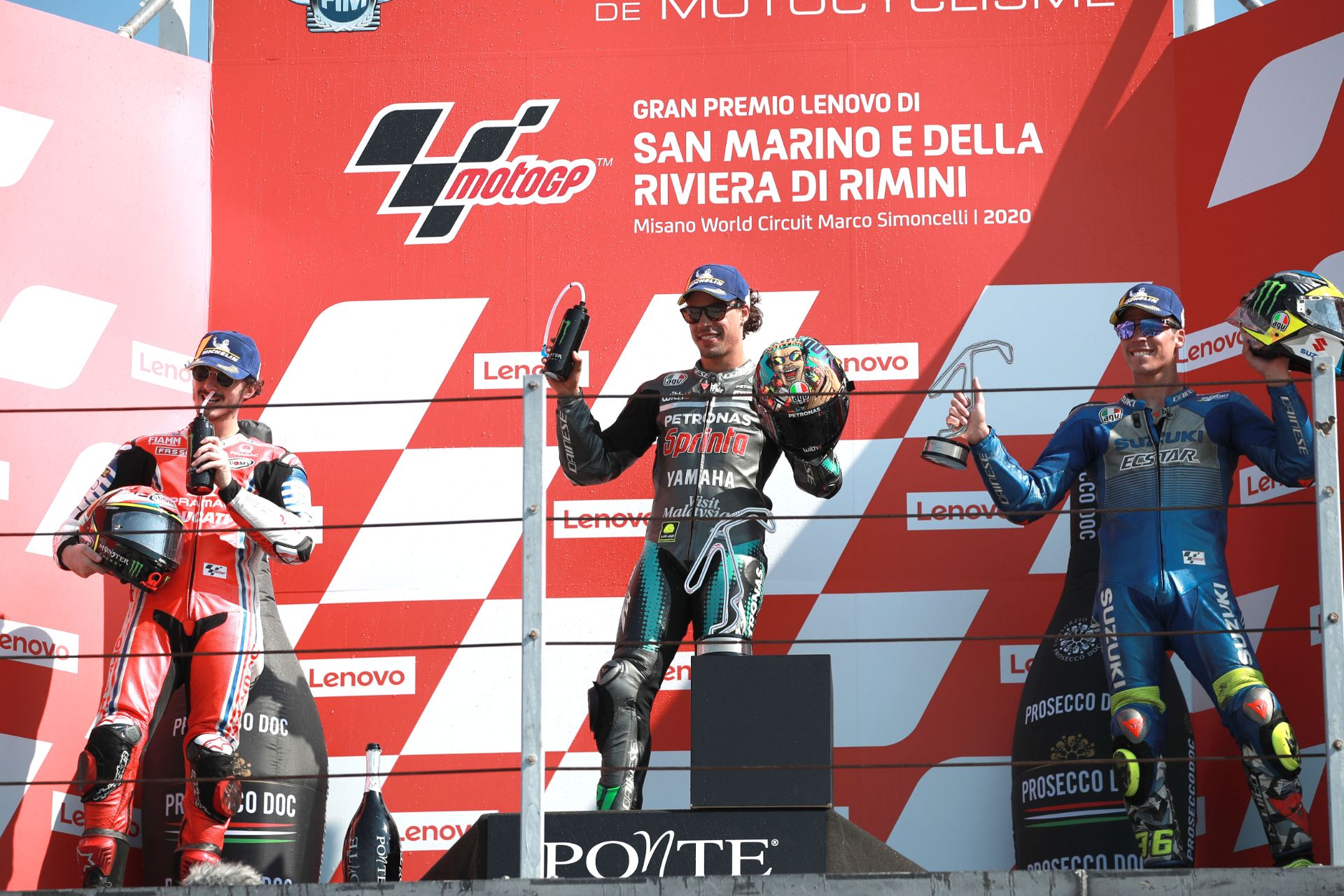 Turn 9 on lap 24 sees Rabat crash out and although he is walking away he does look to be in some discomfort whilst doing so. Mir is right up with Rins and now Rossi is back up with Bagnaia looking to get his 2nd place back. Bagnaia seems to be having a problem with the bike especially in the corners.
On the final lap Mir makes a move past Rins up into 4th place and now has his sights on Rossi's 3rd place. Mir is definitely on it and moves on the inside of Rossi to take the last podium spot. Morbidelli comfortably takes the chequered flag for his first win In MotoGP followed by Bagnaia and a closely followed Mir.
What a brilliant end to an action packed race from the San Marino circuit. The action is set to return on the 18-20 September back at the San Marino circuit.
BK