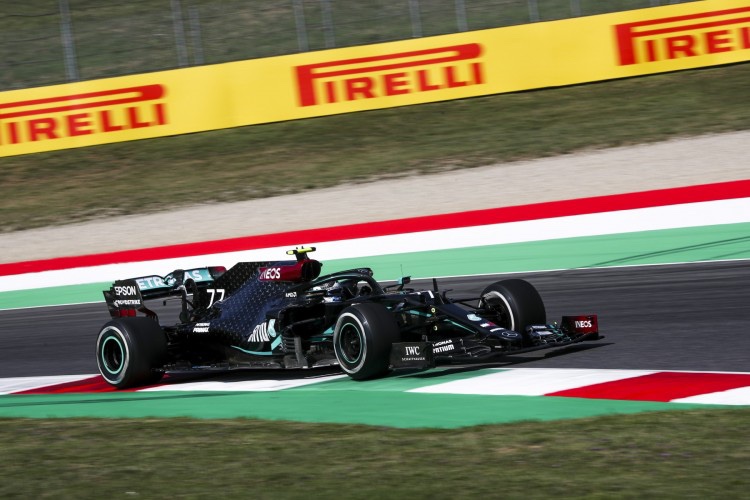 image courtesy of Pirelli Motorsports
Valtteri Bottas was fastest during free practice one at the Tuscan Grand Prix. It is the first timed session that we have been able to see with Formula One cars at the famous Mugello circuit.
Bottas set a time of a 1:17:879 closely followed by the Red Bull of Max Verstappen (+0.048). His teammate Alex Albon finished down in P9 (+1.189)
Genuine pace or a masquerade? Regardless Charles Leclerc went third fastest (+0.307) on Ferrari's 1000th Grand Prix in a surprising up-turn in pace. There were some questions as to whether the 'Red Car' were running extremely light to set positive headlines in Italy. Well, it may have worked as there will be an enthusiastic tifosi willing the team on to a potential top 6 result.
Leclerc has been running a new chassis after his collision at the Parabolica last weekend. There is no evidence that it is a new design, but it is entirely possible that they could be tweaks for Ferrari's famous weekend.
As for Sebastien Vettel, it was a familiar story. Finishing down in P13 (+1.388), the German will no doubt be setting the headlines off-track more so than on-track. With his famous move to Aston Martin for 2021 now in the open, perhaps pressure will be off Vettel this weekend with his future in Formula One assured?
Lewis Hamilton finished down in fourth place (+0.530) in a rather uneventful session, in which the only memorable moment came from a radio transmission asking Lewis to turn the engine down. Mercedes feeling the strain on the engine perhaps?
Alpha Tauri's Pierre Gasly and Danil Kvyat finished in an impressive P5 (+0.797) and P7 (+0.960) freshly following the Frenchman's win at Monza. Earlier in the session there was a slight concern as engineers crowded around Pierre's bargeboard. However, this seemingly didn't hinder the team's pace who have a strong chance to continue their strong run of form since Spa.
Esteban Ocon finished in P6 (+0.926) with Daniel Ricciardo in P10 (+1.261) Renault have shown glimpses of form since Spa however have some strong competition with the resurgence of both McLaren and Alpha Tauri.
McLaren's Lando Norris finished P8 (1.102) with Carlos Sainz P15 (+1.578). The British team tested a range of different aero parts, particularly a new front wing. From casual observation the wing is similar to that of the Mercedes with a narrow body, short stubby pillars under the nose to connect to the wing and a higher cape.
Outside the top ten was a train of Ferrari powered cars starting with the Alfa Romeo of Kimi Raikkonen in P11 (+1.340), the Haas of Romain Grosjean in P12 (+1.345) and Giovinazzi in P14 (+1.443). It is going to be a constant balancing act of lower the downforce to gain on the straight. However, the number of high-speed corners may mean that sacrificing too much downforce will be too much risk on a track such as this. Grosjean had a small moment with the Racing Point of Sergio Perez in which the Swiss driver complained on the radio that he was blocked coming into the second sector.
George Russell finished in P16 (+1.599) closely followed by Kevin Magnussen in P17 (+1.672)
Interestingly, the Racing Point's decided to not run the soft tyres and focus on race simulations. Stroll finishing in P18 (+1.957) and Perez P19 (+1.961). The Silverstone based team need to find a solution to their confusing drop off in race pace and may be testing to see if they can make the medium tyres last on a one stop strategy.
The final position was rounded out by the Williams of Nicholas Latifi in P20 (+2.155) who's most memorable moment was a spin during the final ten minutes of the session.
As we draw closer to Free Practice Two. The drivers will be seeking the aid of their trainers and physiotherapists to negate the strain on their necks. While the Mugello circuit is something of a beauty with the backdrop of the Florence and the mountains nearby, it is a double-edged sword. The undulating, medium and high-speed corners are tricky, demanding and will prove a stiff test for many of the drivers to acclimatise before qualifying on Saturday.
FP1 Classification
Bottas (1:17:879)
Verstappen (+0.048)
Leclerc (+0.307)
Hamilton (+0.530)
Gasly (+0.797
Ocon (+0.926)
Kvyat (+0.960)
Norris (+1.102)
Albon (+1.189)
Ricciardo (+1.261)
Raikkonen (+1.340)
Grosjean (+1.345)
Vettel (+1.388)
Giovinazzi (+1.443)
Sainz (+1.578)
Russell (+1.599)
Magnussen (+1.672)
Stroll (+1.957)
Perez (+1.961)
Latifi (+2.155)