Round 5 of the WorldSBK Superpole and Race 1 took place on Saturday from MotorLand Aragon with the reigning Champion, Jonathan Rea (Kawasaki Racing Team WorldSBK) taking back to back pole positions at Aragon and beating his own lap record in the process. Michael Ruben Rinaldi (Team GOELEVEN) had his best ever WorldSBK Superpole race by securing 2nd on the grid followed by Scott Redding (ARUBA.IT Racing – Ducati) in third position.
The starting grid for Race 1 looked like this:
Row 1 : Rea : Rinaldi : Redding  Row 2: Haslam : Bautista : Sykes
Row 3 : Lowes : Davies : Razgatlioglu  Row 4 : van der Mark : Caricasulo : Baz
Row 5 : Fores : Gerloff : Scheib  Row 6 : Ramos : Melandri : Laverty
Row 7 : Takahashi : Ferrari : Barrier
With 18 laps of racing, Race 1 got underway with Rea getting off to a great start and is in the lead by Turn 1 followed by Redding and Rinaldi. Fores runs wide at Turn 2 and rejoins the grid in last place, Rinaldi, who is running the soft tyre, passes Redding going out of Turn 2 and Razgatlioglu has dropped from 4th to 7th place.
Just as Rea and Rinaldi are at the end of lap 1, Rinaldi makes a move on Rea on the inside and passes him, taking the lead into lap 2. Rea is on Rinaldi's tail looking to get past but Rinaldi is not letting go of that place. Redding meanwhile is now on the tail of Rea and is waiting for the opportunity to pass. Barrier crashes out putting an abrupt end to his now very short race.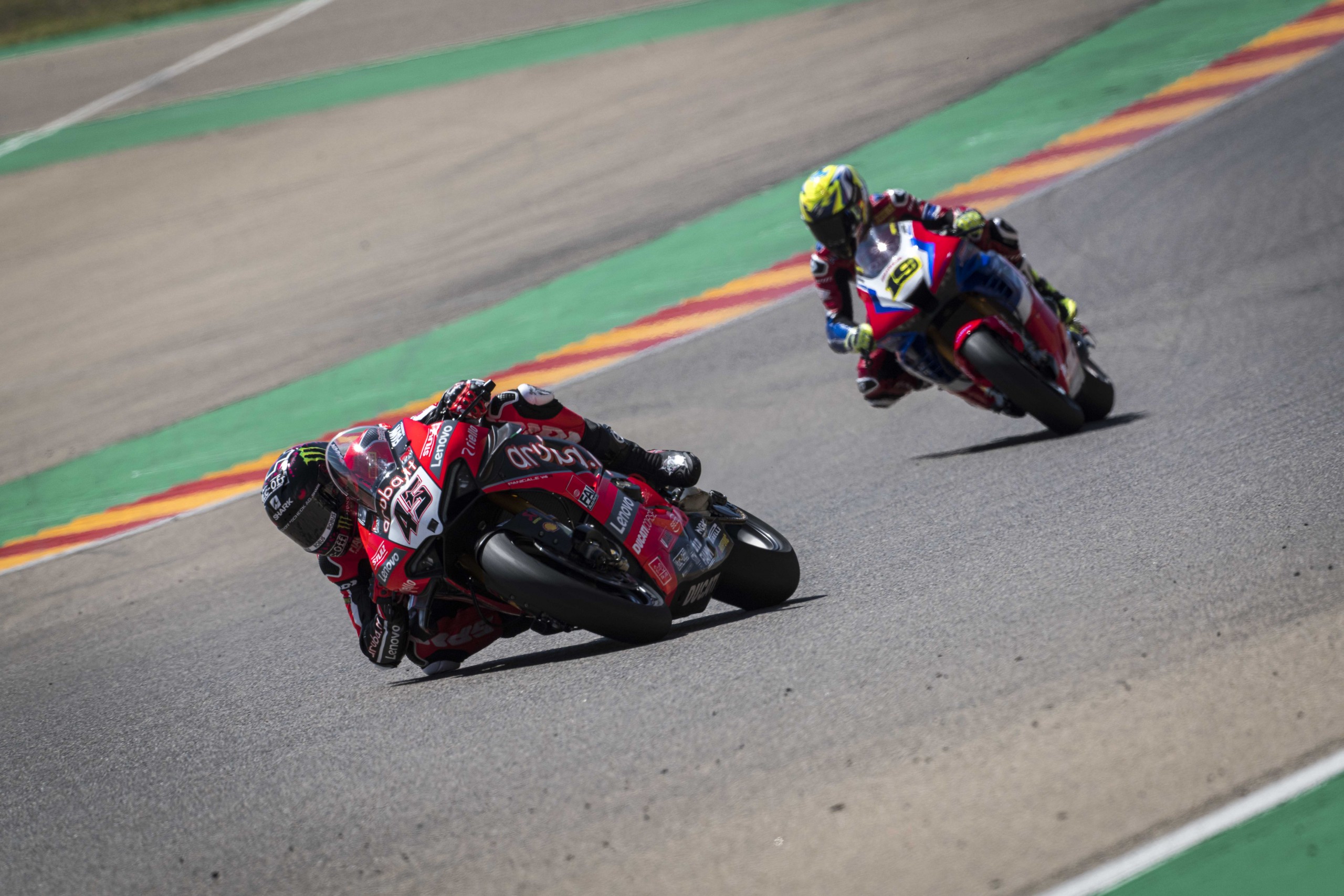 By lap 3, Rinaldi has a half second gap on Rea, Bautista takes Razgatlioglu in a very nice move on the inside and Scheib crashes at Turn 3 coming up the hill and is out of the race. Davies is next up to attack Razgatlioglu and he goes cleanly up on the outside, Razgatlioglu is looking to get back past but so far he is not able to and Davies is holding the place.
Lowes, who has not been well all week, is all over Haslam in 8th place on lap 4 and is looking for a chance to get past and manages to do so on the following lap. This is the first race for Matteo Ferrari on the Ducati who has just passed Melandri up into 16th place.
By lap 6 the gap between Rinaldi and Rea is now 2 seconds, Redding runs wide and Bautista who is right up with him looks for a chance to get past but Redding manages to hold Bautista back but as we come out of Turn 4 on the following lap, Redding loses it and goes down sliding into the gravel and out of the race.
Rinaldi has now pulled out a lead of 4.1 seconds on Rea coming into lap 9 and the battle for 11th place is heating up between Gerloff and Baz. Lowes runs wide at Turn 1 just at the start of lap 10 and is now down in 10th place.
Bautista is closing in on Rea and the battle for 7th is between Sykes and Haslam, Lowes has passed Caricusulo into 9th but then Sykes runs wide allowing Haslam, Lowes and Caricusulo to go through and dropping from 7th to 10th place in a few short moments.
Lap 13 sees Lowes pass Haslam in a very smooth move up the inside and into 7th spot. The following lap Bautista passes Davies up into 3rd position, Davies is looking to get the place back but can't manage it but then at Turn 14, Bautista goes down and out of the race. Judging by his body language, that is one very unhappy Bautista, his second retirement of the year having retired from Race 1 last weekend at Aragon too!
Going into lap 15, Rinaldi's lead increases to 6.9 seconds on Rea and by lap 18 Rinaldi, Rea and Davies are all riding their own races and have a good lead against the rest of the pack. They just need to keep it steady and not make any mistakes for the next couple of laps. Lowes is in 6th position followed by Haslam and Caricusulo who are hot on his heels.
The chequered flag sees 24 year old Rinaldi first past the line making him the 78th different winner in the WorldSBK Championship. Rinaldi, riding for Ducati Team GOELEVEN, has secured the first independent team victory since 2012. Rea follows through in 2nd place followed by Davies in 3rd.
What an incredible win for Rinaldi and Ducati Team GOELEVEN, you can see his obvious elation at his victory and his team go wild in the pits.
BK