Round 5 of the WorldSBK Race 2 took place on Sunday 6th September from MotorLand Aragon with Scott Redding (ARUBA.IT Racing – Ducati) in pole position followed by the reigning Champion, Jonathan Rea (Kawasaki Racing Team WorldSBK) and then Michael Ruben Rinaldi (Team GOELEVEN) taking the last place on the front row of the grid.
The starting grid for Race 2 looked like this:
Row 1 : Redding : Rea : Rinaldi Row 2 : Bautista : Davies : Lowes
Row 3 : Razgatlioglu : Haslam : Sykes Row 4 : Baz : Caricasulo : van der Mark
Row 5 : Scheib : Gerloff : Fores Row 6 : Laverty : Melandri : Ramos
Row 7 : Barrier : Ferrari : Takahashi
With 18 laps of racing, Race 2 gets underway with Rea getting off to a great start and is first into Turn 1 followed by Redding, Rinaldi, Bautista, Davies and Razgatlioglu. Lowes has dropped from 6th to 9th, Redding surprises Rea on the inside and takes him. Rea is looking to get the place back but cannot get the move on Redding. Rinaldi is now homing in on Rea.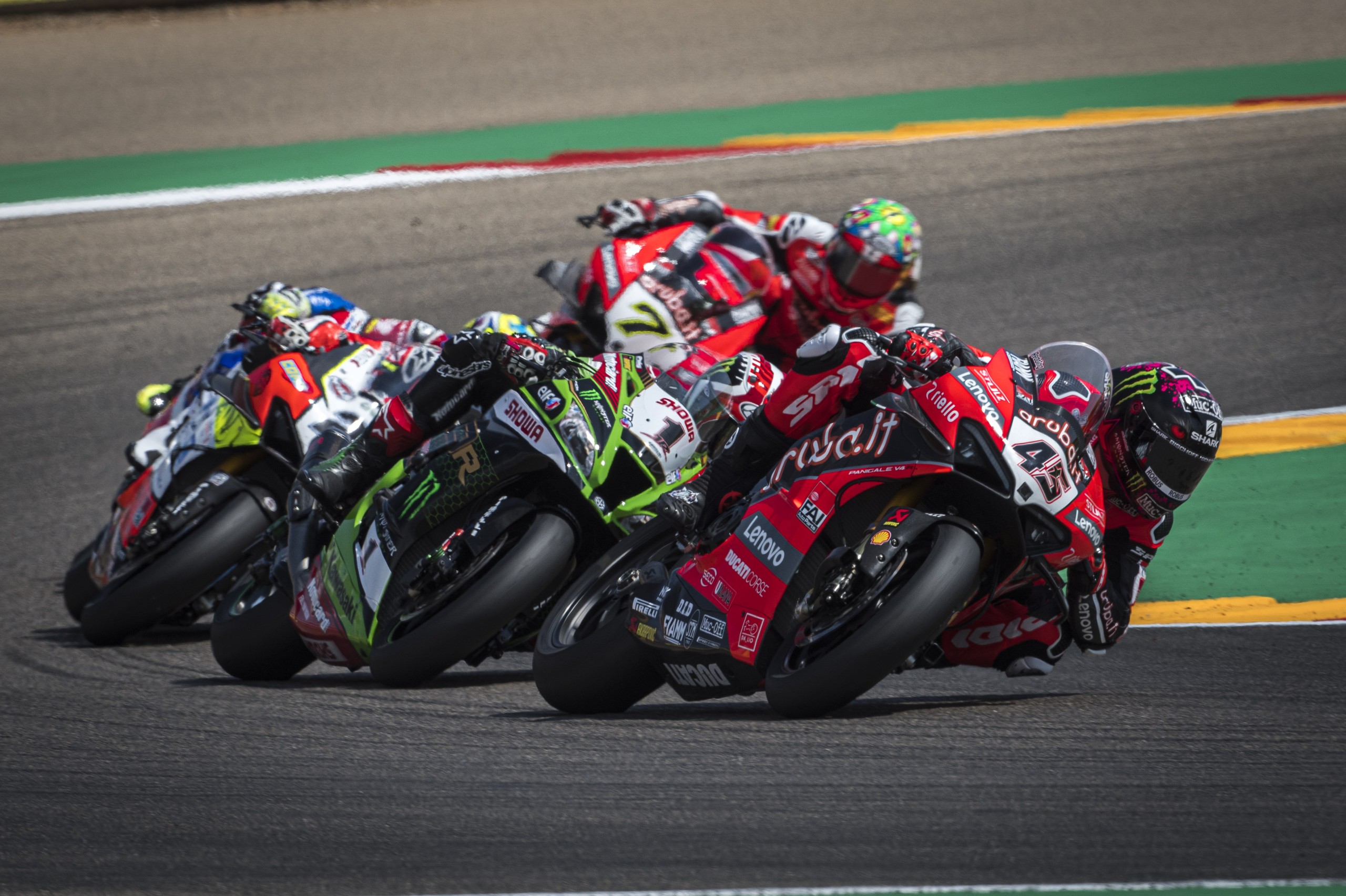 Sykes retires on lap 2 and the following lap sees Haslam pass Razgatlioglu swiftly followed by Lowes who has now dropped two places. Scheib crashes at Turn 15 on lap 4 putting an early end to his race and Baz has dropped five places to 15th. Redding puts in the fastest lap but Rea is hot on his heels.
Lap 5 sees Bautista go down at Turn 15 and although he has managed to rejoin the track, he is now at the back of the grid. There is less than 3/10ths of second between Redding, Rea and Rinaldi and going into Turn 7 Rea slips up the inside of Redding and they are neck and neck going round the corner, Rea pulls ahead slightly but Redding pulls the lead back and manages to hold on to 1st place.
Whilst Redding and Rea are jostling, Rinaldi takes advantage and pulls down the inside of Rea up into 2nd and then continues up on the inside of Redding into Turn 12 to take the lead. Rea tries to follow Rinaldi through but doesn't make it but then on the last corner going into lap 6, Rea passes Redding. Redding has lost 2 places in one lap. Haslam has moved up into 5th position followed by Lowes who are both putting pressure on Davies for 4th place.
Lap 9 sees a one second gap between Rinaldi and Rea with Redding dropping back slightly on the front runners. Rea closes the gap on Rinaldi on the corners but the Ducati of Rinaldi has the speed on the straights.
Lowes is hot on the heels of Haslam, van der Mark has moved up into 7th and Barrier crashes out. Rea is glued to the tail of Rinaldi but he is not backing off and is managing to hold off the reigning World Champion, defending his position perfectly.
By lap 13, Redding is just over a second behind Rea, Rea is not giving up on trying to gain first position but can Rinaldi hold him off for the remaining laps? Turn 14 sees Davies go down and out of the race with the fight for 4th position, now between Haslam, Lowes, van der Mark and Razgatlioglu.
Redding has closed the gap to just under a second on Rea by the following lap but the fight between Rinaldi and Rea continues with Rea continually having a look to see if he can make his move on Rinaldi. Going into turn 5, Rea goes down the inside of Rinaldi but then by turns 6 and 7 Rinaldi is back in front again. Rea has a huge wobble and gets totally out of shape but somehow manages to save the bike and the place but he's now got to make up the gap between him and Rinaldi again.
On turns 6 and 7 on the following lap, Rea goes down the inside of Rinaldi again and this time he makes the pass stick and by the end of the lap has pulled out a .3 second gap. Haslam is holding off Lowes in the fight for 4th position and by the last lap the gap is now .6 seconds between Rea and Rinaldi.
@jonathanrea scored second place in the Tissot-Superpole race today before taking his 96th career race win at the Teruel WorldSBK round extending his championship lead in the process. @alexlowes22 continued to ride through illness and posted 6th and then 5t place finishes today. pic.twitter.com/qRnu8M4gG8

— KRT WorldSBK (@KRT_WorldSBK) September 6, 2020
Rea is looking good for the win and he passes the chequered flag first for his 96th WorldSBK win in such a closely fought battle followed by Rinaldi and Redding.
Rea now has a 36 point lead over Redding in the Championship.
The next race is at the Circuit de Barcelona-Catalunya, Barcelona, Spain on the 18-20 September.
BK
The Driver's / Team Standings so far at the end of Round 5 at MotorLand Aragon on the 5/6 September August looked like this:
| | | | | | |
| --- | --- | --- | --- | --- | --- |
| Pos | Rider | Points | Pos | Team | Points |
| 1 | Jonathan Rea | 243 | 1 | Kawasaki | 269 |
| 2 | Scott Redding | 207 | 2 | Ducati | 245 |
| 3 | Toprak Razgatlioglu | 147 | 3 | Yamaha | 185 |
| 4 | Chaz Davies | 141 | 4 | Honda | 116 |
| 5 | Michael van der Mark | 133 | 5 | BMW | 66 |
| 6 | Michael Ruben Rinaldi | 131 | 6 | Aprilia | 4 |
| 7 | Alex Lowes | 127 | | | |
| 8 | Alvaro Bautista | 83 | | | |
| 9 | Loris Baz | 76 | | | |
| 10 | Leon Haslam | 75 | | | |
| 11 | Tom Sykes | 58 | | | |
| 12 | Garrett Gerloff | 39 | | | |
| 13 | Federico Caricasulo | 36 | | | |
| 14 | Xavi Fores | 33 | | | |
| 15 | Eugene Laverty | 31 | | | |
| 16 | Marco Melandri | 23 | | | |
| 17 | Sandro Cortese | 14 | | | |
| 18 | Leandro Mercado | 12 | | | |
| 19 | Maximillan Scheib | 11 | | | |
| 20 | Sylvain Barrier | 5 | | | |
| 21 | Christophe Ponsson | 4 | | | |
| 22 | Roman Ramos | 4 | | | |
| 23 | Matteo Ferrari | 4 | | | |
| 24 | Takumi Takahashi | 2 | | | |