Two more riders entered the winner's enclosure in the Bennett's British Superbike Championship at Silverstone as McAms Yamaha's Tarran Mackenzie and Buildbase Suzuki's Kyle Ryde took the spoils in Northamptonshire over the weekend.
It was Mackenzie who took race one on Saturday at the end of an exciting final lap that saw the Yamaha cross the line just 0.105 seconds clear of an improving Ryde who took his first BSB podium. McAms team-mate Jason O'Halloran rounded out the podium in third.
A fourth placed finish for Glenn Irwin allowed the Northern Irish Honda rider to extend his lead at the top of the championship with brother Andrew coming home in fifth, Josh Brookes finished sixth ahead of Lee Jackson. Brookes' VisionTrack Ducati team-mate Christian Iddon finished eighth with Tommy Bridewell claiming a points finish to hold on to second place in the championship.
Mackenzie, son of triple BSB Champion Niall, replicated his heroics from Silverstone in 2019 and truly catapulted himself into contention for the 2020 title.
If Saturday belonged to Mackenzie, then there is no doubt who should have joined him in the headlines on Sunday as Kyle Ryde earned his first British top-flight wins with a pair of fine victories.
Ryde was clearly brimming with confidence after securing his maiden BSB podium on Saturday and bided his time and held his position behind Josh Brookes before making his move on the Australian on lap 27. After pulling in front of the Ducati rider, Ryde put the hammer down and opened up a healthy lead to cross the line 1.686 seconds clear of Brookes and recording the fastest lap of the race in the process. Jason O'Halloran once again came home in third with Glenn Irwin replicating his result from race one in fourth.
Bradley Ray came out on top of an exciting battle for fifth place ahead of a chasing pack that included Tommy Bridewell, Lee Jackson and Danny Buchan, although FS3 Kawasaki rider Buchan was docked a grid place for exceeding track limits out of the final corner. Honda's Andrew Irwin came home in ninth with OMG Racing's Hector Barbera rounding out the top 10.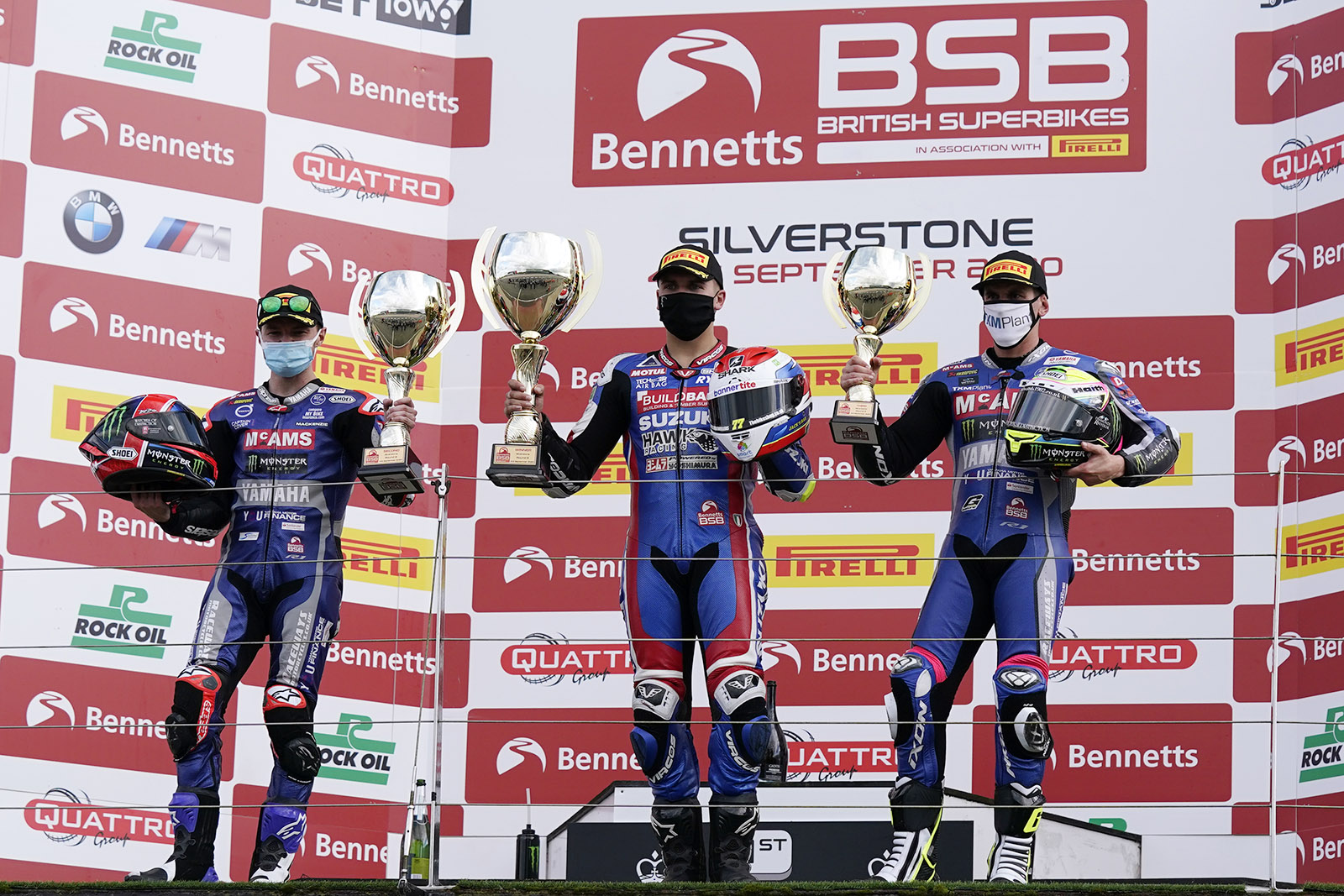 It was more of the same for Ryde in the final race of the weekend as he led from lights to flag to secure a dominant win, coming home 1.549 seconds ahead of nearest challenger Tarran Mackenzie. Jason O'Halloran finished on the bottom step of the podium for the third time this weekend with Glenn Irwin also recording a hat-trick of fourth placed finishes which allowed the Honda rider to extend his lead at the top of the championship to 35 points.
Tommy Bridewell prevailed after a three-way Ducati battle for fifth place, getting the better of Brookes and Iddon who finished sixth and seventh respectively. Lee Jackson finished in eighth position ahead of Andrew Irwin and Luke Mossey (ninth and tenth respectively) who just edged Danny Buchan out of the top 10 on the final lap of the weekend.
Ryde's double wins puts him into fourth place in the standings with 114 points behind Josh Brookes and Tommy Bridewell who are both locked on 122 behind Glenn Irwin on 157.
All eyes will be on the Cheshire countryside on the weekend of 18-20 September when BSB heads to Oulton Park for round four.
Featured image courtesy of Impact Image/McAMS Yamaha