Day 2 of Round 4 of the WorldSBK Superpole and Race 2 took place on Sunday from MotorLand Aragon with the reigning Champion, Jonathan Rea (Kawasaki Racing Team WorldSBK) continuing his streak of victories in the Superpole races for this 2020 season followed by Championship leader Scott Redding on the (ARUBA.IT Racing – Ducati) and Michael van der Mark (PATA YAMAHA WorldSBK Official Team) making up the rest of the front row.
The starting grid for Race 2 looked like this:
Row 1 : Rea : Redding : van der Mark Row 2: Bautista : Davies : Lowes
Row 3 : Raz : Rinaldi : Baz Row 4 : Haslam : Gerloff : Scheib
Row 5 : Fores : Sykes : Caricasulo Row 6 : Ponsson : Laverty : Melandri
Row 7 : Barrier : Ramos : Takahashi Row 8 : Gabellini
With 18 laps of racing, Race 2 gets underway with Redding getting a great start off the line but by Turn 1, Rea sweeps back round the outside to take 1st position with van der Mark keeping the third position he started with on the grid.
It's all change further down the pack by the second lap with Davies, who started in 5th down to 6th, Razgatlioglu up to 5th and Haslam up to 8th having started in 10th place. Lowes has had a terrible start and is down in 12th having started 6th on the grid. Van der Mark is having a peek round the side of Redding but didn't quite have the pace to get past but then Redding runs wide and van der Mark gets through, with Bautista is right on the tail of Redding. Redding runs wide again allowing Bautista to sweep past. Redding is running a different compound tyre to many of the other riders, perhaps this is having an effect when he is cornering and causing him to run wide.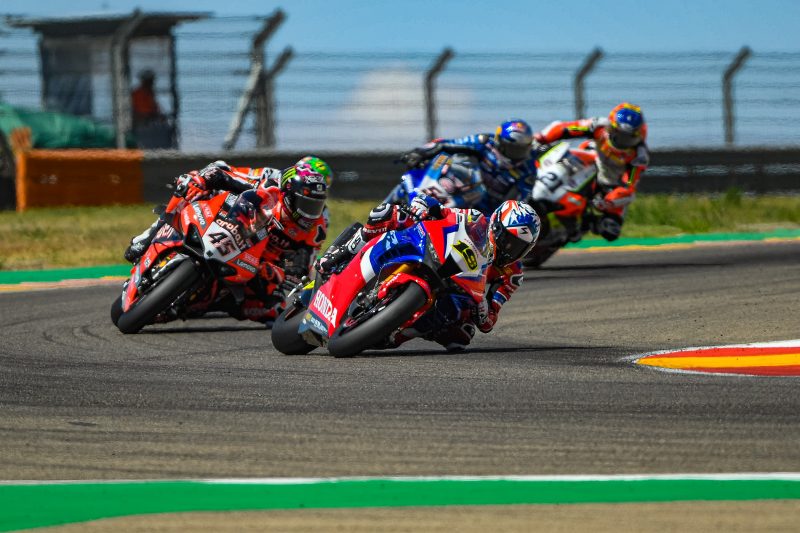 By Lap 3 Rea has put in the fastest lap and pulled out a lead. Davies is right on the tail of his teammate and goes down the inside of Redding and although Redding is looking to get the place back, Davies makes the overtake stick and is now hot on the heels of his former teammate, Bautista and at Turn 13, Davies sweeps cleanly past and then swiftly past van der Mark and is now up in 2nd place.
At Turn 15 on the following lap, Baz hits trouble and crashes out into the gravel ending his race early. Davies is now bearing down on Rea looking to close the gap and by lap 7 the gap is down to 1.3 seconds but by the end of the lap it's back up to 1.6 seconds. Fores and Lowes have passed Haslam and they in turn now have their sights set on Razgatlioglu.
Redding, on lap 8, finds himself in a Rinaldi and van der Mark sandwich with Rinaldi looking to get past the championship leader which he does with a clean overtake. Bautista is all over Davies desperately looking for a way to get past and by Lap 10 Lowes has lost 3 places and is down in 11th.
The following lap Rinaldi goes down the inside of van der Mark into Turn 1 and cleanly takes the place, van der Mark is immediately trying to get the place back but Rinaldi makes the overtake stick. Melandri is off the bike, he tries to rejoin the race but is unable to.
The gap is now down to 1.2 seconds between Rea and Davies on Lap 12 and although Rea runs wide he manages to gather himself and the bike but the gap has just got shorter. Fores passes Baz up into 7th place and Lowes runs really wide and is now down in 12th.
Turn 16 on the following lap, Rea runs wide again allowing Davies to go down on the inside and sweep past but by Turn 4 Rea passes Davies to take the lead but Davies is all over Rea, he is not giving up and Bautista has both Davies and Rea in his sights and is waiting for one or both of them to make a mistake so he can sweep past.
The gap between Rea and Davies is now half a second. Lowes has managed to fight his way up the grid again and passes Haslam and Razgatlioglu is up into 7th.
Although Davies is doing all he can to get past Rea on the last lap, Rea is managing to hold him off and takes the chequered flag closely followed by Davies and Bautista.
A fantastic end to another great weekend of WorldSBK racing with Rea now the championship leader again.
Looking forward to Round 5 next weekend when we are back at Aragon.
BK
The Driver's / Team Standings so far at the end of Round 4 at Aragon on the 29th/30th August looked like this:
| | | | | | |
| --- | --- | --- | --- | --- | --- |
| Pos | Rider | Points | Pos | Team | Points |
| 1 | Jonathan Rea | 189 | 1 | Kawasaki | 215 |
| 2 | Scott Redding | 179 | 2 | Ducati | 188 |
| 3 | Toprak Razgatlioglu | 124 | 3 | Yamaha | 159 |
| 4 | Chaz Davies | 120 | 4 | Honda | 88 |
| 5 | Michael van der Mark | 110 | 5 | BMW | 52 |
| 6 | Alex Lowes | 102 | 6 | Aprilia | 4 |
| 7 | Michael Ruben Rinaldi | 79 | | | |
| 8 | Alvaro Bautista | 77 | | | |
| 9 | Loris Baz | 64 | | | |
| 10 | Leon Haslam | 51 | | | |
| 11 | Tom Sykes | 51 | | | |
| 12 | Garrett Gerloff | 28 | | | |
| 13 | Xavi Fores | 27 | | | |
| 14 | Federico Caricasulo | 22 | | | |
| 15 | Marco Melandri | 19 | | | |
| 16 | Eugene Laverty | 18 | | | |
| 17 | Sandro Cortese | 14 | | | |
| 18 | Leandro Mercado | 12 | | | |
| 19 | Maximillan Scheib | 11 | | | |
| 20 | Sylvain Barrier | 5 | | | |
| 21 | Christophe Ponsson | 4 | | | |
| 22 | Roman Ramos | 3 | | | |
| 23 | Takumi Takahashi | 1 | | | |
Featured image courtesy of Ducati