If Saturday's Superpole and Race 1 from the Algarve International Circuit, Portimão was edge of the seat racing, what would Sunday's racing hold in store for us? The reigning Champion, Jonathan Rea (Kawasaki Racing Team WorldSBK) had a commanding lead from start to finish in both the Superpole and Race 1 – are we going to see a repeat performance?
An update on Sandro Cortese (OUTDO Kawasaki TPR) following his crash at the end of Race 1: Cortese underwent surgery for a fractured vertebra and has also suffered a fracture of the right tibial bone, four fractured ribs and a suspected fracture of the right ankle. Wishing Cortese a speedy recovery.
Superpole got underway and again it was Jonathan Rea (Kawasaki Racing Team WorldSBK) who claimed victory to start from pole position in Race 2 with Toprak Razgatlioglu (PATA YAMAHA WorldSBK Official Team) in second place despite the early pressure he put in on Rea having passed Rea into Turn 1 but then running wide allowing Rea to pass back into 1st and build a gap. Loris Baz (Ten Kate Racing Yamaha) finished the top 3 with his first podium since 2014.
Despite an early challenge from Scott Redding (ARUBA.IT Racing – Ducati), Alex Lowes (Kawasaki Racing Team WorldSBK) finished 4th, Redding 5th and Tom Sykes (BMW Motorrad WorldSBK Team) in an impressive 6th place.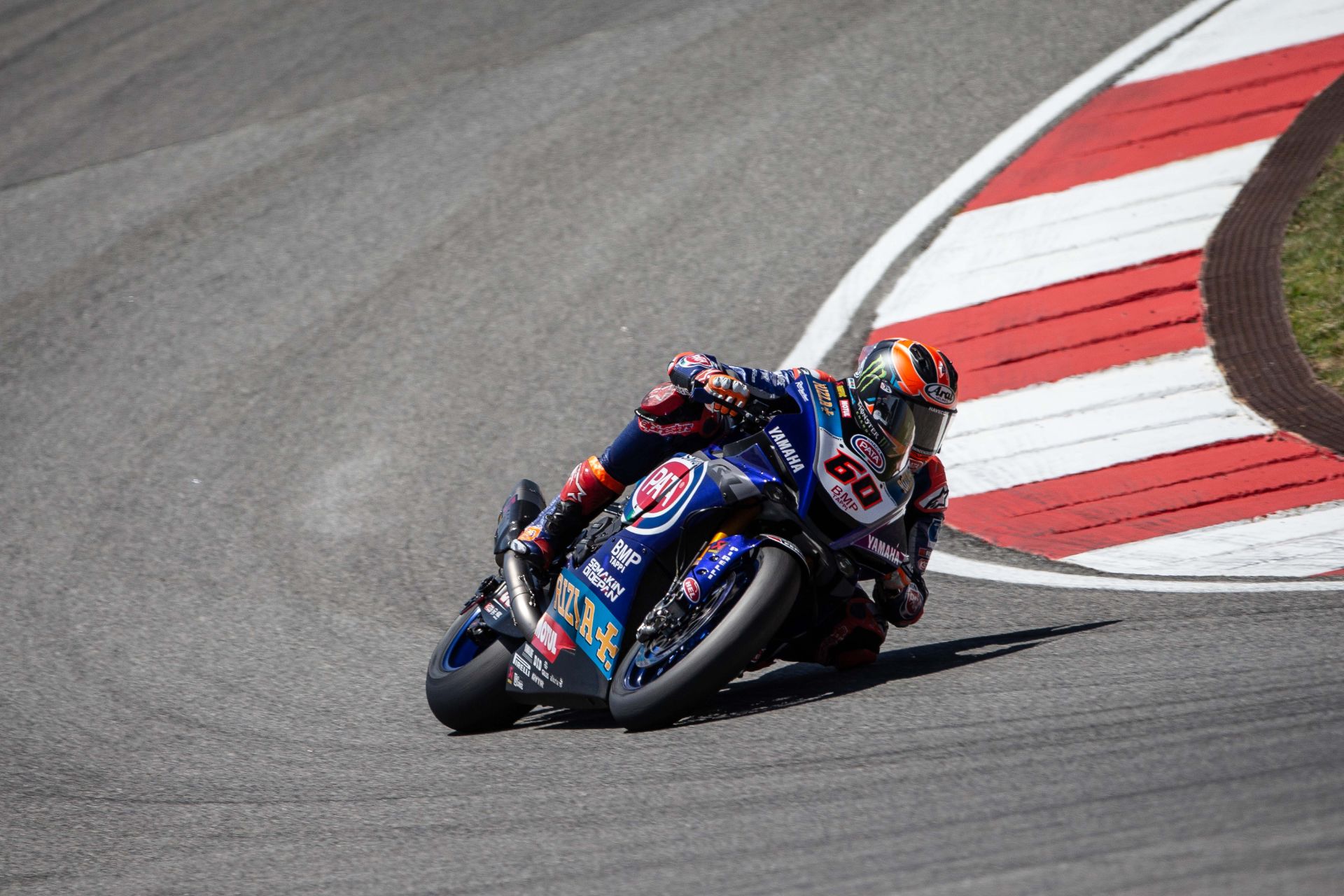 In 7th place Michael van der Mark (PATA YAMAHA WorldSBK Official Team) managed to finish four seconds ahead of Michael Ruben Rinaldi (Team GOELEVEN) and Leon Haslam (Team HRC) who were battling for 8th position.
Chaz Davies (ARUBA.IT Racing – Ducati) and Eugene Laverty (BMW Motorrad WorldSBK Team) had an incident at the Turn 5 hairpin on Lap 2 resulting in both riders managing to continue with the race but having fallen down the order in so doing and unfortunately Davies subsequently retiring from the race a few laps later.
With a few laps remaining at Turn 3 we saw Maximilian Scheib (ORELAC Racing VerdNatura) and Marco Melandri (Barni Racing Team) run off the track but fortunately for both riders they were able to continue with Superpole.
After an eventful session the starting grid looked like this:
Row 1 : Rea : Razgatlioglu : Baz Row 2: Lowes : Redding : Sykes
Row 3 : van der Mark : Rinaldi : Haslam Row 4 : Gerloff : Bautista : Caricasulo
Row 5 : Fores : Mercado : Melandri Row 6 : Barrier : Ponsson : Gabellini
Row 7 : Takahashi : Laverty : Scheib Row 8 : Davies
With 20 laps of racing, Race 2 gets underway with Rea just managing to stay ahead of Razgatlioglu going into the first corner, Redding goes up into 3rd and Baz is down to 4th. At Turn 5 Laverty goes down with his bike ending up in the gravel, Haslam goes up into 7th and on the last corner at Turn 14, Baz suffers a high speed off and goes rolling into the gravel thus bringing his race to an early end.
Redding is now up into 2nd with Rea in 3rd and Lowes passes van der Mark up into 4th. By Lap 3 Rea puts in fastest lap and is just starting to pull out a bit of a gap ahead of Redding who has dropped half a second and is now feeling the heat from Razgatlioglu who is closing in. Van der Mark is hot on the heels of Lowes and Davies is looking to get past Haslam who is causing a bottleneck with Rinaldi and Fores closing in.
Razgatlioglu goes sliding into Turn 5 on Lap 6, he manages to recover the bike and rejoin the track in 14th place and now has a lot of work to do to fight his way back up the field. Turn 5 strikes again when Lowes goes down too, again he manages to rejoin the track but only to make his way to the pits and an early end to his race.
The gap between Rea and third place van der Mark is 3 seconds. Razgatlioglu is looking to get past Mercado to take 12th position and makes his move at the end of the start/finish straight into Turn 1 with a late braking move slipping up on the inside.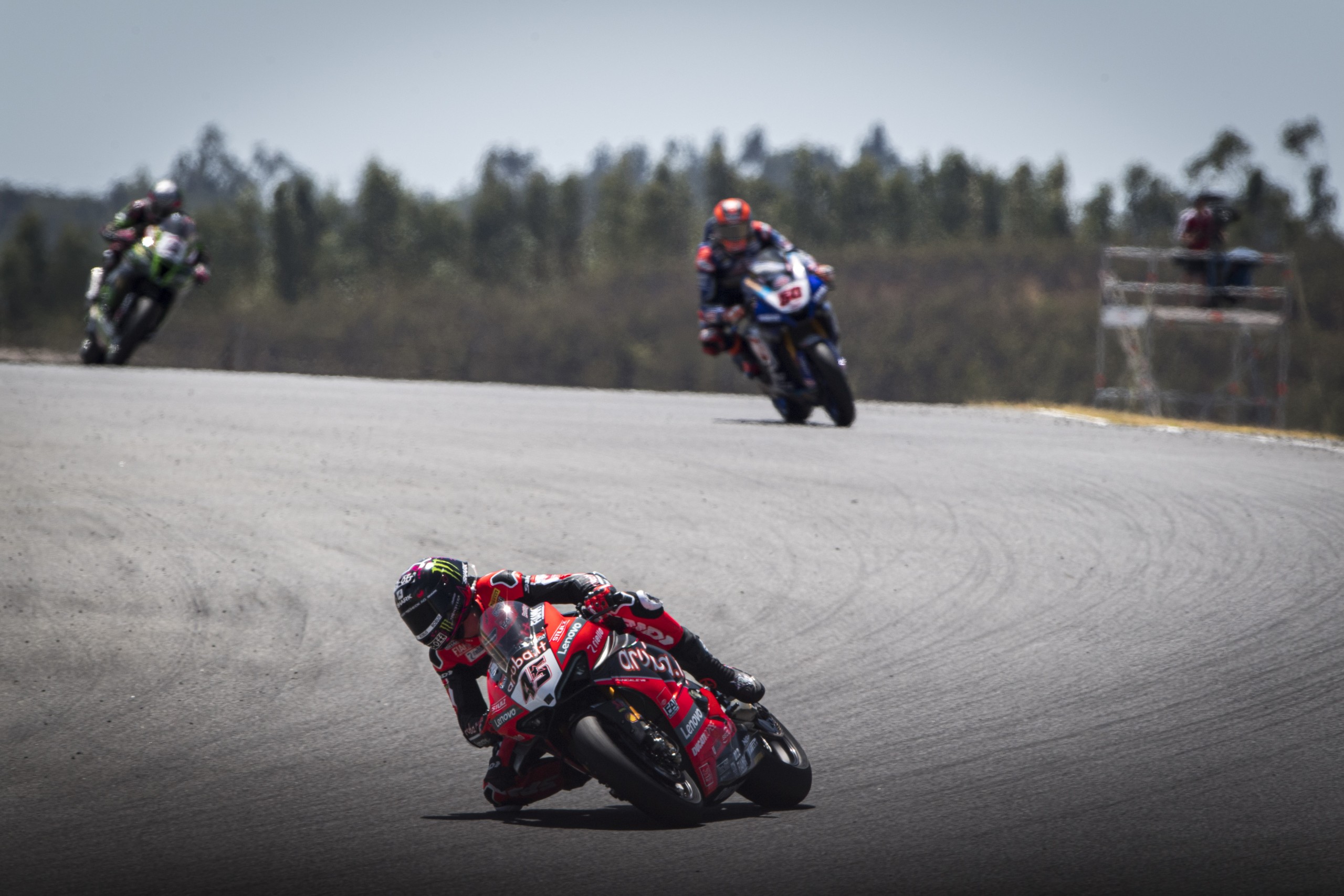 On Lap 11 Van der Mark is closing in on Redding and Turn 5 strikes again when Haslam goes down rejoining the track back down in 13th. Bautista is challenging Rinaldi for 5th position and successfully passes and is now looking to close in on Davies who is in 4th place
Redding is starting to look like he is struggling for pace as van der Mark is all over him and then at Turn 5 Redding runs wide allowing van der Mark to cut through on the inside and claim 2nd place but then loses ground, runs wide at the next corner allowing Redding to pass by on the inside, van der Mark tries to cut back through but doesn't make it.
By lap 14 Rea has stretched the gap to 4 seconds ahead of Redding with van der Mark hot on his heels determined to gain 2nd place back again.
Gerloff runs wide in Turn 2 on Lap 15 onto the kerb and comes back onto the track and into Fores. Fores goes down and out but Gerloff manages to keep the bike upright going through the gravel to rejoin the track in 11th place.
Van der Mark is not giving up and is trying at every available opportunity to get that 2nd place with Rea stretching his lead to a comfortable 5 seconds.
On the penultimate lap, Haslam passes Melandri up into 12th position with Laverty having a look too. Razgatlioglu has made his way up into 9th and as Caricasulo runs wide, manages to make up another place. The battle for 2nd place is so close, van der Mark is not giving up but Redding is successfully defending his position to the finish line. Rea takes a comfortable win and is now 4 points ahead of Redding in the Championship.
An absolutely thrilling nail biting race and a terrific end to a great weekend of WorldSBK racing.
Round 4 takes places at MotorLand Aragon, Teruel, Spain on the 28th to 30th August.
BK
The Driver's/Team Standings so far at the end of Round 3 look like this:
Riders Standings
Team Standings
Pos
Rider
Points
Pos
Team
Points
1
Jonathan Rea
136
1
Kawasaki
162
2
Scott Redding
132
2
Ducati
134
3
Toprak Razgatlioglu
103
3
Yamaha
131
4
Alex Lowes
91
4
Honda
60
5
Michael van der Mark
82
5
BMW
48
6
Chaz Davies
75
6
Aprilia
4
7
Alvaro Bautista
55
8
Loris Baz
54
9
Michael Ruben Rinaldi
53
10
Tom Sykes
47
11
Leon Haslam
36
12
Garrett Gerloff
22
13
Marco Melandri
17
14
Eugene Laverty
16
15
Sandro Cortese
14
16
Xavi Fores
14
17
Federico Caricasulo
12
18
Maximillan Scheib
10
19
Leandro Mercado
7
20
Christophe Ponsson
4
21
Sylvain Barrier
1
Featured image courtesy of Ducati