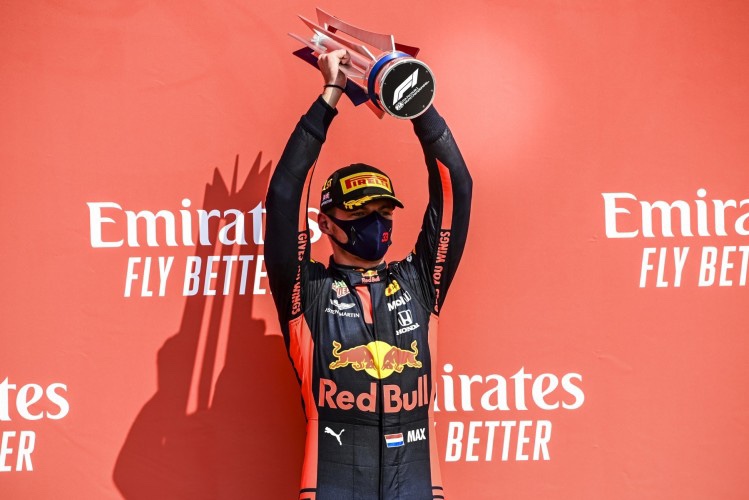 image courtesy of Pirelli Motorsports
Well, who saw that coming?.. The 70th Anniversary Grand Prix had a lot of work to do if it was to live up to last week's final few laps of chaos that the British Grand Prix gave us. Did it? Well… Sort of, yeah.
Super Max
What can I say, as a Red Bull fan, I honestly do not know what to say but as the neutral as I am when it comes to the race notes, all I can say is… Formula One needed this!
Super Max Verstappen and even more to the point, super Red Bull! Starting on the hard tyre and going 29 laps on the hard tyre as well as an excellent start from Max, overtaking Nico Hulkenberg and his Racing Point to instantly move into P3, saw the Red Bull team FINALLY put pressure on Mercedes on a race day and it pays off!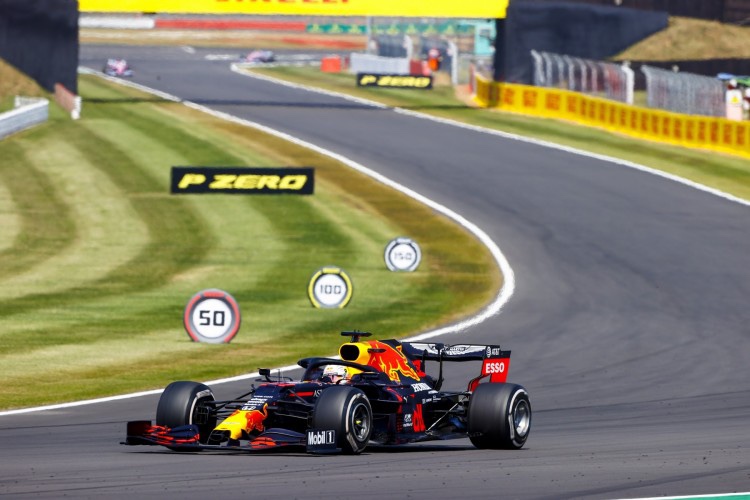 image courtesy of Pirelli Motorsports
Max showed us that tyre management is his thing and while his rivals were struggling to contain tyre wear, he knew what he had to do and he very well did it. At one point, Max was informed by his race engineer Gianpiero Lambiase to push less and hold back because his tyres couldn't possibly sustain the pressure the Dutch man was putting on them. However, Max disagreed and continued his pursuit of the Mercedes which now looks to have been a masterstroke as he claimed Red Bull's first win at Silverstone in 8, yes, 8 years!!
Obviously, I couldn't mention Red Bull without mentioning Alex Albon, the young driver qualified in P9 and ended up finishing in P5. That doesn't match what his teammate achieved but Albon was first to pit and at one point found himself near dead last again. Having received a lot of criticism in the last weeks, Alex once again showed he shouldn't be slept on. Oh, and he also held the fastest lap for a while too. Report on that one, you know who!
Mercedes tyre issues?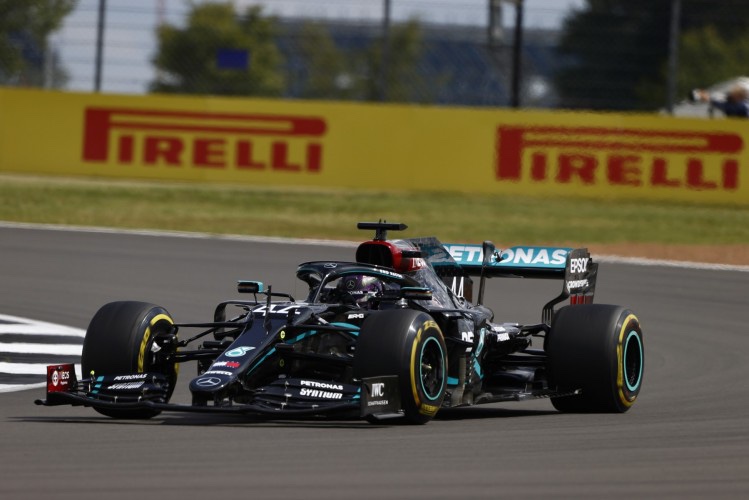 image courtesy of Pirelli Motorsports
Once again, tyres have proved to be an issue for Mercedes. Both cars started on the medium compound tyre and as we all know, is the equivalent of last weekend's soft tyre and we all know what happened at the end of last week's British Grand Prix.
Anyway, this week saw both Mercedes cars reporting issues after just lap 5. Whether it's the heat or whether it's an actual issue with the car, is something we are bound to find out about in the coming days but just for now and the purpose of the race notes, it certainly seems that after so long, we have possibly identified an issue with what looks like a flawless W11.
Pole sitter Valtteri Bottas didn't look comfortable from the start and never really showed us that he was going to get one over on his Mercedes teammate, while Lewis Hamilton didn't look himself today despite fighting all the odds to stop claim a record podium.
Today wasn't Mercedes' day and having to pit early due to degradation, manage a tyre that didn't look comfortable at all on the car, as well as having a last couple of laps of 'free to race' action because Lewis had the fresher tyres than Valtteri isn't what they were hoping for whatsoever.
Hats off to you Charles Leclerc
Yes, its that stage of the race notes where I award my driver of the day and this week it goes to no other than Ferrari's Charles Leclerc.
For the majority of the season (ok, up until this point) when we talk Ferrari, there really hasn't been anything positive to touch on. Nonetheless, today the Italian team and a certain driver put all that behind them and gave The Prancing Horse fans something to finally be very cheerful about!
Ferrari and Charles Leclerc, in particular, were one of only three teams to risk the one stop strategy today (other two cars/teams being, Renault (Ocon) and Alpha Romeo (Räikkönen)) and boy didn't it pay off. Starting in P8, Leclerc managed to get himself all the way up to P4 and show that the old horse still has some power behind it and had at last, a very nice looking race pace!
Unfortunately, unlike teammate Leclerc, Sebastian Vettel's season doesn't seem to be getting any better. Vettel took a big spin on lap one and very nearly saw his race over had he not somehow avoid contact with Carlos Sainz's McLaren. Vettel fought hard all the way back up to P12 but once again, its another race where Sebby's final chapter of his Ferrari journey looks like it just isn't going to end well.
Final Thoughts

Ok, the 70th Anniversary Grand Prix didn't give us the madness that the final laps of last weeks British Grand Prix did BUT it did give us a lot to think over ahead of next week's Spanish Grand Prix in Barcelona. It was written in the stars that Mercedes were once again going to dominate but boy didn't this historic track have other things in mind!
Max Verstappen managed his car to perfection and Red Bull showed why they hardly ever miss when it comes to strategy as they win at Silverstone for the first time on 8 years but more importantly, they end the run of Mercedes' wins to possibly, possibly give us a real championship battle.
Here's to the next one, see you in a week's time in Barcelona! I can not wait!