Formula Three racing has existed in many guises throughout the years. Whether international or domestic, it is a proven means of finding F1 worthy talent. The championship we think of as Formula Three now started out in 2010 as GP3 and runs as a support series to F1, however it ran in opposition with the FIA F3 European Championship that mainly ran in support of DTM up until 2018 when they 'merged'. What that really meant was the FIA jumped ship to GP3 and there were efforts to have their own standalone series called Formula European Masters but it failed to get off the ground.
I may be getting ahead of myself here, but there is a point, I promise. The F3 title in motorsport is a bit of a confusing cesspool of championships, and to explain it clearly I am attaching a video made by a guy who is one of the moderators on the r/F1FeederSeries sub-Reddit named Jacob Bosley.
As you can see, there's plenty of pies you have to put your fingers in when trying to discuss Formula Three as a whole. However the major confusing part was only further muddled by the inception of the Formula Regional European Championship which began in 2019. A part-Italian part-European series ran by the Automobil Club D'Italia of which its first champion Frederik Vesti has since graduated to FIA Formula 3 and finished fourth.
The series was created out of necessity since it was quite rightfully believed that expecting a driver fresh out of a national championship with a 160 horsepower F4 car and putting them into a nearly 400 horsepower F3 car on F1 tracks would not be a good idea. The FIA motorsport single-seater commission designated a five pillar system dubbed the 'Global Pathway' that starts out in F4 at a national level; following that is a 'Regional F3' championship that are based in Europe, Asia and the Americas. Then comes FIA F3 and FIA F2 before getting to Formula One.
So Formula Regional Europe is part of that second step in the system, however it is a flawed one.
When the concept first began to be discussed for licensing, the bid was between the ACI and also Renault Sport, who were looking to transition their Formula Renault EuroCup series into a full blown F3 championship. However when the single-seater commission favoured the ACI bid, Renault Sport decided to adopt the same Tatuus chassis that the Formula Regional series use.
Formula Renault has proven over the last two years to be a way more attractive option to budding F1 drivers due to visiting more F1-relevant circuits such as Silverstone, Spa and Monaco. By contrast, Formula Regional was split between Italian circuits (don't get me wrong though, Italy has some of the best circuits in the world, such as Monza, Imola, Mugello, Misano and Vallelunga) but did branch out to a couple of circuits on the F1 calendar like Paul Ricard, Red Bull Ring, Hungaroring and Barcelona.
In an effort to bolster up the grid numbers and compel more drivers to compete, the FIA declared that 25 Super License points would be handed to the eventual champion . F1 hopefuls need 40 to be able to compete so getting a huge boost of 25 would be surely very enticing for these young drivers. In order to further encouurage drivers into Formula Regional from Formula Renault, the FIA capped the maximum Super License points for the champion of Formula Renault to 18, but it didn't work.
Over the first two seasons, grid numbers for Formula Regional Europe have been struggling to fit the capacity that the FIA requires it would need to meet the full Super License points payout. In the meantime, Formula Renault has only gone from strength to strength, and the FIA seemed to not want to admit it didn't have its priorities in order when they picked ACI's bid.
Of course there are probably a lot of factors involved in that decision; I can't claim to know exactly what was going through their heads but from my perspective, they were definitely attempting to plug a non-existent hole in the market. It seems now however, that the FIA and Single-Seater Commission have seen sense as it has been reported that the higher-ups are meeting with the organisers of both championships in order to discuss a merging of the two series.
This is something that shouldn't have needed to happen – the Formula Renault EuroCup already had a solid foundation to fill this slot and it did it so much better than Formula Regional, so I'm glad it's happening. I know the single-seater ladder will be much better off because of it, with hopeful Europe-based drivers already having a lot of choice at this level with the likes of EuroFormula Open, BRDC British F3 and for the women hoping to climb up the junior formulae ladder, there's the W Series.
This Formula Regional Europe concept didn't need to happen but it did and has just unnecessarily overcomplicated the oversaturated market that is European F3 championships. I for one will be happy to see the back of it, even if a few of my favourite drivers have competed in it.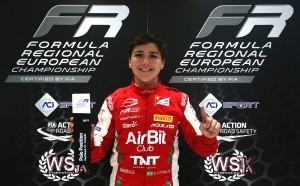 Whilst I'm here, can we please drop the Formula Regional tag? It is such a dreadful name. I know the championships are called that in order to distinguish them from the Grand Prix-supporting FIA Formula 3. It could just be a case of actually calling the entry level formulae Formula 5 and then allowing this level to be called Formula 4, but we are too far forward with the existence of this category to start calling it that.
We can't call it Formula 3.5 either because of the series Renault Sport managed between 2005 and 2015 which had the 3.5 moniker to distinguish the cubic capacity of the engine, but was more an alternative to GP2 (now FIA Formula 2). The series ran an extra two years without Renault Sport's support before folding at the end of 2017, then dubbed Formula V8 3.5.
I'm obviously not paid to name these championships but Formula Regional does sound like a name that was conjured up at quarter to pub. In any case, I hope they see sense and call it by its apt name: the F3 European Championship. It would be much like the F3 Asian Championship, and rename the 'Formula Regional' championships in the Americas and Japan to F3 Americas Championship and F3 Japanese Championship.
This move to finally get rid of unnecessary bumps in the road to F1 can only be a good thing. If a deal is reached, expect an announcement alongside the Emilia Romagna Grand Prix on the weekend of November 1st when Formula Renault EuroCup and the ACI's Italian F4 are expected to run in support of the F1 race.