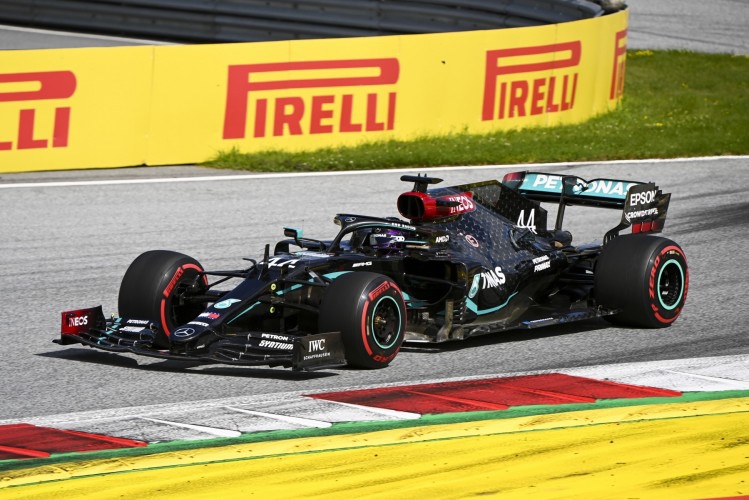 image courtesy of Pirelli Motorsports
As 2020 hits its third race on the bounce, Lewis Hamilton looks to claim his third consecutive victory at the Hungaroring as F1 heads to the Budapest for the Hungarian Grand Prix.
A 21 minute drive from the city centre of Budapest, the 4.3 kilometre Hungaoring circuit prepares to host its 35th Formula One Grand Prix, and it is an eagerly awaited one.
With rain expected on race day, the acclimatised Red Bull to this downforce orientated track will have a strong chance of taking victory at a venue where, surprisingly, the pole sitter has failed to win the race on 19 occasions.
The last wet race was a dire one for current world champion Lewis Hamilton, who was one of many to succumb to the treacherous penultimate corner of Turn 16 in Hockenheim last year, albeit he was ill for much of the weekend. He did, however, put in a stunning performance in qualifying in Austria in extremely wet conditions, asserting the dominance that could well be about to take him to his seventh World Championship.
To take another step towards it this weekend though, he will no doubt face stern competition from team mate Valteri Bottas, winner of the first race in Austria, and Red Bull's Max Verstappen, who impressed with a podium finish at the Styrian Grand Prix.
This also promises to be a competitive weekend between McLaren, Renault and Racing Point, who have all seemed to take an early incentive in the midfield battle – McLaren enjoying the most success thus far. After a fastest lap point in each of the first two races as well as a podium finish with Lando Norris, this relatively short track, coupled with the downforce element, will show us whether the McLaren has definitive pace in the corners. It will also be a display of whether they could again challenge for the podium. Carlos Sainz qualified an exquisite third in the wet in Styria, and will be sensing an opportunity this weekend.
We are still yet to learn the outcome of the protest Renault filed against Racing Point after the second Grand Prix in Austria, but with two cars that seem closely matched should hopefully come some heated competition.
Ferrari's lack of pace is expected to be slightly mitigated at a track that requires less power, which may also come as a relief to their customer teams Haas and Alfa Romeo, both of whom were also strugglers over the two weeks in Spielberg. Ferrari are anticipated to be bring some upgrades so as to try to figure out what exactly is going wrong with, not only their Power Unit, but their Chassis as well. What would of course help their cause is avoiding contact on the first lap this time.
The last time anyone won this race two seasons running was Hamilton himself – in 2012 and 2013. And with rain forecast on Sunday and a potentially thrilling race in store, the six time world champion looks to build on that record, and close the gap to team mate Valtteri Bottas at the head of the championship.