As has been the case with a lot of the major motorsport championships during this pandemic, we have seen the rise of sim racing to fill that void. Had these motorsport events not been postponed, the weekend of June 14th would have been the season finale for the 2019-20 FIA World Endurance Championship season with the 88th running of the 24 hours of Le Mans. That has been postponed until September, but in its original June slot will be a virtual rendition sanctioned officially by the FIA and ACO.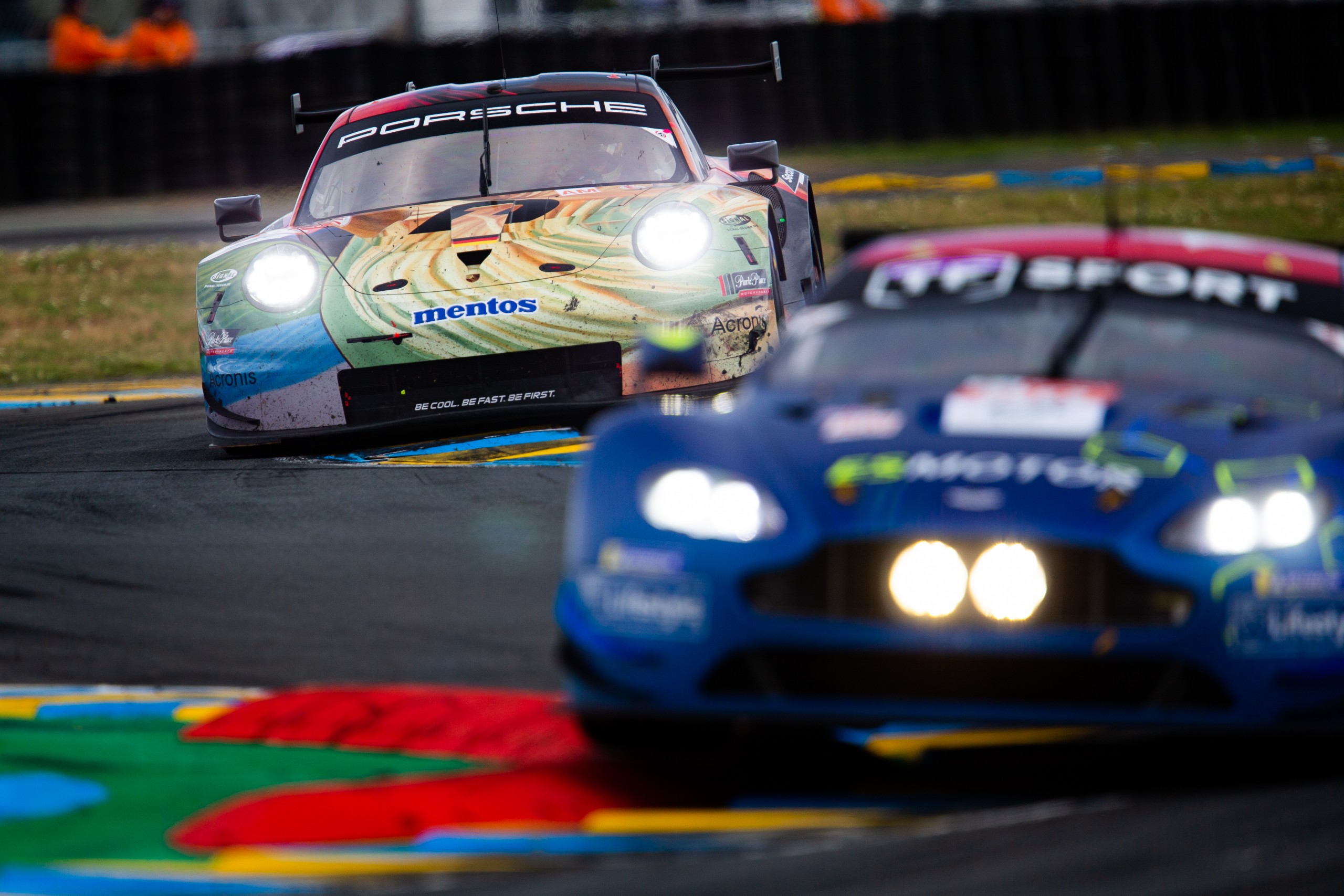 Dubbed the Le Mans 24 Virtual, the race will be held using rFactor 2 and will feature 50 entries consisting of four drivers each across two classes; LMP2 will be the leading class with all entrants using the Oreca 07 and they will be accompanied by LMGTE cars from the likes of Ferrari, Porsche, Aston Martin and Corvette. It looks set to be the peak of sim racing already, as the list of drivers who have signed up to compete is absolutely incredible!
Where to begin? Perhaps with some prominent F1 drivers. Max Verstappen and Lando Norris are back again in a 24 hour virtual race, hoping to repeat their win in the iRacing Spa 24 hours only this time without Max's brake pedal falling off 15 minutes from the end. They're racing with Team RedLine once again, one of if not the most successful sim racing team of all time and they'll be partnered up with sim racers Atze Kerkhof and Greger Huttu.
Team RedLine will also be running the two entries of the WEC team Jota Sport, featuring the likes of Formula E championship leader António Félix da Costa and 2019 IndyCar rookie of the year Felix Rosenqvist alongside two very successful sim racers. The sim racers being inaugural World's Fastest Gamer winner and former McLaren simulator driver Rudy van Buren, who is Mahindra's Formula E simulator development driver and will be racing this year in Porsche Carrera Cup Deutschland, and the other being McLaren Shadow Project Final winner Kevin Siggy who is currently leading the Formula E Race at Home Challenge for sim racers.
Another prominent team in the world of sim racing is Veloce Esports, and they're fielding three entrants in the top class with current and former F1 drivers: Pierre Gasly, Stoffel Vandoorne and Jean-Éric Vergne. F1 Esports race winner Jarno Opmeer, 14-year old Veloce Academy protégé Tomek 'Hyperz' Poradzisz, and the second World's Fastest Gamer winner James Baldwin who is set to race this year in the GT World Challenge for Jenson Button's Team Rocket squad.
Speaking of Jenson Button, he's also racing in this, as are his former F1 teammates Fernando Alonso and Rubens Barrichello. Even the likes of Indy 500 winners Juan Pablo Montoya, Tony Kanaan and Simon Pagenaud are competing. Let's just hope the latter doesn't try to take Lando out again!
Two other current F1 drivers are competing, that being Ferrari's Charles Leclerc and Alfa Romeo's Antonio Giovinazzi, and they're paired up with Ferrari's current F1 and SRO GT Esports drivers, reigning F1 Esports champion David Tonizza and 2018 eRace of Champions winner Enzo Bonito. Alongside them in the GT class will be Felipe Massa and Giancarlo Fisichella, who are racing an entry backed by Strong Together, a foundation set up by Charlene, Princess of Monaco.
The FIA's Women In Motorsport is represented by Katherine Legge, Sophia Flörsch, Tatiana Calderón and Emily Jones with the Richard Mille Racing Team. However the most notable woman in racing right now, W Series champion Jamie Chadwick is also racing and she's going to be sharing driving duties with YouTube sim racing royalty Jimmy Broadbent!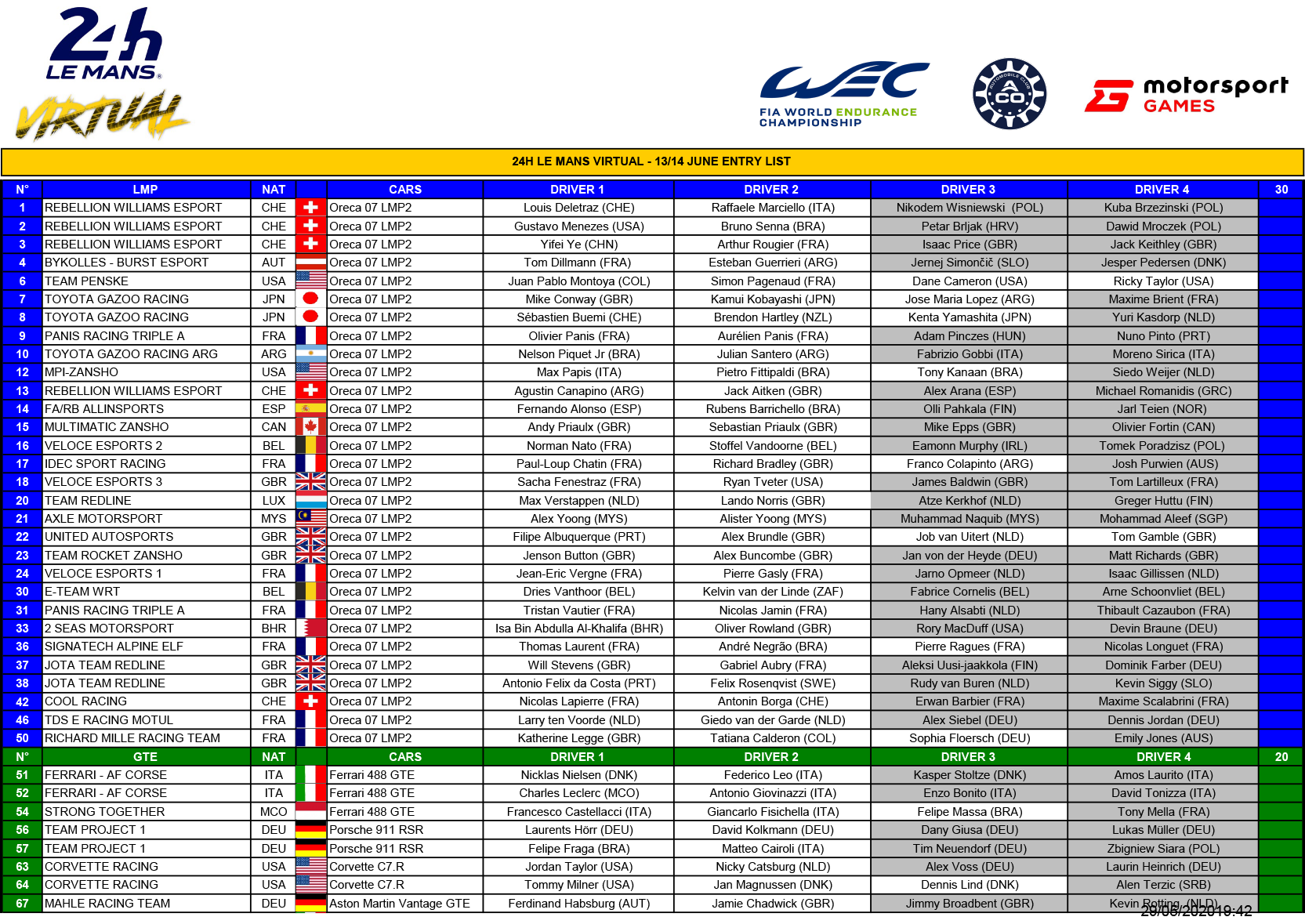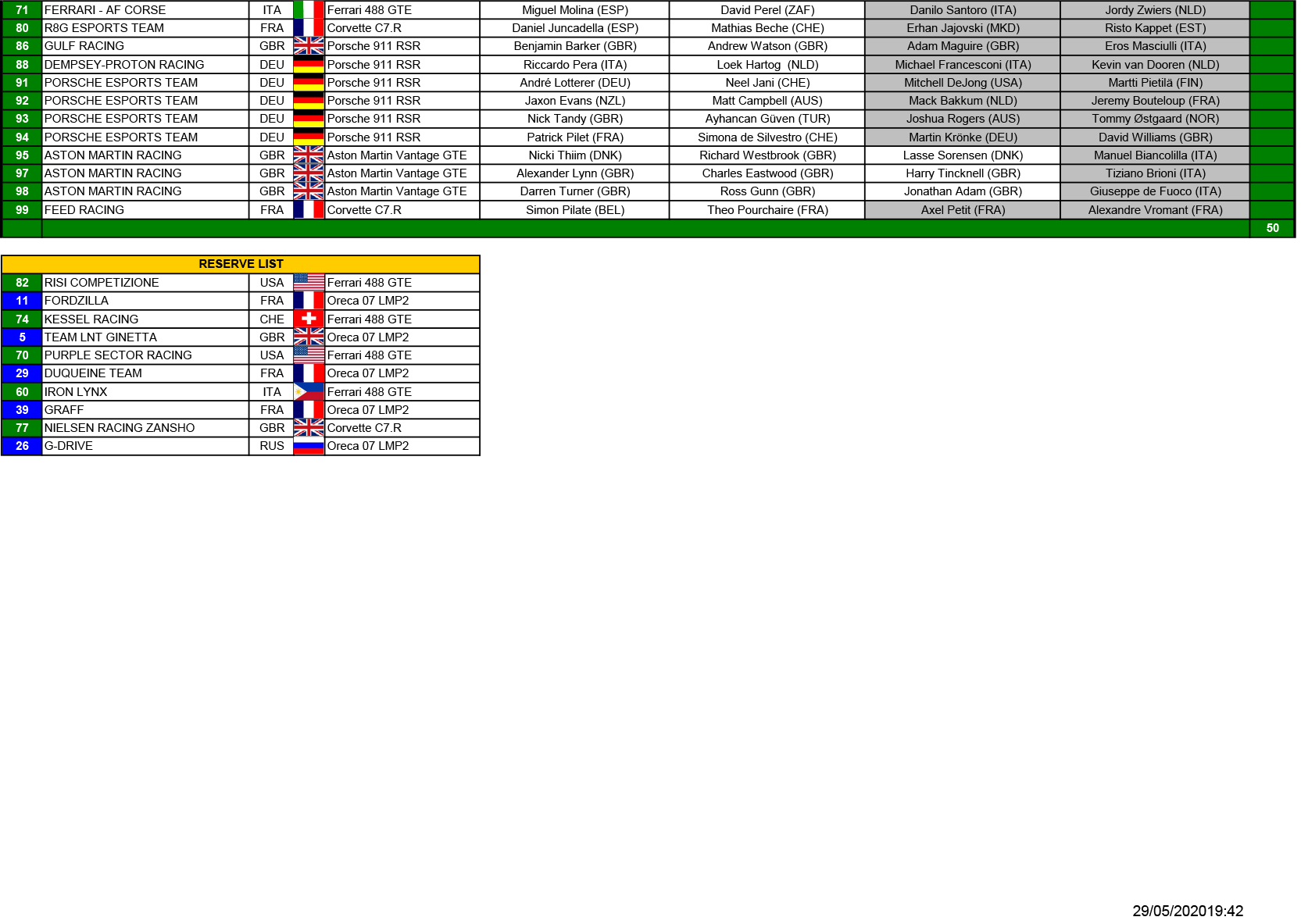 Other notable drivers taking part include Pietro Fittipaldi and also F2 drivers Louis Delétraz and Jack Aitken who are both racing for Williams and Rebellion's collaboration effort. Former F1 driver Olivier Panis is also competing, and that's before we even get onto some of the regulars of the WEC and the 24 hours of Le Mans.
Toyota drivers Sébastien Buemi, Kamui Kobayashi, Mike Conway, José María López and Brendon Hartley will be in the top class. Along with the likes of André Lotterer, Nicki Thiim, Will Stevens, Bruno Senna, Neel Jani, Norman Nato, Nicolas Lapierre, Darren Turner, Nick Tandy, Dries Vanthoor, Filipe Albuquerque, Nicky Catsburg, Jan Magnussen, Miguel Molina, Tommy Milner and Thomas Laurent, all of these are just some of the 200 names you will see when you tune in to the Virtual 24 hours of Le Mans on June 13th!
So how do you watch? It will be streamed on the official Motorsport TV website and possibly Twitch as well? TV scheduling may or may not happen and will vary between country, you will need to check back on social media, Fia Wec's website
But what does this really mean? This is probably the biggest sim race of all time in terms of driver caliber, and it's just absolutely incredible to behold. It could open up doors to potentially get more of these sim races to happen in the future during the off-season and maybe for a great cause too!
Yes we're probably all fed up of sim racing and a lot of the controversies to come along with it, but you can't deny it's better than just twiddling our thumbs waiting for real racing to begin again. Sim racing has been immense during this wait, and it doesn't look set to be slowing down even when real racing gets back going again.
So until that happens, I hope you will join me as a viewer of this landmark sim race. A real spectacle in sim racing!
Featured image courtesy of FIA Wec