Just a few day's ago this event was looking like it wouldn't happen. I'm sure that you'll be aware of the lack of snow this year in Sweden. Anyway, the organisers and the FIA came to an agreement to run a much shorter event. Here's the full stage information. The sixty-eighth Rally Sweden is happening!
Stages & times
Thursday   February 13
09:01
Shakedown Skalla
7,21 km
Stage info
12:30
Meet the crews, Torsby Service Park
Arena – Full programme
20:08
SS 1 Karlstad SSS 1
1,9 km
Arena – Full programme
Stage info
Friday   February 14
06:47
Torsby Service Park
Arena – Full programme
08:42
SS 2 Hof-Finnskog 1
21,26
Stage info
10:08
SS 3 Finnskogen 1
20,68 km
Stage info
11:08
SS 4 Nyckelvattnet 1
18,94
Stage info
15:00
SS 8 Torsby Sprint 1
2,8 km
Arena – Full programme
Stage info
15:32
Torsby Service Park
Arena – Full programme
Saturday   February 15
06:47
Torsby Service Park
Arena – Full programme
08:42
SS 5 Hof-Finnskog 2
21,26 km
Stage info
10:08
SS 6 Finnskogen 2
20,68
Stage info
11:08
SS 7 Nyckelvattnet 2
18,94
Stage info
15:00
SS 16 Torsby Sprint 2
2,8 km
Arena – Full programme
Stage info
15:32
Torsby Service Park
Arena – Full programme
Sunday   February 16
08:46
Torsby Service Park
Arena – Full programme
10:08
SS 17 Likenäs 1
21,19 km
Stage info
10:48
Regroup Ambjörby
12:18
SS 18 Likenäs 2 Wolf Power Stage
21,19 km
Stage info
As you can see the stages have kept their original stage numbers, giving us an idea as to how many stages have been lost.
Throwback
Last year Ott Tanak took victory for Toyota with six stage victories, with Esapekka Lappi finishing second and 2018 winner Thierry in third. Can M-Sport challenge at the front like last year? Teemu Suninen led early on, and with a double Finn lineup, perhaps we will see a three-way battle at the front between the them all? Elfyn went well, taking two good stage wins, his first in Sweden, and given his performance in Rallye Monte Carlo, we can expect more of the same this year too. Returning to the championship is Craig Breen who scored a brilliant second overall in 2018 when driving for Citroen. He replaces Seb Loeb.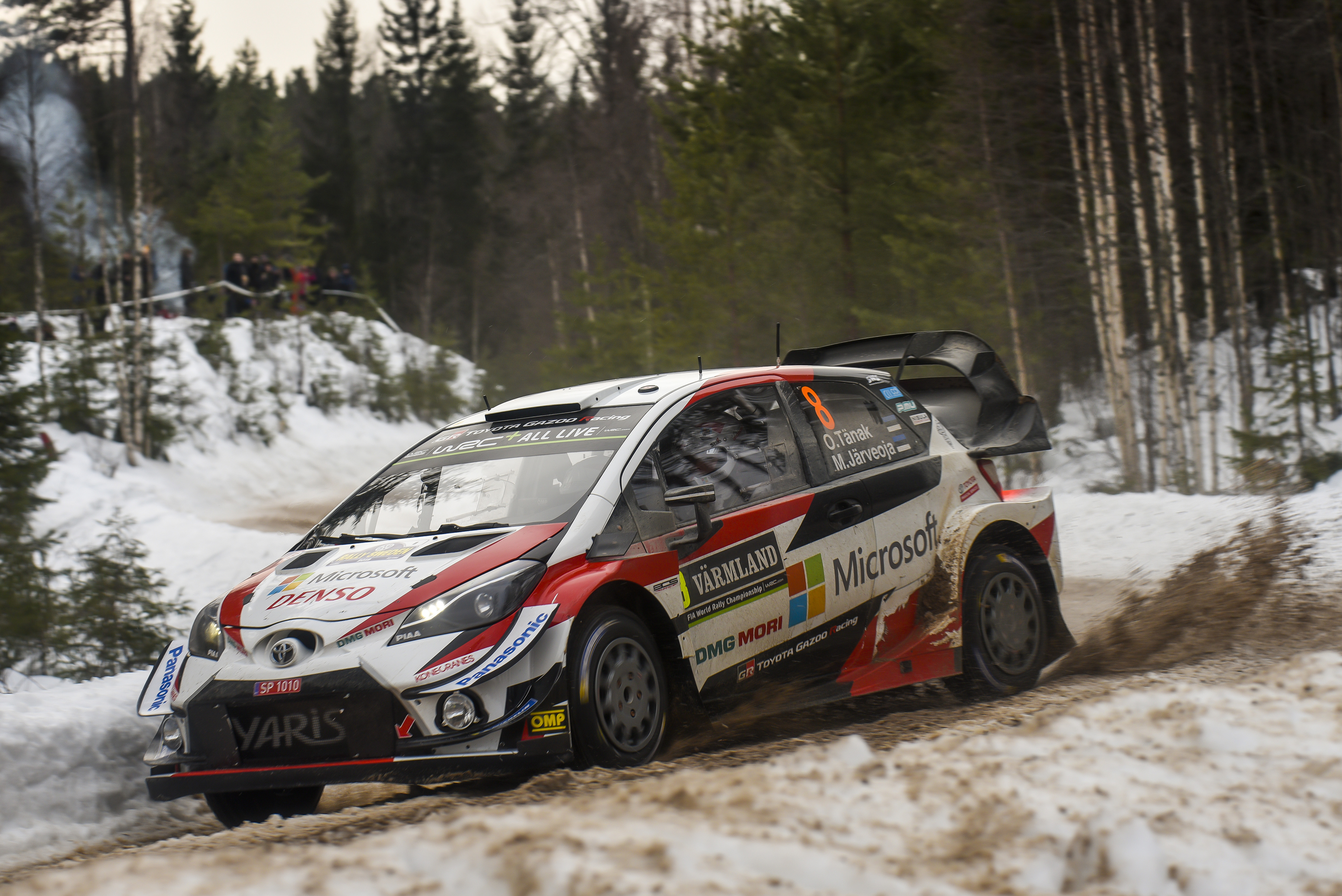 Let's hear from the drivers.
Hyundai Motorsport
Thierry Neuville
"An ideal Rally Sweden would have lots of snow, huge snowbanks, very icy roads, the perfect conditions for us to go fast with full confidence to get the most out of the car. When the road is properly frozen, the studs get good grip and you can go flat out. Obviously, if there will be less snow than previous years it could be quite tough to do the stages. Our tyres are very thin and very high, so they won't work the same on gravel stages and it's going to be really tricky. Without the snowbanks, the rally gets faster and faster, and less interesting, so we keep our fingers crossed for a lot of snow to arrive."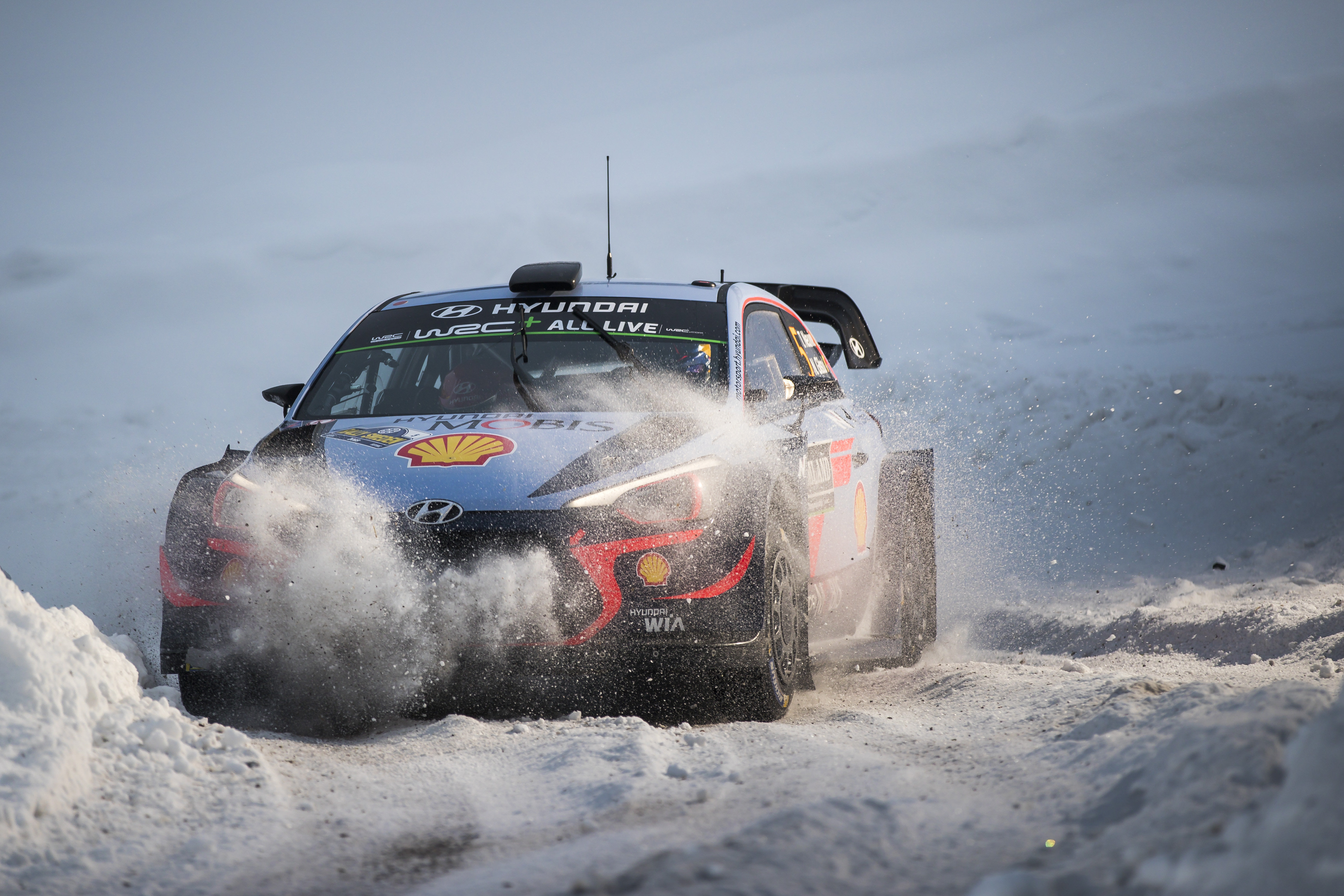 Ott Tänak
"Since Monte, I have been feeling better every day. We learned a very good lesson, and we know now that each time we have to drive a new section, we really need to focus more than ever before. Driving in Sweden is always very special, particularly when we get some frozen, icy conditions. The grip from the spiked tyres is extremely high and gives a great feeling. It will be important for us to get back some points and to improve step-by-step. It will be our first time on loose surface with Hyundai, but I hope we can deliver a good result."
Craig Breen
"I am very humbled to have the chance of getting behind the wheel of the Hyundai i20 Coupe WRC again. It's been a long time since Wales Rally GB, so I'm excited and anxious. From the first moment I drove the car, I felt a lot of confidence and that I could drive my own natural way. Sweden is a rally I enjoy; I scored my best-ever result in the World Championship there a few years ago. Hopefully the conditions will be favourable for us and the cold will arrive in the region for us to have 'proper' roads. Regardless, when I am back in my happy place driving a WRC car, I will have a nice weekend."
Toyota Gazoo Racing WRT
Sébastien Ogier
"I definitely love Rally Sweden. It's a magic event, the only one on full snow on the calendar, and driving on those roads is very special. I certainly hope to be performing well there again this year. I've had some good times there in the past, but it has been a bit more of a struggle in the last few years – I guess partly because of my start position, as coming to Sweden while leading the championship has been very challenging. This year will be slightly different so let's see what we can do. Rallye Monte-Carlo was a very positive start for the whole team, and they have been performing very well in Sweden, so hopefully we are able to do the same this time."
Elfyn Evans
"I'm really looking forward to Rally Sweden. The car was feeling really good in our winter testing on snow, so I'm hoping for another good event there. Rallye Monte-Carlo was overall a positive start for us in the Toyota Yaris WRC, even though our result could have been even better. Road position can play a big part in Sweden, depending on what sort of conditions we'll find: if there's a lot of loose snow, then there is a big advantage for those starting further back. But like any other rally, we'll go in and do the best we can from the first stage."
Kalle Rovanperä
"I enjoy snow rallies a lot, so Rally Sweden should be a nice event for us. I think it should be easier for me than Rallye Monte-Carlo, but we will also need to push more to the limits there. Driving the Yaris WRC has been a lot of fun so far, and on snow it has been an amazing car to drive. We did the Arctic Rally in January in the Yaris and that was good preparation for us, but the conditions in Sweden could be tricky because there has been not so much snow, so we will have to see just how helpful it really was."
M-Sport Ford WRT
Esapekka Lappi
"I've had some good results at Rally Sweden – especially last year when we finished second on our second event with a new car so let's see if we can do the same again this year! Of course, the competition will be strong and no one really knows what the conditions will be like, but we will give it our best.
"We're testing this weekend when we'll get our first indication of what to expect. The Swedish stages are always fast, which I enjoy, but there could only be a small layer of ice which will make tyre management pretty important when it comes to retaining the studs for the whole loop. Fourth on the road could be a decent position, but let's wait and see."
Teemu Suninen
"Last year we found a good set-up for the soft snow and rutted conditions, and it worked really well for us – leading after the first full day and showing good speed throughout the weekend. This year the plan is to show that same speed consistently and without mistakes.
"Of course, a lot will depend on the weather. It's great that the organisers have been able to make the rally happen, but we will have to wait and see what the conditions are like. I'm hoping for snow, and we'll have a test this weekend to prepare. Whatever the weather, we will give it our best and I hope to be in a good battle."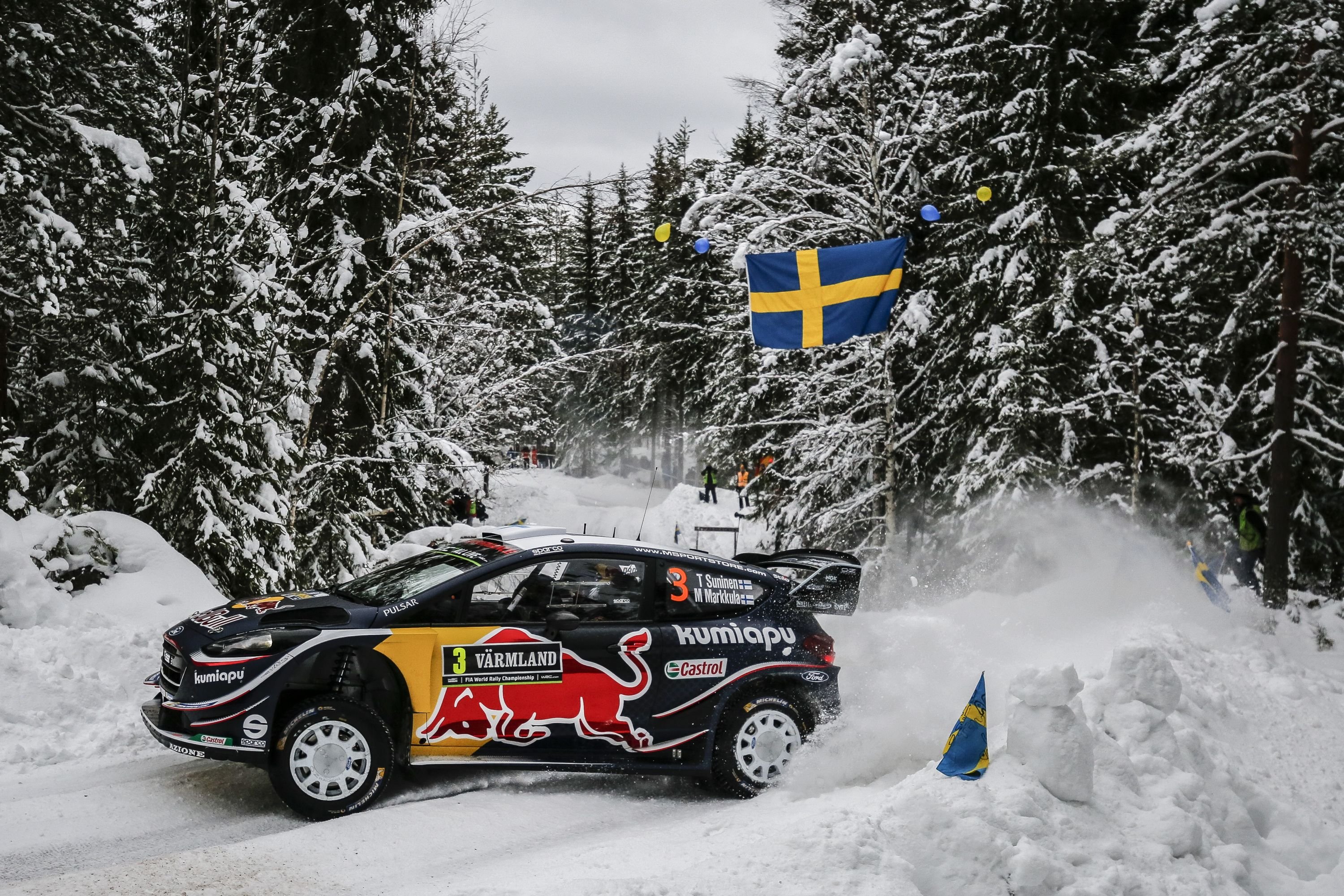 The R5 class
Also competing this weekend are Adrien Fourmaux and Rhys Yates, at the wheel of two Fiesta R5 Mk2's and Ole Christian Veiby and Nikolay Gryazin who will compete in i20 R5's.
Adrien Fourmaux
"It's really nice to hear that the organisers have found a way for us to go rallying and we can say a big thanks to the Rally Sweden team for that. This is the only full-snow rally on the calendar, and that makes it really special. Driving in the forests with the white landscape and hundreds of fans makes it a beautiful rally, and I'm really looking forward to getting back out there this year.
"I competed in Sweden last year, but this will be my first time with the Fiesta R5 which makes it a completely new experience for me with more speed and totally different lines. The biggest challenge will be in trusting the grip and speed through the corners and learning how to fight on the same level as the locals – but I can't wait to get started. I plan to enjoy every second, and if I can deliver a smart rally and leave with good points, good stage times and a good experience I'll be very happy."
Rhys Yates
"We've got a really good feeling with the car at the moment and I've never felt more comfortable on gravel than I did with the Fiesta at the Cambrian last weekend. The pace was pretty quick at times – as it will be this week in Sweden – so you've got to be comfortable with the car moving about underneath you. You've got to be comfortable with it going sideways in fifth gear. I got that feeling in Wales and that's great for me.
"I want to hit the ground running in Sweden. We've got a test on Tuesday and then the rally starts Thursday. One thing I'm so chuffed with is how much time I'm getting in the car. By the time Sweden starts I'll have been in this Fiesta four times in a week – I've never had that much seat time before and that can only be good for the confidence!
Ole Christian Veiby
"Rally Sweden is one of the highlights of the season. It's very much a home rally, one of the stages even goes through our family forest. I was watching there since I was a little kid, so it means a lot. There are lots of supporters, friends and family; to see so many Norwegian flags is really special. To drive on proper snow conditions is, I think, one of the best things to do. The grip level can even sometimes be better than gravel, especially with studded tyres. The target for the rally is for sure a victory. We were a bit disappointed about Monte-Carlo; I think the car worked really well so hopefully it will also do that in Sweden. I'm looking forward to it!"
Nikolay Gryazin
"Sweden for us means quite a lot because it's winter. Back in my country, we drive in the cold a lot. We had a valuable experience in Monte-Carlo, adapting to a new car in tricky conditions. I feel more confident now and I hope the result reflects that. This will be my second time in Rally Sweden. It will be difficult to compete against the local crews, but I am determined to secure a good result and to see how the Hyundai i20 R5 performs. It has definitely shown good pace in all conditions so I hope we will have a positive weekend – whatever the conditions."
Summary
We are set as ever for an incredible rally then, and despite the changes to the schedule, including the loss of the stage that includes Colins Crest, it's almost certain to be a fascinating event. Don't miss it!