The Red Bull Ring in Austria played host to the eleventh round of the 2019 Moto2 World Championship, as Brad Binder (Red Bull KTM Ajo) took his first win of the season.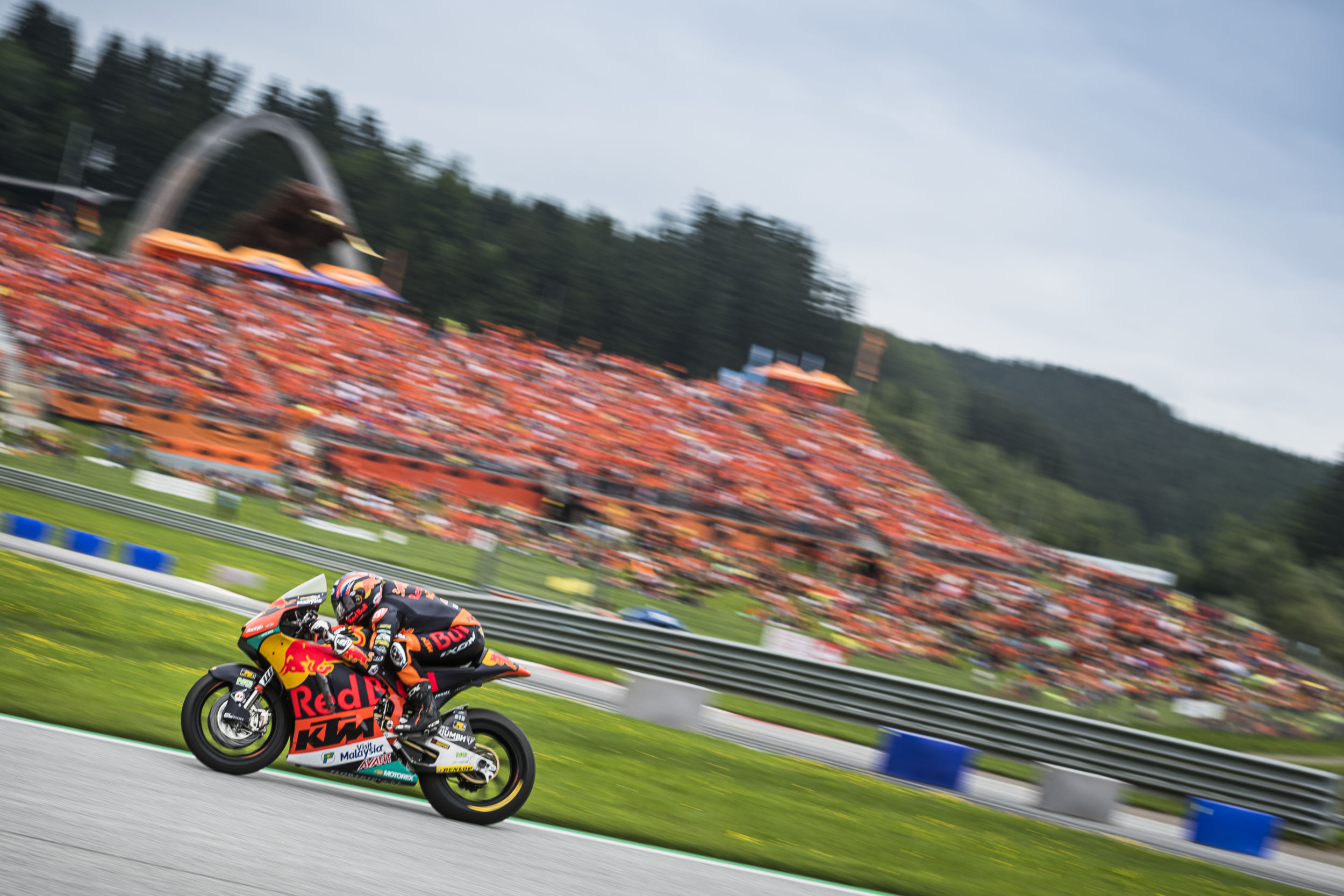 Sunday began with Pit Beirer announcing that KTM would be pulling out of Moto2 at the end of 2019 to focus efforts on their MotoGP RC16 project.
As a response, Binder made the holeshot from the middle of the front row, and immediately began to escape with pole sitter Tetsuta Nagashima (ONEXOX TKKR SAG Team) and Xavi Vierge (EG 0,0 Marc VDS) in tow. Soon, though, Binder was alone out front, as a mistake from Vierge in braking for turn four saw him hit the back of Nagashima, taking them both out of the race.
That left Remy Gardner (ONEXOX TKKR SAG Team) to chase Binder, just over one second up the road from the Australian. Behind Gardner was a big group, back to the fringes of the top ten and the fighting within it was tense.
Gardner, though, along with Enea Bastianini (Italtrans Racing Team) were able to escape from the pack and chase after Binder. Despite his poor qualifying, Alex Marquez (EG 0,0 Marc VDS) was also able to join the fray.
The front group was reduced once more, this time to three, as Gardner made a mistake passing Binder. The #87 ran wide in turn one and, whilst Bastianini was able to pass him cleanly, Marquez clipped the front wheel of the Australian's Kalex on the way through, taking Gardner out of the race. Marquez did nothing wrong, but that did not stop the gesticulations from his rival, Gardner throwing hands at the Spaniard as he sat in the middle of the track with twenty bikes heading straight for him.
The trio at the front soon became a quartet, with Luca Marini (SKY Racing Team VR46) joining the fun, but it didn't last long. Marini's best part of the track was through turn eight, where he would get a better drive than his rivals, and he could pass in turn nine. This is what he did to Alex Marquez with four laps to go, but when he tried the same move on Enea Bastianini one lap later, he lost the front and took them both out, Bastianini having to be carried away on a stretcher.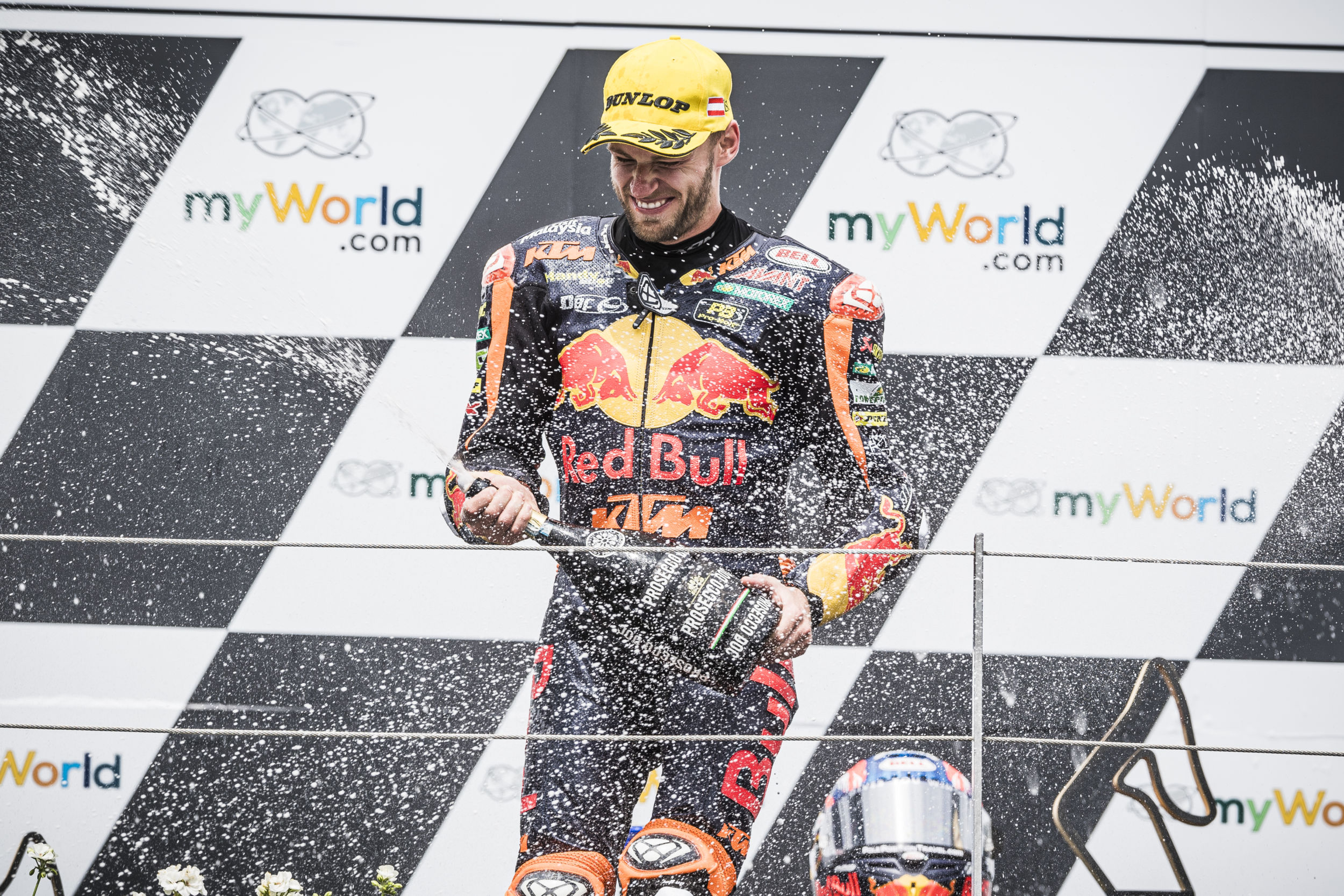 That left Marquez as Binder's only challenger, but he was unable to close the gap and make a move on the South African, who took his first win of the season, and KTM's first Moto2 win since Miguel Oliveira won in Valencia last season. It was, then, a good day for KTM in the Moto2 category, but perhaps there is some irony that they final win the intermediate class race at their home GP on the day they announce they don't want to compete in the class anymore.
Alex Marquez' second place was his first trip to the podium in any position other than first since he was third in Argentina. Although not a win, second place was important for the championship leader, whose points advantage extended to forty-three points as he proved that even from a bad qualifying and in a difficult weekend, or one where the field is closely matched, he still has the ability to churn out a good result.
The chaos in the final laps with Gardner, Bastianini and Marini all dropping out meant that Jorge Navarro (Beta Tools Speed Up) was able to take the final podium position, as he took to the rostrum for the first time since he was third in Barcelona.
Fourth place went to Lorenzo Baldassarri (Flexbox HP 40), which can be considered a good result for the tall Italian at a track where his size will be of a disadvantage. Augusto Fernandez (Flexbox HP 40) recovered from his thirteenth-place qualifying to round out the top five.
Tom Luthi (Dynavolt Intact GP) was quite fast at the start, but as the race went on it became more difficult for the Swiss to be consistent, as he made numerous mistakes in the several hard-braking points at the Red Bull Ring. The #12 loses more points to Marquez with his sixth place, now forty-three behind ahead of Silverstone.
Jorge Martin (Red Bull KTM Ajo) took his best result of the season with seventh place ahead of Iker Lecuona (American Racing), Marcel Schrotter (Dynavolt Intact GP) and Mattia Pasini (Tasca Racing Scuderia Moto2) who completed the top ten.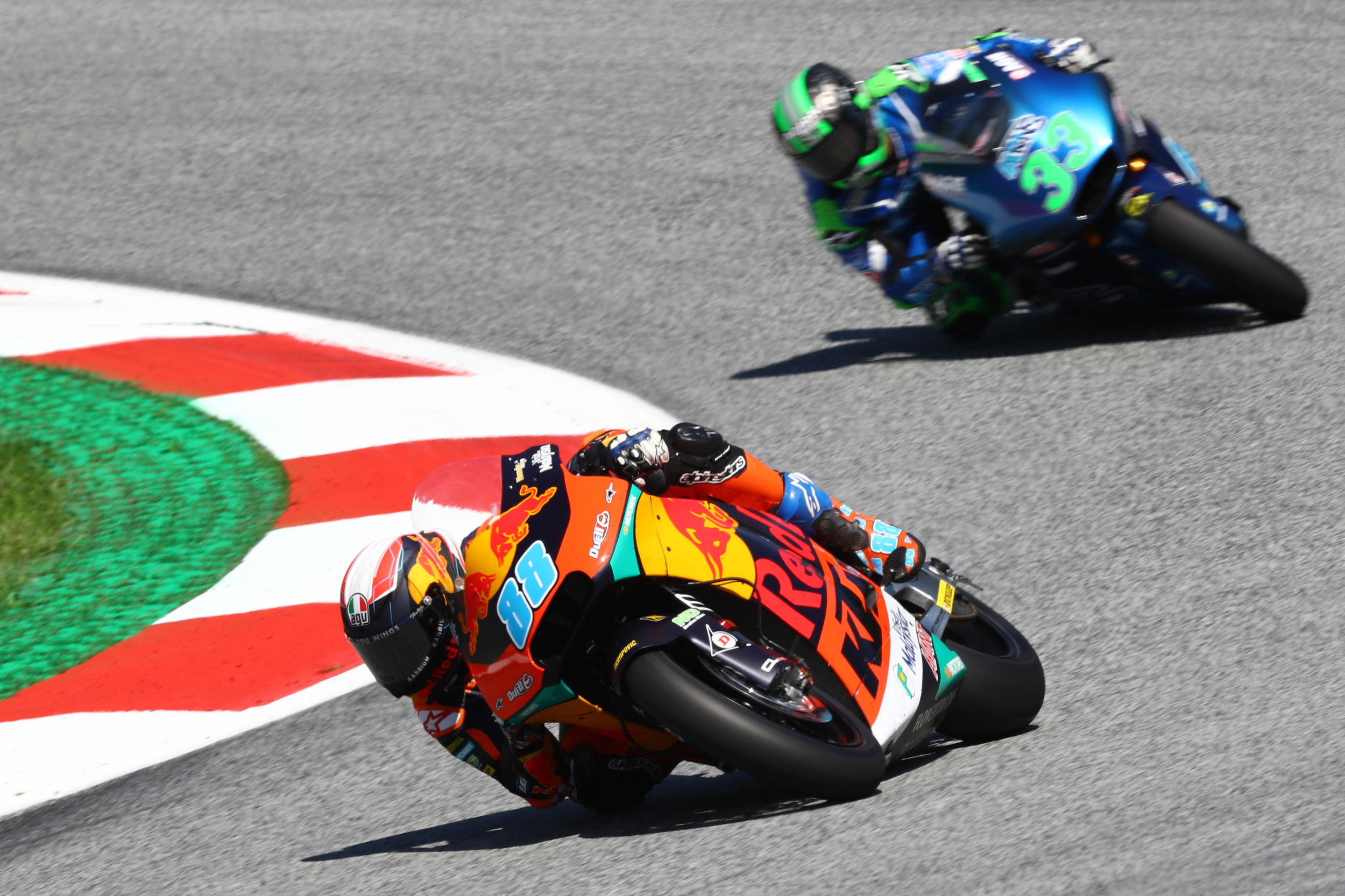 Andrea Locatelli (Italtrans Racing Team) was eleventh ahead of rookie and front-row-starter Somkiat Chantra (IDEMITSU Honda Team Asia); whilst Nicolo Bulega (SKY Racing Team VR46) was thirteenth in front of Fabio Di Giannantonio (Beta Tools Speed Up) and Bo Bendsneyder (NTS RW Racing GP) who completed the points.
Stefano Manzi (MV Agusta Idealavoro Forward) was sixteenth, ahead of teammate Dominique Aegerter (MV Agusta Idealavoro Forward), Jonas Folger (Petronas Sprinta Racing), Jake Dixon (Sama Qatar Angel Nieto Team) and Steven Odendaal (NTS RW Racing GP) who completed the top twenty.
Twenty-first over the line was Joe Roberts (American Racing), ahead of Philipp Oettl (Red Bull KTM Tech 3) who beat his teammate Marco Bezzecchi (Red Bull KTM Tech 3). Sam Lowes (Federal Oil Gresini Moto2) was only twenty-fourth, ahead of Dimas Ekky's replacement at IDEMITSU Honda Team Asia, Teppei Nagoe. Xavi Cardelus (Sama Qatar Angel Nieto Team) was twenty-sixth, whilst Lukas Tulovic (Kiefer Racing) was twenty-seventh and last.
All of the retirements were from the front group, with Vierge taking out Nagashima before apologising; Gardner having his front wheel taken away by Marquez and Marini cleaning out Bastianini before apologising.