Rain in the morning had wetted the track for the Moto3 race in Austria, round eleven of the 2019 World Championship. However, by the time the race was to start, slicks were the only choice. The first laps would be difficult, but after only a short time the dry line would be significant.
Romano Fenati (VNE Snipers) made the holeshot from second on the grid. The Italian qualified on pole position but penalties for irresponsible riding in Q2 saw many riders penalised. Some were penalised by four rows whilst some just had their fastest laps taken away. This meant the grid was quite different to the results of qualifying – some riders who were penalised actually started from a better position than their qualifying. In the end, it was John McPhee (Petronas Sprinta Racing) who started from pole.
McPhee's start, though, was good enough only for third place after turn one. Fenati led from VNE Snipers teammate Tony Arbolino, whilst McPhee sat in behind. The mixed track conditions saw the field spread out, and it was the front three who had the superior pace, pulling multiple seconds in the first laps, despite some fighting between them – especially the two Italians.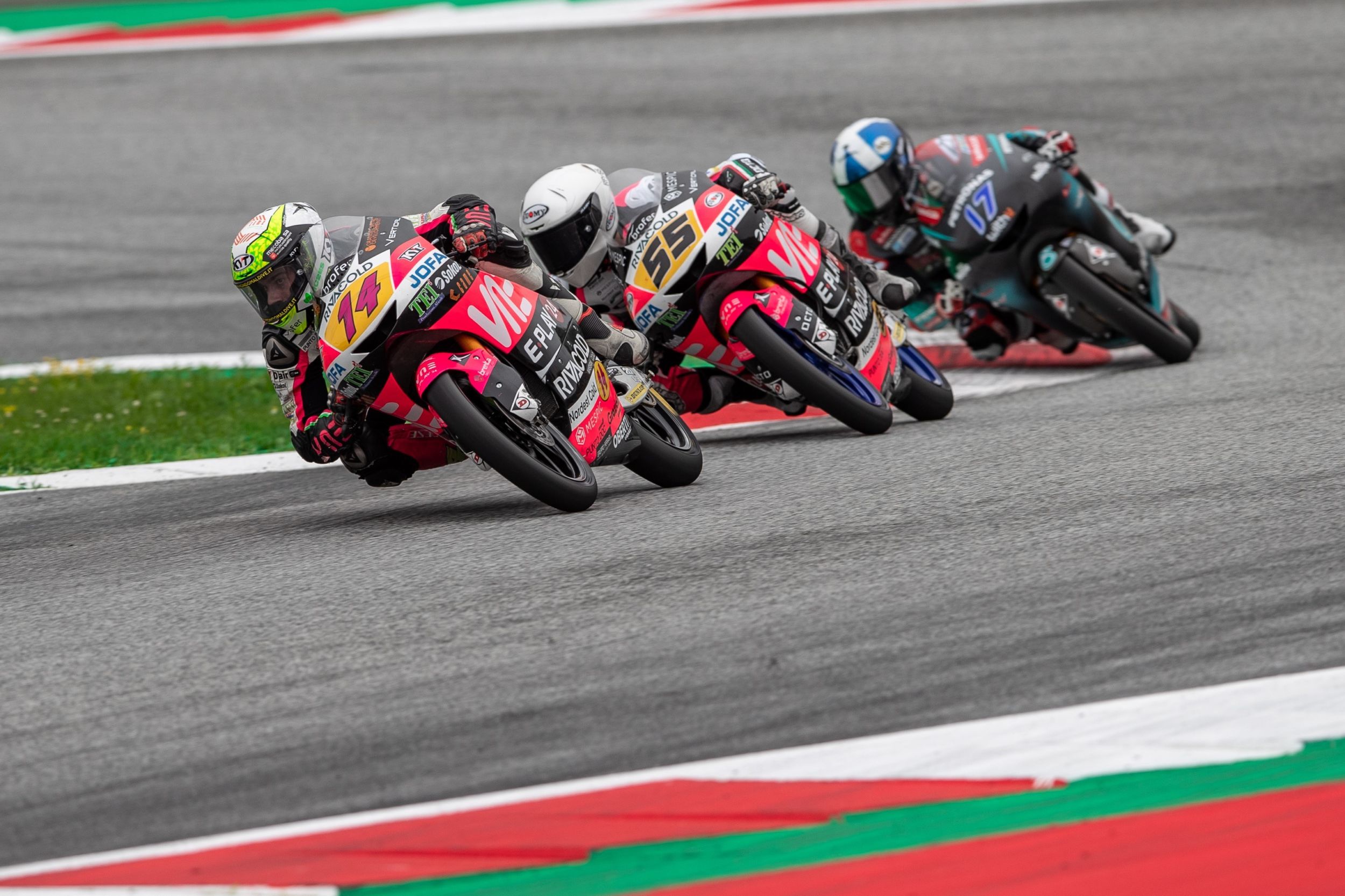 Eventually, Fenati was able to get to the front and pull an advantage, leaving McPhee and Arbolino to fight over second place, just over one second in arrears to the #55. Meanwhile, Celestino Vietti (SKY Racing Team VR46) and Jaume Masia (Bester Capital Dubai) were closing in on the battle for fourth place which involved second-in-the-points Lorenzo Dalla Porta, his Leopard Racing teammate Marcos Ramirez, and Makar Yurchenko (BOE Skull Rider Mugen Race).
When Masia and Vietti arrived in the battle, it took them a few laps to get to the front, but once they had cleared the Leopard bikes and Yurchenko had made a mistake at turn nine, the KTM duo were able to pull clear of the trio they had just caught, and set their sights on the battle for second between McPhee and Arbolino – five seconds up the road.
Battling between McPhee and Arbolino in the wake of Fenati was allowing Vietti and Masia to close in rapidly. Normally, Moto3 riders are averse to letting themselves be led, but Masia saw that Vietti was dragging him up to the battle for the podium, and he was content to stay there. When they finally arrived in the second-place battle with two laps to go, Masia passed Vietti for fourth and set his sights on McPhee in third. He tried to pass in turn nine, but McPhee pinched him on the inside. This compromised Masia's line, he drifted out onto the wet part of the track and high-sided.
The incident also forced McPhee wide, which allowed Vietti into third. The Italian was unable to pass his compatriot Arbolino on the final lap, since the Honda has a slight speed advantage, but had a good run out of the final corner. In fact, it was too good, as he had to pull out of the slipstream too early, whilst McPhee tucked into his and took third on the line.
All of this was happening far behind Fenati, though, who had a relatively stress-free final lap, taking his first win since Japan 2017 and earning redemption for his past actions. A less hectic race was helpful for Fenati, who has been open about his struggles in the Moto3 class this year, where the racing is so intense. He was able to run his pace, escape from the pack, and essentially race his pit board for the second half of the Grand Prix. The Italian's difficulties over the past year will have made this victory perhaps the sweetest of his career.
Arbolino's second place was his second podium in succession – an important pair of results after the summer, and finishing ahead of Dalla Porta and Aron Canet (Sterilgarda Max Racing Team) will have brought the Italian slightly further into championship contention as he now sits forty-two points behind Dalla Porta.
Third place for John McPhee was a good way to rebound after his start-line problems last week in Brno. It was a smart race from the #17, taking few risks, and he got the reward with the podium.
Celestino Vietti's first laps were not fantastic but his recovery in the second half of the race was strong. It was a shame for him to miss the podium at the line, because his pace in the final ten laps to close down McPhee and Arbolino was fast, but anyway to finish the race was important for Vietti, having crashed out in Assen, Sachsenring and Brno.
Marcos Ramirez was quite detached in fifth, but took no prisoners when battling with his teammate. It was an important result for Ramirez, who is confirmed to be leaving Leopard at the end of the season.
Lorenzo Dalla Porta was sixth, which was enough for him to reclaim the championship lead by one point from Aron Canet. The two recent strong results of Arbolino, though, show that Dalla Pota and Canet cannot afford to look only at each other.
Makar Yurchenko slipped back after his mistake just as Vietti and Masia began to check out from the battle with himself and the two Leopard machines. The Kazakh rider came home in seventh ahead of Jakub Kornfeil (Redox PruestelGP) and Niccolo Antonelli (SIC58 Squadra Corse), who also finished ahead of Canet and is still only fifty points behind in the championship. Canet completed the top ten, demoting him to second in the championship, but only by one point. It was not a great race for the Spaniard, but it was not a disaster.
Eleventh place went to Albert Arenas (Sama Qatar Angel Nieto Team) ahead of Ai Ogura (Honda Team Asia), Ayumu Sasaki (Petronas Sprinta Racing), Dennis Foggia (SKY Racing Team VR46) and Darryn Binder (CIP Green Power) who completed the points, the South African coming from last on the grid.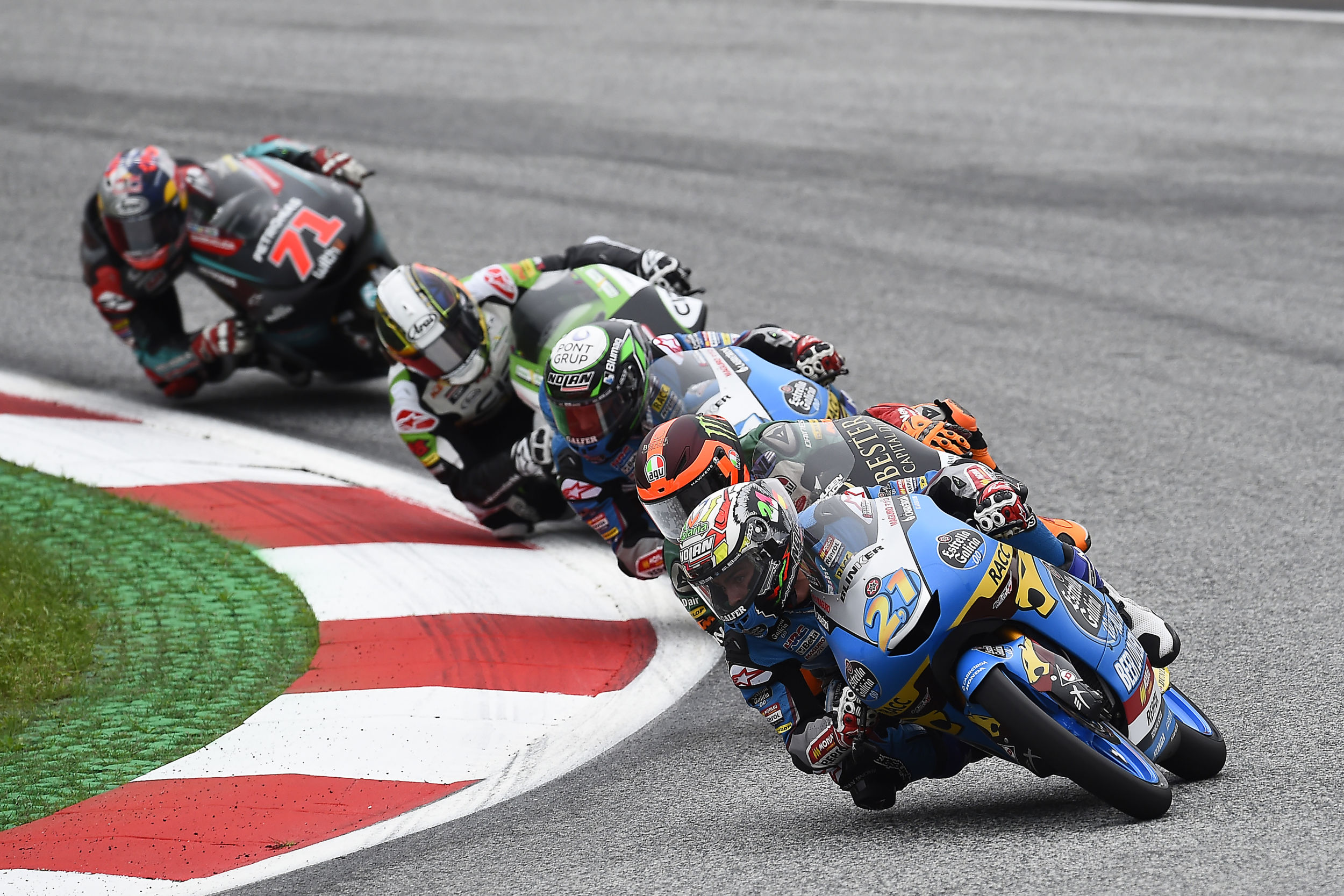 Alonso Lopez (Estrella Galicia 0,0) took a long lap penalty, and finished sixteenth. He was ahead of wildcard Deniz Oncu (Red Bull KTM Ajo), Kaito Toba (Honda Team Asia), Filip Salac (Redox PruestelGP) and Maximilian Kofler (Sama Qatar Angel Nieto Team) who completed the top twenty as a wildcard.
Jeremy Alcoba, in place of the injured Gabriel Rodrigo at Kommerling Gresini Moto3, was twenty-first. Stefano Nepa (Reale Avintia Arizona 77) was twenty second, ahead of Riccardo Rossi (Kommerling Gresini Moto3), ahead of Kazuki Masaki (BOE Skull Rider Mugen Race), Tom Booth-Amos (CIP Green Power), Andrea Migno (Bester Capital Dubai) and Sergio Garcia (Estrella Galicia 0,0) who remounted after a crash to finish twenty-seventh and last.
Tatsuki Suzuki (SIC58 Squadra Corse) was the first retirement, crashing out at turn one before Raul Fernandez (Sama Qatar Angel Nieto Team) went down in turn nine. Can Oncu (Red Bull KTM Ajo) crashed twice before he called a day on his race and Jaume Masia was the final retirement when he fell on the penultimate lap.
Featured Image courtesy of Hondanews.eu