The German Grand Prix brought with it another weekend of high expectations for Mercedes and Ferrari. Mercedes celebrated 125 years in motorsport and their 200th race start by bringing a bit of 1950s nostalgia to the Hockenheimring, while Sebastian Vettel returned to home turf in the hopes of starting to claw back the championship lead built by rival Lewis Hamilton.
All bets were off come race day, as the drivers were faced with the prospect of their first wet race of the season. This year's rookies were more than a little apprehensive, with McLaren's Lando Norris describing it as "driving into the unknown".
The stewards eventually decided to have the formation lap done behind the safety car. The likes of Hamilton, Verstappen and Magnussen were eager to get going, encouraging the stewards to bring in the safety car after the third formation lap. It was only after the fourth lap that the stewards finally got the message, and the grid lined up for a standing start.
Verstappen was eager to get going, but his start was lacklustre as he and Pierre Gasly struggled to find enough grip to build on their excellent qualifying positions, with Verstappen dropping two places within the first ten seconds of the race. Bottas was forced to run wide at turn one, and Kimi Raikonnen came out of nowhere to take third place. Leading the pack, Hamilton pushed on unchallenged.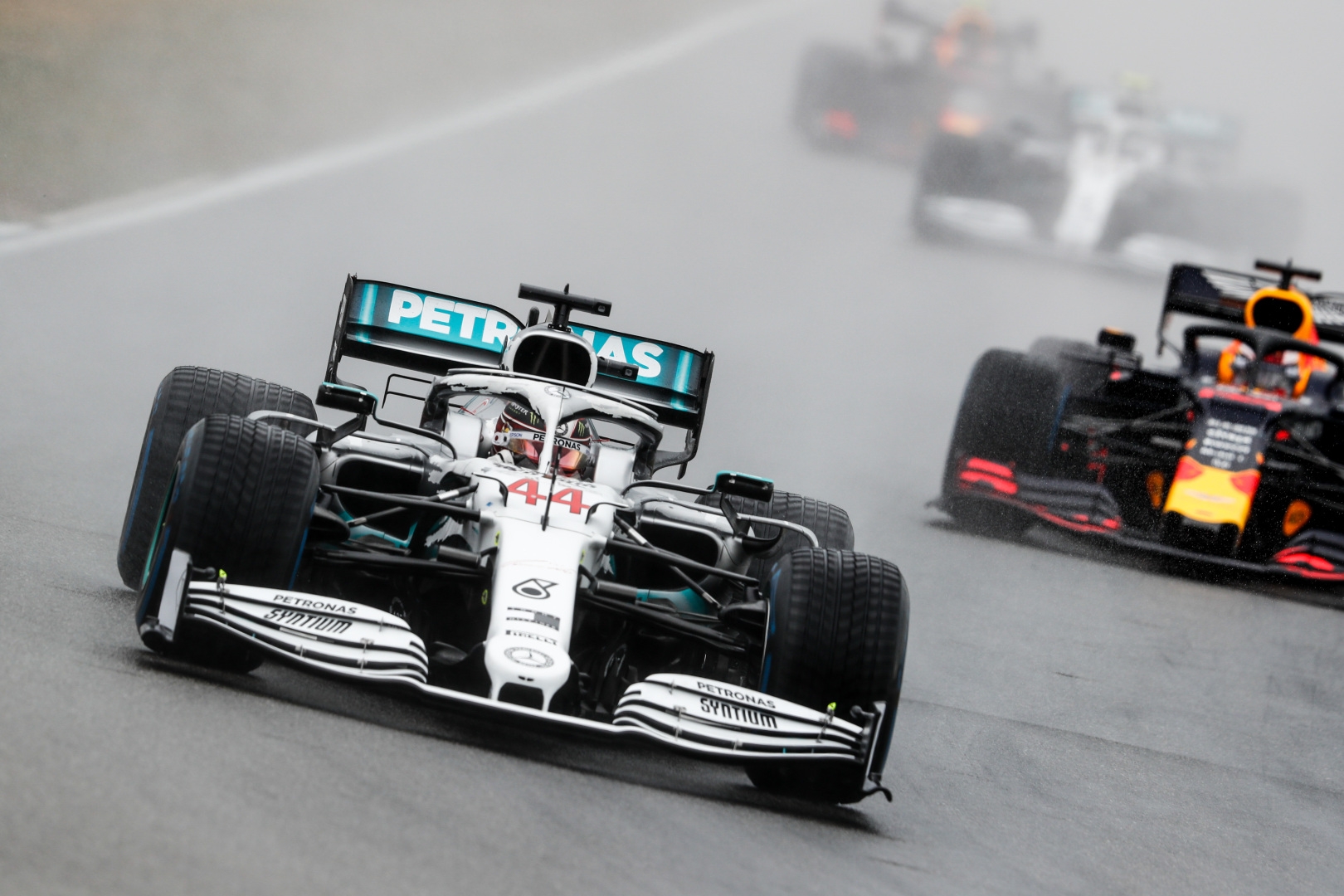 For the first few racing laps, the cars moved tentatively around the circuit, dodging spray, puddles, and each other. Sergio Perez was the first casualty, crashing at turn eleven, bringing out the safety car and causing a flurry of activity in the pits.
A busy pit-lane can vastly increase the chances of an unsafe release and, sure enough, Grosjean was forced to slam on the brakes to avoid Charles Leclerc, who had just finished his stop. Ferrari were slapped with a fine, which was a refreshing change from the stewards, who have found themselves in the firing line a great deal this season with their questionable penalty decisions.
The safety car peeled away and we were back racing on lap four, which allowed a feisty Sebastian Vettel to start eating up positions after his P20 start, and by lap seven he was already in eighth place.
On lap 15, poor Daniel Ricciardo faced yet another DNF, after his engine failed and spewed oil all over the track. The virtual safety car was deployed, but only for a lap.
Two laps later, Leclerc came in for his second stop of the race to replace his intermediate tyres, and Carlos Sainz skidded off the track at turn 16. He managed to save it, though, and avoided bringing out the safety car again, virtual or otherwise.
Elsewhere in the pit-lane, talk had already turned to potentially switching to slicks. Haas became the grid's guinea pig as they pitted Kevin Magnussen on lap 23 to change to the dry tyres despite drizzle still out on track.
The rain didn't seem to phase Magnussen, though, and this gave the other teams the confidence that maybe it was time for dry tyres after all. Vettel and Verstappen came in for a change of boots, but Red Bull almost immediately regretted their decision, as Verstappen could barely find any grip and span. He somehow managed to re-join the track in third place, with no damage done.
Despite his pre-race apprehension, Lando Norris had been running very respectably considering it was his first ever wet F1 race. Lap 28, though, saw everything change, as he was forced to retire due to a loss of drive. This brought out the second VSC of the race and caused yet more pit-lane activity.
Mercedes and Ferrari took full advantage of another free pit stop, with Hamilton and Leclerc emerging tentatively on soft tyres. Despite their careful driving, Leclerc crashed and beached his car at turn 16, bringing out the safety car. Almost immediately after, Hamilton came skidding past Leclerc and lost a chunk of his front wing.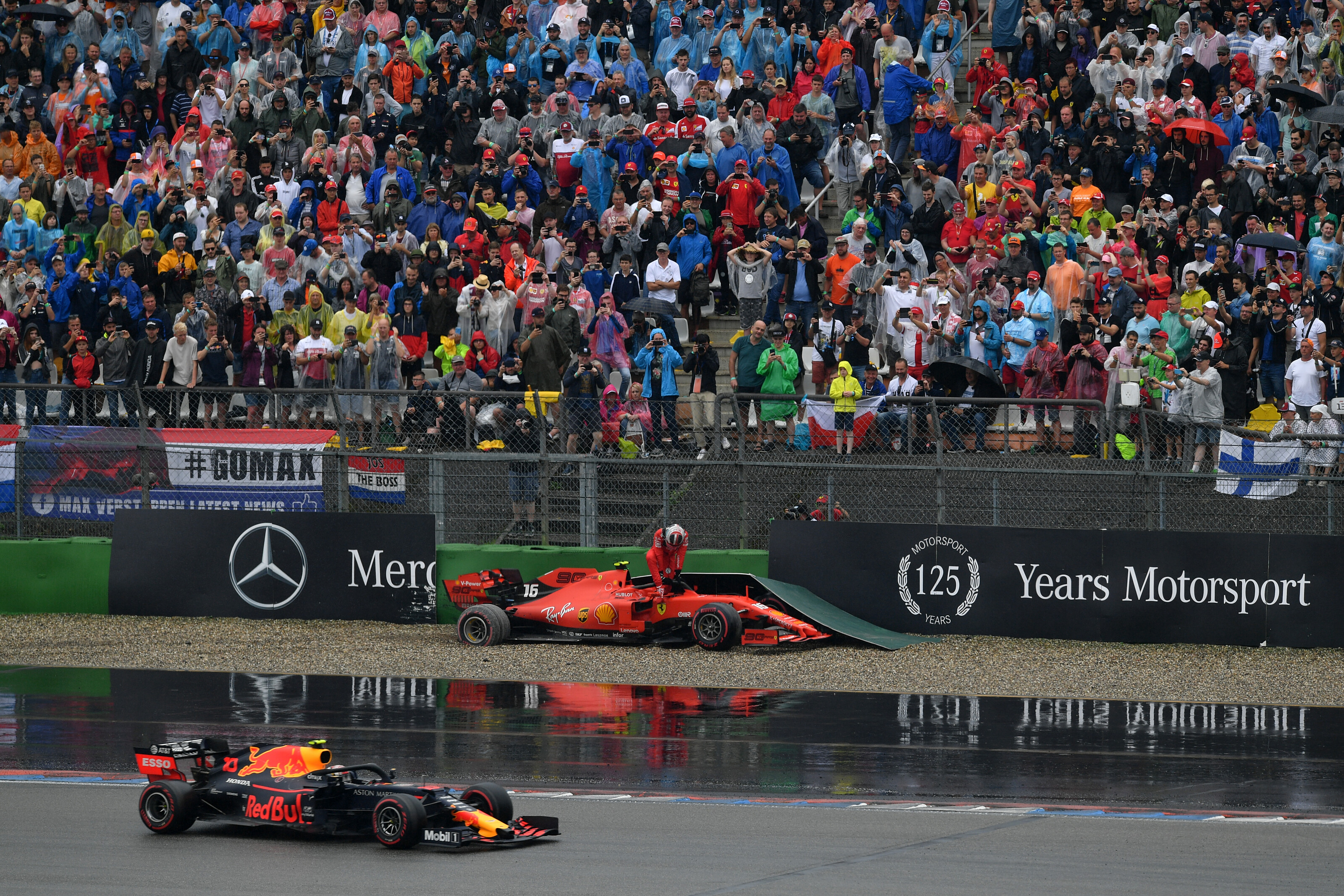 The incident caught Mercedes off-guard, as Hamilton chose to dive into the pits with no warning. The team scrambled frantically to replace the front wing and change his tyres again, and Hamilton ended up losing four places in the chaos. The drama didn't end there, and Hamilton was given a five-second penalty for entering the pits on the wrong side of the bollard.
The race restarted on lap 34, with Max Verstappen leading and Nico Hulkenberg in P2. Things seemed to settle down briefly, allowing for fans to enjoy a truly mixed-up, unusual grid. Unfortunately, this was short lived, as Hulkenberg, having dropped down to P4, crashed at the final corner on lap 41, bringing out the safety car once again.
By lap 46 we were back racing again. Mercedes had chosen not to pit Hamilton under the safety car, and it is unclear whether they would have pit him at all had it not been for his protests over the radio. They eventually relented and brought him in, where he served his five-second penalty.
Red Bull did not hesitate in pitting Verstappen again. This allowed Lance Stroll to lead the race for the first time in his F1 career. His time in the spotlight, though, was short-lived, as Verstappen re-joined the track and promptly reclaimed the lead.
By this point, the track had started drying out, and fastest laps were being set left, right, and centre. Daniil Kvyat was the first to do so, having worked his way up to third. This was quickly followed by both Haas drivers, and finally reclaimed by Verstappen on lap 50.
On lap 54, Hamilton's day went from bad to worse, spinning at the first corner and narrowly missing the wall. This left him down in 15th, last of the cars still running. While Hamilton was lucky to avoid the wall, Bottas wasn't so lucky. He spun in exactly the same place, and the barriers claimed yet another victim. The safety car was brought out, for what was the last time that afternoon.
It was an unfortunate way to end what could have been a promising afternoon for the Finn, eager to prove his worth to Mercedes and secure his seat for 2020.
Proving his worth wasn't an issue for Vettel this afternoon. Despite starting P20, he had steadily worked his way up the grid and, upon the final race re-start, made light work of Sainz, Stroll, and Kvyat to take P2 on lap 63.
While Verstappen thrived in the conditions, Gasly struggled to hold position, dropping down to 14th at one point. By lap 60 he had worked his way back up to 7th and looked to claim 6th from Alex Albon. The Thai driver wasn't about to give up the position without a fight, and Gasly ended up running into the back of Albon. The damage forced him to retire at the last moment.
After what felt like a lifetime, the chequered flag finally waved, with Verstappen crossing the line to take the win ahead of Vettel and Daniil Kvyat.
The German Grand Prix's place on the calendar may be under threat, but yesterday's race reminded us just why we continue watching F1 every weekend – Kvyat described it as a "horror movie, with a bit of black comedy".
The action didn't even stop when the race ended. Both Alfa Romeo drivers where placed under investigation for breach of Article 27.1, relating to clutch torque application at the race start. Hours after the race's end, the duo were handed 10-second stop and go penalties, promoting Robert Kubica into the points for the first time in ten years.
Going into this weekend, it would have been a safe bet to say Mercedes would dominate, but instead we were treated to a race that will go down in F1 history. It's amazing what a sprinkle of rain can do!
Featured image courtesy of Getty Images / Red Bull Content Pool