Qualifying for the sixth round of the British Superbike Championship took place at Snetterton. The weather had been inconsistent throughout the weekend but the track remained dry for qualifying.
Scott Redding (Be Wiser Ducati) had been fastest throughout the weekend, and so was the favourite for pole position heading into qualifying. His promise from free practice was one he was able to deliver on as the ex-MotoGP rider took his second pole position of the season on his first visit to Snetterton – perhaps the most 'European' of the British tracks with the exceptions of Donington and Silverstone.
Tarran Mackenzie (McAMS Yamaha) was second on the grid. In a weekend where Ducati have been dominant with Redding and competitive with Josh Brookes (Be Wiser Ducati) and Tommy Bridewell (Oxford Racing) it has been Mackenzie who has represented some resistance to the Panigale V4R with his YZF-R1, and starting from the middle of the front row gives him a good chance for the first race tomorrow.
Tommy Bridewell ensured Mackenzie's Yamaha was the meat in the Ducati sandwich on the front row for tomorrow's first race as he qualified third. It has been a quiet weekend for the #46, but when the lap time counted he found himself competitive and was able to give himself a good opportunity tomorrow.
Josh Brookes was mostly off the pace compared to his teammate; Redding, throughout free practice, but he seemed to find something in qualifying. The Australian was able to almost match his teammate in Q1, although in the final pole position shootout of Q3 he was only able to manage fourth. The second row is not a disaster for Brookes, of course, and with the fastest four riders of the weekend heading up the grid the races tomorrow should be quite open.
Dan Linfoot (Santander Salt TAG Yamaha) qualified fifth, continuing his good form. Xavi Fores (Honda Racing) also continued his good qualifying form by taking sixth place after his pole position in Knockhill. Danny Buchan (FS-3 Kawasaki) set the seventh-fastest time in Q2, and will line up on the third row ahead of Andrew Irwin (Honda Racing) who crashed in Q2 and Peter Hickman (Smiths Racing) who suffered his first crash of the season on the exit of the final corner in Q3 which brought out the red flags as his bike was stranded in the middle of the track.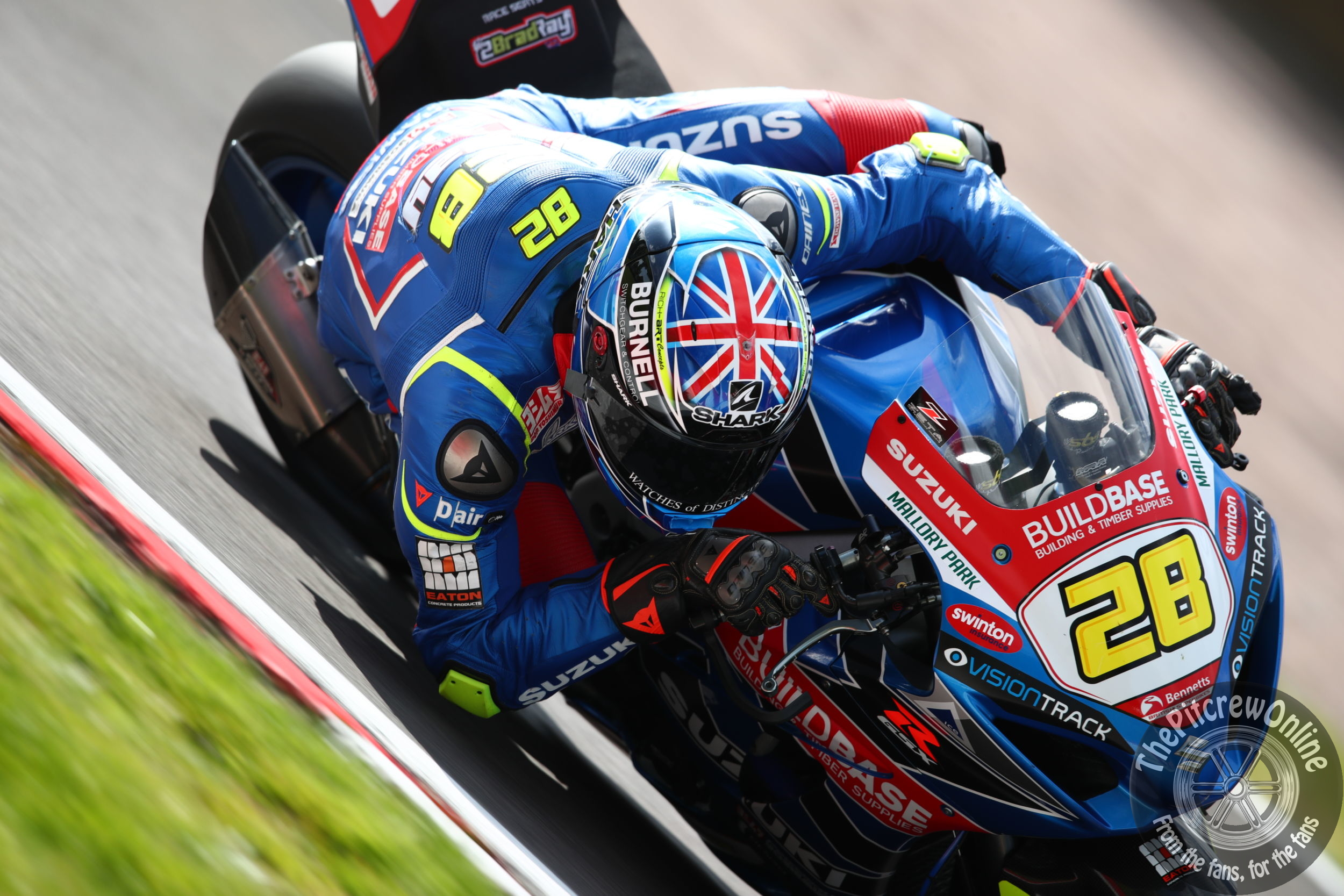 Bradley Ray (Buildbase Suzuki) was the fastest of the riders to not make Q3 and qualified tenth aead of Luke Stapleford (Buidlbase Suzuki) and Luke Mossey (OMG Racing Suzuki) who was disappointed to round out the fourth row after a strong showing in free practice.
Michael Laverty, replacing Keith Farmer at Tyco BMW Motorrad, qualified thirteenth ahead of Hector Barbers who is back in at Quattro Plant JG Speedfit Kawasaki replacing Glenn Irwin who has vision issues following a bout of the flu. Christian Iddon (Tyco BMW Motorrad), complete with a nineteen-day-old broken leg, completes row five.
Josh Elliott (OMG Racing Suzuki) qualified sixteenth ahead of Joe Francis (Lloyd & Jones Bowker Motorrad) on his first competitive outing with the 2019 BMW S1000RR. Ben Currie (Quattro Plant JG Speedfit Kawasaki) was the slowest of the riders in Q2 and will line up eighteenth for race one.
James Ellison (Smiths Racing) qualified nineteenth and will head up row seven in race one, ahead of Ryan Vickers (RAF Regular & Reserves Kawasaki) on his return from injury. Jason O'Halloran (McAMS Yamaha) suffered two crashes in Q1 – at least one confirmed to be a bike problem as he hit a false neutral into turn four – and will complete the seventh row.
Claudio Corti (Team WD-40) was twenty-second fastest, ahead of Matt Truelove (Raceways Yamaha) and David Allingham (EHA Yamaha); whilst Dean Harrison (Silicone Engineering Racing) heads up row nine from Shaun Winfield (Santander Salt TAG Yamaha) and Sam Coventry (Team 64 Motorsports).
Fraser Rogers (Gearlink Kawasaki) was thought to be out of the weekend after a problem on Friday morning, but continued at Snetterton and qualified twenty-eighth, heading up the last row from Danny Kent (Bike Devil Sweda MV Agusta) – who suffered bike problems with the MV F4 – and Dean Hipwell (CDH Racing) who completes the grid for race one.
Featured Image courtesy of Ducati