Chadwick puts in a dominant performance to win the second race in Miami. In contrast to yesterdays race it was a clean session but still had the last lap which W Series is becoming known for.
The second fastest times in qualifying set the grid for this race. This meant Chadwick started on pole with Marti in P2, Kimiläinen in P3 and Powell in P4. Both Kimiläinen and Powell were looking to improve on their results from race 1.
Lights out and everyone gets away clean. Chadwick with a good start kept the lead into turn 1 while Kimiläinen behind her had a great start. She was alongside Marti heading towards turn 1 but gets stuck behind Chadwick and stayed in P3.
Through sector one kimiläinen stayed close to Marti which meant by the time they got to turn 11 she was lining up a move on Marti. She goes too deep just like the restart of race 1 and undoes all the hard work she had done. Next time around, on lap 2 she had another go and this time made it stick.
While this was happening Marta Garcia was making up places which is important for her after receiving a penalty after the race yesterday for colliding with Kimiläinen in the closing stages of race 1.
Powell was also wanting to improve on race 1 and was closing the gap on Marti after Kimiläinen's move. She kept searching for a passing position but couldn't find the right opportunity to make a move.
The pressure from Powell pushed Marti closer to Kimiläinen, and with 20 minutes to go Marti was in the slipstream of the team Puma driver. Kimiläinen made a mistake in turn 17 and Marti took back P2.
This battle was far from over though. Down the main straight Kimiläinen had more speed and takes the inside line into turn 1. Just when she thought the battle was won though, Marti gave Kimiläinen one final battle into turn 11. Marti out braked Kimiläinen and came out on top.
Trying to get in on the action, Powell makes a lunge into turn 1 on Kimiläinen. She went too deep though and couldn't make it stick, leaving Kimiläinen to great a gap to Powell. This opened the door for Belen Garcia, but Powell was able to keep her behind.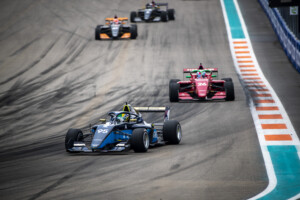 Further back and Moore was putting in fastest laps in an attempt to catch Visser. With 14 minutes to go Moore had caught Visser, making a great move into turn 1. This pace wasn't too last forever though as Abbi Pulling was on the charge behind her.
Having taken fastest lap, Pulling was following Moore and passed Visser in a great move around the outside of turn 11. It wasn't long before she was only half a second behind Moore with only 5 minutes left of the race.
Moore was holding Pulling off until the pressure seemed to get to her, and she locked up, going deep into turn 11. Pulling took advantage and made it up to P7. It only got worse for Moore as Visser got past as well in the last minute of the race.
In the final few minutes of the race Powell had closed up on Kimiläinen in P3. On the final lap after the 30 minute time Powell looked to make a move on kimiläinen. Going into turn 17 kimiläinen was pushing hard to keep Powell behind but the back end stepped out causing her to spin round. This caused some damage to Powell's front wing, but she was able to carry on to the end.
So heartbreak again for kimiläinen but Jamie Chadwick made it a double win in Miami to start her 2022 season. Nerea Marti and a damaged Alice Powell joined her on the podium. A second W Series podium for Marti and an important points haul for Powell after yesterday's disappointment.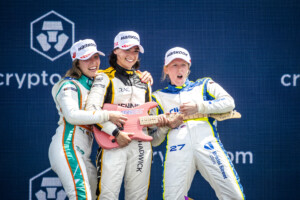 Next up is Barcelona where we only have 1 race on Saturday the 21st of May.