There are so many memorable races at the Monaco Grand Prix it's hard to pick a favourite to write about, so instead I'll share with you the day I dragged my wife around the 2.075 mile circuit.
On arriving in Monaco you know you're somewhere special. The shops are a Formula 1 junkie's heaven. From model cars to watches, cufflinks to scarves it's all there. Everywhere you look Formula 1 sponsors names adorn posters and shop windows, you can see Ferraris and people with team caps and shirts on.
If you have time a trip to HSH The Prince Of Monaco Collection Of Classic Cars is a must for any petrol head. They hold an impressive collection of vintage Monaco Grand Prix posters (I have indulged in a couple).
We started our walk by Casino Square: the Casino is open and quite a visit if you're feeling lucky. From there you can walk down towards the previously named Loews hairpin, now called the Grand Hotel, a sharp left turn leading onto a right (Portier come race weekend, where Ayrton Senna famously crashed in 1988) and into the tunnel, possibly one of the most iconic stretches of race track in the world!
Through the underpass and the sound of the road cars amplified gave us some sense as to how the Formula 1 cars would sound. Unfortunately it's something only drivers, marshals and the odd cameraman will ever truly experience.
Leaving the tunnel, the shock of daylight blinds you. Whilst our eyes adjust to the light and lungs breathed in some much needed fresh air, we strolled down, looking out at the yachts on the Mediterranean and the rich and famous on them. Onto the Nouvelle Chicane before the the left turn on Tabac, named after the tobacconist store there, the next landmark on the track is the swimming pool section (Piscine – French for pool), the pool is open to the public but you would have to check opening times.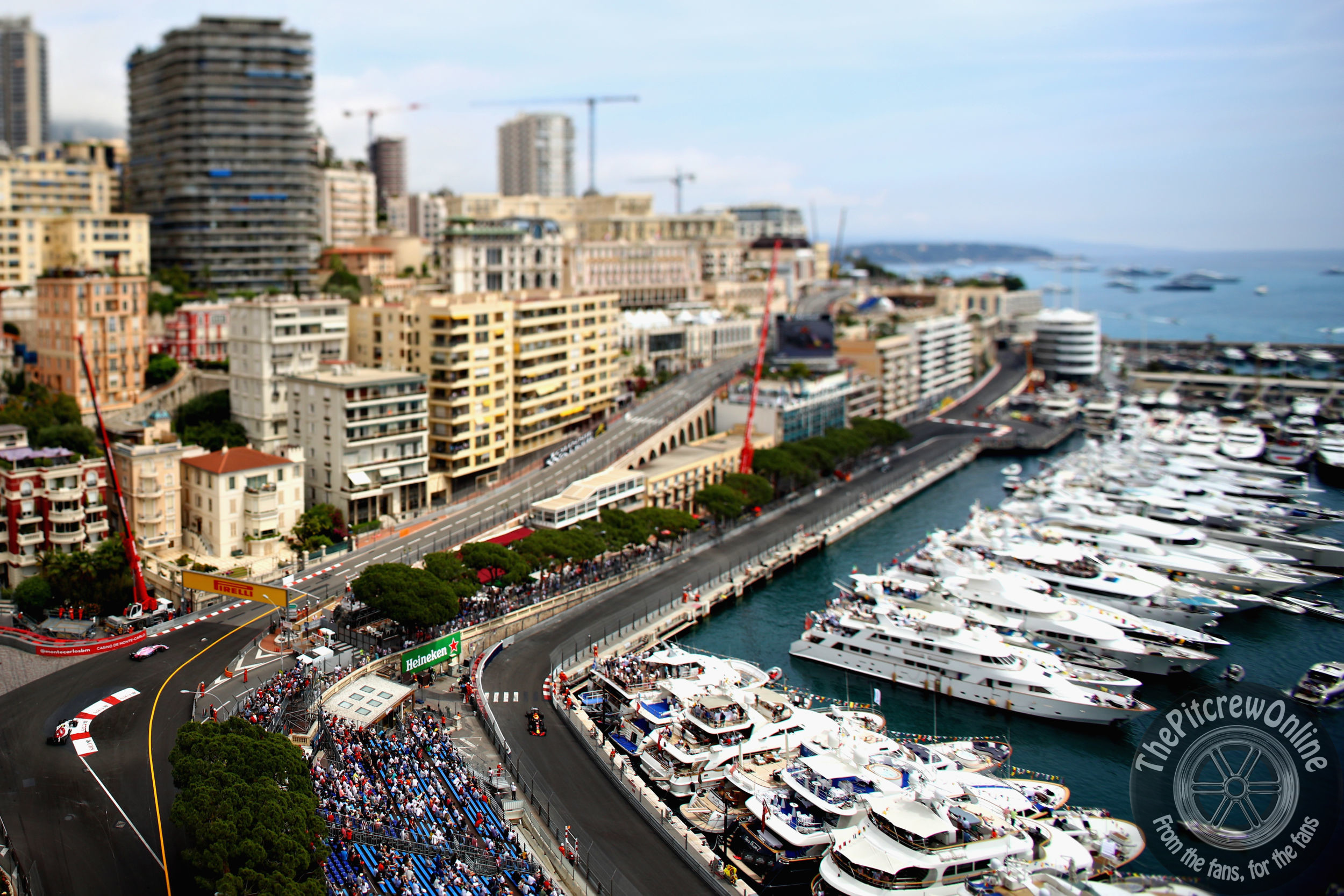 We carry on walking in glorious sunshine, it's getting rather hot now and my long suffering wife has to be bought off with a promise of Ice cream. We follow La Rascase round onto Anthony Noghes corner, whose idea it was to have a Grand Prix in Monaco. This takes us onto the start/finish straight (not that straight at all) then a right turn at Saint Devote takes us up the hill to Massanet and the Hotel De Paris before back to the icon of Motorsport, Casino Square, and the promised ice cream. I have to finish by thanking my wife Joanne for indulging my passion for Formula One, although it has it's perks, a nice trip to Monaco and an ice cream can't be bad. Can it?
MONTE-CARLO, MONACO – MAY 24: (EDITORS NOTE: Image was created using a variable planed lens.) Daniel Ricciardo of Australia driving the (3) Aston Martin Red Bull Racing RB14 TAG Heuer on track during practice for the Monaco Formula One Grand Prix at Circuit de Monaco on May 24, 2018 in Monte-Carlo, Monaco. (Photo by Mark Thompson/Getty Images)
By Simon Tassie