Having been baked by the Andalusian sun since the start of the Moto3 race, the track temperature was a toasty 37 Celsius ahead of the race for the fourth round of the 2019 Moto2 World Championship.
The start was messy. Augusto Fernandez (Flexbox HP 40) made the holeshot, then Remy Gardner (ONEXOX TKKR SAG Team) high-sided coming out of turn one, in an incident which then involved Dimas Ekky (IDEMITSU Honda Team Asia), Marco Bezzecchi (Red Bull KTM Tech3) and Alex Marquez (EG 0,0 Marc VDS). Of particular concern was Dimas Ekky, who had fallen from his bike and then slid down the track into the side of Bezzecchi, which is what took the KTM rider out. Both Ekky and Gardner were taken to the medical centre for checks.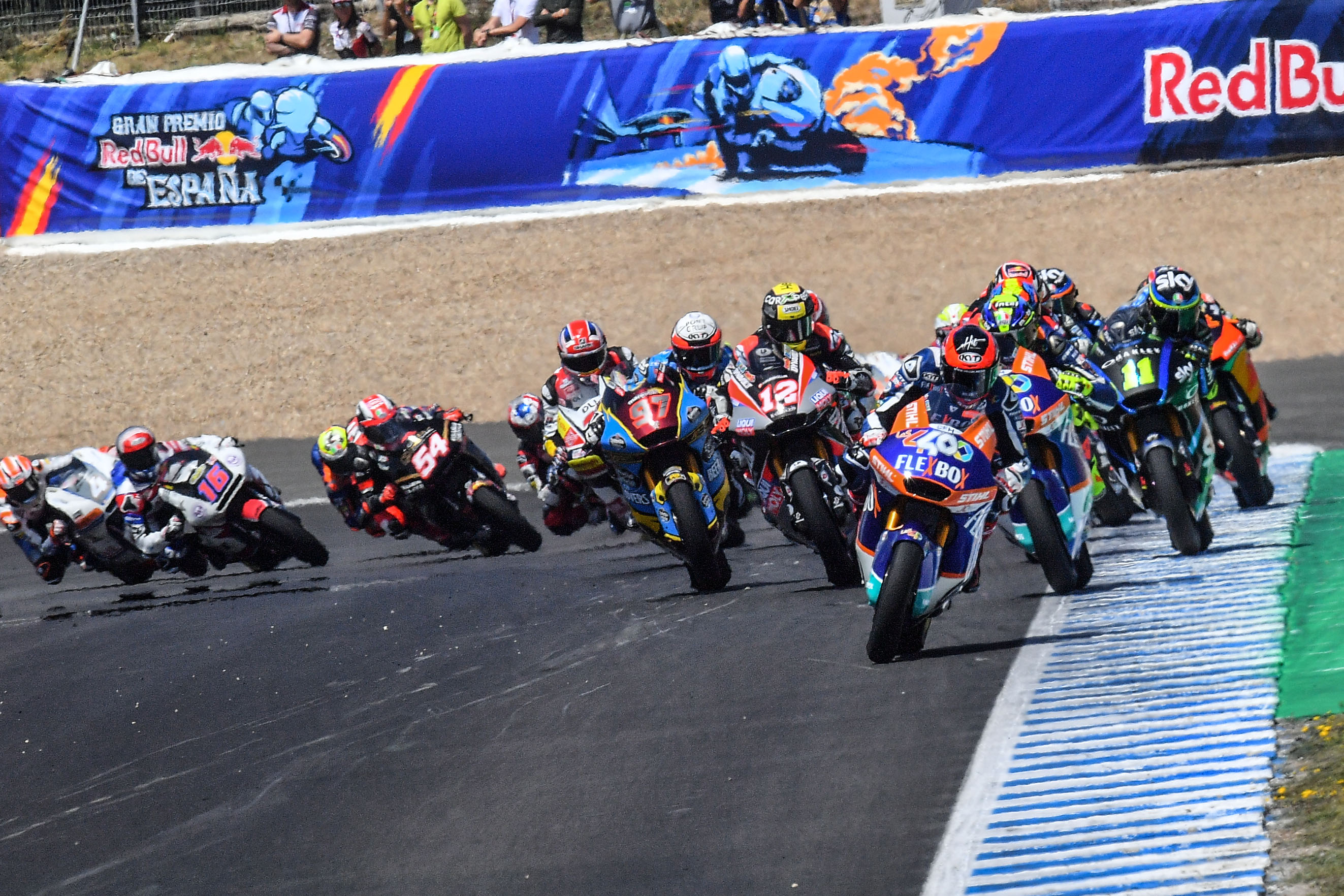 The race was then red flagged, shortened to fifteen laps and would restart with the quick restart procedure. This was bad for Alex Marquez, whose team was only able to get his bike fixed in time for him to start from pit lane. His bike was still badly damaged at the restart, and so his pace was slow and he made no real progress, which was a shame for him in his home race as he had looked quite strong through the weekend.
At the front, the holeshot once more went to Augusto Fernandez as Jorge Navarro (HDR Heidrun Speed Up) made a poor jump. It was poor enough, in fact, for Lorenzo Baldassarri (Flexbox HP 40) to jump the Spaniard as well from the back of the second row. Even Nicolo Bulega (Sky Racing Team VR46) was able to get ahead of Navarro in turn one from fifth on the grid.
It went badly from there, though, for Bulega on the opening lap, as the #11 was shoved wide in turn two and turn six. He dropped to tenth, which proved to be about where his pace was.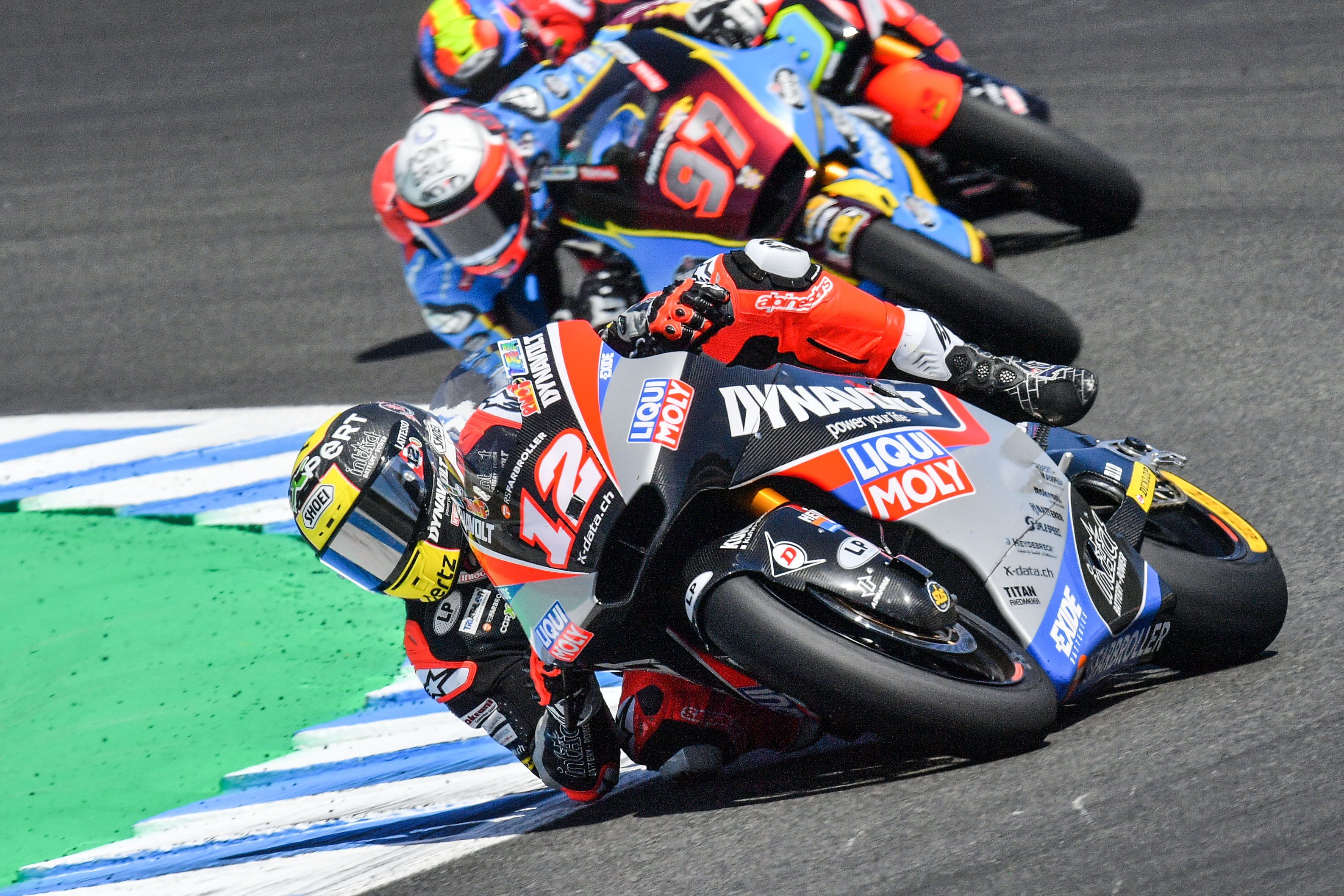 Back to the front and Tom Luthi (Dynavolt Intact GP) had come through to third place. Navarro had dropped behind Xavi Vierge (EG 0,0 Marc VDS) and was now under pressure from Brad Binder (Red Bull KTM Ajo) who had already made his mark on the race by pushing his way through Marcel Schrotter (Dynavolt Intact GP) in the beginning of the race – the German was pretty much sent to the long lap lane at turn thirteen, but the move was fair enough from Binder.
The two Pons riders of Fernandez and Baldassarri were escaping at the front. A mistake from Luthi in turn two solidified this. Now free from the attentions of Luthi, Baldassarri was able to focus completely on his teammate, Fernandez, whilst Luthi had to deal with Navarro behind, who had been able to get past Vierge.
Soon, Baldassarri was able to pass Fernandez in the final corner, and immediately he slowed the pace. Before Baldassarri had gotten in front both he and Fernandez had been lapping in the high-1'41s, but as soon as the Italian hit the front the pace dropped to the low-'42s. Fernandez was all over his teammate, but his strong point was the mid-corner and could not get through.
As Navarro started homing in on the two Flexbox HP 40 riders, Baldassarri started to check out, and Fernandez made a mistake in turn one. This dropped him into the clutches of Navarro, who slipped past in turn six with just over a lap to go.
There wasn't much time, but Navarro was closing on Baldassarri. The Italian was forced into one last push on the final lap to keep the Speed Up rider at bay, and it worked. Baldassarri claimed his second successive win at Jerez, his third of the season and the fifth of his career. After his no-score in Austin, it was important for Baldassarri to strike back in Spain, and that he did, opening up a seventeen-point lead in the World Championship.
Jorge Navarro was disappointed with second place because he had the pace to win. Had the race been full-length he almost certainly would have – the shorter race distance worked against him on this occasion. Nonetheless, a second successive podium finish for Navarro represents some good progress, which he will hope to continue in Le Mans.
Third place represented Augusto Fernandez' first ever Grand Prix podium, having made a name for himself last year when replacing Hector Barbera in the Pons team. After the crash of Argentina which caused the injury that kept him out of Austin – and from which he still suffers – a debut podium is a good way to return to action.
Tom Luthi could only manage fourth place. In fairness, it was better than he had looked through the weekend, but nonetheless he dropped a lot of points to Baldassarri, which he will need to recover – at least in part – in Le Mans.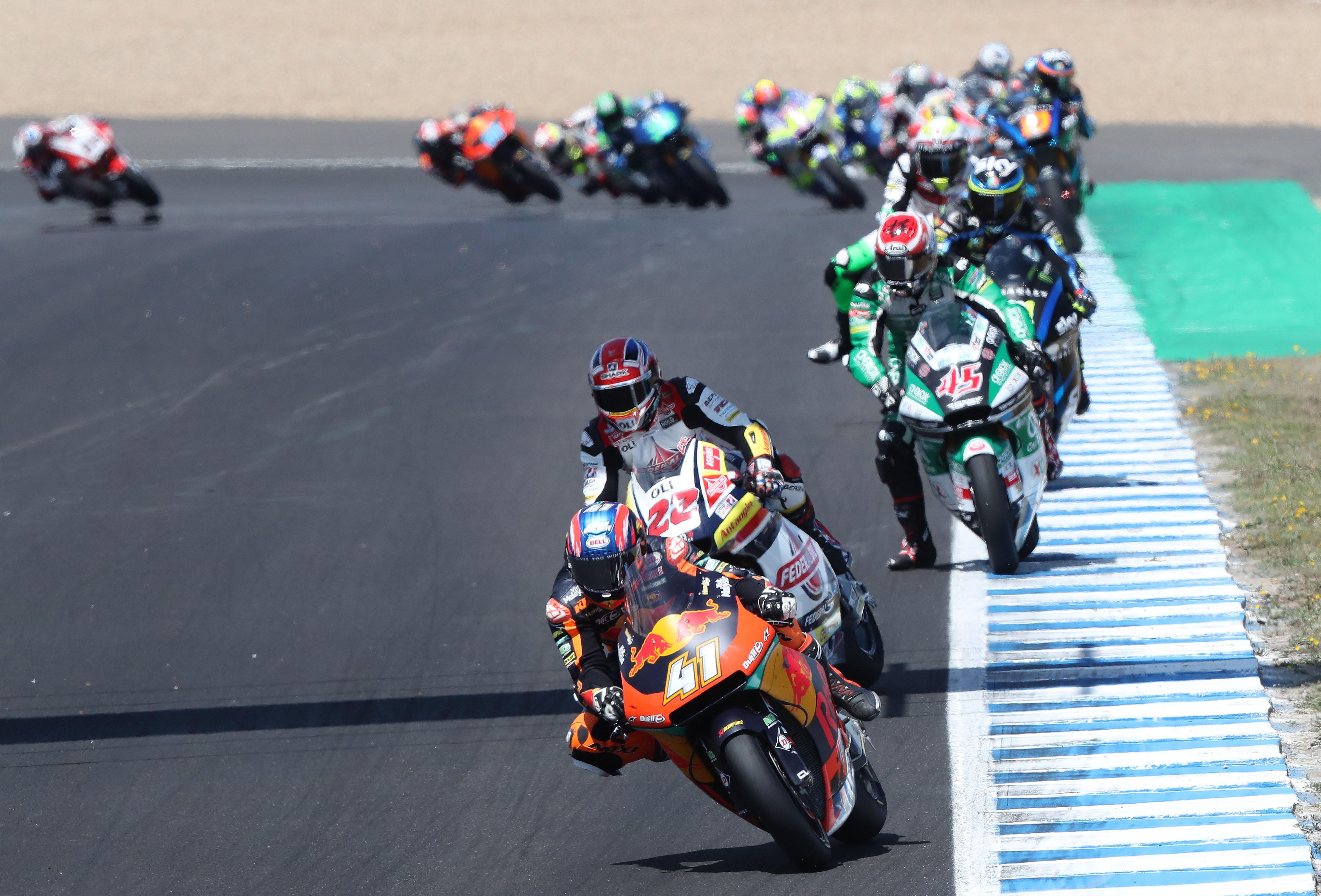 Brad Binder came home in fifth place, ahead of Xavi Vierge. The problems of KTM were highlighted by Jorge Martin's (Red Bull KTM Ajo) tweet on Saturday night where he said he would need a "miracle" on Sunday, and also by Mattia Pasini's (Sama Qatar Angel Nieto Team) weekend, which he spent most of outside the top twenty, after finishing fourth on the third-placed bike of Jerez three weeks ago in Texas. If Binder is to fight for the title, KTM need to make some big progress very soon.
Tetsuta Nagashima (ONEXOX TKKR SAG Team) was going to have to start from pit lane in the first race, so benefited from the red flag which allowed him to start from his original grid position, from where he was able to come home in seventh.
Luca Marini (Sky Racing Team VR46) had a poor weekend, but made a decent comeback in the race to finish eighth, ahead of teammate Nicolo Bulega who was ninth. Iker Lecuona (American Racing KTM) completed the top ten.
Enea Bastianini (Italtrans Racing Team) had his worst result of the season with eleventh, ahead of Fabio Di Giannantonio (HDR Heidrun Speed Up) who had looked better than twelfth for most of the weekend. Dominique Aegerter took (MV Agusta Idealavoro Forward) back into the points for the second GP in succession, ahead of Andrea Locatelli (Italtrans Racing Team) in fourteenth and Marcel Schrotter who was unable to recover from his incident with Binder in the beginning of the race.
Dimas Ekky and Remy Gardner missed the restart having been taken to the medical centre. Khairul Idham Pawi (Petronas SRT) also missed the start, as he was injured and declared unfit in a practice one crash on Friday.
Simone Corsi (Tasca Racing Scuderia Moto2) was the first retirement on lap three, before Mattia Pasini, Sam Lowes (Federal Oil Gresini Moto2) and Jorge Martin all crashed.
Featured Image courtesy of RACEPIXS.DE/DYNAVOLT INTACT GP