The clouds of Saturday and Sunday morning had disappeared in time for the Moto3 race in Jerez for round four of the 2019 World Championship.
Tatsuki Suzuki (Sic58 Squadra Corse) took the holeshot from Dennis Foggia (Sky Racing Team VR46) who dropped in ahead of his teammate Celestino Vietti (Sky Racing Team VR46) whilst pole sitter Lorenzo Dalla Porta (Leopard Racing) made a poor start and dropped a few positions, although it did not take the #48 long to recover those positions.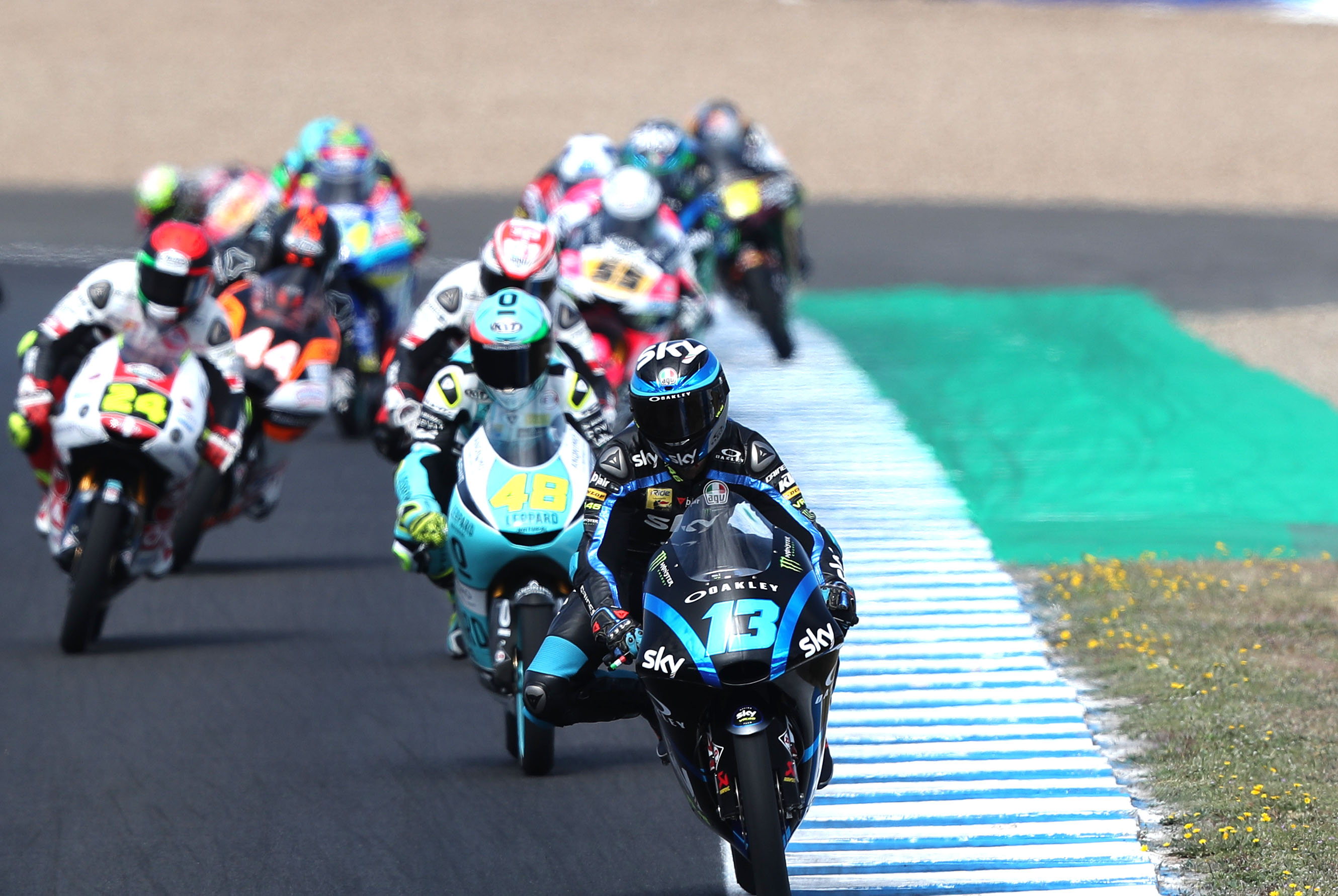 Both Dalla Porta and Suzuki spent a long time at the front of the race, although in short stints, with the pair exchanging the lead between them many times throughout the race.
Initially, the group was of ten, Jakub Kornfeil (Redox PruestelGP) bringing up the rear. Eventually, Ayumu Sasaki (Petronas SRT) was dragged up to the leading group by Raul Fernandez (Sama Qatar Angel Nieto Team), and then the chasing pack caught the front twelve, making it a twenty-way fight for the win.
The battle was reaching boiling point, as it often does in Moto3, and eventually it boiled over. With four laps to go, Marcos Ramirez (Leopard Racing), having fought his way up from an average-at-best start to be in the fight for the lead, clipped the bike ahead of him and went down on the exit of turn four. Romano Fenati (VNE Snipers) simultaneously ran wide and into the gravel at turn five.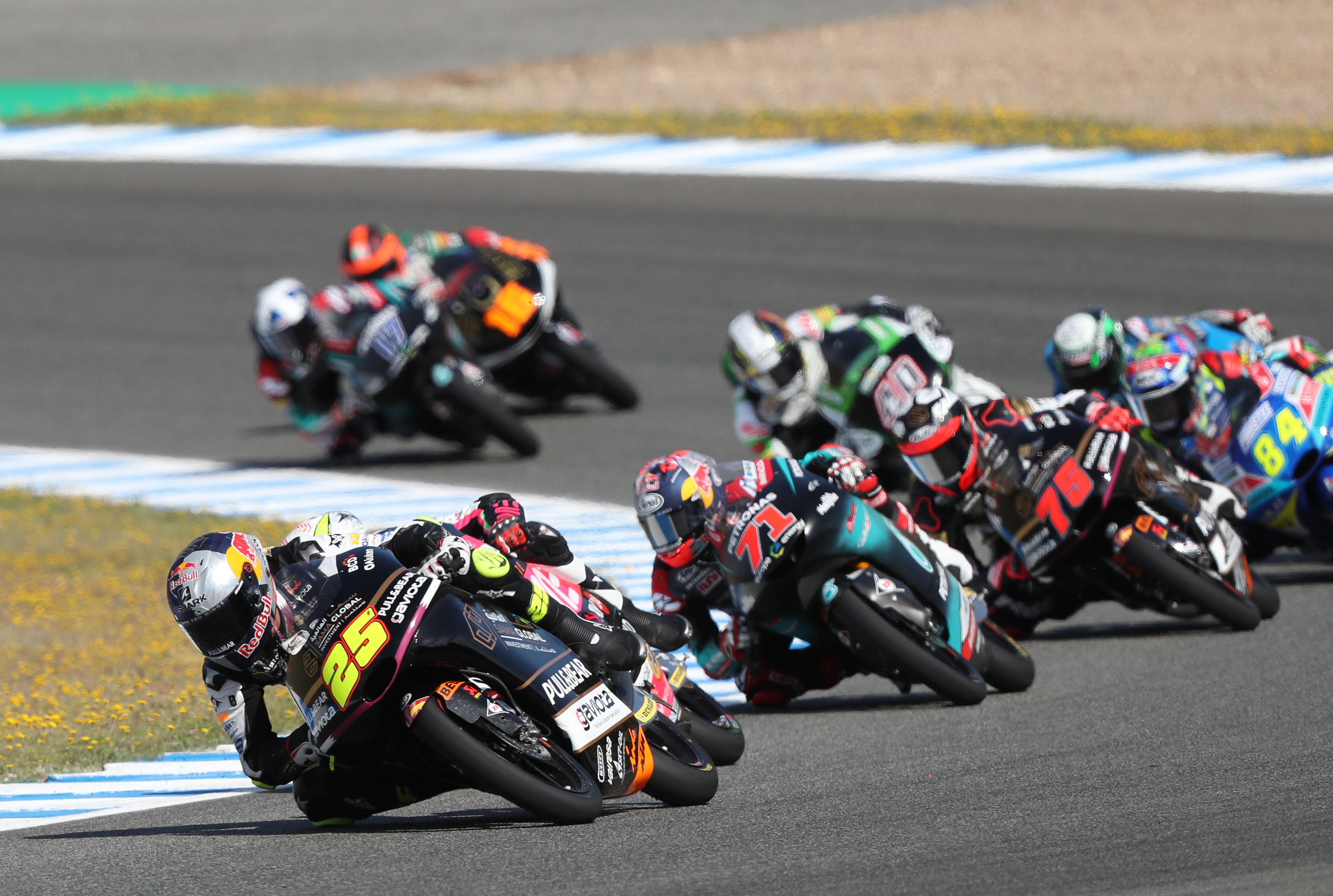 Then, on the same lap at turn six, Raul Fernandez lost control of his KTM in the braking zone and ended both his and Sergio Garcia's (Estrella Galicia 0,0) races, which was unfortunate for the pair of them, but especially for Garcia, as he had no hand in the accident and had fought his way up through the pack quite strongly.
That left ten riders at the front, and Niccolo Antonelli (Sic58 Squadra Corse), having dropped as low as 13th in the mid-race, led onto the final lap from Vietti. Suzuki had come up to third by turn two, but the gap between Vietti in second and the Japanese seemed to big to overcome in one lap. However, a decent slipstream for Suzuki towards turn six, as well as a good run through turns seven and eight allowed him to make a pass on Vietti in turn nine.
This allowed Antonelli off the hook and the Italian took the his first win since Qatar 2016. It was also the first win for Paolo Simoncelli's Sic58 Squadra Corse, who fittingly took their debut World Championship victory at the same circuit in which Tony Arbolino took their first CEV win back in 2016, and also where Marco Simoncelli won his first Grand Prix back in 2004.
In a similar way as for Petronas Yamaha in MotoGP Qualification, the day was made even better for the Italian squad, as Suzuki was able to hold off Vietti in the final corner to make it a 1-2 for the team. In many ways, Suzuki deserved to win, and would have been desperate to after his mistake cost him in Austin three weeks ago. But the Japanese has proven on two very different circuits now that he has the capabilities to fight for the win, and he will look to continue this in Le Mans.
The second podium of Celestino Vietti's career was a hard fought one. He spent some time at the front, but mostly Vietti was fighting from third, fourth, fifth positions. He seemed to lose a bit in the mid-race, but in the closing stages was strong and managed to fight his way back to the front. Even without the move from Suzuki on the final lap, it would have been difficult for Vietti to win, because he had been quite weak in turn twelve, the penultimate corner. Nonetheless, it was a very positive result for the young Italian.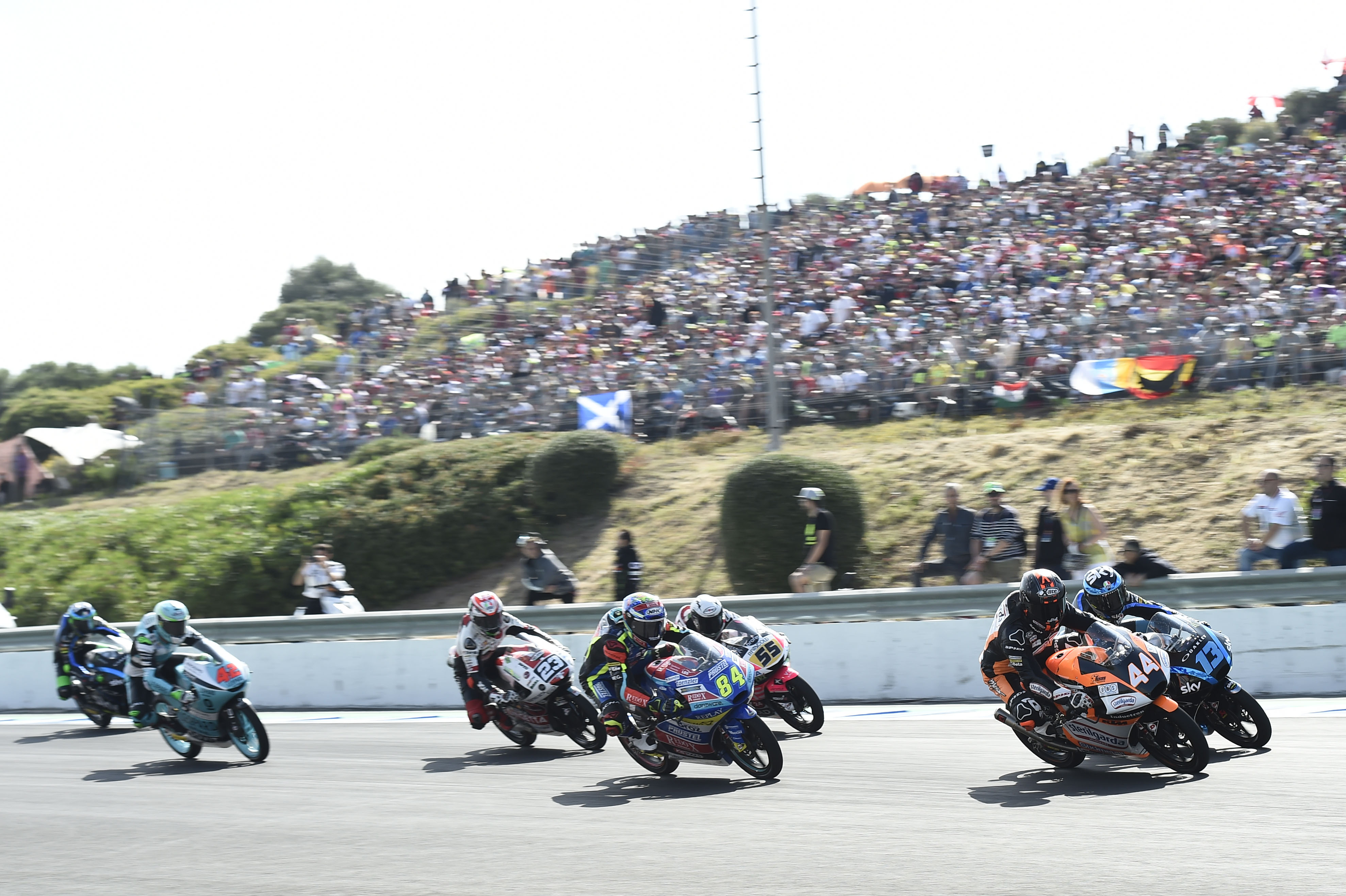 Aron Canet (Sterilgarda Max Racing Team) finished fourth. He had looked strong all race, but didn't have the track position in the final stages. He was close to taking third from Vietti in the final corner, but the Italian was too far ahead, ultimately. Canet did, though, manage to come away from Jerez with a championship lead, after sharing it with Jaume Masia (Bester Capital Dubai) since Austin, and now has something to protect in Le Mans. It will be interesting to see how he manages that in two weeks time.
Albert Arenas (Sama Qatar Angel Nieto Team) had quite a quiet race, but made a strong result in his return from injury with fifth place, which is positive as the championship now heads to Le Mans, where last year he took his first GP win.
Kaito Toba (Honda Team Asia) had a pretty miserable weekend, but turned it around on Sunday through some strong pace, and others' misfortune, to take sixth place, ahead of Jakub Kornfeil, Lorenzo Dalla Porta who was forced wide in turn six on the penultimate lap. Ai Ogura (Honda Team Asia) and Andrea Migno (Bester Capital Dubai) were ninth and tenth.
Dennis Foggia (Sky Racing Team VR46) had a strong pace throughout the race but a long lap penalty for track limits close to the end of the race limited him to eleventh. Darryn Binder (CIP Green Power) took twelfth, ahead of John McPhee (Petronas SRT) whose gamble on a soft rear tyre didn't pay off; Kazuki Masaki (BOE Skull Rider Mugen Race) took fourteenth, ahead of Alonso Lopez (Estrella Galicia 0,0) who took the final point.
Whilst Aron Canet finished fourth, the man he shared the points lead with at the start of this weekend, Jaume Masia, suffered a poor weekend and ended it in the gravel, scoring no points. Tom Booth-Amos (CIP Green Power), Gabriel Rodrigo (Kommerling Gresini Moto3) also retired, whilst Filip Salac (Redox PruestelGP) retired with bike problems.
Featured Image courtesy of Gold and Goose/KTM