2019 is already shaping up to be a promising year for Esmee Hawkey. The 21 year old successfully made it through the W Series' tough qualifying rounds to earn one of 18 spots on the grid, and she has also made a strong start to her second season in Porsche Carrera Cup GB.
Hawkey fought back from 14th on the grid to finish sixth in the opening race of the Porsche Carrera Cup GB season this weekend, finishing second in class. While the second race proved tougher, with Hawkey finishing in ninth place, she showed good pace all weekend, running first in class in both FP1 and FP2.
Before the weekend began, Hawkey took the time to tell us about her aims for the busy season ahead of her, as well as giving us an insight into what went on behind the scenes in the W Series qualifying rounds.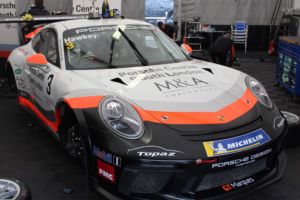 Alison Finlay: Congratulations for making it to the W Series grid – how tough did you find the qualifying rounds and the level of competition?
Esmee Hawkey: The qualifying rounds were extremely tough. We were out in Almeria for a week, so mentally, it was extremely draining. To be in with the chance of having a free drive in an F3 car is a lot of pressure and you have to perform well. We were being tested on absolutely everything, from when we were in the car driving, to sitting down going through data with the engineers, so you had to have 100% full focus at all times! Aside from that it was great to go from driving Porsche Caymans and Ford Fiestas, being selected as 1 of 28 girls in Melk, and then getting 4 days to drive the all new Tatuus F3 car in Spain. The competition has been really high so it was important to have a positive mindset and not let any of that effect you. It was important to concentrate on solely you and what you were doing and how you could improve and progress every day.
AF: What are your aims for the season ahead in both W Series and Porsche Carrera Cup GB?
EH: I will be pushing for the best possible results. It will be my second year in the Porsche Carrera Cup GB championship in the ProAm category. After a successful year with a few podiums last year, we will be looking to build on that this year and hopefully have some race wins, podiums and ultimately be in with a fighting chance to win the ProAm championship. In regards to W Series the competition is tough, with some of the girls having raced in F3 championships before, therefore having more experience than me. Nonetheless, I will be taking in as much information as possible so that I speed up my rate of progression and I would really like to be finishing in the top 6 for the first year of W Series.
AF: You've been racing Porsches for a few years now – can you tell us more about the series and how these cars are to drive?
EH: The cars are amazing. One of my sponsors are Porsche Centre South London, so not only do I get to drive the GT3 Cup Car on track but I also get to drive around in Porsche road cars when I'm not racing which is definitely a nice perk! The GT3 cup car is a great race car but quite a tricky car to drive – it's very important to drive them with the right braking technique otherwise you can lose a lot of time, and not only that, but you need to always be chasing the throttle but not in a way that you cause the car to understeer.
AF: How was driving the W Series F3 car for the first time?
EH: The car was amazing and I absolutely loved driving it. It's very different in comparison to the Porsche GT3 Cup Car as there was no power steering and I had to get used to the aerodynamics and downforce of the F3 car. I quickly got to grips with it and it was amazing how much speed you could take through the corners. Such an adrenaline rush!
AF: Does taking part in the W Series and having the opportunity to race a formula car change your ambitions beyond the 2019 season?
EH: My plans have always been to race in GT cars, but not because I didn't want to race in formula cars – it was mainly the fact our budget could only stretch to racing in GT cars. So my long term goal was to rise up the Porsche pyramid and race in the Le Mans 24hr. Now that W Series has come about and is fully funding 18 girls to race around Europe in F3 cars with a prize pot of $1.5 million dollars at the end of the year, who knows what the future holds for us.
AF: We hear a lot about drivers struggling for funding to help them onto the junior ladder. Could you tell us why funding is so vital for young racing drivers?
EH: Unfortunately funding plays a big part in motorsport, and it's why we sometimes don't get to see some really talented drivers make it all the way, or indeed start their journey. I've been very fortunate, of course, and now have some great sponsors such as Porsche Centre South London, Landmark Underwriting and others. Motor racing costs money, it's as simple as that, so we make sure we really work hard with our sponsors and partners to create value and make sure we're attracting new sponsors along the journey.
AF: When do you think we will see the next woman racing in Formula 1, and what role do you think W Series will play in making this a reality?
EH: I definitely think W Series has created a platform to give 18 women this year the best opportunity to rise up from F3 into either F2, Formula E or even F1, so I really hope that in the next couple of years we will see a woman racing in Formula 1. It all comes down to opportunity and W Series is definitely the start of that journey.
AF: How did you first get involved in motorsport? Did you always want to be a driver, or did you consider other roles within the industry?
EH: I got into motorsport through my dad. As a young girl I remember going to watch him race at the Monaco Kart Cup and at the time I was doing Ballet and Tap dancing and I asked him if I could get into racing. To my surprise, for my 8th Birthday I got given a kart and that's where it all started! I've wanted to succeed as a professional racing driver ever since.
AF: Finally, what advice would you give for young women hoping to pursue a career in motorsport, either as drivers or in any other capacity?
EH: I think it's important that we get more women into motorsport whether it be as a driver, mechanic, engineer or on the media side, so my advice to any young women hoping to pursue a career in motorsport would be go for it, as there are so many opportunities that come up and it can be such a rewarding job.