The 2019 Argentinian Moto2 Grand Prix saw Lorenzo Baldassarri (Flexbox HP 40) take his second win of the season with a controlled ride, but comparative chaos amongst the other riders.
In that sense, the race started as it was to go on, with Sam Lowes (Federal Oil Gresini Moto2) having a big lunge up the inside of turn one, only to run wide and drop back to sixth.
That meant that it was Marcel Schrotter (Dynavolt IntactGP) who took the early lead, essentially from pole position since Xavi Vierge's Estrella Galicia 0,0 Marc VDS Kalex expired on the warm up lap, meaning the pole setter was unable to start the race.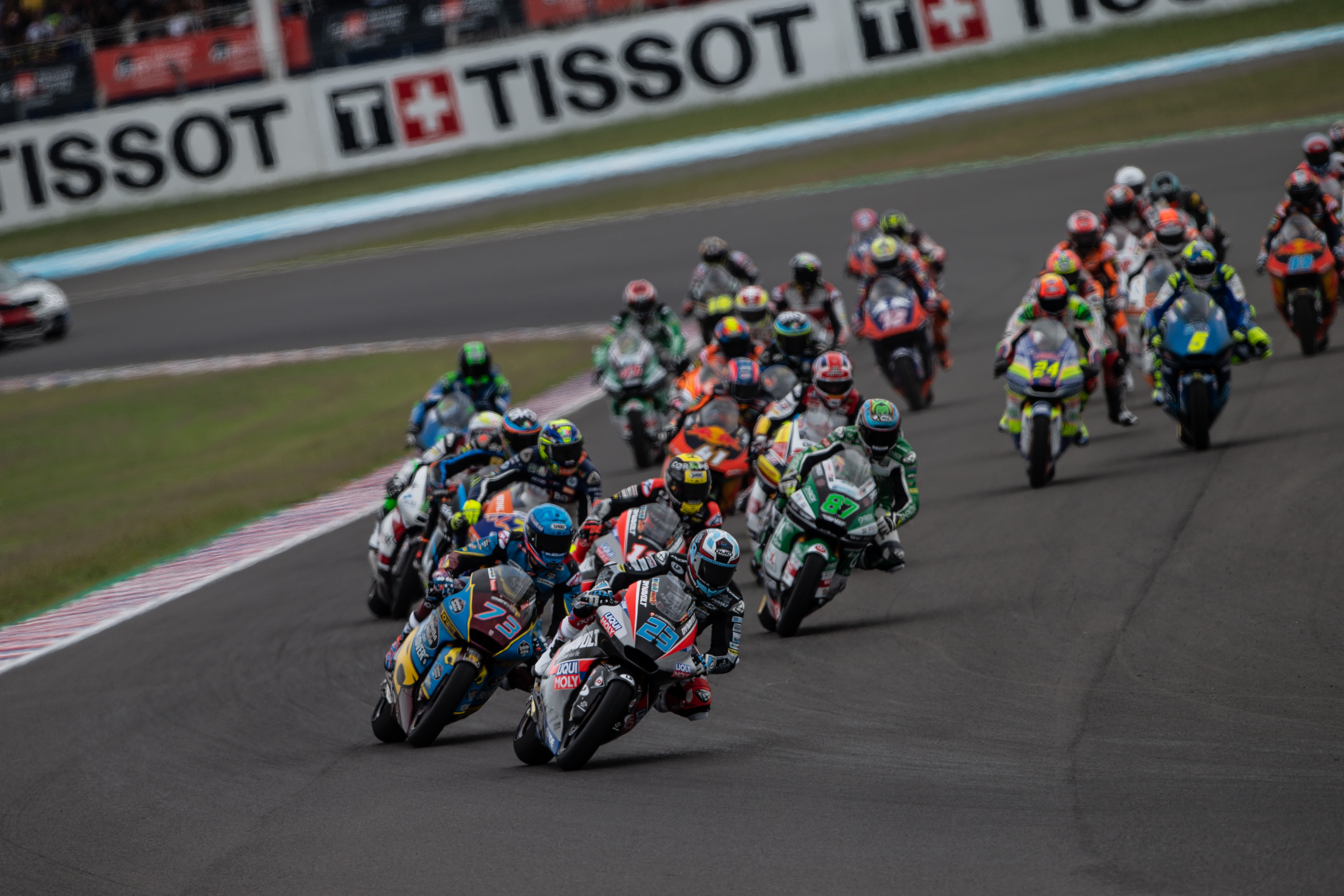 Along with Schrotter, Remy Gardner (ONEXOX TKKR SAG Team), Alex Marquez (Estrella Galicia 0,0 Marc VDS) and Lorenzo Baldassarri formed a group of four which detached itself slightly from the chasing pack.
This, however, changed when Brad Binder (Red Bull KTM Ajo) caught onto the back of the four and brought Iker Lecuona (American Racing) with him.
Before Binder was able to bridge the gap, however, he was hit from behind by Tom Luthi (Dynavolt IntactGP) which caused the Swiss to crash, and moments later Sam Lowes followed him down in sympathy.
Upon Binder's arrival on the back of the front group, Lorenzo Baldassarri decided it was time to go. This would prove to be a smart decision, as Binder's passes from this point in the race left a lot to be desired.
Whilst one of his earlier passes within the front group, made on Alex Marquez in turn thirteen, was a well-calculated affair, the ones which followed almost invariably involved contact on the apex, and running his rival wide, unnecessarily. This came to a head on the final lap, after he had punted Schrotter wide in turn two on the previous lap, and now hit Luca Marini (Sky Racing Team VR46) on the apex of turn seven. He then sat up Schrotter again (the German had passed both Marini and Binder when Binder made his move in turn seven) in turn thirteen to take fifth place.
Whilst this was going on, Lorenzo Baldassarri had taken the lead from Remy Gardner, forcing the Australian wide in turn five as he moved over slightly in the braking zone whilst he tried to tough it out round the outside. The move gave Baldassarri the lead and a one second advantage to second place which, at the time, was occupied by Alex Marquez.
This changed at the end of the lap when Gardner came back through on Marquez and then on after Baldassarri. However, it was to no avail, as the Italian's pace was simply superior, and allowed the #7 to take his second win from two races. With the crash for Luthi, the Italian saw his championship advantage stretch to seventeen points.
Remy Gardner inherited second place in the championship courtesy of taking second place in Argentina to back up his fourth in Qatar. The win was available for Gardner, but Baldassarri's forceful move prevented that. However, the Australian rode well, making several fantastic passes, as well as looking at home in the front group. His time will come, and for now a first World Championship podium should sit well with the Australian who was so upset with having missed out in Qatar.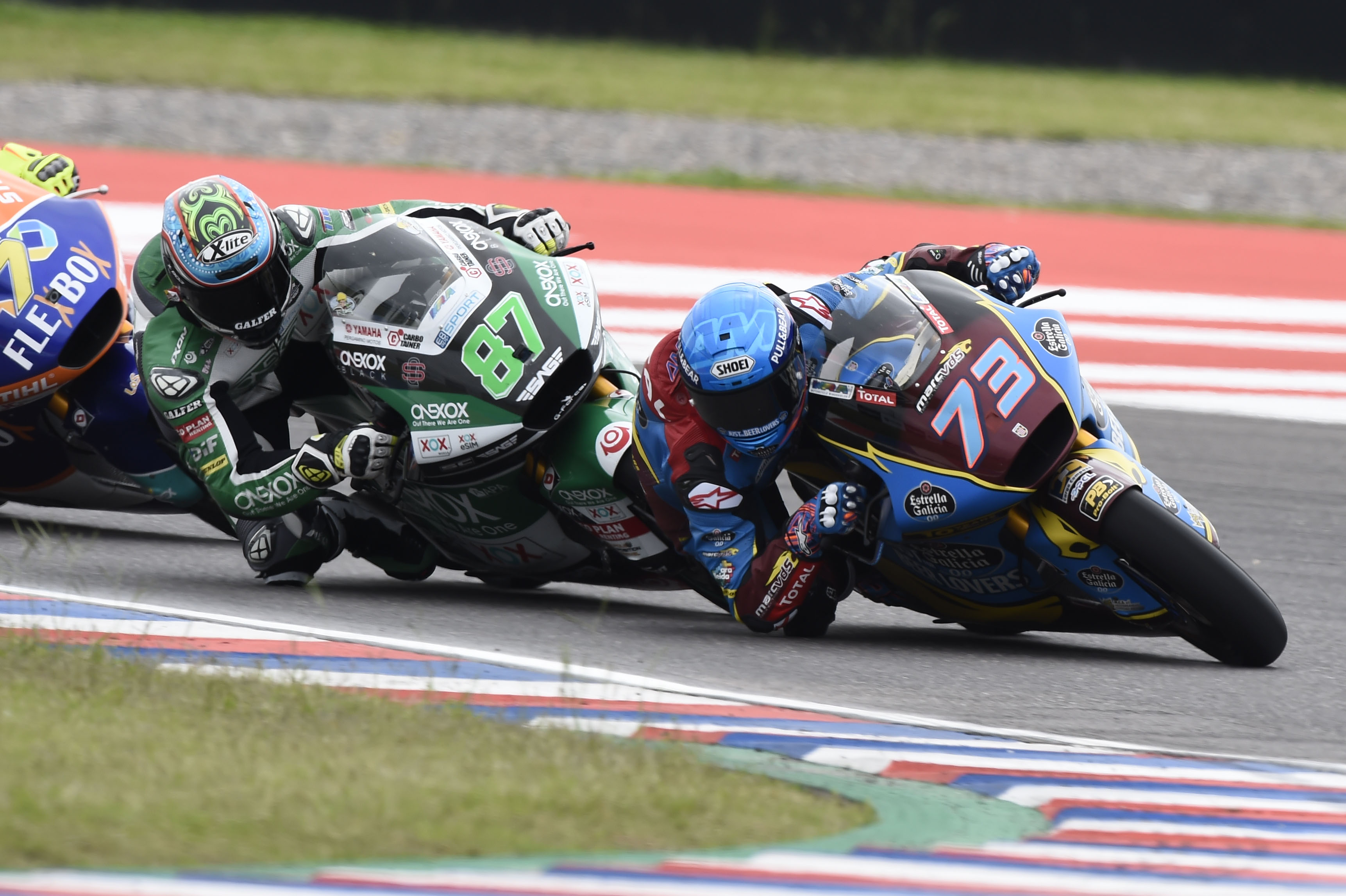 Third place in the end went to Alex Marquez, a prediction he will have likely laughed off had you told him that on Friday, which was something of a disaster for both him and his teammate, Vierge. Unlike in the past, in this race Marquez fought back after being shuffled back in the pack, and whilst he didn't have the pace of Baldassarri or Gardner in front, he maximised his points score from what was looking like a difficult weekend. With a view to the championship, this has been a good result for Marquez, and one he will look to build on in Texas before his home race in Jerez.
Iker Lecuona took a career-best result of fourth place from Termas, and finished as top KTM thanks to Binder's antics, which saw him finish fifth and two seconds behind Lecuona.
Sixth place went to Schrotter, although he had the pace to fight for the podium, and Luca Marini ended up seventh after his battle with Binder in the final lap.
Jorge Navarro (Beta Tools Speed Up) took eighth place, ahead of top rookie Enea Bastianini (Italtrans Racing Team) who took that honour for the second round in succession, despite a difficult weekend. Perhaps the surprise of the day, though, was Bastianini's fellow rookie, Somkiat Chantra (IDEMITSU Honda Team Asia), who took the first top ten of his Moto2 and Grand Prix career in just his second World Championship race.
Andrea Locatelli (Italtrans Racing Team) took eleventh, ahead of Tetsuta Nagashima (ONEXOX TKKR SAG Team), Khairul Idham Pawi (IDEMITSU Honda Team Asia), Bo Bendsneyder (NTS RW Racing GP) and Jesko Raffin who was the final points scorer.
Featured image courtesy of David Goldman/MarcVDS