The second race of the 2019 season took place under the bright lights of the Bahrain International circuit. Charles Leclerc started from pole position, making him the 99th driver to take pole in the 999th F1 Grand Prix, with Vettel, Hamilton, Bottas and Verstappen started behind him.
The lights went out and both Vettel and Bottas got better starts than Leclerc, demoting the Monagasque to third with Hamilton in fourth after the first lap.
Chaos broke out behind the leaders, with sparks flying around the cars of Stroll and Grosjean. The Frenchman would eventually retire from the race. At the back the Williams drivers had a heated fight, which was more for their honor than the points.
Leclerc managed to pick up the speed after his horrible start and regained second place from Bottas. This overtake cost the Finn momentum, meaning that his teammate Hamilton could overtake him as well.
Verstappen in P5 came under pressure from Sainz in the McLaren, a potential haul of points McLaren could definitely use. What they couldn't use, however, was a touch with Verstappen which meant Sainz received major damage on his front right tyre. The incident was investigated by the stewards, but no action was taken.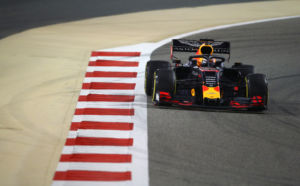 Up front, Ferrari told that both drivers were free to fight, and they took advantage of it. Leclerc closed the gap to Vettel quite easily, telling his team "I'm quicker guys!" On lap six he managed to overtake the German using DRS, retaking the lead.
Gasly had to regain his respect after a disappointing qualifying, but struggled in a huge midfield fight with Norris, Magnussen, Albon and Kvyat. To make matters worse, his pit stop went horribly and cost him further precious seconds.
On lap thirteen Kvyat spun due to a slight touch with Giovinazzi at turn eleven, losing places as a result. To add insult to injury, the Russian Toro Rosso driver later got a five-second penalty for speeding in the pitlane. That same lap, Bottas and Hulkenberg came into the pits.
Race leader Leclerc made his pitstop on lap fourteen, opting for the mediums whilst Hamilton went for the soft tyres.
Vettel lost his second place to Hamilton on fresher tyres, but the Brit's strategy would mean he needed to make another pitstop to fulfill the rules of using two different compounds during a race.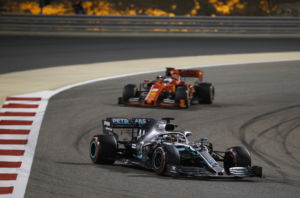 Some small mistakes from Hamilton meant that Vettel closed the gap, even though the German was on the harder tyre. Hamilton complained about oversteer and had to make another stop. On lap 23 Vettel overtook him, leading to some stressful board-radios from Hamilton.
In the midfield a fun fight between Norris and Räikkönen for P7 took place, keeping each other under pressure.
On lap 33, car number 33 came in for his second pitstop. Verstappen couldn't be happy as his pitstop went awful, not the first pitstop that'd gone wrong at Red Bull today. Hamilton made his second pitstop two laps later, going for the mediums. He came back on track in front of Verstappen.
Vettel then tried to cover the Mercedes, making his second pitstop, going to the mediums for a second time. He came back just in front of his rival. Immediately after that Leclerc made his second pitstop, and emerged with his lead intact.
Last year's championship rivals came very close to crashing, with Vettel edging Hamilton out by only a small margin. The German smelled blood and overtook Bottas, who then came into the pits with only a small margin to Verstappen.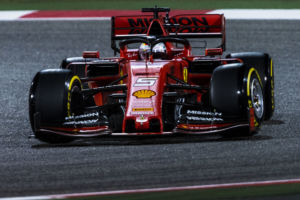 Up front, a fight for second place between Hamilton and Vettel spelled drama: Hamilton overtook Vettel and the German spun round on his own, costing him a lot of time. He then lost his front wing, as the car was shaking a lot on the straight after turn ten. He had to make another pitstop, dropping down to ninth.
On lap forty-six Leclerc caused a scare when he reported to his team that something was wrong with the engine. His pace dropped away very quickly, with Hamilton closing the gap from nine seconds to just five in three laps. With ten laps to go the Ferrari was really struggling, just managing to put 1:40s on the board compared to the 1:36s of Hamilton.
Hamilton therefore easily managed to overtake him. Leclerc turned his attention to managing the gap to Bottas in P3. He still held the fastest lap, earning him an extra point, but that couldn't make it up for the disappointment of losing out on his first win due to an engine problem. He was losing around 40 kph on the straights. Bottas closed the gap to him by five seconds a lap and later overtook him for P2.
Further drama sparked with just three laps to go, as both the Renault cars cut out in the first sector. This brought out the safety car, saving Leclerc from losing third place to Verstappen. When it rains it pours: Sainz also retired from the race with just three laps to go.
The race ended behind the safety car, meaning Hamilton won the race ahead of Bottas and a very disappointed Leclerc, who still took the extra point for fastest lap.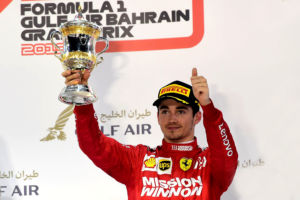 Some great sportsmanship was shown by Hamilton, sounding sorry for Leclerc and also trying to cheer him up after the race. Verstappen, Vettel, Norris, Räikkönen, Gasly, Albon and Perez completed the top ten.
It was certainly a very dramatic race, and the season is just two races old. Next up is China – will Leclerc get his revenge there or will Mercedes take another win?
[Featured image – Wolfgang Wilhelm]