The British Touring Car Championship gets underway next weekend at Brands Hatch, and with so many changes during the off-season, 2019 looks like being one of the best seasons yet.
There are new title sponsors in the form of Kwik Fit, who replace long standing sponsor Dunlop. While a change in title sponsor is usually big news, it has been overshadowed by a wide range of developments and changes.
Perhaps one of the biggest announcements over the winter is the return of Toyota in a manufacturer capacity. Having won two titles in the 1980's with Chris Hodgetts at the wheel, the Japanese marque are no stranger to success, and with the new Corolla, the team will be looking to start on the right foot.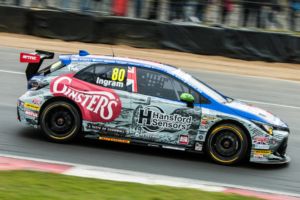 To do this, they have taken on 2018 runner up Tom Ingram and his formerly independent team, Speedworks Motorsport. Touted as a future champion of the BTCC, Ingram has high hopes for 2019. Speaking to Pit Crew reporter Warren Nel in January, Ingram said: "The plan is very much to hit the ground running at Brands Hatch Indy, kind of start where we left the 2018 season and be in a position to look to win the championship."
Though he understands success may not be instant: "Realistically we've got to look more at the following season as our go to year, but of course whenever you enter a season, you enter to win, not finish second. Our goal is very much to win it, but we've got a bit of a mountain to climb to get there."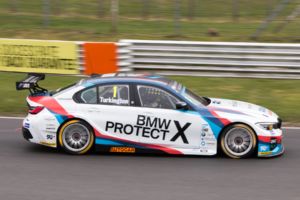 Another big story is that reigning champions BMW have retired their 1 series in favour of the all-new 3 series. The model which had title success with Tim Harvey in 1992 and Jo WInkelhock in 1993 has been brought back in its current guise. With current champion Colin Turkington behind the wheel, the 3 series is bound to be successful from the start.
While some faces remain on the grid, there is fresh blood, and not all of it is fresh faced youngsters. Former Formula One and IndyCar driver Mark Blundell will be making his BTCC debut at the age of 52, showing that age doesn't matter in the world of tin-tops. Racing for the brand new Trade Price Racing team in an Audi S3, all eyes will be on Blundell as he looks to back up his illustrious CV.
Another of the old guard making headlines was Jason Plato, who returns to Vauxhall, where he won his first title in 2001. Currently backing the Power Maxed Racing team, Plato is joined by former BMW man Rob Collard in the Astra.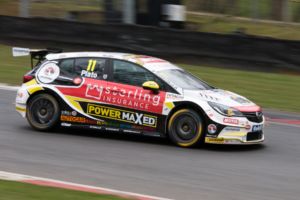 There will still be 30 rounds of the championship, with three races at ten meetings throughout the year. Though there won't be a return to Rockingham this season. The Corby based circuit has been sold, and as a result won't see the BTCC return to the unique oval circuit. Instead there will be an extra round at the high speed Thruxton circuit in August.
| | |
| --- | --- |
| Circuit | Date |
| Brands Hatch Indy | 6-7 April |
| Donington Park | 27-28 April |
| Thruxton | 18-19 May |
| Croft | 15-16 June |
| Oulton Park | 29-30 June |
| Snetterton | 3-4 August |
| Thruxton | 17-18 August |
| Knockhill | 14-15 September |
| Silverstone | 28-29 September |
| Brands Hatch GP | 12-13 October |
| | | |
| --- | --- | --- |
| Team | Drivers | Car |
| Team BMW | Colin Turkington &Tom Oliphant | BMW 330i M Sport |
| BMW Pirtek Racing | Andrew Jordan | BMW 330i M Sport |
| Sterling Insurance With Power Maxed Racing | Jason Plato & Rob Collard | Vauxhall Astra |
| Adrian Flux Subaru Racing | Ash Sutton & Senna Proctor | Subaru Levorg GT |
| Halfords Yuasa Racing | Matt Neal & Dan Cammish | Honda Civic Type-R FK8 |
| Team Toyota GB With Ginsters | Tom Ingram | Toyota Corolla GT |
| Team Shredded Wheat With Gallagher | Tom Chilton & Ollie Jackson | Ford Focus RS |
| RoKit Racing With Motorbase | Nicolas Hamilton | Ford Focus RS |
| Excelr8 Motorsport | Rob Smith & Sam Osborne | MG6 |
| Cobra Sport AmD Tuning With RCIB Insurance | Rory Butcher & Sam Tordoff | Honda Civic Type-R (FK2) |
| BTC Racing | Chris Smiley & Josh Cook | Honda Civic Type-R (FK8) |
| Trade Price Cars Racing | Mark Blundell & Jake Hill | Audi S3 |
| Team Parker Racing | Stephen Jelley | BMW 125i M Sport |
| Laser Tools Racing | Aiden Moffat | Mercedes A Class |
| (Team HARD) GKR Scaffolding With Autobrite Direct | Bobby Thompson & Michael Crees | Volkswagen CC |
| (Team HARD) RCIB Insurance With Fox Transport | Jack Goff & Carl Broadley | Volkswagen CC |
| Ciceley Motorsport With MAC Tools | Adam Morgan | Mercedes A Class |
| Ciceley Motorsport With Cataclean Racing | Dan Rowbottom | Mercedes A Class |
| Simpson Racing | Matt Simpson | Honda Civic Type-R (FK2) |
While there are plenty of changes afoot in the BTCC, one thing we can all rely on never changing, is the level of excitement and door-to-door action that the championship always promises.
All images credit: Matthew Pigg.