New teams, new cars, new rules, it's all change in the British Touring Car Championship, and it is shaping up to be one of the best seasons ever.
The 2018 campaign went right down to the wire, with BMW's Colin Turkington prevailing over independent driver Tom Ingram to win his third title. In a season which saw 17 different race winners, 2019 has a tough act to follow.
With only one more driver to be announced, the grid is taking shape, and with a host of changes, including an ex-Formula One driver making their BTCC debut, the racing will be just as competitive.
Champions BMW are replacing the title winning 1 series with the all new 3 series, bringing back a very successful model from BTCC history. They have brought in Tom Oliphant from Ciceley Motorsport to replace Rob Collard, who moves to Power Maxed Racing. He will partner reigning champion Turkington. Andrew Jordan remains at BMW in his Pirtek sponsored car.
Team Dynamics retain their driver lineup of Matt Neal and Dan Cammish in their Honda Civic Type R's. Both will be looking to build on an impressive debut year for the all new FK8 Civic.
The big news over the winter is that Toyota are returning to the sport in a full manufacturer capacity. Enjoying title success in the 80's with Chris Hodgetts winning two titles, Toyota will be running the Speedworks Motorsport team with Tom Ingram behind the wheel of the all new Corolla, replacing his Avensis used in recent years.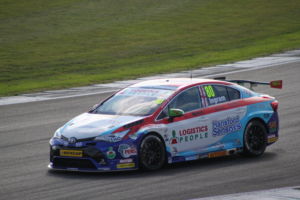 Team BMR retain Subaru's manufacturer backing, title sponsor Adrian Flux, and 2017 champion Ash Sutton. Though they welcome Senna Proctor to the team, who moves from Power Maxed Racing. In an effective straight swap, Jason Plato moves to PMR, who are backed by Vauxhall, reigniting a famous partnership which saw Plato win his first title in 2001. Plato is joined by former BMW man Rob Collard in the Vauxhall Astra's.
Motorbase continue with their Shredded Wheat backed Ford Focus', with Tom Chilton remaining with the team after finishing third in last season's championship. Ollie Jackson replaces James Cole in the second Focus, moving from AMD Tuning. The third Motorbase car will be ran by Nic Hamilton, younger brother of F1 superstar Lewis.
New team Trade Price Racing raised eyebrows in the off-season by announcing former F1 and IndyCar driver Mark Blundell will be joining the grid in one of their new Audi S3's. Jake Hill will be partnering him.
BTC Racing had a fine season last season, and welcome former Power Maxed driver Josh Cook to partner Chris Smiley. Cook showed his prowess last season picking up a handful of wins and going head to head with Ash Sutton in the final race of 2018 at Brands Hatch. They'll be looking to build on another strong season in their Honda Civic FK7's.
Ciceley Motorsport retain Adam Morgan and welcome former Clio Cup driver Dan Rowbottom to drive their Mercedes A Classes. Aidan Moffat remains in a Mercedes but has gone solo, having formerly ran under the Ciceley banner with his Laser Tools team.
AMD Tuning have ditched their Audi's for the ex-Eurotech Honda Civics. They have recruited Rory Butcher and Sam Tordoff to drive their RCiB Insurance backed cars.
Another new team to the BTCC grid is Excelr8 Motorsport. They will be racing in the former AMD MG6's that will be driven by Rob Smith. He has worked with Excelr8 for the last four seasons in the Mini Challenge and will be looking to hit the ground running in the BTCC. Their second driver is yet to be announced.
Team HARD continue with their four-car squad, running Volkswagen CC's. Mike Bushell and Bobby Thompson remain with the team, with Carl Broadley and Michael Crees joining them.
Independent driver Matt Simpson continues with his Simpson Motorsport team while Stephen Jelley is expected to remain with Team Parker Racing despite no official word from the team or driver.
With the BTCC going through a period of transition, one constant remains, the racing promises to be as scintillating as ever.