2018 was a torrid year for Finnish driver Valtteri Bottas. A season plagued with bad luck and inconsistent performances left him without a win and fifth in the championship, while team-mate Lewis Hamilton dominated to take the title for a fifth time. Bottas was out-qualified by an average of 0.3 seconds over the course of the season, a fairly substantial margin in pace that is something of a cause for concern.
2018 was at times a humiliating season for Bottas, much like 2017, as he was constantly out-performed by his team-mate and made to play second fiddle. However, there may yet be hope of him keeping his seat for 2020.
Despite being out-qualified 28 times in 41 races by Hamilton and out-raced 26 times in races they have both finished, Bottas has taken seven poles and three wins from his first two seasons with Mercedes, and has helped them to two victories in the Constructors' Championship. Most drivers will be made to look average when partnered with Lewis Hamilton, but Bottas has in fact done a fairly solid job – he has at times made himself look world-class.
Of course, "solid" is not quite going to be enough when trying to keep a long-term place at a team at the very top of Formula One, and Bottas is a smart man so he will be under no illusions about this, but there is certainly a talent that, if exploited in the right way, can take him into potential title contention.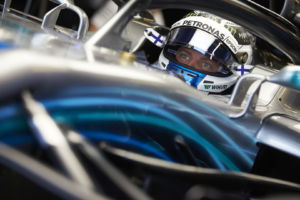 Furthermore, if you look at contract situations, Bottas may yet be reasonably unchallenged in terms of that second Mercedes seat. Max Verstappen is signed by Red Bull until 2022, Daniel Ricciardo has just signed for Renault, and Sergio Perez would be a very distant candidate for the seat after his contract with Racing Point F1 runs out. It is highly possible, however, that the Mexican will extend this contract anyway.
Lance Stroll is yet to show the racecraft and pace necessary to drive for a top team, but Mercedes protégé George Russell may be a threat provided he has a positive season with Williams up against the returning Robert Kubica.
And let's not forget Esteban Ocon, the Frenchman unceremoniously dumped out of F1 for 2019 by a dastardly combination of money and politics. He is a Mercedes test and reserve driver for next season, and will undoubtedly be vying for Bottas' seat for next year – an in-house battle if you will.
Bottas' seat beyond this year is far from safe and his performances will need to be better, but Mercedes team principalToto Wolff will be fully aware of the prodigious talent that the Finn has, as we watch the intense battle for Mercedes' second seat in 2020 unfold this year.
Featured image – 2018 Brazilian Grand Prix, Sunday – Paul Ripke