Link do polskiej wersji artykułu: https://www.thepitcrewonline.net/2018/11/27/trzy-polskie-finalistki-programu-the-girls-on-track-karting-challenge-zostaly-wylonione/
After a special training program prepared by Gosia Rdest, three Polish finalists of the "The Girls on Track – Karting Challenge" program were selected. The girls will represent Poland in the European final of the challenge in Le Mans.
On Sunday, November 18th, during the Warsaw Motor Show, the names of three finalists of the Polish edition of the "The Girls on Track – Karting Challenge" program were revealed. After the successful, special training program prepared by Gosia Rdest, lasting from September to November, the jury chose: Natalia Lelek from Nosówka near Rzeszów, Joanna Piwowarek from Piaseczno near Warsaw and Michalina Sabaj from Krakow. In March 2019, the girls will go to Le Mans, where they will take part in the European final. As reserve drivers the jury selected Sara Kałuzińska from Gdynia and Kornelia Olkucka from Chotomów near Warsaw. For all of them, the D & D Motorsport karting team host a several-day test in the Italian Lonato as the preparation for the final of the challenge.
The "The Girls on Track" program is a FIA project for girls aged 13-18, aimed at discovering talents and creating an easier access to start their careers in motorsport. The long-term goal is to create a culture that facilitates and appreciates the participation of women in all aspects of motorsport.
The project consists of several stages. National eliminations took place this year in 8 European countries (Poland, Belgium, Finland, the Netherlands, Germany, Portugal, Slovakia and Sweden). Three winners of national elimination from each country will take a part in the European Final in March 2019, and six of the best athletes will take part in the professional Training Camps for FIA Drivers in 2019.
The Polish elimination of the project took place on 26th-27th May in Tychy and on August 11th in Rzeszów. The project gained a lot of interest – a total of over 170 drivers were recorded on a karting slalom specially set up for the elimination of the event.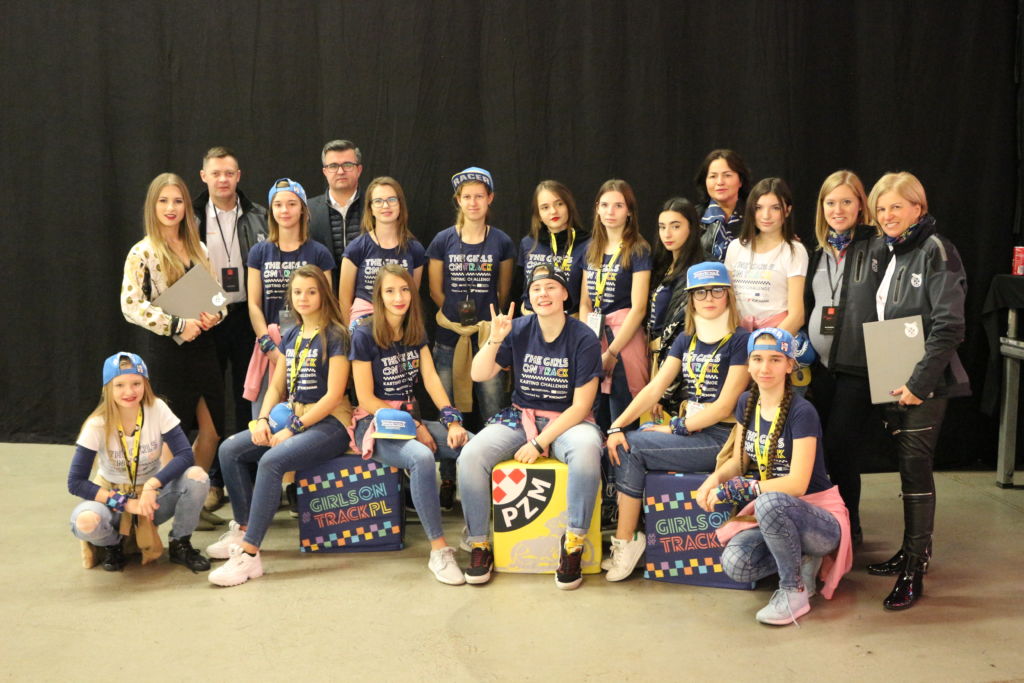 Additionally, only in Poland, for the winners (14 girls), there were organized training sessions by Gosia Rdest. Under her supervision, Gosia Serbin and other specialists, there were practise seasons held on karting tracks, simulator training, conditioning classes, lectures on communication, presentations, etc.
Gosia Rdest, the author of the training program, sums up: "My goal was to share my knowledge and experience with the girls. I started my adventure with motorsport with karting, so I can fully identify with them. What surprised me the most during the training, it was great satisfaction for me to appear in a new role for me – a person who shares experience with young drivers. It was great to be able to observe/watch the participants'/girls' progress, their enthusiasm and motivation. Each of them was unique and the selection became to be really tough. I hope to continue the program in the future. "
The finalist Natalia Lelek is 15 years old and has so far she was karting amateurly, with her family. She wasn't hiding the joy of choice: "I am very excited, I am very happy that I have been chosen. I know that I have a lot of work ahead of me because I want to present myself at Le Mans as best as I can to proudly represent myself and Poland. I believe this program is a great initiative, and the training what we had with Gosia really gave us a lot. For all of us, also for those girls who are not going further, it was a wonderful time and opportunity for self-development. "
The next finalist Joanna Piwowarek from Piaseczno near Warsaw is 17 years old and has been karting four times a week for 5 years. Joanna, when she answered the question about the program, said: "Certainly, these were classes with Ms Joanna Janowicz (business advisor of interpersonal communication [editorial note]) during the first meeting, which helped us improve our self-esteem and self-confidence. The program was a great opportunity for me to further develop in the motorsport and an opportunity for others to notice the potential of Polish kart drivers. I am proud that I can represent Poland in the European final in Le Mans. "
Michalina Sabaj, the last of the winning three, is 16 years old and has been karting for 8 years. She drives with a license in the ROK Cup competitions. Michalina says about the program: "Thanks to the training program, I learned how much work should be done to become a fully fledged driver. Now I know how many factors contribute to the good results on the track and what I need to work on. In addition, I learned to work in a group with other drivers. During the meetings, I gained new experiences and made many new and valuable acquaintances. I enjoyed the meeting in Gdynia the most. During this training I took part in practice on simulators, which was a new experience for me. Also very interesting were classes conducted by Gosia Rdest on social media in motorsport. The whole team of organisers, headed by Ms. Gosia Serbin and Mikołaj Pogonowski, created an atmosphere that gave me security and great joy. All competitors presented a very high level. I am really surprised by the choice. "