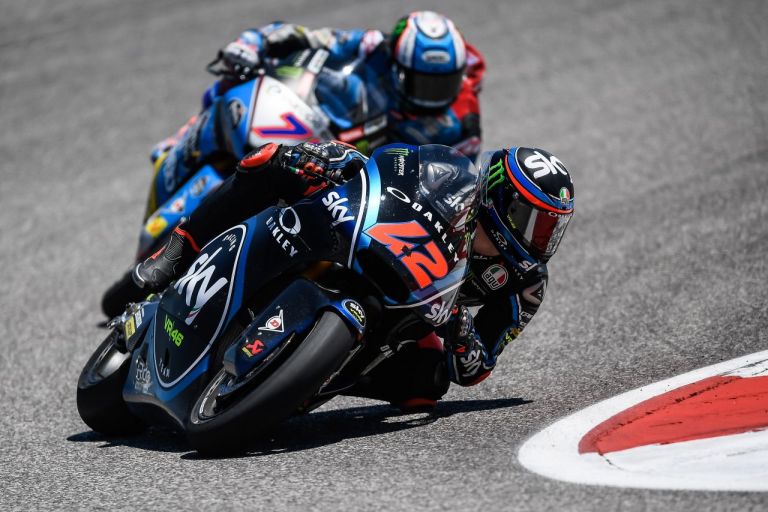 The Australian Moto2 Grand Prix this weekend presents the first opportunity for Francesco Bagnaia (Sky Racing Team VR46) to become a World Champion.
The retrospective disqualification of Fabio Quartararo (Conveyors MB – Speed Up) in Japan last week handed the championship leader his eighth win of the season, and allowed him to increase his championship lead over Miguel Oliveira (Red Bull KTM Ajo) to 37 points. So, with two rounds to go after this weekend, Bagnaia needs a fifty-point advantage over Oliveira (who has two wins this year, and therefore cannot surpass Bagnaia's total) at the end of the Australian Moto2 race to clinch the title before Sepang next week. That means Bagnaia needs to out-score his Portuguese rival by 13 points this weekend, and the most straightforward way which that can happen is with Bagnaia winning and Oliveira finishing no higher than fifth.
So, it's possible that Bagnaia can be crowned this weekend, if somewhat unlikely. Oliveira's season has not been an outstanding one, in that he hasn't won an incredible number of races or had an obvious advantage on the field, but he has been incredibly consistent. Of the fifteen races so far this season, Oliveira has been on the podium in ten of them. In a year when the Moto2 field is arguably as tight as it ever has been, if not tighter, to miss the podium on only five occasions is quite impressive.
The problem for Oliveira has been winning, and that problem has been largely a consequence of his poor qualifying. Again, of the sixteen qualifying sessions so far (one more QP than races this season because Silverstone was rained off) Oliveira has qualified in the top ten only eight times, and on the front three rows only seven times. Furthermore, Oliveira has only one front row in 2018, which came back in Austria where he was second to Bagnaia.
On the positive side for Oliveira, though, is the Phillip Island circuit itself. The Portuguese has two wins at the Australian track, coming in 2015 and 2017. His win in Phillip Island last season kicked off his end-of-season triple-win, as he won the final three races of the season in Australia, Malaysia and Valencia. The #44 rider is going to need a similar run of form in the final three races of 2018 if he is to stand a chance of overcoming Bagnaia.
In fact, it could be that Oliveira's KTM Ajo teammate, Brad Binder, proves one of the Portuguese's strongest challengers. This is for two reasons: Binder's form in the last races, and his recent form at Phillip Island.
Since Aragon, where Binder won, he has been at least a match for Oliveira in each race; playing the role of the good teammate in Thailand, even if he could do nothing about the later-race pace of Bagnaia's Sky Racing Team VR46 teammate, Luca Marini; before battling for the entirety of the Japanese Grand Prix with Oliveira last weekend, to the misery of Red Bull KTM Ajo team boss, Aki Ajo.
About his Australian Grand Prix form, Binder has taken two podiums in the last two years, including a win in 2016. No doubt Binder will be after the win this weekend, but crucially it could work well for Oliveira should the #44 be unable to fight for the victory.
Whereas the two Red Bull KTM Ajo riders were on the podium in Australia last season, Francesco Bagnaia could only manage twelfth, so the way the weekend pans out for the championship contenders and their teammates (Luca Marini was the 23rd and last finisher in Phillip Island last year) will be fascinating.
Similarly interesting will be the performance of Jesko Raffin (SAG Team), who was a surprise in fourth place last year at the Island, ahead of the likes of Xavi Vierge and Alex Marquez, both of whom will be looking for better results compared to Japan last time out where Marquez (EG 0,0 Marc VDS) missed the podium with fourth and Vierge (Dynavolt Intact GP) could only manage seventh.
Joan Mir (EG 0,0 Marc VDS) will also be after an improvement on his Japanese GP result, as he finished down in eleventh, but the reigning Moto3 World Champion will have good memories of the Australian Grand Prix, as he won the lightweight class race at Phillip Island in 2017.
And, of course, after his partly controversial and muchly discussed Japanese DSQ, Fabio Quartararo will be desperate to find himself on the podium this weekend. The smooth riding style of the Frenchman, and his sweeping lines, should suit the fast turns of Phillip Island, and he could too have his hand to play in the Bagnaia vs Oliveira championship battle.
Contrarily, Augusto Fernandez' progression at the moment is seemingly relentless, and a sixth place in Japan last time out only went further to proving that, and that the decision of HP40 Pons to retain the Spaniard for next year was a good one.
But, with the 2018 Moto2 World Championship on the line for the first time this weekend, all eyes will be on the relative performances of Francesco Bagnaia and Miguel Oliveira.