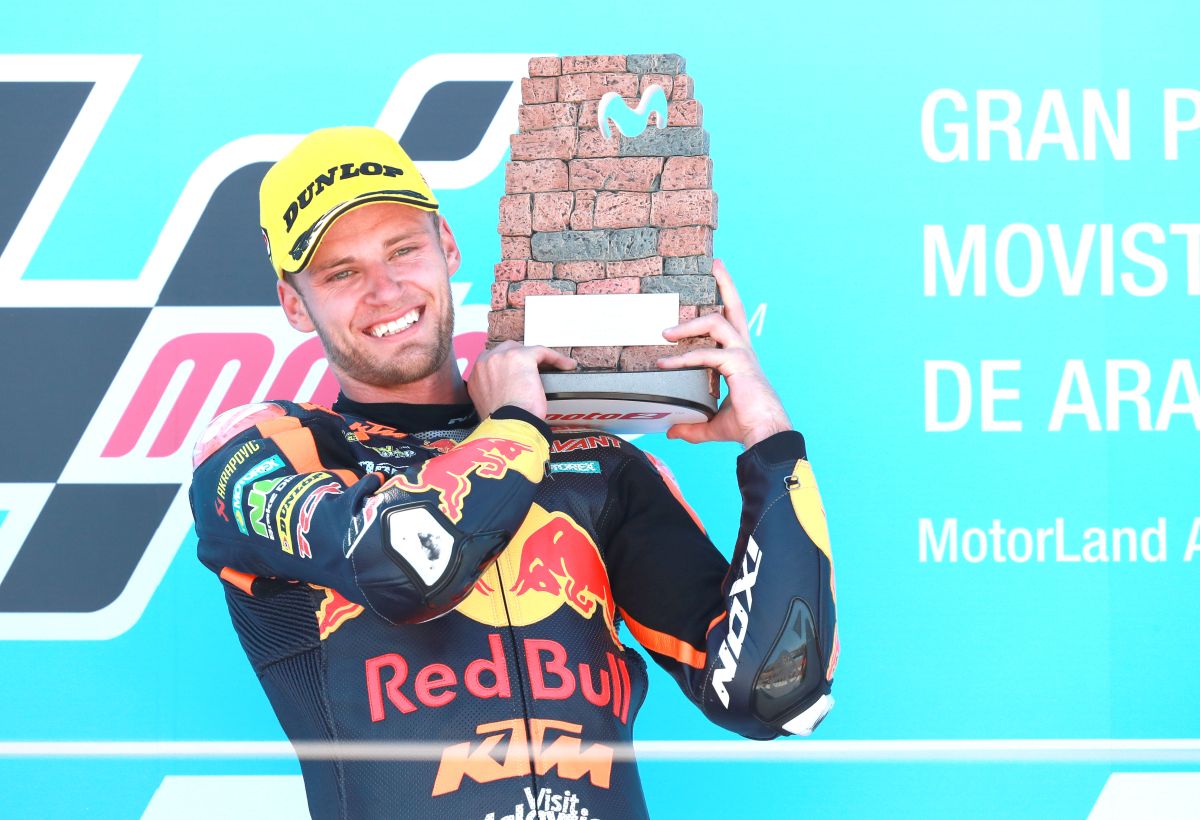 Brad Binder (Red Bull KTM Ajo) started from his career first Moto2 pole position in the 2018 Moto2 Grand Prix of Aragon, and from it he took the holeshot, steaming clear of the pack through the opening bends.
However, Alex Marquez (EG 0,0 MarcVDS) was quick to latch onto the back of the South African, soon passed and started to escape at the front.
It did not last long, though, and after one lap, Binder had re-grouped and come back to the Spaniard, although he was in no hurry to make a move for the race lead.
Further back, meanwhile, Francesco Bagnaia (Sky VR|46) – who came into the fourteenth round of the season with an eight-point World Championship lead – had cleared Marcel Schrotter (Dynavolt Impact GP) for third place, and began closing in on the leading duo.
The now six-wheeled leading group was in something of a stalemate for a reasonable period. Aragon was proving a tricky circuit to pass on for the Moto2 machines, since the primary overtaking spots require a superior acceleration off the previous corner and a decent slipstream – both of which are hard to achieve on Moto2 bikes. This meant that to pass, the rider behind would have to catch the rider in front off-guard, and that is precisely what Bagnaia tried to achieve against Brad Binder in the final corner on lap thirteen.
But it didn't pay off for the Italian. Binder had been running an especially wide line through the middle of the final corner all race long, and Bagnaia on this occasion was just close enough to have a look at passing the 2016 Moto3 World Champion with his more conventional, tighter line. However, Binder cut the KTM back, as every other lap, to take the apex of turn seventeen, and made contact with Bagnaia, forcing the Italian to sit up. It was a fairly hefty collision, so much so that it dislodged Binder's rear-mounted camera from the back of the KTM, but fortunately both riders stayed aboard their machines with little-to-no damage.
But Bagnaia definitely came off worse out of the two, as he nearly high-sided, lost his rhythm and lost a position to Lorenzo Baldassarri (Pons HP40) – who had been closing on the leaders for a few laps by this point.
It took Bagnaia a few laps to regain his rhythm, and by the time he had reclaimed third place from Baldassarri, Binder had already had the lead for two laps, and started to pull away from Marquez.
It took Bagnaia two more laps to pass Marquez, which he did neatly down at turn one, but whilst he was able to escape from those behind, he was unable to make any ground on Binder ahead, and so was forced to consolidate his second position.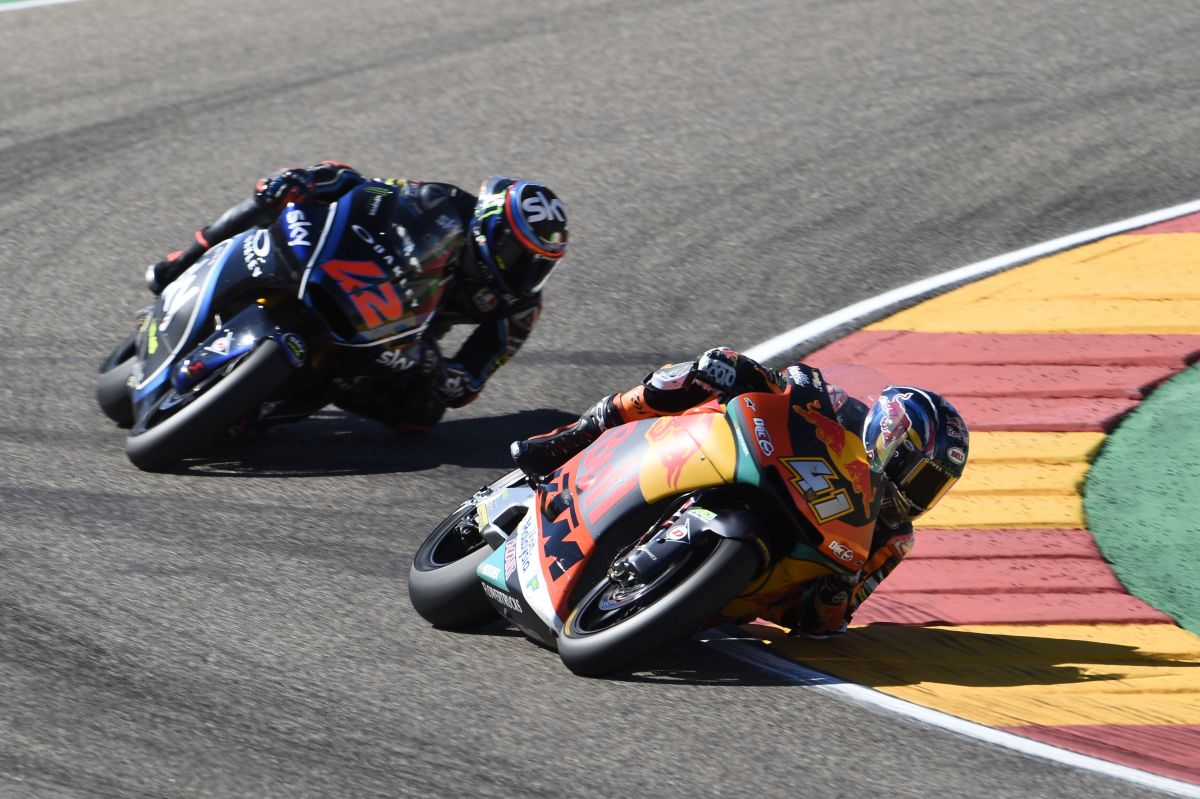 That left Binder to collect his second win of the season, after Sachsenring, to match his championship-contending teammate Miguel Oliveira (Red Bull KTM Ajo) for 2018 victories. The key for Binder was certainly his pole position lap in Saturday's qualifying session, which strangely came at the end of the session. His starting position allowed him to use the race pace of the KTM, both in the initial stages of the race, and the final part, and he showed the potential.
The second place was an important result for Bagnaia. With Oliveira, his main championship rival, qualifying down in 18th place, it was crucial for the Italian to take advantage, and whilst he didn't maximise his score, he did increase his advantage in the standings, which could be crucial as the championship heads to Asia for the four fly-away races.
Baldassarri was able to steal third place from Alex Marquez in the penultimate lap. It was an important result for the Italian, as he had not been on the rostrum since Mugello in the beginning of June. Undoubtedly, though, the Italian could have done more with a better qualifying, and this can be said for many races this season. Baldassarri is by no means alone in suffering qualifying woes in Moto2 this season, but his race performances perhaps only make that more frustrating.
Fourth place for Alex Marquez will no doubt leave the Spaniard disappointed, especially as he led for much of the race, and to miss the podium in his home race by three tenths will not be something he is revelling in, particularly. But, for the first time since Assen, Marquez was in the podium fight from lights to flag, and from that he can take some heart, because it looks like he is finally back on the pace after a few months of struggling.
Despite a decent qualifying and some promising early-race pace, Schrotter could not keep the pace of the front four, and in the end came home in what turned out to be quite a lonely fifth place.
That said, the German did come under some pressure from Joan Mir towards the end of the race, although the rookie never posed a real threat. Perhaps Mir was pushing on towards Schrotter to try to keep out of range of Miguel Oliveira, who was fast approaching from behind.
It was a tough race for the Portuguese rider. He started eighteenth, and only came up to fifteenth by the end of lap one. It took him until lap four to break into the top ten, and he didn't make any more progress until lap ten when he moved up to ninth. Two more places gained in the final eleven laps gave Oliveira seventh place, but his disappointment at his position and the losses he suffered in the championship will only be heightened this weekend by the victory of his teammate. If Oliveira can't qualify well, his championship chances are done.
Eighth over the line was Mattia Pasini (Italtrans Racing Team), whose pace suffered in the latter part of the race. Despite this, he still ended up coming out on top of the three-way battle between himself, Fabio Quartararo (MB Conveyors SpeedUp) and Jorge Navarro  (Federal Oil Gresini) over P8, 9 and 10 respectively.
Luca Marini (Sky VR|46) suffered with the bike setting and his damaged shoulder all weekend, and in the end could only manage eleventh place, ahead of Simone Corsi (Tasca Racing Scuderia), Augusto Fernandez (Pons HP40), Iker Lecuona (Swiss Innovative Investors) and Tetsuta Nagashima (Idemitsu Honda) who completed the points.