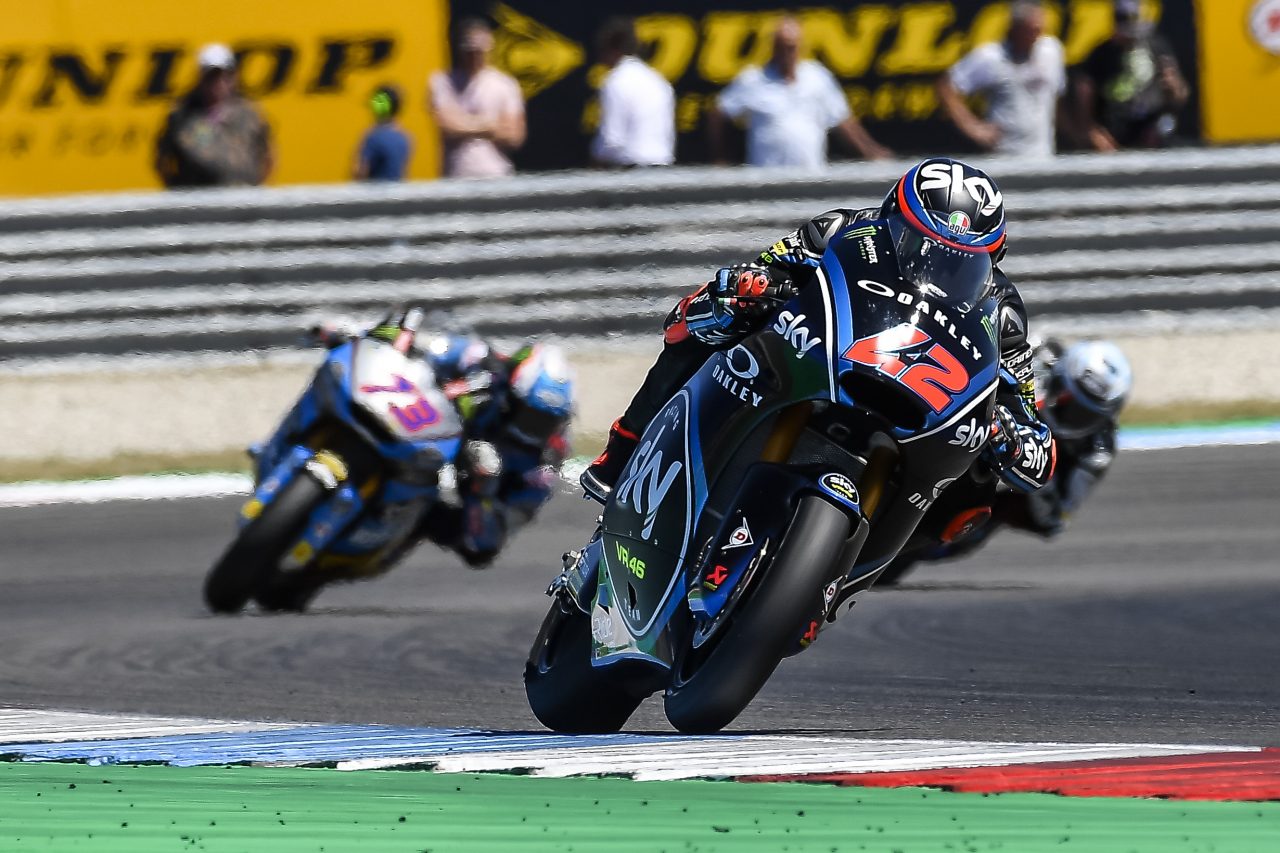 The 2017 Gran Premio di San Marino e della Riviera di Rimini was a complete washout, all three classes racing in torrential conditions, which the racetrack itself did a decent enough job of coping with. The Moto2 race was especially sketchy, though, with only eleven riders finishing on the lead lap, and only sixteen riders seeing the chequered flag at all.
It seemed last year that the Moto2 class had the perfect concoction of perhaps the worst track conditions of the day, tyres which were wide enough to have some aquaplaning where the water was deep enough, and also have less grip than a Michelin wet, for example, which the premier class enjoyed.
Perhaps, then, it was no surprise that there were so few finishers, especially as the Misano circuit is somewhat famed for its poor wet weather grip – remember back to 2014 when there were over sixty crashes on Friday alone across all three classes. It was perhaps also not a surprise to see that Tom Luthi and Dominique Aegerter, two wet weather specialists (though not at all limited to that), were the two fighting for the win. It was Aegerter who won out on track, but a retrospective disqualification for a breach of technical regulations handed the win to Luthi. Hafiz Syahrin joined the two Swiss riders on the podium, although it was Francesco Bagnaia who inherited third place after the results were finalised with Aegerter's DSQ.
A result along the same lines would not go amiss this weekend for Bagnaia, who comes into his second home race of the season as the Moto2 World Championship leader, and in search of a first triumph at a home Grand Prix. After the demise of the British GP two weeks ago, Bagnaia remains the most recent winner in the class, that victory coming in Austria one month ago in an epic battle with championship rival Miguel Oliveira.
Despite that, Oliveira is perhaps the favourite for this weekend, the slippery San Marinese asphalt in theory offering a good opportunity for the Portuguese and his KTM chassis. There have still only been two wins for the #44 so far this season, coming in Mugello and Brno. As the championship heads towards the business end of the season, Oliveira needs to find some pace and some consistency with it. He is there points-wise, but right now it seems that Bagnaia and Kalex have the advantage in outright performance – especially in qualifying, 23rd in Silverstone for Oliveira being the latest in a stream of poor qualifying results. Still, that said, the opportunity is there for Miguel this weekend, it's just down to him to take it.
With Silverstone being cancelled, it is still three podiums in the last three races for Luca Marini, who suffered a bit more in Britain, but will nonetheless arrive in Misano full of confidence, particularly as this is a circuit he knows so well with it being a regular destination of the VR46 Riders Academy. Unfortunately for Marini, his San Marino Grand Prix lasted only fifteen corners last season, as he crashed out two corners from the end of the first lap. He will be hoping for something different this weekend and, wet or dry, the expectation is to see the number 10 fighting for the victory.
Mattia Pasini was another crasher last year, as he fell down at Rio – turn four – along with Lorenzo Baldassarri on lap three. It was especially a shame for Pasini, who had been in good form to that point of the season, and was looking for a second home GP win of the season whilst sporting a Marco Simoncelli replica helmet design. After the heartbreak of the Italian Grand Prix earlier in the season, where he fell on lap six, a crash which spawned a long baron patch for the number 54, he will be aiming to return to the podium this weekend, which would be just his second of the season after his Argentinian triumph.
As for Baldassarri, a drop in form since Mugello has been significant in his season. Since the Italian Grand Prix at the beginning of June, Baldassarri has gone: 7-DNF-DNF-4-DNF. It is this inconsistency that has cost him a shot at the title, because he has the speed. Typically, when Baldassarri makes it to the flag he finds that he can fight for the podium, or even the win, regardless of his qualifying. However, as in previous seasons, he has been held back by his affinity for gravel rash, which he must shake if he is to end the season strongly and enter 2019 in a good way. With that said, though, Baldassarri did take his first GP win in Misano, back in 2016 when he fought with Alex Rins until the final lap and finally came out on top. This and his pure speed make it impossible to discount Baldassarri for this weekend, but he needs to keep the tyres in contact with the racetrack, and that might be his biggest challenge.
News since Silverstone has confirmed that Sam Lowes will be rekindling his relationship with Gresini Racing in 2019, a team in which he enjoyed a love that was very much requited. Of course he missed out on what seemed like a golden opportunity to take a first Silverstone win and more importantly a debut home Grand Prix win two weeks ago, but with the weight of his future lifted from his shoulders, Lowes could be a force to be reckoned with in Misano. However, it has never been a kind circuit for Lowes in Grand Prix racing, with crashes in the last three seasons and a mechanically-induced 18th place back in 2014.
The track also harbours difficult memories for Fabio Quartararo, who broke his ankle at the Misano World Circuit Marco Simoncelli back in 2015. In many ways it was that injury that derailed his career for the next two seasons. However, a couple of good races this season have indeed been enough for him to get the second ride in the SIC Petronas Yamaha team for next year. Like Lowes, he will be hoping that his future's security will allow him to ride more freely and compete for the podium once again.
Like both Lowes and Quartararo, Romano Fenati has had his 2019 berth confirmed. It happened during the delays in Silverstone, which was quite smart by the management of the Forward Racing Team, which Fenati is joining for next season to pilot one of their MV Agusta chassis'. For the remainder of the season, though, and especially this weekend, Fenati will be hoping to finally turn his usually impressive free practice form into a strong race performance for the Marinelli Snipers team, and as the Moto3 winner from last year, there is potential for a great weekend for the #13.