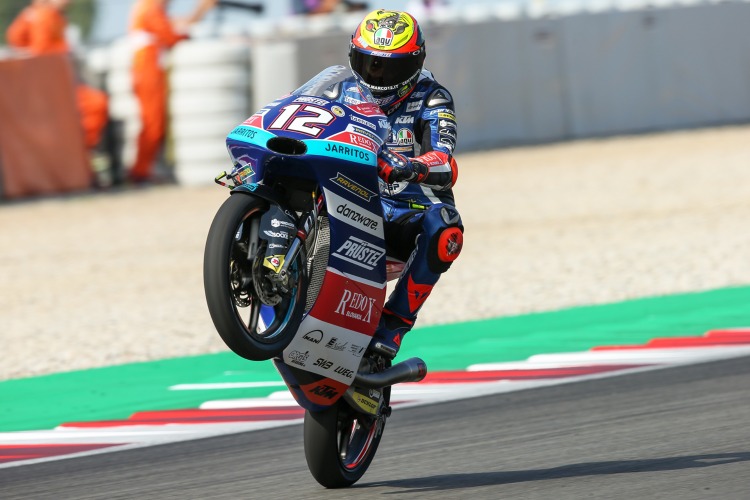 It seems a long time since the Moto3 World Championship last raced. The cancellation of the British Grand Prix a fortnight ago means the last racing laps the World Championship riders experienced were one month ago in Austria, where Marco Bezzecchi won his second race of the season and extended his championship lead to twelve points.
Bezzecchi now comes into his home Grand Prix after dodging something of a bullet in Silverstone, where he only managed to qualify eleventh due to a crash in his final flying lap, whereas his championship rival Jorge Martin took pole position. This put Bezzecchi in a difficult position for the race, so to come away from the British Grand Prix without losing ground to Martin in the championship was a big result for the Italian. It will be interesting to see how Bezzecchi reacts to arriving in his home GP as a championship leader and as an affirmative championship contender. The Italian Grand Prix, back at round six, went well for Bezzecchi, where he finished second behind Martin. The Pruestel GP rider will be intent on reversing those positions this weekend, and for him the bike should work well, with the KTM's stiff chassis and strong engine potentially proving invaluable on Misano's stop-start layout.
On the other side of the coin, you have Jorge Martin, who missed a golden opportunity to win in Silverstone with Bezzecchi potentially facing a tough race. Martin has now been without a win since Sachsenring. Of course, there is a reasonable explanation thanks to his broken radius from Brno, but three race weekends without a 1st place trophy to take home will have Martin frothing at the mouth to come out on top this weekend, especially in Bezzecchi's back yard.
It has been a difficult couple of races for Fabio Di Giannantonio since he won in Brno. Twelfth in Austria and a weekend almost void of front running pace in Silverstone has put the Roman on the back foot ahead of his second home race of the season. However, he has run good races in his two previous San Marino Grands Prix, finishing tenth in his debut appearance in the Moto3 class in Misano two years ago, and in 2017 he came home third in the pouring rain. It is the ideal time for Di Giannantonio to rediscover his form, especially as he seems to have lost an opportunity to ride the Gresini Moto2 bike next year, with Sam Lowes being signed to pilot their Kalex. Diggia needs a seat, and with the infamously short memories of paddock personnel, he needs to show he deserves one.
Nicolo Bulega has also been strong in Misano in the past, taking fourth place in 2016, and 5th last year – albeit over one minute over runaway winner Romano Fenati. After signs of a renaissance just before the summer break, things have gone away from Bulega again. He has been suggesting that he is slow in the straights, something which has been a trait of his whole GP career. It makes sense, because of his size, and should be manageable, because he has reasonable pace most weekends, but his inability to make a start costs him a lot especially when he doesn't qualify on the front two rows – which happens quite often. It is expected that Bulega will go to the Sky VR46 Moto2 team next year, which on the surface would be a surprise, but the reality is that Bulega cannot stay in Moto3 another season – like Di Giannantonio he is too tall – and Sky might be his only option.
Misano has also been a good track for Enea Bastianini, winning in 2015 and taking second behind Brad Binder in 2016. Last year, however, Bastianini suffered two crashes and finished a lap down in the monsoon conditions. At a forty-one-point deficit to Bezzecchi in the championship and with only one win to his name in 2018, Bastianini needs to return to the top step this weekend to bring himself back into the title frame.
Like Bastianini, Aron Canet is in need of a return to the top step, a location the Spaniard has not visited this season. That said, he is still only 40 points off the championship lead, so a couple of good results and suddenly the #44 is right back in the fight. Another incentive for Canet to return to winning ways is his search for a Moto2 berth for next season. With Xavi Vierge confirmed at the Marc VDS team for next season, Canet must look outside of his current Estrella Galicia/Monlau Competition 'family' for a Moto2 ride, and the performances of Sergio Garcia in the Moto3 Junior World Championship could mean that continuing in Moto3 could also necessitate a change of scenery for Canet. It's getting to crunch time for Canet, and he needs to show up if he wants to make the cut.
There are also a couple of wildcards this weekend in the lightweight class, with Yari Montella and Kevin Zannoni making appearances. Montella races for the Sic58 Squadra Corse in the Junior World Championship, whilst Zannoni rides a TM in the same championship and wildcarded in Misano last season to some success in the free practice sessions, although he was one of a number of fallers in the race.