McLaren's Fernando Alonso has said that despite having fond memories of the Monza circuit, he is not holding out hope for a good result at this weekend's Italian Grand Prix, with the track unlikely to play to his car's strengths.
"Monza is a very special circuit for me and I have a lot of happy memories there," he said. "It has a different feeling to many tracks – maybe because of the heritage or the fans, I'm not sure – but the emotions you feel when the fans invade the track after the race is like nowhere else in the world – there's so much passion there.
"For us we know this weekend will be difficult, like in Spa. Better tracks are coming for us, that's for sure, but Monza has all the characteristics that expose the weaknesses of our package. We just have to work as hard as possible and see what we can get out of it."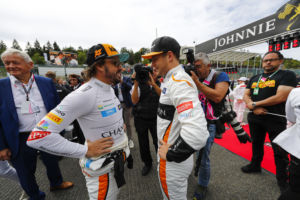 Last weekend's Belgian Grand Prix came to a rather jarring halt for Alonso before he'd even reached the first corner. P17 was his result in qualifying – the worst Saturday for McLaren so far this year after team-mate Stoffel Vandoorne qualified P20 – but the Spaniard was bumped up a few places on the grid thanks to engine penalties given to those around him.
Unfortunately, that put him right in the thick of things when Renault's Nico Hulkenberg missed his braking point going into La Source on lap one and triggered a series of events that ended in Alonso being launched over the top of Charles Leclerc in an incident reminiscent of the crash at the start of the 2012 Belgian Grand Prix.
"After the accident in Spa last Sunday," Alonso added, "I know the team has been working very hard to make sure we have enough parts for this back-to-back race. I'm very grateful for their efforts and I'll still be giving it maximum attack even if it will be a challenging weekend."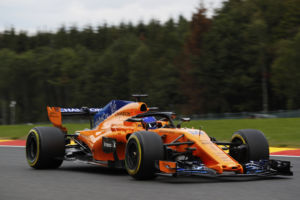 Featured image – Steven Tee/McLaren. Ref: Digital Image _1ST2801