This weekend, the Moto2 World Championship rolls into Silverstone, one of the fastest tracks of the year, for the British Grand Prix, and Francesco Bagnaia is leading the title race from Miguel Oliveira by three points after the pair's stunning battle last time out in Austria, a fight which lasted half the race and went down to the very final corner.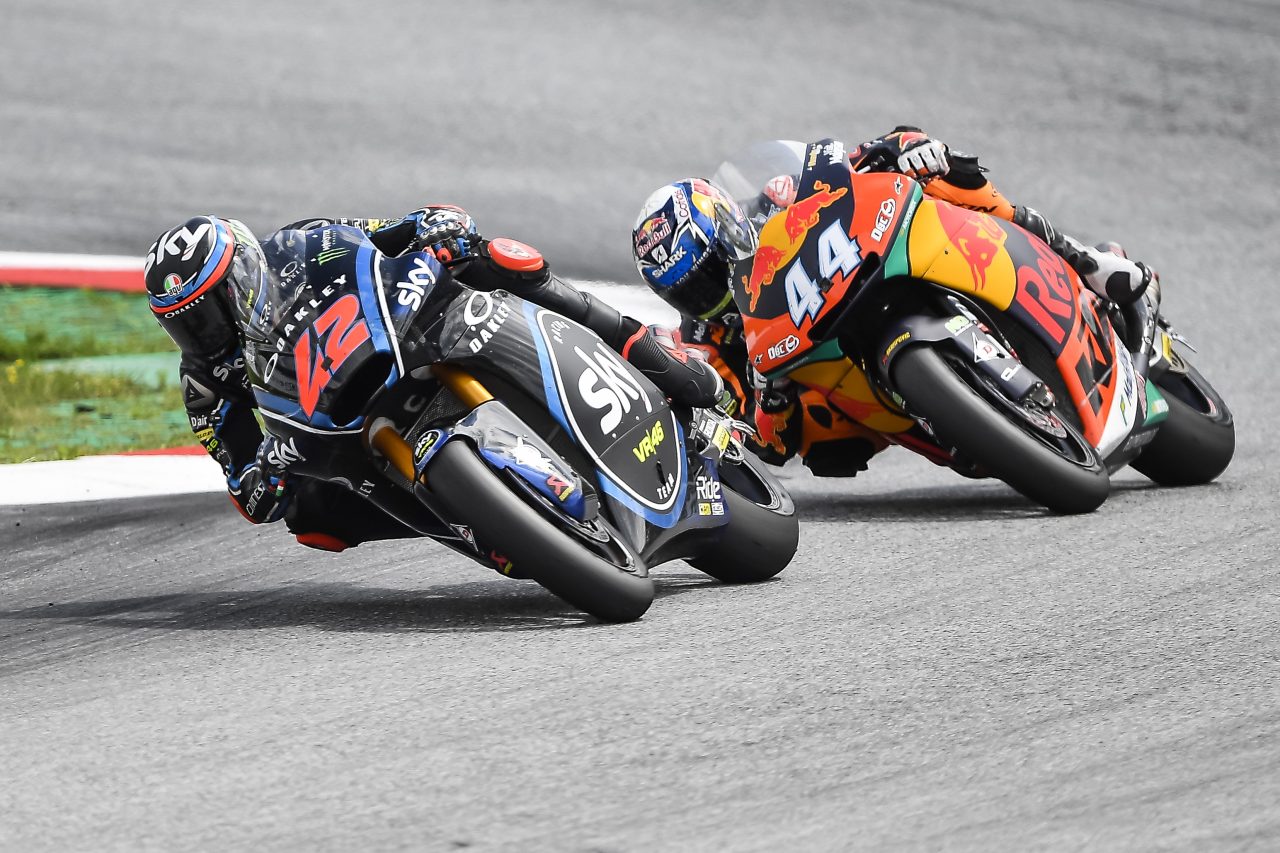 Bagnaia came out on top in that battle, and will be hoping to do so again this weekend, at a circuit which he beat Oliveira last season by three positions and 0.9 seconds (Bagnaia coming home in fifth, whilst Oliveira crossed the line in eighth). Bagnaia was also very strong at Silverstone in Moto3, when riding for Mahindra, finishing second to eventual World Champion Brad Binder back in 2016. This race could prove crucial in the World Championship fight, with some good tracks – on paper – for the KTM coming up, and of course there will always be the memory in the back of the mind of Bagnaia that Oliveira and KTM won the final three races of last year back-to-back.
With that in mind, maybe this weekend is not so crucial for Miguel Oliveira. However, if he could go into the next races, which should be stronger for him and KTM, with a points lead, he would become the overwhelming championship favourite, and it would start to look extremely difficult for Bagnaia to overcome the Portuguese. However, Oliveira has never had a podium at Silverstone, having a best result of 4th back in 2014 when he was in the factory Mahindra team. He was, however, 'best of the rest', also on Mahindra, back in 2013, when he finished 20 seconds off the win for fifth place behind the dominant Spaniards of 2013 and their unbeatable KTMs. It could be an interesting fight this weekend between the two championship combatants.
Only Mattia Pasini will rock up on the Moto2 grid in Silverstone this weekend having stood on the podium last year at the British Grand Prix – he finished second, 0.724 seconds behind winner Takaaki Nakagami, who has since, of course, moved on to MotoGP. Pasini took his best result since his win in Argentina last time out in Austria and – for perhaps the first time in his career – erred on the side of caution when fighting for the podium with Alex Marquez and Luca Marini, and decided to not get involved in the battle so as to ensure his solid fourth-placed finish. Pasini will be hoping that Austria is a sign of things to come, and a return to form now would be well-timed, as the rumour recently has been that the Italian is contemplating retirement.
Luca Marini's form over the past three race weekends has been exceptional, and entirely unexpected. Last time out in Austria, the lanky Italian took his third consecutive podium, and will be likely in the fight for the rostrum again this weekend. For Forward Racing last year, it was only 11th spot for the number 10, however Marini has proven on many occasions in the last weeks that his form from previous years is not necessarily indicative of what his potential is in 2018. His first win is surely not far away, and maybe it is even only a few days away.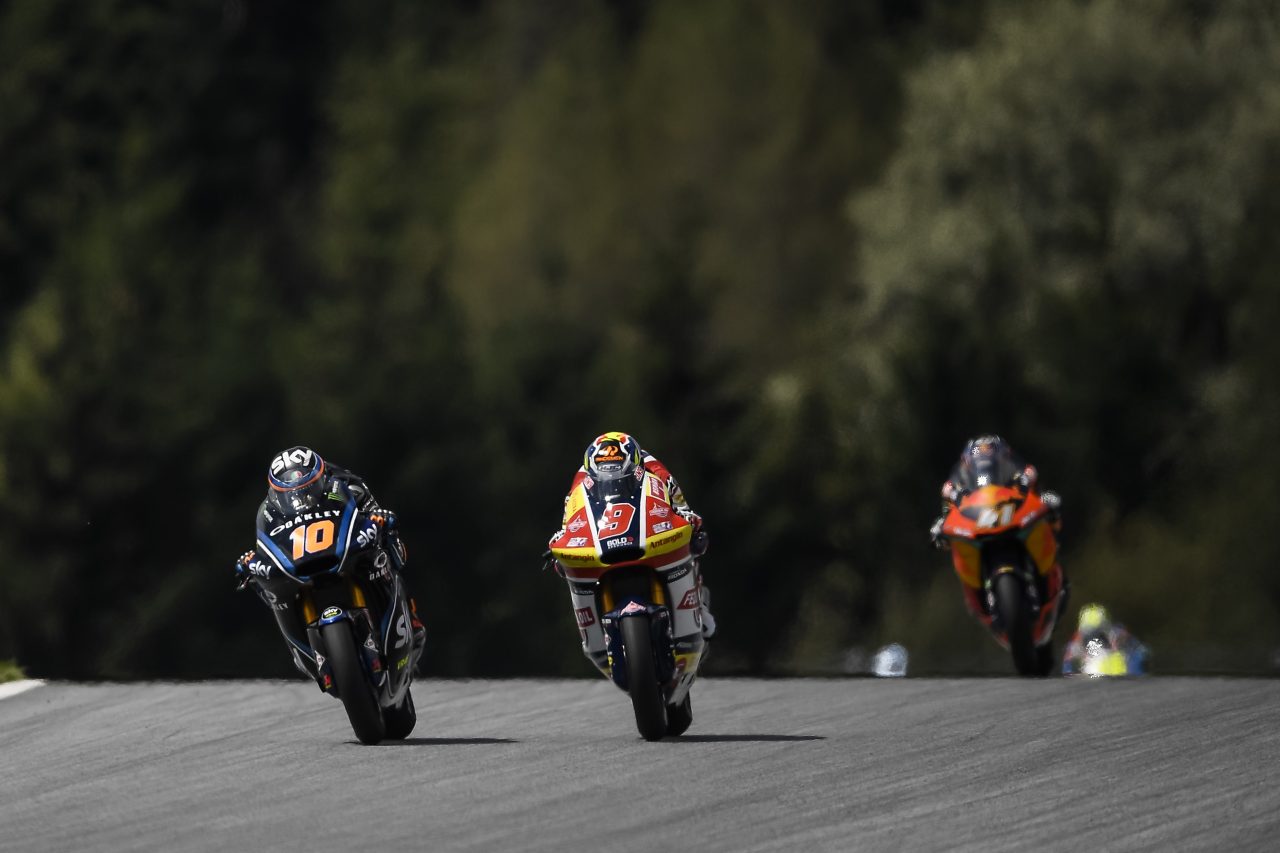 One man who will be aiming to make Marini wait a couple more weeks at least is Sam Lowes, who will be determined to win his home Grand Prix for the first time this weekend. Realistically, he should have won in 2016, but an incident with Johann Zarco in Brooklands left the Brit on the floor, and the Frenchman with a penalty to drop him out of the points. In fact, Lowes seems to have something of a curse in Silverstone when it comes to battles in the World Championship against his most fierce rivals; also in 2013 – year of his World Supersport championship triumph – he had a collision with Kenan Sofuoglu in The Loop, which also left Sam on the floor, denying him the victory. It has been a tough year so far for the number 22, but just a few days after he was confirmed to be heading back to the Gresini Moto2 team for 2019 – the very same team with which he fought for the Silverstone victory, and world title, in 2016 – maybe he can make amends for this difficult first eleven races of 2018 by standing on the top step.
Of course, Lowes is no the only British rider on the Moto2 grid. Danny Kent will of course be riding for Speed Up, and also hoping to make up for a difficult first half of the season as he looks for a 2019 ride.
But, also, Josh Owens is in attendance this weekend. It has not been easy for the British Supersport GP2 rider to get there, needing to raise £15,000 in the build up to the weekend to be able to afford the entry fee and equipment. Having had half a year's experience on the Kalex in the British championship – in which he won the first British Supersport race in Thruxton – he should be somewhat comfortable with the bike, and the pace of the World Championship riders should only serve as a huge learning opportunity for the youngster.
Also, keep an eye out for Stefano Manzi this weekend. A quick flashback to the 2016 Moto3 race will remind you that Manzi came from 32nd on the grid to finish fourth on the Mahindra, and looking to last year you will find that he finished the race in 7th spot, ten seconds off the win. Typically this year, Manzi has been either on the floor, or doing something else reasonably spectacular, and this weekend could provide something of a shock result for the VR46 Academy rider.