There are just three races left in the 2018 IndyCar season and the paddock are in the middle of three back-to-back races, however, a shadow hangs over the entirety of the series following Robert Wickens' crash at Pocono.
Wickens remains in hospital having had surgery on his spine and due for more on his arm and legs in the coming days. He also has some sort of spinal cord injury but the severity of it is as of yet unknown – that is what could stop a potential return to racing, but only time will tell. Schmidt Peterson have withdrawn the #6 car from Gateway out of respect, although teammate James Hinchcliffe, who was minorly injured in the wreck, will participate in the race.
All the IndyCar drivers have expressed their support for Wickens, with many saying that they are struggling following the accident – they all know, full well, that it could've been them. The #GetWellWickens hashtag is trending on Twitter and there's a campaign going around for fans to wear red on Saturday in support of Wickens. It's a tough time for the whole close-nit paddock, but we've been here before… it's not the first time a driver's been badly injured, and it almost certainly won't be the last.
Away from the wreck and its repercussions, Alexander Rossi was the one to win the eventually restarted race at Pocono, fending off late challenges from Will Power to take his third win of the season and cut his championship deficit down 29 points. The swing in points between Rossi and championship leader Scott Dixon could've been a lot more had the latter not been able to recover from thirteenth to third, or had he been caught up in the wreck he only narrowly missed.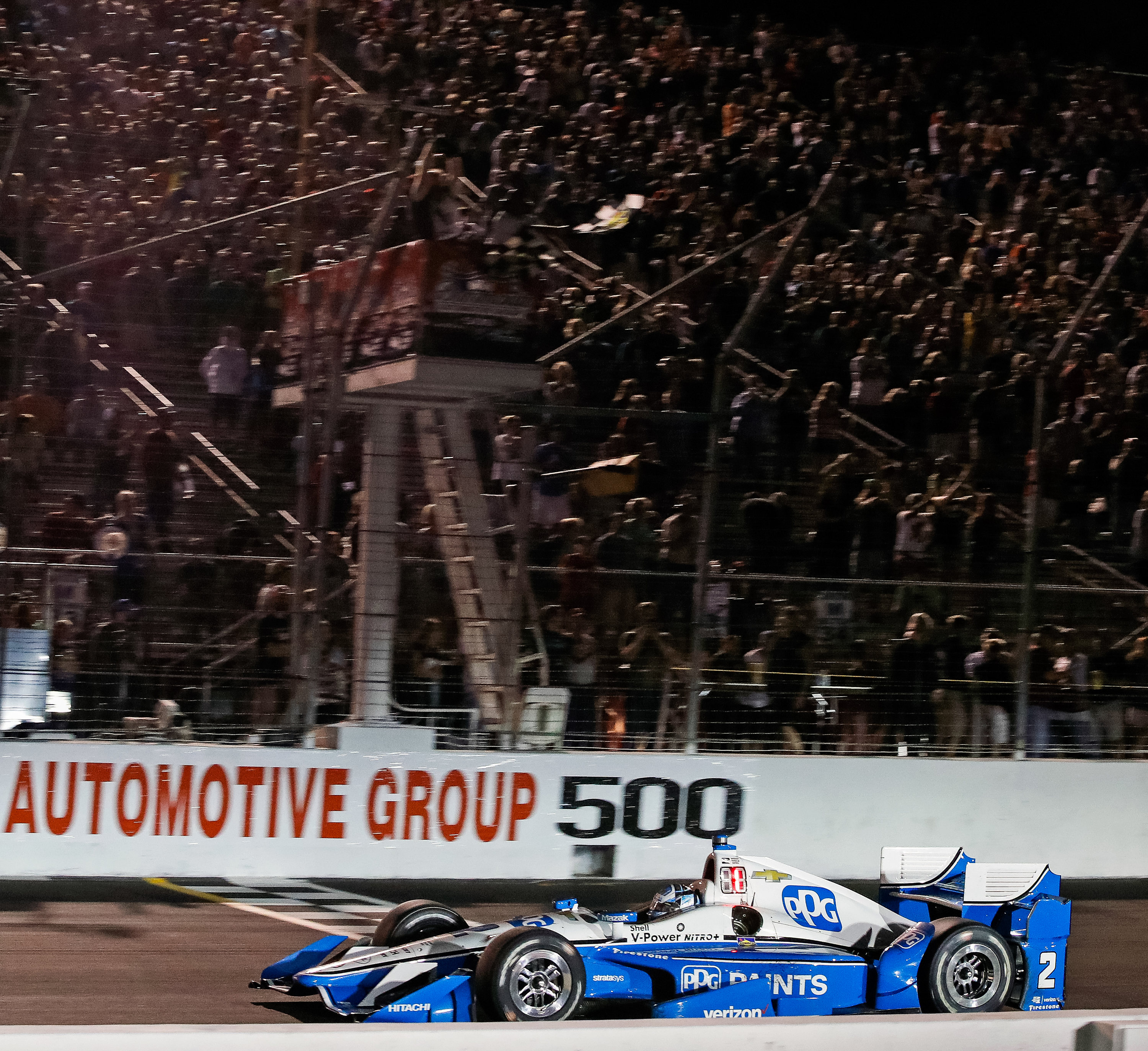 Looking ahead to Gateway, it was Josef Newgarden and Penske who dominated the race last year. Between all four Penske cars, they led all but three laps of the race with the lions share of those leading laps going to eventual race winner Newgarden. Gateway itself is a short oval which is raced as a night race under the floodlights. It's a demanding track and often causes amateur-looking spins that can easily collect cars – as Power, Takuma Sato and Ed Carpenter found out last year.
Gateway was the scene of a very controversial overtake for the lead in 2017. Newgarden was trailing teammate Simon Pagenaud in the closing laps of the race when he dived down the inside, making light contact but getting through otherwise cleanly. Pagenaud was clearly disgruntled after the race, in which he finished third, but it wasn't long before the pair settled their differences, leading to the start to their rather amusing relationship which culminated in the 'autograph battle' earlier this season.
There aren't many driver changes for Gateway. Gabby Chaves is back in the #88 Harding after being replaced by Conor Daly for the previous three rounds while Wickens quite clearly won't be present and there will be, as previously mentioned, no replacement.
All the title contenders need good weekends to stay in touch but, with the crash at Pocono, Ryan Hunter-Reay has dropped out of realistic contention, 119 points back, leaving it down to just Dixon, Rossi, Newgarden and Power. At this point, everyone's out there racing with Wickens in their minds and it would be amazing if Hinchcliffe could bring back a good result for the SPM team after all they've been through.
IndyCar are joined by both Indy Lights and Pro Mazda at Gateway as all the seasons near their conclusions. All Indy Lights and Pro Mazda sessions are available to stream, along with IndyCar practice while qualifying unfortunately isn't streaming again. The race is being shown on BT Sport/ESPN but, I'll warn you now, some of the times aren't very UK friendly! Those times are as follows:
Friday
Practice 1 – 6:15pm
Qualifying – 10:15pm
Saturday
Final Practice – 2:00am
Sunday
Race – 1:30am
(All times BST)
Featured image courtesy of Perry Nelson/LAT for Chevy Racing