Austria was one of those rare occasions, something you don't often see. In this case, it was a lights-to-flag victory for Marco Bezzecchi, the second of his career, and his second of the season.
Bezzecchi capitalised on Jorge Martin's broken radius well to be able to extend hi championship advantage to 12 points, and with eight rounds to go he is still right there in the championship fight, despite his low number of wins. The key to Bezzecchi's success has been consistency. Admittedly, his consistency has been relative to him finishing compared with the three DNFs. However, when Bezzecchi has finished – that's eight times so far this season – he has finished on the podium on all but one occasion, and the one time he failed to make the podium in those eight races was in Brno, where he recovered from a poor weekend to come home sixth on the Sunday. Like Luca Marini in Moto2, Bezzecchi this year has erased the importance of previous years' form in tracks. For example, his best finish last year was fourteenth, bar a podium in Japan. On that basis, it might not be reading too much into his 19th place at the British Grand Prix last year, but maybe this will be the weekend which we look back on and determine as the point where Bezzecchi lost the 2018 Moto3 World Championship.
That said, the KTM should suit the fast Silverstone layout quite well. Should its pilots be able to negotiate the eighteen corners adequately, the power of the Austrian 250cc single should be able to keep them in the game down the long straights: Hangar and Wellington. Furthermore, with Jorge Martin still recovering from his broken radius from Brno, this could even prove to be another prime opportunity for Bezzecchi to take advantage in the championship.
Silverstone could even prove to be quite the disaster for Martin, with the bumps – supposedly made worse by the resurfacing which took place over the winter – perhaps bringing Martin's injury renewed problems. That said, the softer Honda chassis you would expect to deal with the bumps better than the stiffer KTM frame. A softer frame might not help Martin directly, at least not with his radius, but the more rigid KTM could be significantly hindered by the surface condition, which could make Bezzecchi, not Martin, the one on a damage limitation job.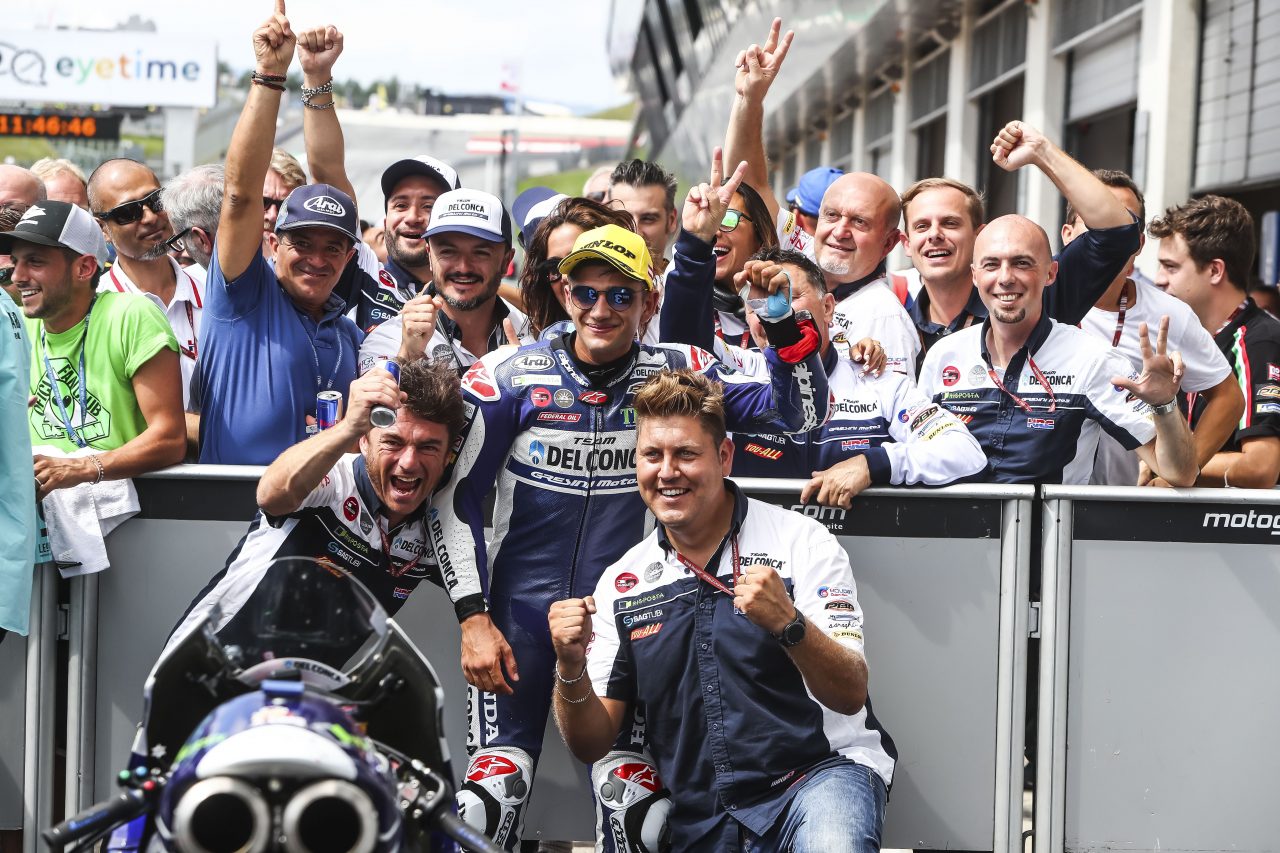 Regardless of whether any of the above proves true, Bezzecchi could be on the defensive anyway, such was Martin's pace in Austria. The Spaniard should have recovered more since the previous race, and as such could once more be the speed benchmark this weekend. Also, unlike Bezzecchi, Martin had a great result in Silverstone last year, when he finished third, a tenth off the win. A couple of places better this year could just put the "J" of Jorge on the championship trophy.
It was Aron Canet who took the win last year, in an Estrella Galicia 1-2 as Enea Bastianini finished second. The pair will still be considering themselves in the mix for the championship, but right now they are very much minor ingredients, sitting 40 and 41 points off the championship lead respectively, and with a lot of work to do to get properly back in the fight. Canet, for a start, could do with picking up where he left off last year in Silverstone, as he is still without a win in 2018, and had a very disappointing race in Austria to boot.
Bastianini faces a different issue, that of finding speed in the first laps. Bastianini's recovery in Austria was quite spectacular, arriving with his teammate, Lorenzo Dalla Porta, in the final two laps to fight for the podium, and eventually finishing second despite a poor start. If he can find some speed in the early stages and if things go his way, Bastianini can definitely still fight for the title, it's just that those are two fairly large 'ifs'.
Fabio Di Giannantonio had a nightmare in Austria, seemingly with no pace at all. He was reasonably fast in the middle of the race, but struggled a lot at the end, and a late dive on John McPhee for seventh punted the pair of them out of the top ten. It was not the way the Italian would have liked to respond to his debut Grand Prix victory, and now at a 38-point deficit to Bezzecchi, he too has work to do in the championship, and Silverstone could prove a critical round for the #21.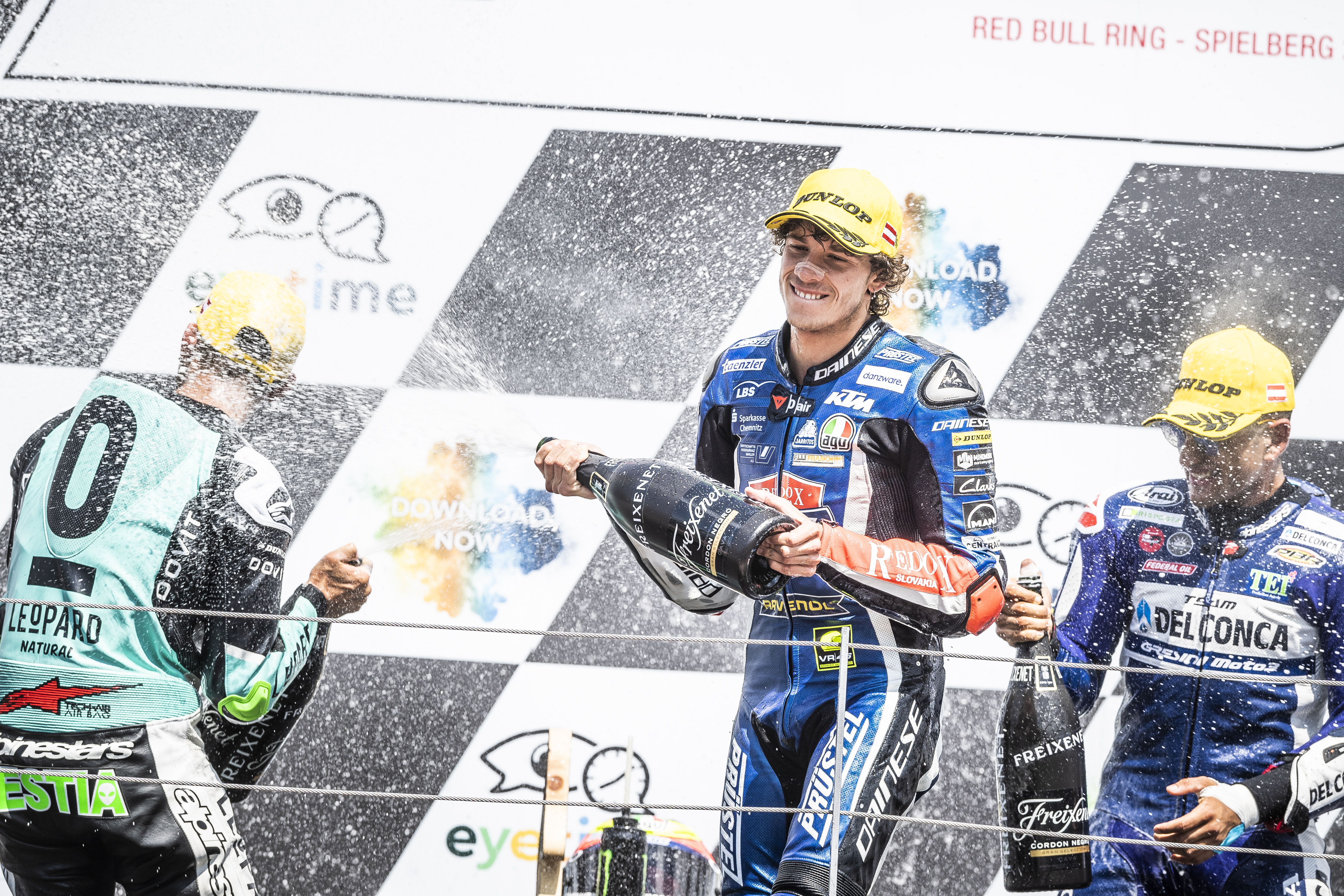 John McPhee, having been taken out of the top ten by Diggia in Austria following a brilliant fight back through the pack from stone last on the grid to eighth. McPhee is coming into this weekend with perhaps his best ever chance to win his home Grand Prix and after the disappointment of that Austrian race, he will be intent on returning to his pre-summer break form, when he was regularly contending for the podium between Mugello and Germany.
McPhee is not alone in riding his home Grand Prix this weekend in the lightweight class, as Tom Booth-Amos and Jake Archer are both wildcarding. Booth-Amos has had a tricky year, stepping up to the Moto3 Junior World Championship. He has had good speed, but crashes and injuries have hampered his season massively. On the positive side, he is riding this weekend as a third Leopard Racing entry, in the reigning World Champion team – it simply could not get any better for the Brit this weekend.
Archer, on the other hand, is riding his RS Racing City Lifting KTM which he races in the British Motostar Championship, which he is currently leading.
Featured image courtesy of Gold and Goose/KTM