Igor Fraga has been at the sharp end of the USF2000 class all season, sitting in third in the championship with the two races at Portland remaining. Fraga races under the Brazilian flag and, despite growing up in Japan, made the switch to the Mazda Road to Indy programme for this season, having dominated Formula 3 Brazil Light last year.
Emily Inganni – How has this season of USF2000 been for you so far?
Igor Fraga – I believe that overall, it's being really good season for me. I am a no budget driver, and to cut some costs, my dad it's my mechanic, sometimes we slept on the rental car, I don't have any coach and even with all the difficulties, I'm still running in the 3rd place on championship.
EI – How hard has it been to be a rookie in the series? Do you feel you've adapted well?
IF – I'm definitely learning each day in this series. It's being a tough year, but I think I adapted well in the series. I'm enjoying each moment that the series is providing, on track and off track.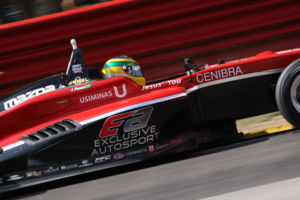 EI – Do you have any plans for next year yet? Do you want to stay in USF2000, move up to Pro Mazda or something else?
IF – Until now, I don't have any plans yet. How I said on top, I'm a no budget driver, so I depend on many circumstances. But if I have the opportunity, I really want to move up to the next category.
EI – How have you found the Mazda Road to Indy programme in your first year, do you think that it's a good way for young drivers to progress?
IF – I believe that the Mazda Road to Indy is one of the best ways to become a professional racing driver. Not only on track but I'm having some off-track activities where I'm learning to deal better with the medias and etc.
EI – How does racing in America compare to racing back in Brazil? Is it what you expected it to be?
IF – I was expecting that the team and driver level was going to be really high. The engineers have a lot of knowledge and I'm enjoying competing here in the Mazda Road to Indy. I was just surprise about the off-track activities that prepare the driver professionally.
EI – Where did you start racing, was it in Japan or Brazil? Also, what inspired you to race in the first place?
IF – I started in the go karting when I was living in Japan (3 years old). I was really small when I started, so I don't remember to be honest. I just know that since I was young, I already liked to play with toy cars, racing games and I wanted to do the same in real life.
EI – Does racing in Europe appeal to you or would you rather stay in America?
IF – The racing in general interests me. I really like to drive something fast! I think that have some really good categories on both continents, and I'm really glad to have this opportunity to be here on US chasing my dream.
EI – To finish, what advice would you give to young drivers starting racing? Are there any things you wish you knew when you started?
IF – Karting it's always a good category to start. Also, with all the technology going on, the simulators it's being really precise. My main advice is practice and prepare yourself the best way you can and don't give up. It can be really difficult, but don't give up and keep trying.
A big thanks to Igor for answering my questions. The next interview of the series is coming up tomorrow so stay tuned…
(Featured Image courtesy of Igor Fraga)