The Czech Moto2 Grand Prix was the best of the season – by far. The battle between Miguel Oliveira and Luca Marini was stunning, with the pair swapping positions many times in the last laps.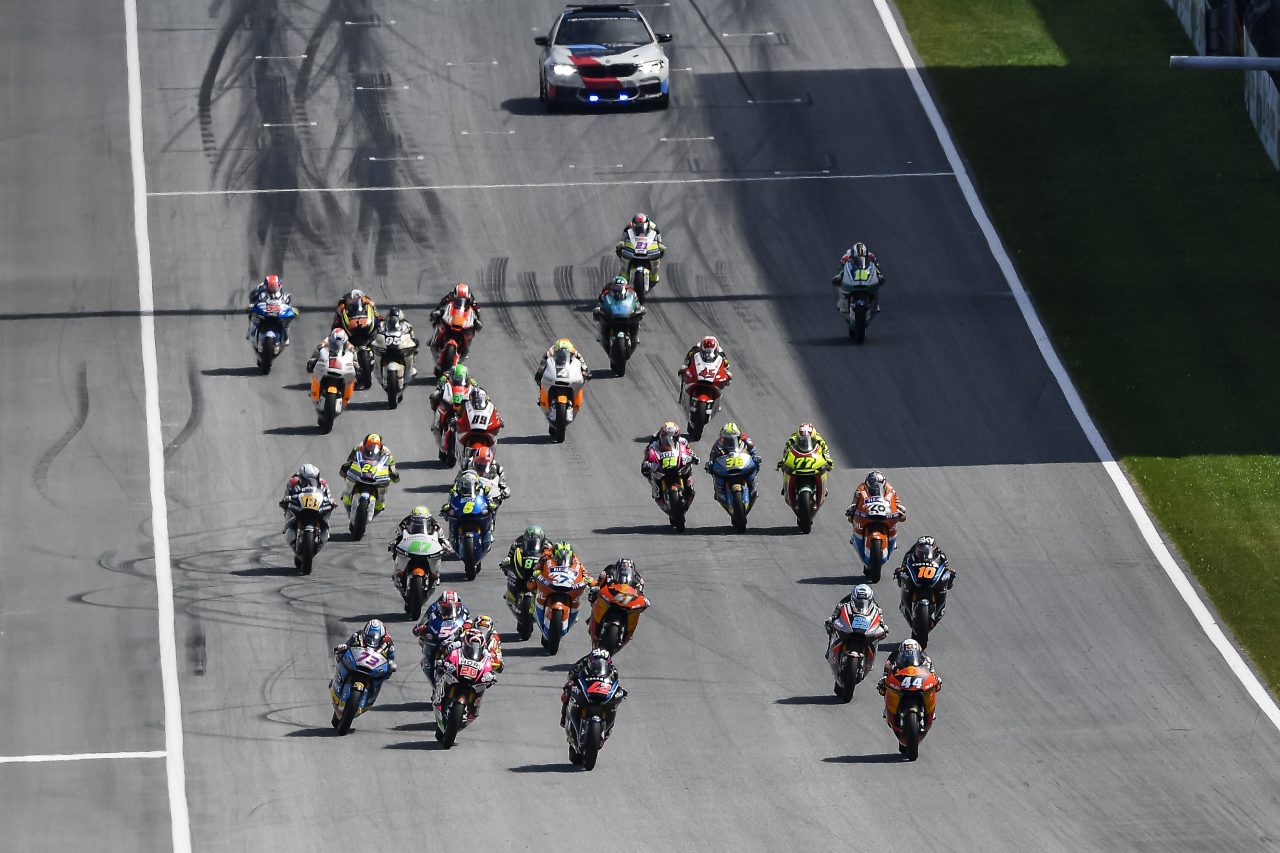 But the Austrian Grand Prix went a step further. This time it was Marini's teammate, Francesco Bagnaia, who fought Oliveira for the win, and eventually the Italian came out on top in what was a stunning battle, with obvious differences between the riding styles of the two riders, and the characteristics of their two machines. Oliveira had supreme mid-corner speed, and was strong on corner exit, too, but Bagnaia's entry speed was incredible, nearly hitting Oliveira's rear tyre on several occasions, but somehow the pair never came to blows.
The last lap rolled around, Oliveira leading Bagnaia, and the Italian's move was obvious. The #42 had made a move for the lead several times into turn nine, the penultimate corner, and really it was the only place he could be close enough such was Oliveira's corner exit speed. Sure enough, he made his move in T9, and whilst he had run wide on previous laps, on this occasion he managed to hold it tighter, and Oliveira's response was a much tougher one to pull off than in previous laps. The Portuguese had to lunge Bagnaia, his rear tyre coming off the floor, and so it was simple enough for the Italian to square him off and out-drag him to the line.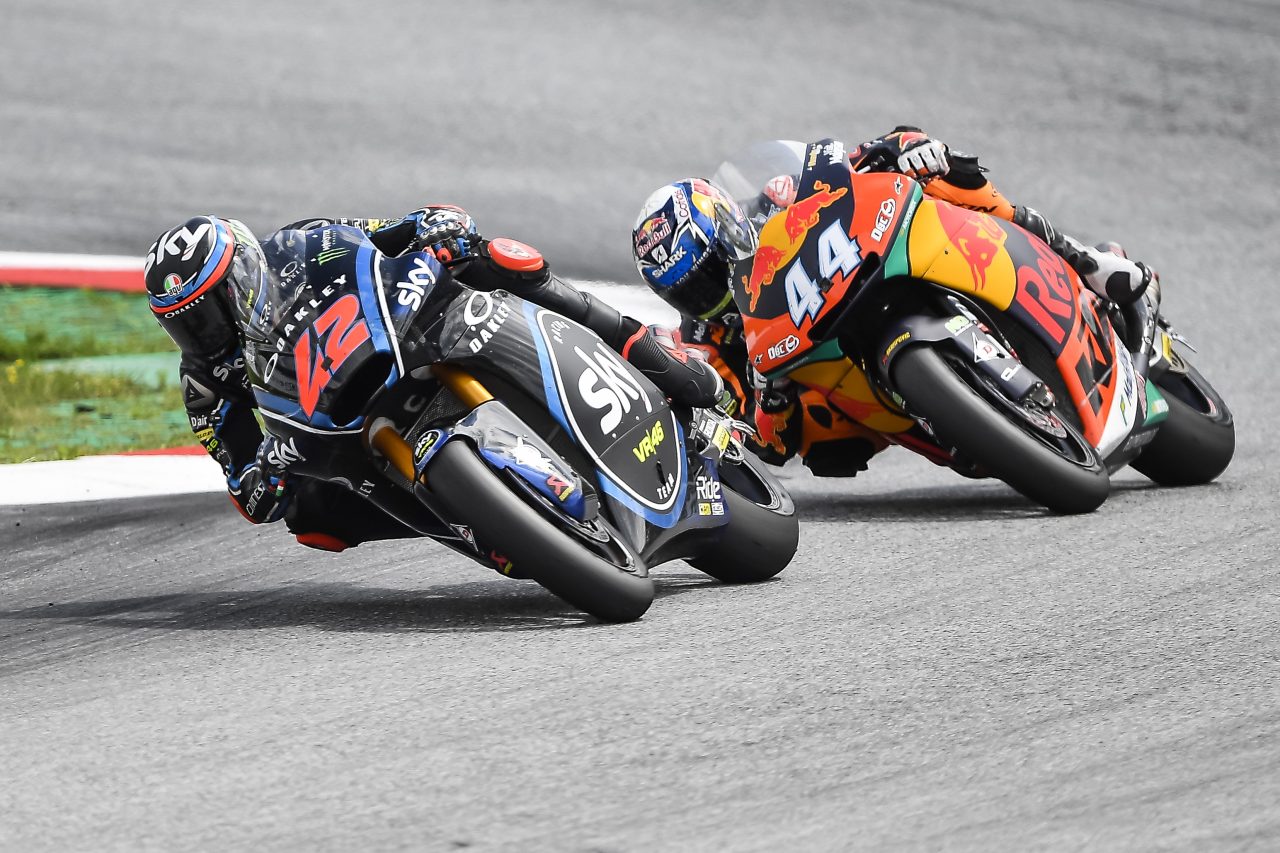 It was Bagnaia's fifth win of the season, and took him back to the top of the standings, reclaiming the championship lead he lost in Brno, by three points. Furthermore, it was an important win for Bagnaia since it was the first proper duel between the two championship rivals, and psychological benefits he will take from that will be felt for time to come.
For Oliveira – and KTM – it was a disappointing result, in the end. Oliveira had the early advantage, as Bagnaia ran wide in the first corner and lost a second or so to Miguel, and a position to Jorge Navarro. This gave Oliveira the jump, but he was unable to keep that advantage. Despite this, he was able to be fast enough in the right areas to keep Bagnaia behind, and respond to any passes that the Italian put on him. Unfortunately for Miguel, the only pass he couldn't respond too was the one from Bagnaia on the final lap, costing him and KTM the victory in KTM's home track. Still, he is only three points back in the championship, so has everything to play for in the remaining eight rounds.
Six seconds back of the lead battle was the fight for the final podium spot, Luca Marini finally coming out on top. It was a tough race for Marini – a tough weekend, in fact. He had been struggling with rear tyre life all weekend, but a change in warm up improved his used tyre pace. This enabled him to fight from his grid position of 10th to fight for the podium. That fight was with Mattia Pasini and Alex Marquez, and a late pass on Marquez was what earned Marini the podium. Marquez tried to fight back in the final corner, but ran on and crashed on the concrete kerb in the run-off zone. This brought a flashback to the MotoGP race of last year, as Marini threw a left hand in frustration with Marquez's move. Fortunately for the number 10, his run out of the last corner was not hampered enough to allow Pasini past, and Marini duly took his third consecutive podium, and gave Sky VR46 their second double podium in two races.
Pasini took fourth place. He wanted the podium, of course, but opted to take as few risks as possible after crashing a lot in the last races. This fourth place was Pasini's best ride since his win in Argentina back in round two, and hopefully for the Italian it will trigger a return to form.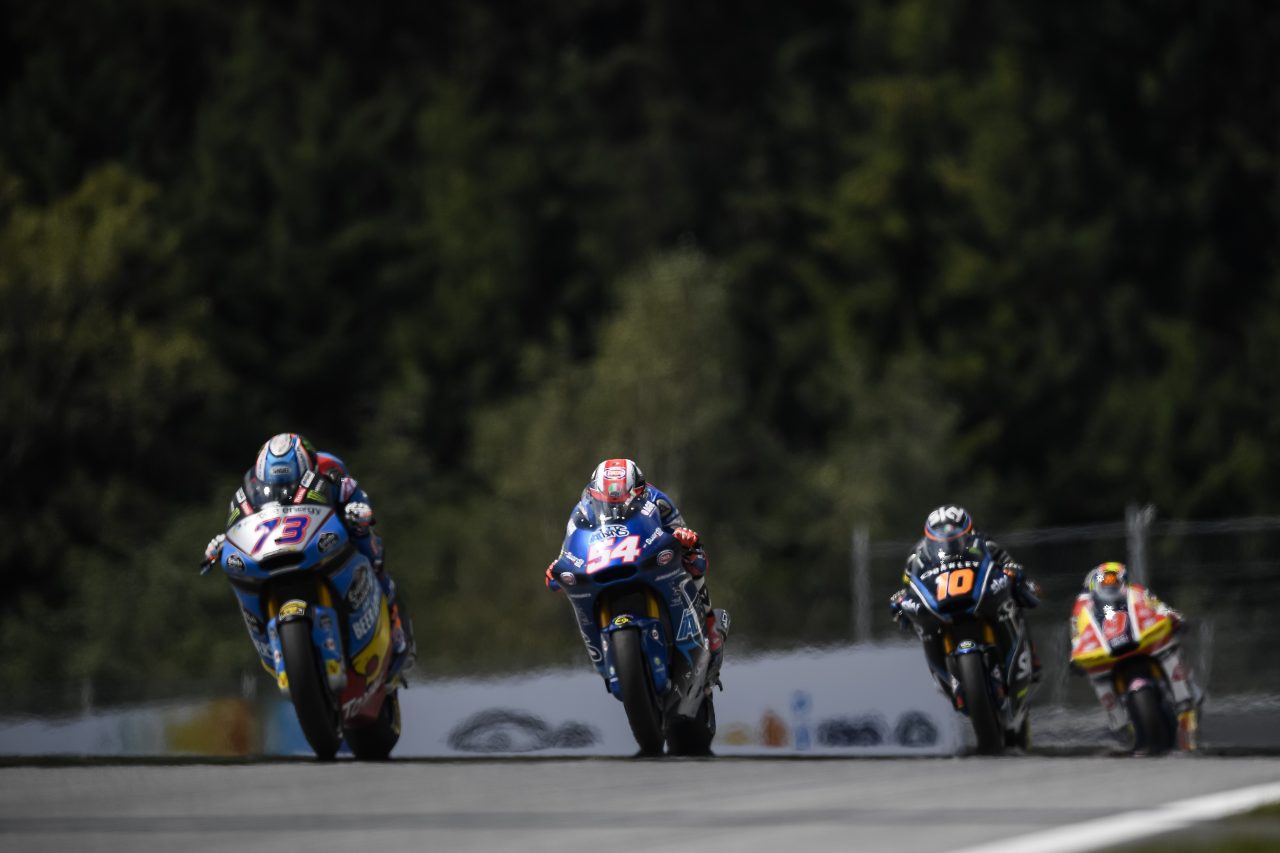 Jorge Navarro's best weekend of the season culminated in an impressive fifth place. Navarro is currently on the job search for 2019, so he needed this result, and beating the factory KTM of Brad Binder (6th) by half a second was certainly impressive for the Spaniard.
Marcel Schrotter was a further two tenths behind the South African, and yet again was unable to translate impressive pace through the weekend into a podium come race time.
Despite a searing start, coming from 20th to 7th in just two laps, Joan Mir was unable to continue that hot pace, ending the race in a distant eighth place. At a track where he was so dominant in Moto3, it was disappointing to see Mir struggle so much in the race last weekend.
Fabio Quartararo's race was ruined in turn one. He had contact with Bagnaia which sent the pair of them wide, but also sent Quartararo back to 20th. He finally came through to ninth, which was quite an impressive comeback from the MotoGP bound Frenchman.
Iker Lecuona rounded out the top ten. His weekend was tainted by a crash in FP2 where he took out Miguel Oliveira in turn one, but another top ten for the Spaniard is positive after a tough period with the Swiss Innovative Investors KTM team.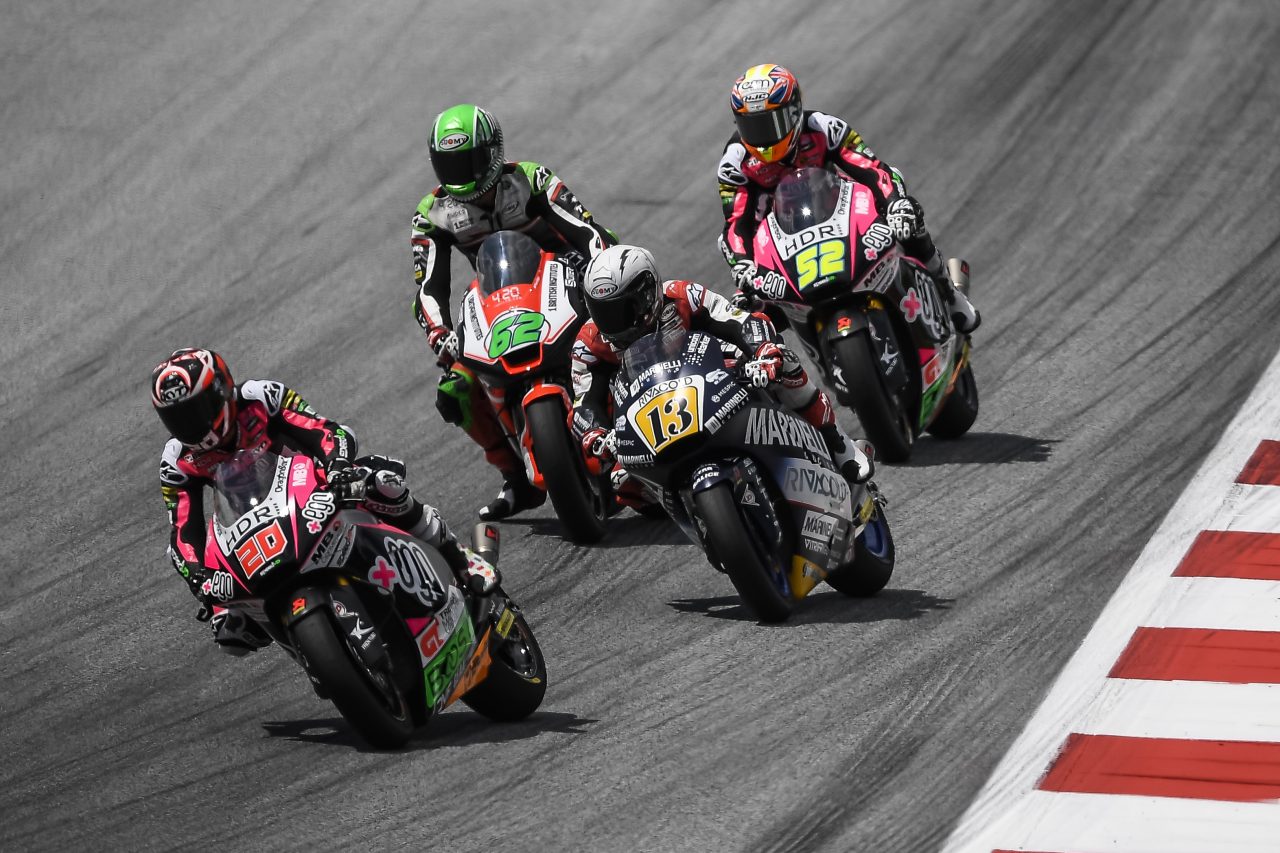 There was just one tenth between Lecuona and eleventh placed Romano Fenati, whilst twelfth place Danny Kent was a further second back.
Six seconds further back was Andrea Locatelli, who was 4.5 in front of Stefano Manzi, who showed what is possible when he stays on his Forward Racing Suter. Meanwhile, Tetsuta Nagashima rounded out the points finisher.
Sixteenth went to Khairul Idham Pawi, ahead of Dominique Aegerter, Steven Odendaal, Joe Roberts and Jules Danilo who rounded out the top twenty.
Niki Tuuli was 21st, ahead of Bo Bendsneyder, Isaac Vinales on his Forward Racing debut; then came Alejandro Medina, Xavi Cardelus and Lorenzo Baldassarri who crashed early on but re-mounted.
Augusto Fernandez and Simone Corsi were also involved with that Baldassarri crash, and were both lucky to not be hit by riders behind. Remy Gardner, Federico Fuligni, Sam Lowes and Alex Marquez were the other retirements.