David Malukas is fairly new to the single-seater scene and is only in his second year of the Mazda Road to Indy programme however, he's already made it up to Pro Mazda at just 16 years old. The American took tenth in USF2000 last season, even though he missed the first four races, and is looking set for at least a top five finish with the top three only 20 points away this season in the middle class.
Emily Inganni – How has this season of Pro Mazda gone for you so far?
David Malukas – So far the season has been a rollercoaster. We've had so many ups and downs throughout the season so far but nonetheless it has been a big learning curve for me and the team.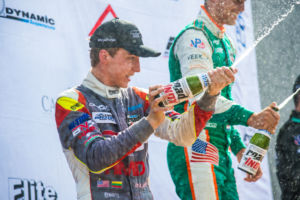 EI – How hard has it been to adapt to Pro Mazda as a rookie?
DM – Coming from the USF2000 series the Pro Mazda is a big difference. It has a lot more downforce and grip throughout the car making the driving style a lot different from the USF2000 car. Luckily, we were able to test the car quite a bit before the season started to get a feel for it.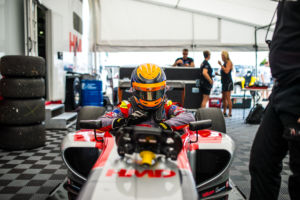 EI – What made you decide to move up to Pro Mazda rather than do another season in USF2000?
DM – Throughout my racing career my plan has always been to move up to the next class as soon as possible. The reason for it is because I end up racing against a higher level of drivers making me learn and advance quicker.
EI – Do you have any plans for next season yet? Do you want to stay in Pro Mazda or move elsewhere?
DM – Well as usual my plan is to continue to move up the ladder with no stops so moving up to Indy Lights isn't out of question.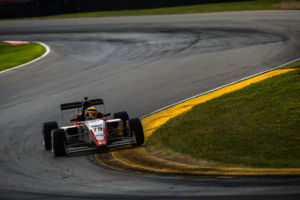 EI – What do you think of the Mazda Road to Indy programme? Is it a good organisation for young drivers from what you've seen so far?
DM – 100% the Mazda Road to Indy program is absolutely incredible for young drivers to succeed and make their dreams come true of becoming an IndyCar driver.
EI – What's it like, as a young driver, to be in the IndyCar paddock? Do you see much of the IndyCar drivers?
DM – It is very cool to be able to walk through the paddock and see how professionally operated everything is. I personally haven't had the chance to speak to one of the IndyCar drivers, but I have seen them driving around on their mopeds, so hopefully one day I'll be the one driving the moped.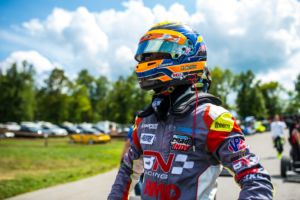 EI – What got you into racing in the first place and where is your end goal?
DM – It all started when I went with my dad to a local go kart track in South Bend, IN. I drove my first kid-kart and ended up really enjoying and continued to go. After some time, I got noticed by Brent Ebert, who wanted to help me on the coaching side and from there I went to my first professional go-kart race and within time I succeeded and followed the ladder up to where I am now. Like most drivers, my goal is to make it to Indy 500.
EI – Lastly, what advice would you give to karters starting their racing careers?
DM – Once you've gotten good in the class you're in, make sure to keep moving up as soon as possible so that you could be surrounded by better drivers and learn quicker.
A huge thank you to David for taking part in the interview! The last interview of the series will be published tomorrow so keep an eye out!
(Featured Image courtesy of David Malukas)