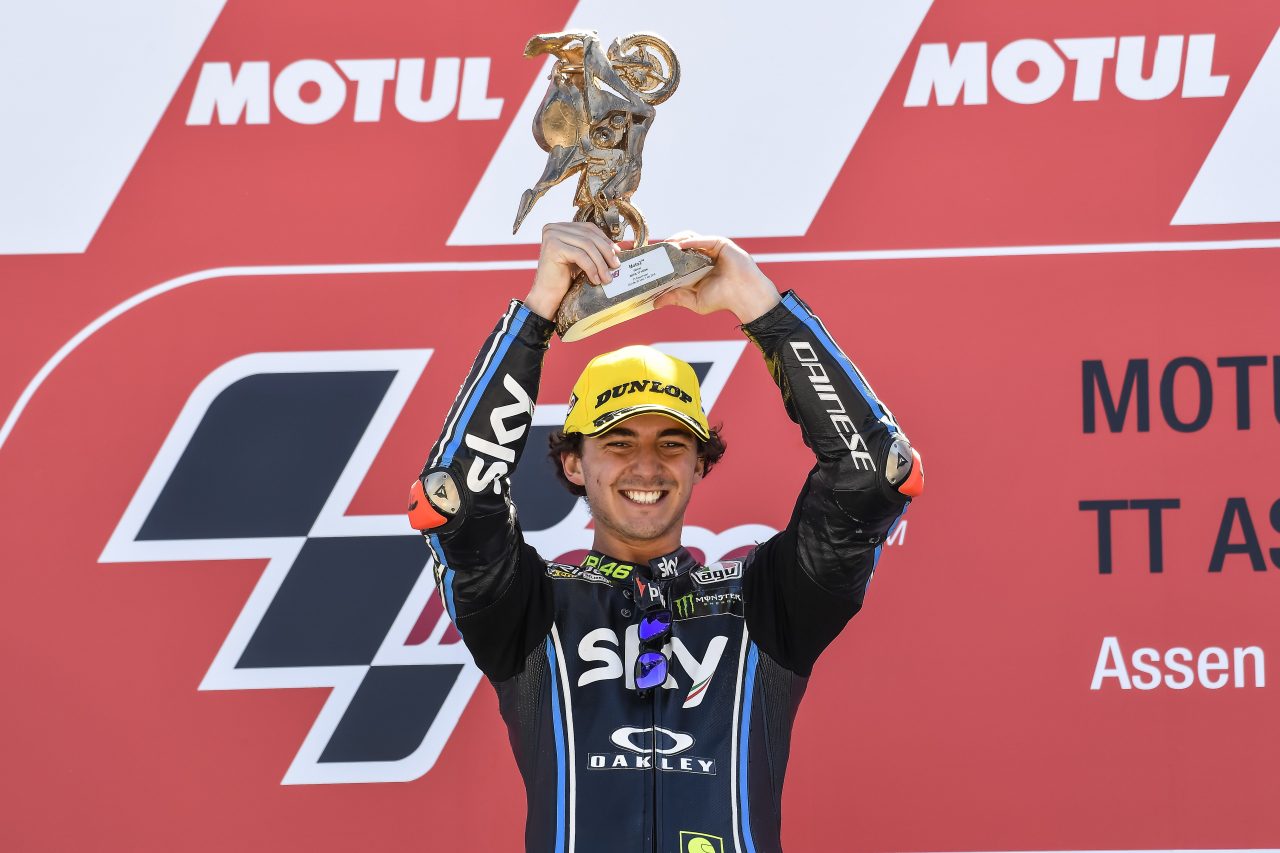 From his second Moto2 pole position, Francesco Bagnaia dominated the 2018 Moto2 Dutch TT, taking a lights-to-flag win to reassure his position at the top of the championship standings.
Early on, it did not look like Bagnaia would be able to break away as had looked likely in free practice – Marcel Schrotter, Alex Marquez and Joan Mir were capable of keeping the Italian in sight. Or, at least they were for the first five or so laps. From that point, Bagnaia began to stretch his advantage, tenth by tenth, meter by meter, until he appeared out of reach. And so it proved, Bagnaia went unchallenged for 24 laps of the TT Assen circuit, and won without seeing so much as a wheel on his inside. It was a great way for Bagnaia to bounce back from his tyre-woe-induced eighth place in Barcelona, and it extended his championship lead over Miguel Oliveira to sixteen points. We knew Pecco loved Assen anyway, hence his tattoo of the circuit map, but with this result his adoration for the Dutch circuit is surely only increasing.
A win in Barcelona did little to prove the return of Fabio Quartararo to the front-running pace, but with a stunning second place in Assen, the affirmation of his rediscovered pace is assured. After a grid penalty for riding too slowly in qualifying dropped him back to tenth on the grid. There was something of a fight on for Quartararo who hadn't been slow in Holland but equally hadn't enjoyed the field-blitzing pace he had in Barcelona. And, for most of the race, Fabio looked like a top six rider, but in the last five laps he turned up the wick and rose from sixth place to second, cutting the gap to leader Bagnaia from over six seconds to 1.7 in those laps to take his fourth Grand Prix podium, his second in Moto2 and second in succession. This is impressive form from the Frenchman, who is beginning to remind people why he was twice CEV Repsol Moto3 Champion, and equally impressive from Speed Up who suddenly seem to have the chassis which is kindest on tyres – an important quality in such a tightly controlled class.
Alex Marquez got lucky. He would have missed the podium had Lorenzo Baldassarri's rear tyre not let go. That was a tough blow for Balda, who had come from thirteenth place on the grid to second in supreme style, scything through the pack sideways-on, and by the end he was even closing Bagnaia and looked like he could potentially win his third Grand Prix. However, a puncture with three laps to go cruelly ended his chances.
But, as aforementioned, Baldassarri's loss was Marquez' gain, as he took his second consecutive podium, following on from his trophy at home in Barcelona. Whilst you cannot deny Alex's consistency this season, you also cannot deny that third places are not enough. Eight races into 2018 and Marquez is still without a win, and that needs to change if he is to get back into the championship frame.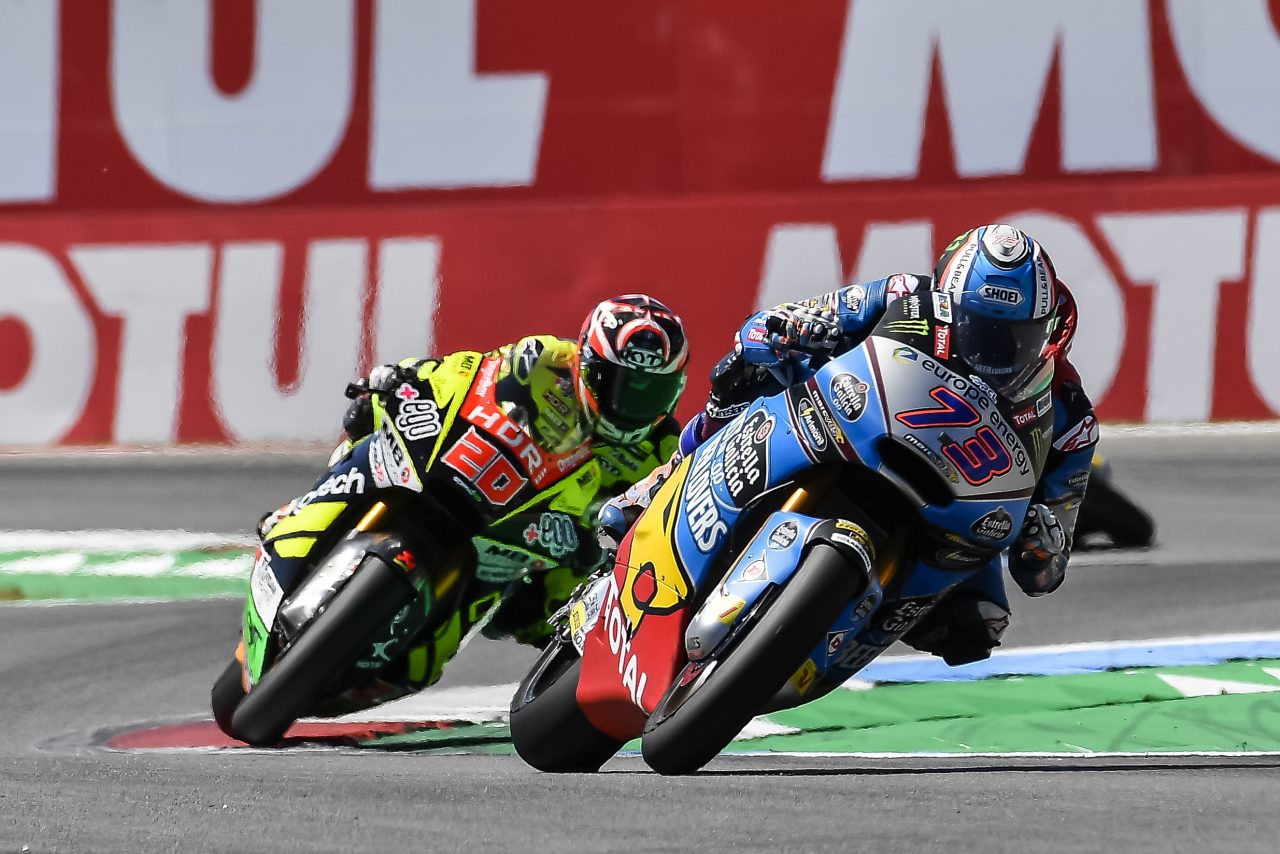 Just like in Barcelona, Marcel Schrotter was unable to convert what looked like pace for the podium into a top three in the race. This was quite a surprise, especially as early on it was Schrotter who was keeping Bagnaia in check. Equally, probably not many people, myself included, counted on the brilliant pace of Quartararo. However, the scene is set quite well for Schrotter to take his first Moto2 podium finish at home in the Sachsenring and considering his pace over the last few weekends it is definitely a possibility.
Joan Mir disappointed. He finished fifth. This is good, though, for the Spanish rookie – not many Moto2 first-years are able to say they disappointed with a fifth place. Still, he looked very strong early on, so far as to say it looked like Bagnaia should have worried about the #36 Marc VDS Kalex, but as the race went on his pace slowly slipped. Two races without a podium almost feels like a dramatic form dip for the reigning Moto3 World Champion, and he will hope to return to the box in Germany.
If the race was a little disappointing for Joan Mir, it was deeply so for Miguel Oliveira. Normally, going from seventeenth to sixth in one race is quite good – superb, in fact. However, this is not the case when you are fighting for the World Championship. Oliveira's poor qualifying is ruining his hopes of taking a first world title, and KTM have to work hard now in the next races to ensure that he can actually use his strong race pace by allowing him to be able to make the most of a fresh tyre in qualifying.
The same can be said for Brad Binder, about the necessity for KTM to support him in qualifying. It was 20th on the grid for Binder, who could only manage to recover to seventh place. Since Binder is not fighting for the title this year it is not such a big deal, but the point remains: KTM have to improve in qualifying.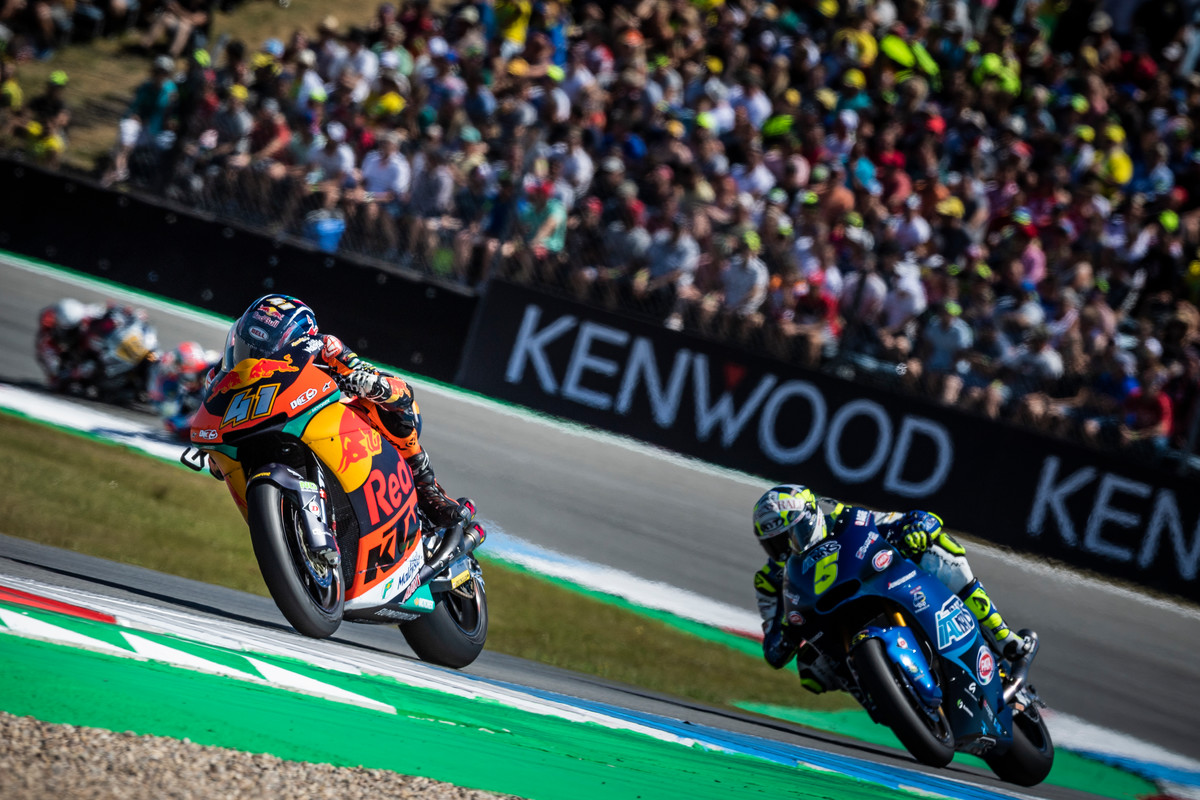 From his first front row start in Grand Prix racing, Luca Marini could only manage eighth. On paper this does not seem like such a good result, but the Italian will be contented by his ability to hold the pace of the leaders in the early laps. Marini is not used to fighting at the front and, as his half-brother proved in 2013, it is not easy to run at the front just because you have a strong bike and a strong team, the rider has to adapt and get used to fighting with the front runners, who do not make mistakes. But make no mistakes, Marini is improving, and by the end of the season it shouldn't be such a surprise to see him at the front more consistently, as long as he stays fit.
Sam Lowes, after such a strong ride in Barcelona which took him from last to ninth, will be disappointed with the same finishing position from a second row start. He was the only KTM to qualify in the top 16, but failed to do anything with it. In Barcelona it looked like he had found something, but after Assen it seems like his search for the right feeling in the races continues.
The top ten was rounded out by the incredibly impressive Andrea Locatelli who, with the rise of Quartararo, has gone quite under the radar with his sudden improvement, but his first top ten in a Moto2 race shows a big step for the Italian, and something to build on for future races.
It was Locatelli's teammate, Mattia Pasini, who was eleventh. Since his crash in Mugello, Pasini has fallen away, and must bounce back. It seems a long time ago that he was pushing his hopes of the championship. Augusto Fernandez had a good showing in twelfth place, ahead of Jorge Navarro, Domi Aegerter and Simone Corsi who came from last to round out the points scorers.
Sixteenth went to Iker Lecuona, ahead of Bo Bendsneyder, Remy Gardner, Khairul Idham Pawi, Steven Odendaal, Joe Roberts, Isaac Vinales, Jules Danilo, Eric Granado, Federico Fuligni and Lorenzo Baldassarri who pit for a new tyre after his puncture but came out a lap down.
Danny Kent was the first retirement on lap one at turn three, then Stefano Manzi fell, and they were joined on the side lines by Xavi Vierge and Romano Fenati.