Jorge Martin is a special rider. He began the 2018 Dutch TT weekend with a big crash in FP2 on Friday, which saw him have to use an altered right boot for the rest of the weekend. But that did not prevent him from taking his fifteenth pole position in Grand Prix racing, and from that pole (a Moto3 record breaker) he went on to take his fourth win of 2018. Not only that, but once again he displayed pace in the early part of the race which was enough to split the pack.
Finally, it was a five-rider group which fought for the win, with Martin, Enea Bastianini, Marco Bezzecchi, Aron Canet and John McPhee. All riders showed strength at some point in the race, they all looked like they could win at some point, but it was Martin who timed his bolt to perfection in the final stages to put himself out of reach of the chasing riders. It is possible to say that we have never seen in Moto3, a pace advantage of one rider like the one Martin has over the rest of the 2018 crop and his speed warrants a title, but he needs to match it with consistency if he wants to make that a reality.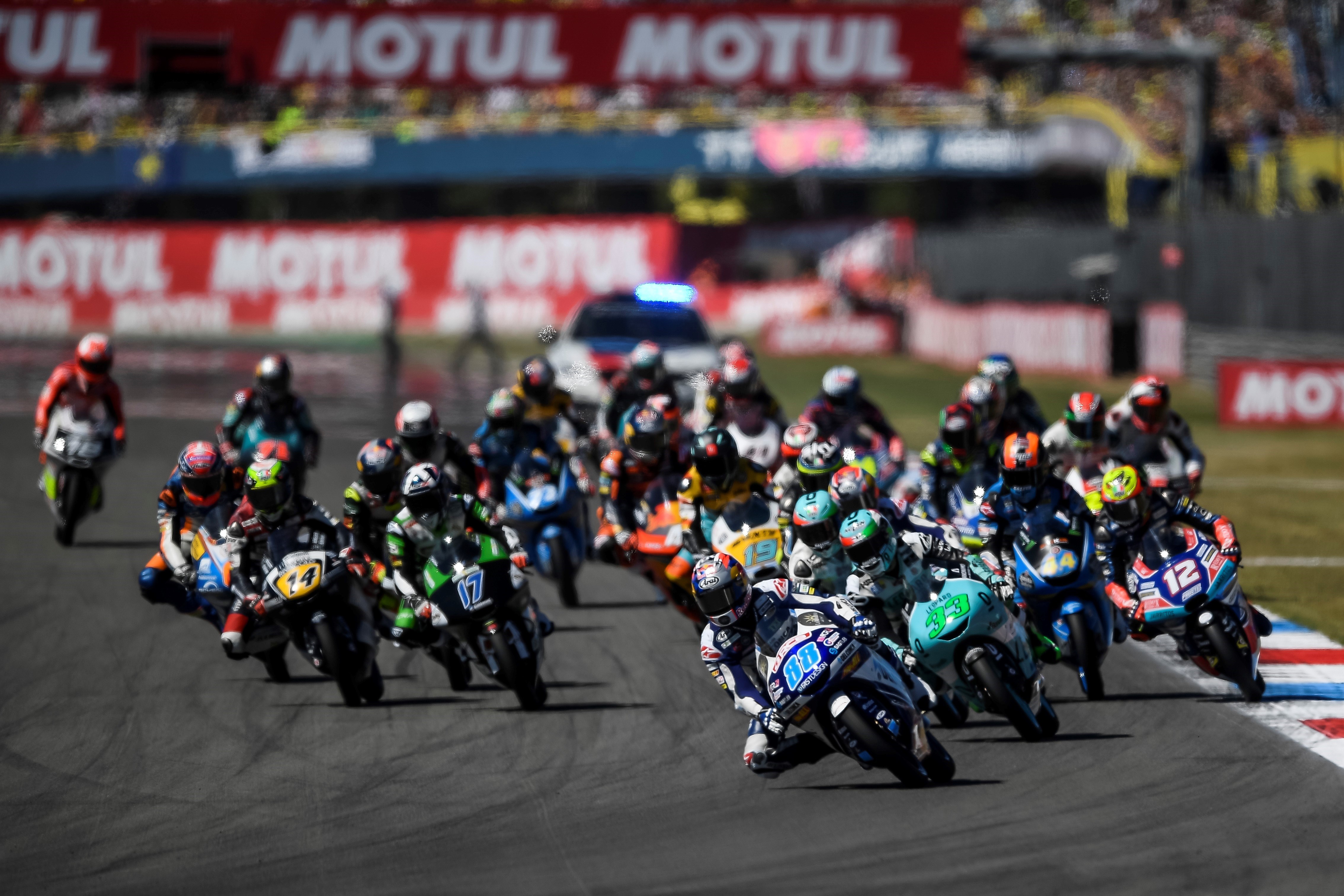 Aron Canet took second place from Enea Bastianini in the final chicane, which represented the end to a podium drought stretching back to Argentina for the Spaniard. He lies now twenty four points behind the top of the championship, which is now occupied by Jorge Martin, but if he can continue this podium form there is still a championship opportunity for the number 44.
Enea Bastianini took the final podium position, to move himself twenty-one points away from the lead of the championship. It was the first time Bastianini has taken consecutive podiums since Misano and Aragon 2016 and finally it looks like he has found the form most people expected him to have from the word go. I guess you could say the same thing about Canet but in last year's championship winning team and in his fifth season in the World Championship it is perhaps more expected of Bastianini to perform at the front week in, week out.
Fourth place went to Jaume Masia, his best result of the season, who led the chasing pack across the line ahead of Jakub Kornfeil, Lorenzo Dalla Porta and Darryn Binder who also enjoyed his best 2018 finish with the KTM Ajo team. Eighth place went to Gabriel Rodrigo, ahead of Fabio Di Giannantonio who did his championship hopes few favours with such a result. The top ten was rounded out by Marcos Ramirez.
Nicolo Bulega has transformed his first front row start since Sachsenring last season, to a typically poor start and first lap, and finally ended up in eleventh place, although at least he finally has some points on the board. It has to be said that the ability of Martin to split the pack did Bulega no favours in this race, but you would have thought that after nearly two-and-a-half seasons of starting badly he and the Sky Racing Team VR46 would have been able to rectify the problem. As it is, work still needs to be done, but anyway it is good to see Bulega back on the pace. Sachsenring was his best race last season, so hopefully the Italian can continue this form at the circuit on 15th of july.
It was Bulega's teammate, Dennis Foggia, who took twelfth place. It was perhaps Foggia's best weekend of the season, and at some points in the race he was one of the fastest riders on track. Unfortunately for Foggia, the twelve place grid penalty he got for riding slowly cost him any chance of a top ten, but the signs are positive for the Italian with a view to the future.
Tatstuki Suzuki was thirteenth, ahead of Le Mans winner, Albert Arenas, and Niccolo Antonelli, who had a tough time all weekend, rounded out the points.
Sixteenth place went to Kaito Toba, ahead of Tony Arbolino, Philipp Oettl, Ayumu Sasaki and Kazuki Masaki who completed to top twenty. Twenty first went to Adam Norrodin, ahead of Nakarin Atiratphuvapat, wildcard Ai Ogura, Livio Loi, Alonso Lopez, Andrea Migno, Makar Yurchenko's replacement Stefano Nepa, and finally Ryan van der Lagemaat who was the only rider to finish a lap down.
Marco Bezzecchi and John McPhee both crashed out in the final stages of the race. They were the only retirements and the only KTM riders in the front group, which perhaps says something about the motorcycle, most notably that it wears the tyres and especially the front tyre, at least from observation, as both riders seemed to be struggling in the twisty sections of Assen, the Austrian motor keeping them in contention. The crash for Bezzecchi was a particularly important one, as it ensured he gave up the championship lead to Jorge Martin. A slightly twisted positive for Bezzecchi, though, is that he has still not finished a race outside of the top three. Furthermore, Bezzecchi has proven in the first races this year that he can fight for the title, his consistency proving his biggest strength. With that in mind, Marco has to ensure that this is his final unforced error of this season, otherwise he has no chance to beat Martin's outright speed.
Featured image courtesy of HondaNews.eu