A win and a second place is apparently all it has taken for Fabio Quartararo to gain the interest of a MotoGP team. Supposedly, foetal Petronas Yamaha team are in talks with the French youngster with the aim of acquiring the double CEV Repsol Moto3 champion to pilot one of their YZR-M1s for the 2019 season. The past two races have been very impressive from Quartararo, and he does have one more Moto2 win than Ecstar Suzuki's 2019 rookie, Joan Mir. However, should two races grant you a pathway to MotoGP? You would say probably not, but there is no doubting Quartararo's talent and, if he gets the ride, there is every possibility that he can make it work for him.
Another Moto2 rider in the frame for a Petronas Yamaha ride for next year is Lorenzo Baldassarri. Since his win in Jerez, the tall Italian has been quite inconsistent, but saw a return to form two weeks ago in Assen, where he fought back from thirteenth on the grid to second place, and was closing down race leader and eventual winner Pecco Bagnaia before the rear Dunlop on the back of the Stihl HP40 Pons Kalex let go with just a few laps remaining. Balda re-joined after pitting for a tyre but was one lap down and didn't score any points. It was a big shame for the number 7, and it probably took him out of championship contention. However, the season is long, and Lorenzo will be keeping that in mind this weekend as he looks to return to the podium to prove that he is capable of fighting for this title, as well as being a solid pick for the satellite Yamaha team for next season.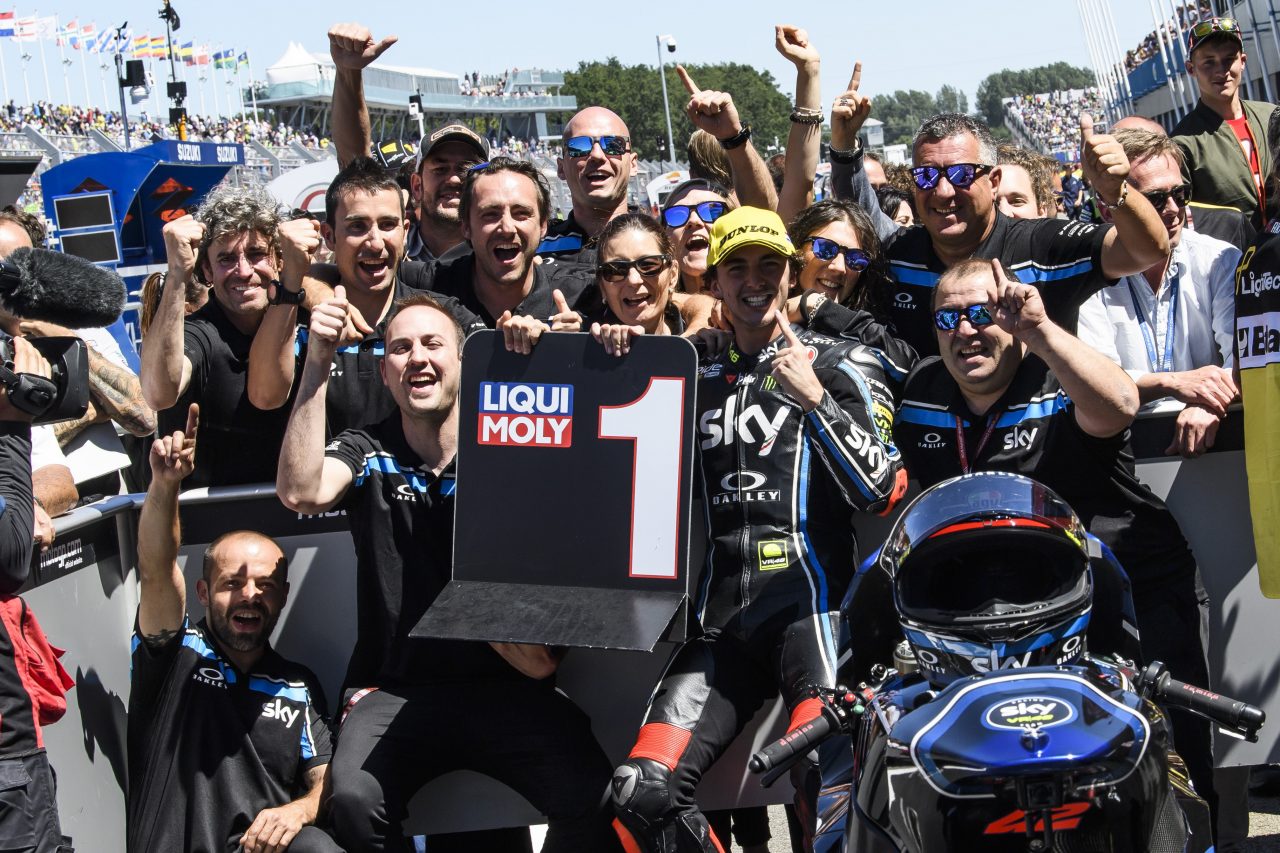 Last year's Moto2 German GP was won by Franco Morbidelli, but only narrowly. It didn't look as though it would be that way; when Tom Luthi crashed out of second place early in the race in turn twelve it seemed that Morbidelli would enjoy another comfortable win, but Miguel Oliveira saw to that. The Portuguese rider closed the Italian within a few laps and pressured the eventual 2017 Moto2 World Champion until the final corner, although was unable to make a move stick.
This is positive for Oliveira in respect to this weekend, when he will look to recover from his worst weekend of 2018 in Assen, where he finished sixth, five seconds from winner Bagnaia. At the heart of the issues in Assen was the KTM chassis' lack of ability to make a fresh soft tyre work on low fuel, which severely compromised both Oliveira's and Red Bull KTM Ajo teammate Brad Binder's respective races. In Assen, Oliveira qualified seventeenth, whilst Binder was twenty-first, and for the first time this season he was unable to make a full recovery in the first lap. Furthermore, Oliveira did not have the race pace of Bagnaia for the first time since Le Mans.
This weekend, it will be even more critical for Oliveira to qualify well than in Assen, because the high percentage of time at the Sachsenring that is spent on full lean angle makes it incredibly tough to overtake. If he is not there at the start it could be beyond him to recover and get to the front.
Francesco Bagnaia had no such problems in Assen. In fact, he had no problems at all in Assen. He took his second ever Moto2 pole, from which he took a lights-to-flag win with relative ease. Whilst it was Oliveira who finished second in Sachsenring last season, Bagnaia completed the podium with his third career Moto2 podium. Pecco towed up fellow Italians Simone Corsi and Mattia Pasini to the podium battle with him, but he stood his ground against his more experienced compatriots, and the pace he showed in last year's race will fill the current championship leader with confidence as he looks to head into the pretty much non-existent summer break on a high.
Alex Marquez, teammate Joan Mir, Marcel Schrotter and Xavi Vierge should be up there this weekend too; the former two just because you'd expect it and the latter two because their recent pace has been quite electric, although a series three mistakes in five corners in Assen led to a crash for Vierge.
Especially Schrotter should be entertaining this weekend, as he looks to make up for a couple of missed opportunities for his maiden Moto2 podium in the last two races. Perhaps he will do as Pasini, and make his first Moto2 podium with a win in his home Grand Prix.
There is only one wildcard; Xavi Cardelus who, considering the action taken by Dorna over Jesko Raffin prior to this season, is perhaps quite lucky that he is still able to compete as a wildcard.