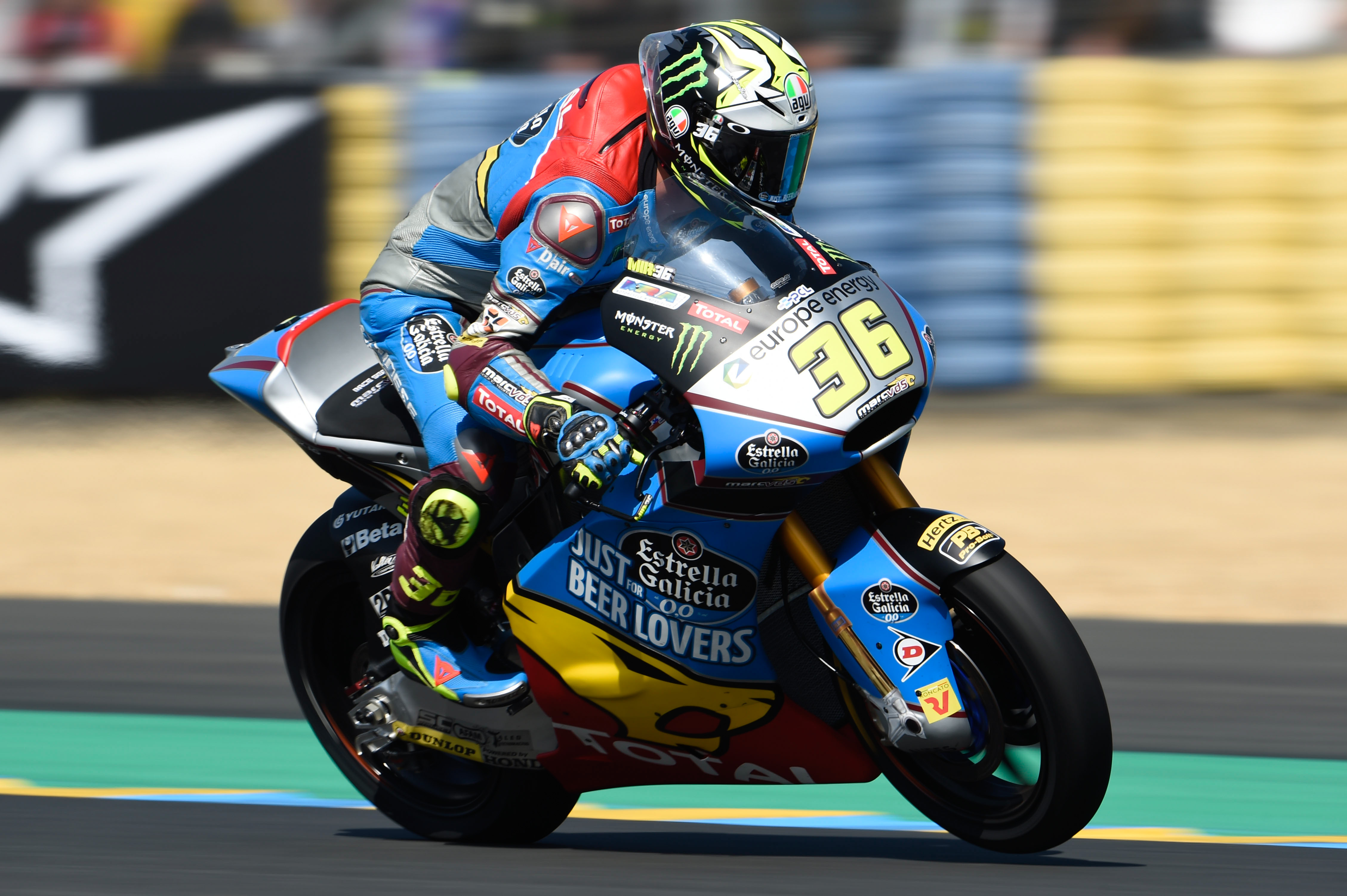 Drama arrived in the Moto2 class for the 2018 French Grand Prix even before the race had started: Xavi Vierge failed to make it out of pit lane before it closed due to a fuel pump problem. He had qualified second on the grid, but would now have to start from thirty-fifth and last.
But, either way, it was the pole sitter, Francesco Bagnaia who took the early lead, making a good start and taking a sweeping line through turn two to leave him out of range of his rivals when they got to turn three. Alex Marquez moved into second place off the start, as he looked to overcome Bagnaia for the first time in 2018.
From there, the pair moved clear of the pack. Many of the ingredients for a classic Moto2 duel were present: they were on equal bikes, with well-matched pace, there was the championship leader looking to further his dominance in the class and one of his rivals looking to take back precious points in the title chase. However, it never materialised. The gap fluctuated, Marquez stealing a tenth here, Bagnaia taking one or two back there, but ultimately Marquez was never able to get close enough to challenge the Italian for the victory, despite Bagnaia struggling with tyres towards the end. With two laps to go, Marquez backed the pace right off, dropped three seconds back and consolidated his second place, leaving Bagnaia free to take his third victory from the opening five races.
It has been a good opening to the season for Pecco, the three wins being enough to put him at the top of the championship by twenty-five points, one race win. But it seems that not many people expected it. There were many people offering sceptical views of Pramac Ducati's pre-2018 signing of Bagnaia for the 2019 MotoGP season, but it is fair to say that the five-times Grand Prix winner has proven those doubts wrong in the first part of this season – now he just needs to continue like this, and he will be eager to especially in the immediate future, as Mugello is next up, his home race.
The second place of Alex Marquez helped to support the idea that he could be Bagnaia's closest challenger for the championship this season. The Spaniard has finished in the top five in all but one race and probably would have won in Qatar had he not had the problem with the rear brake. He has been the most consistent rider, pace-wise this season, but is at the minute being let down in the standings by his crash in Jerez. However, things like this usually even themselves out during the season so, although he is thirty-one points back in the championship at the moment, there is still a long way to go for Marquez to make that ground back up. With the way his brother is going in MotoGP, should Alex take the intermediate class crown this year, it could be a full repeat of 2014 with the pair winning their respective championships.
Time is all that was ever going to stand between Joan Mir and most things in racing, and the same can be said for his first Moto2 podium, which he took with finesse and grace as he recovered from a bad start which he claims cost him a shot at the victory. It is easy to believe the reigning Moto3 World Champion in this, too, since he was able to match or better the pace of the leading pair once he got some clear track. The first podium is well deserved, and the first win cannot be too far away and his performances are only strengthening rumours of a move to MotoGP with HRC in 2019 to replace Dani Pedrosa.
Marcel Schrotter took his best finish of the season with an "under the radar" fourth position. But it was his teammate, Xavi Vierge, who took the honour for "ride of the day", not just in Moto2, but across all three classes. He started thirty-fifth, but within just a couple of laps he was into the points, and well on his way to the top ten. A couple of massive, clean lunges up the inside at the turn 3-4 chicane later and he was deep into the top ten, chasing down Schrotter having just passed Miguel Oliveira. However, his charge was halted by worn tyres, no doubt stressed more than everyone else's by the charge through the pack he had just conducted. He faced some more pressure from Oliveira's tyre-friendly KTM at the end but he held on for fifth. The shame is, that he could have won had he started where he qualified.
Sixth place for Miguel Oliveira was not what he would have hoped for coming into the French Grand Prix weekend, but it did show a significant improvement from the previous year's Le Mans result. It was also enough for Miguel to move into second in the championship, his consistency proving vital in the first part of this season, where the KTM has seemed to struggle compared to the end of last year. What is notable, on this front, is that both the KTM MotoGP and Moto3 bikes have shown significant improvement in the first portion of this season, and perhaps the resources required to make those gains in the lightweight and premier classes have taken away from the intermediate class effort from the Austrian marque. With that said, expect the KTM development train to stop at the Moto2 shed reasonably soon. Anyway, Mugello is next and Oliveira took his, and Portugal's first Grand Prix win at the Italian track back in 2015 for Red Bull KTM Ajo, so maybe his championship fight back will start there.
If Marcel Schrotter's ride to fourth place was "under the radar", Romano Fenati's seventh place was positively subterranean, made so by Mir's podium. It's a shame, really, but it looks like Fenati is finally starting to get on top of his rear tyre wear issues which have been a problem, as they so often are for Moto2 rookies, so far this season. It is a good way for him to go to his home Grand Prix.
Fabio Quartararo managed to take his best Moto2 result since Qatar 2017 with eighth place at his home GP. Whether this is a fluke, or he can build on it remains to be seen, but Fabio is still sitting in the hole dug out for him by his 2015 ankle-break in Misano and it would be nice to see him escape it.
Ninth place went to Brad Binder, who is still having a mysteriously difficult season so far. His race was hampered by Lorenzo Baldassarri's crash, which he and teammate Oliveira both had to go wide at turn four to miss. But whilst Oliveira recovered to sixth, Binder didn't, and in the end finished six seconds behind his teammate.
1.8 seconds behind Binder was Stefano Manzi, who had by far his best result since Silverstone last year with tenth place. It was a surprise because Manzi hadn't looked to be getting on with the Suter at all, but this race might just give him the confidence he needs to push on and aim for bigger and better things.
Hector Barbera took his best Moto2 result with eleventh place, ahead of Andrea Locatelli who did the same as Barbera – encouraging progress for Loka. Sam Lowes was a disappointment as he finished thirteenth, and he will look to get back on track in Mugello, a track he adores. Simone Corsi finished fourteenth and Khairul Idham Pawi, somewhat surprisingly but also promisingly, rounded out the points.
16th place went to Bo Bendsneyder who also got a time penalty, without which he still wouldn't have finished in the points. Steven Odendaal was seventeenth, ahead of the remounted Mattia Pasini who crashed at Garage Vert early on but continued to eighteenth (a frustrating throwback to the beginning of last year from Paso). Joe Roberts and Jules Danilo, in his home race, rounded out the top twenty.
Twenty first went to the second disappointing British rider of the weekend; Danny Kent, who finished 2.3 seconds ahead of Moto2 new-boy and Finnish Supersport (kind of) superstar, Niki Tuuli. Lukas Tulovic, still replacing Domi Aegerter, was twenty third, ahead of wildcard Corentin Perolari, Tetsuta Nagashima, Xavi Cardelus and the twenty seventh and the final rider to take the chequered flag;  Cedric Tangre.
Federico Fuligni, Hector Garzo, Lorenzo Baldassarri, Iker Lecuona, Jorge Navarro, Eric Granado and Isaac Vinales were the retirements. Luca Marini also retired for pain in his shoulder. He was never planning to race, but completed two laps so that he could get use six-place grid penalty from Jerez so that it wouldn't have to be applied in Mugello.
A fairly dull French Grand Prix resulted in the confirmation of what we already knew: Bagnaia is the strongest, Marquez is just a little bit away, Oliveira is waiting and Mir is scarily fast. Mugello awaits, and after only Italian winners in the intermediate class so far in 2018, you would be hard pressed to find someone betting against a tricolore being hoisted above the top step of the Moto2 Italian Grand Prix rostrum in less than two weeks' time.