In 2016, Dorna's vision was realised, where unified ECU software regulations were implemented in the MotoGP World Championship. The regulations had the desired effect, closing up the pack and making the field more competitive than ever before. The last two seasons, 2016 and 2017, have been incredible. Ten different race winners in 2016, followed by a final round championship decider in 2017 spoiled us MotoGP fans,  but this year we are paying the price.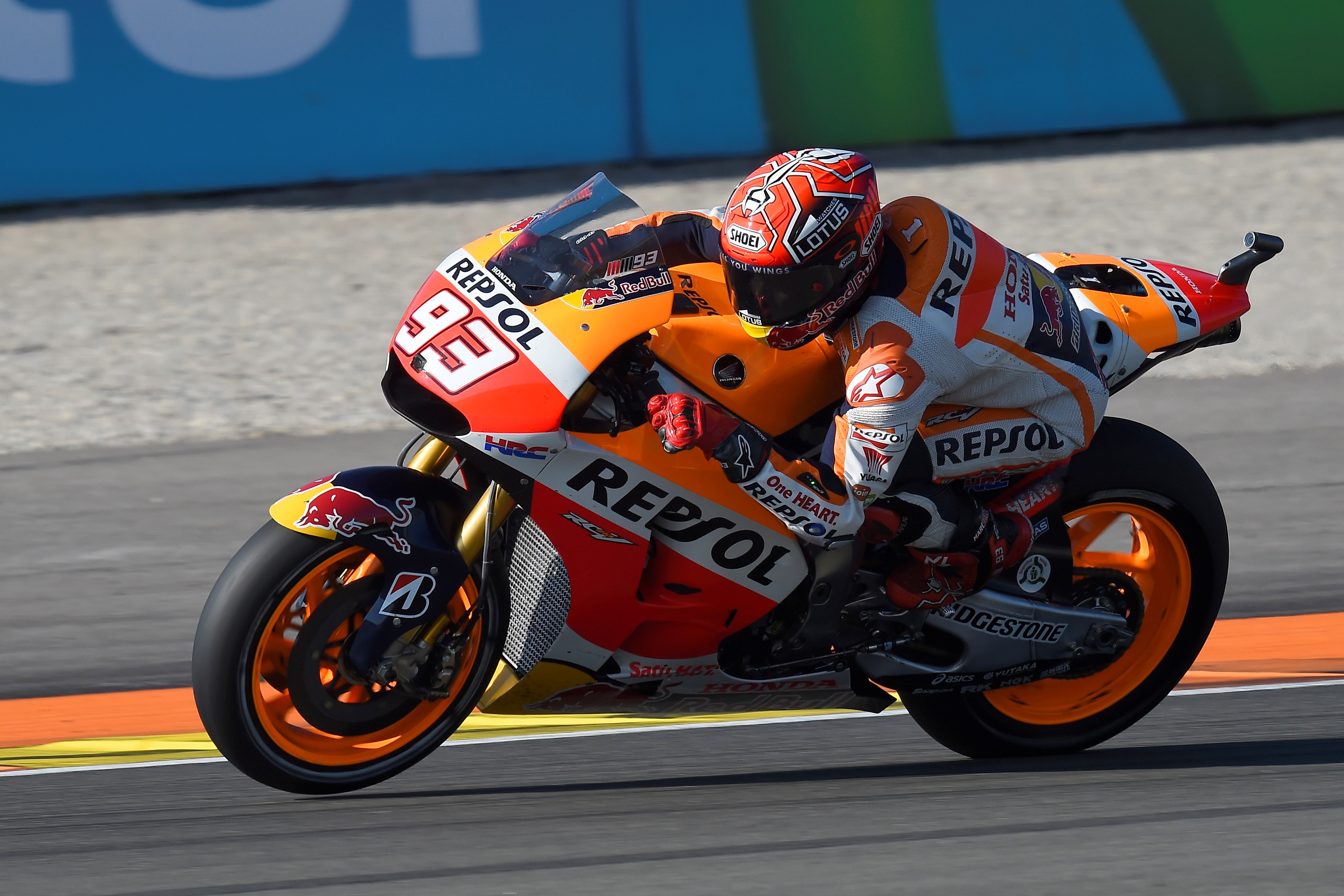 But that is not anyone's fault. Whilst Marc Marquez won the last two World Championships, he did not dominate them – at least not in terms of pace. There was no big speed or pace advantage that the Spaniard enjoyed for most of the season, like 2014 for example. But, in 2018, that has changed, because for the first time since that ridiculous 2014 season, Honda have built a motorcycle that does not have a major disadvantage. In fact, it is possible to say that, this season, the Honda is the best bike on the grid. Since 2015, the RC213V struggled with acceleration, initially because the engine was purely too aggressive, but then, when the unified software was introduced, it was marrying that motor with the Magneti Marelli ECU which proved the downfall of HRC. A big change came for 2017, though, when Honda switched from a 'screamer' to a 'big bang' engine, moving in line with the rest of the grid. The comparative smoothness of the big bang compared to the old screamer engine, which Honda was able to use in the past because their in-house electronics system was so sophisticated, meant that it was much more controllable for the ECU, which negated much of their disadvantage in acceleration from the past two seasons, but it was still apparent. One year on, and the acceleration deficit has almost entirely disappeared. Aside from Austin, where Cal Crutchlow complained about acceleration, and Jerez when Dani Pedrosa had similar issues, 'acceleration' has not been a prominent word in the 2018 vocabulary of the factory Honda riders. That has led to one thing: Marc Marquez domination.
From the moment Qatar ended, it was clear that the Spaniard was going to be hard to beat this season, and his pace in Argentina and Texas was simply frightening. But the two continental American rounds were somewhat insignificant, because Marquez is always fast at those two circuits. But, Qatar remained a worrying event for the rest of the field; Marquez had not been on the podium in Qatar since he won back in 2014, so to be less than one tenth of a second off the victory was something of a warning shot from the reigning champion to his rivals. That was born out in Jerez, where he took a commanding victory at a circuit where, again he hadn't won since 2014. Le Mans became something of a final hope for the championship, especially with the non-score of Andrea Dovizioso in Jerez. Le Mans was another circuit where Marquez had not won since 2014 – he had struggled a lot post 2015. It was the chance for his rivals to hit back.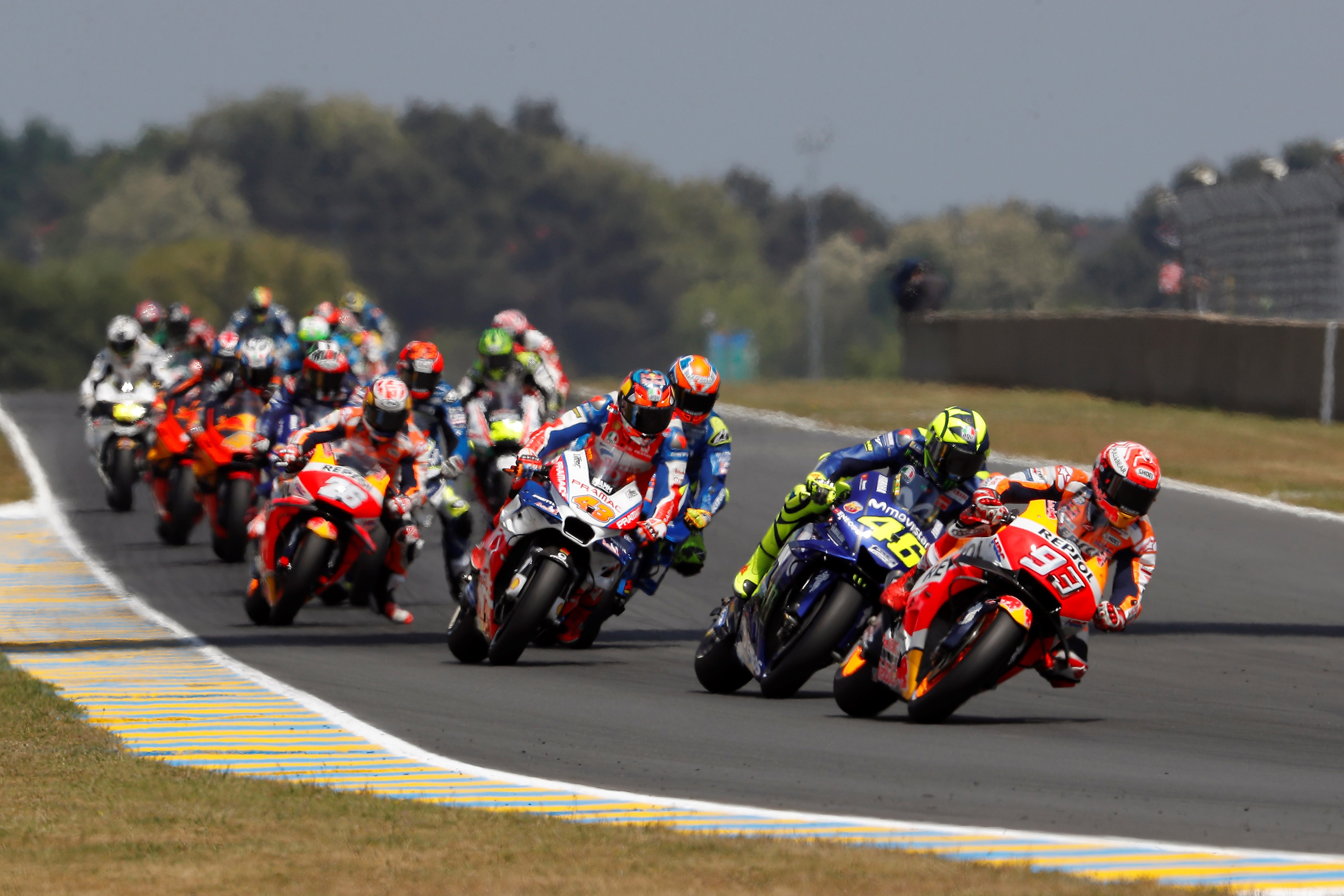 However, from Friday it became clear that it would not be the same as the past for Marquez, finishing FP2 on Friday in second place, just 0.168 seconds of Andrea Dovizioso despite setting his fastest time of the session on the hard rear tyre. And, whilst Dovi showed promising long run pace in FP4 on Saturday, the pace of Marquez on the hard rear tyre in warm up on Sunday morning was worrying ahead of the race. But, as you might expect, with the hard rear tyre Marquez suffered with temperature in the early laps of the race, and dropped a few positions at the start. As soon as he passed Danilo Petrucci, though, for fifth place, he jumped straight onto the back of the leading trio of Jorge Lorenzo, Johann Zarco and Dovizioso. Dovi knew the score, and he moved past Zarco and Lorenzo quickly, but just as quickly, he folded the front at La Chapelle; Dovi just got in there, too hot trying to make as much of a gap as he could before Marquez got through Zarco and Lorenzo behind. Unfortunately for Dovi, it was too much and it has probably ended his championship chances. But Marquez quickly got through Zarco and Lorenzo, helped by a crash for the Frenchman[Zarco], but by this point Danilo Petrucci had caught the leaders with Valentino Rossi in tow. Petrux was soon past Lorenzo, partly because he was after Marquez but also because he wanted to put a little bit more of his authority on the second 2019 factory Ducati contract. Rossi moved through on Lorenzo too, a lap later, and still had his sights set on Petrucci, though he knew Marquez was too far. That was the end of the action at the front.
From there on, Marquez kept Petrucci at a safe distance, Petrucci managed the gap to Rossi until the Yamaha rider had a couple of bad laps which cost him some time, after which Petrucci let Marquez go completely to conserve his second place. But the most important, of course, was the win of Marquez. The race had a real 2014 feel to it, with an explosive start after which Marc had to recover, and then a dull second half where the highlight was a, now, relatively routine save for the number 93 at turn three. This is worrying. We have had three years where Marquez has either not won the championship, or not won it with ease but 2018 seems different. Now Honda have sorted out the RCV, the reigning champion is reminding us of the reality, and in devastating fashion.
Already thirty six points clear of Maverick Vinales, the championship fight is over. You could say that this is a negative perspective to have, but, be honest, can you see anyone being able to claw back the deficit they already have? Vinales is 36 points back, and he just finished seventh; Zarco is 37 back and on a satellite bike; Rossi is 38 points adrift but bad results await the Italian in the next races and Andrea Dovizioso, who was the main threat to Marquez coming into this season is already nearly two wins back in the standings. Now, you can say that good tracks are coming for Ducati, but even if Dovi wins many races in the remaining part of the year, realistically he is going to need Marc to make mistakes, and in races Marc does not make mistakes, generally. So, essentially, without a major anomaly, Marquez has the championship won.
The next question is: can anyone beat him in the remainder of the season? Maybe Danilo Petrucci could. He finished second yesterday, with an outstanding ride. It is debatable how much Marquez was pushing after he extended his lead, but nevertheless, Petrucci kept Marquez within reasonable range for the majority of the race, which, as was proved in Jerez and Austin, is not an easy task. Furthermore, Petrucci took the points neither Dovi nor Lorenzo could pick up for Ducati. When the pressure has been put on Danilo, when contract season has arrived, Petrux has turned up, and he is making it difficult for Ducati to let him go. Mugello is next, and it was third place for Petrucci last year and after this result, he will be full of confidence that he can take the top step this time round.
The third place of Rossi came as a surprise. He lucked into fifth two weeks ago in Jerez, and it was a similar case this weekend. However, unlike in Jerez, it was individual mistakes that gave Rossi the podium in Le Mans. It has to be said that he deserved the podium, the weekend had gone in a similar vein to Jerez, although not as extreme, for the Movistar Yamaha team. They were fast in the cool temperatures of the morning, but in the afternoon they struggled. This was highlighted on Saturday, when they were first and third in FP3 in the morning, but only managed eighth and ninth on the grid. Modifications made in warm up on Sunday morning proved a success for the number 46 and they gave him the grip and acceleration gains required to allow him to fight. But the problems for Yamaha are not over, not nearly, and Rossi was under no illusion about the struggles he and the Movistar Yamaha team are going to face in the next races, but he will hope the test in Barcelona this week will help them continue the progress.
Maverick Vinales will be hoping for progress, too, after his seventh place in Le Mans. He is second in the championship after the French Grand Prix, but nobody really knows how. The Spaniard has finished fifth, fifth, second, seventh and seventh, so his current standing is a surprise to everyone. The problem in Le Mans was the same as usual for Maverick: a poor qualifying followed by a poor start and average pace on a full tank limiting the damage he could do at the end of the race to nothing. The frustration is that at the end of the race he is always fast, he and his team just need to find a way to make him comfortable on a full fuel load, and that has to be their focus in Barcelona for the test. The fourth place of Jack Miller in France was the result of a stunning ride. He ended the race just six seconds behind Marquez, one second behind Rossi and, importantly, two positions and four seconds ahead of Lorenzo on the factory bike. As Petrucci, Miller is making it difficult for Ducati to turn him away from the factory seat for next year. Furthermore, Miller reckoned that with an extra lap or two he could have passed Rossi for the final podium spot. Unfortunately, Jack made a couple of mistakes and they ultimately cost him, but for sure he will be wishing the organisers did not shorten the race by one lap for this year. Dani Pedrosa took fifth place in France. He put a move on Jorge Lorenzo for that fifth position which was very similar to the one which he tried in Jerez, which resulted in him colliding with Lorenzo and high siding. This time it was more successful for the number 26, though, and he made the move as clean as you like. He will be hoping for improvements in the future, but right now Dani just needs to find some consistency after a disrupted start to the season.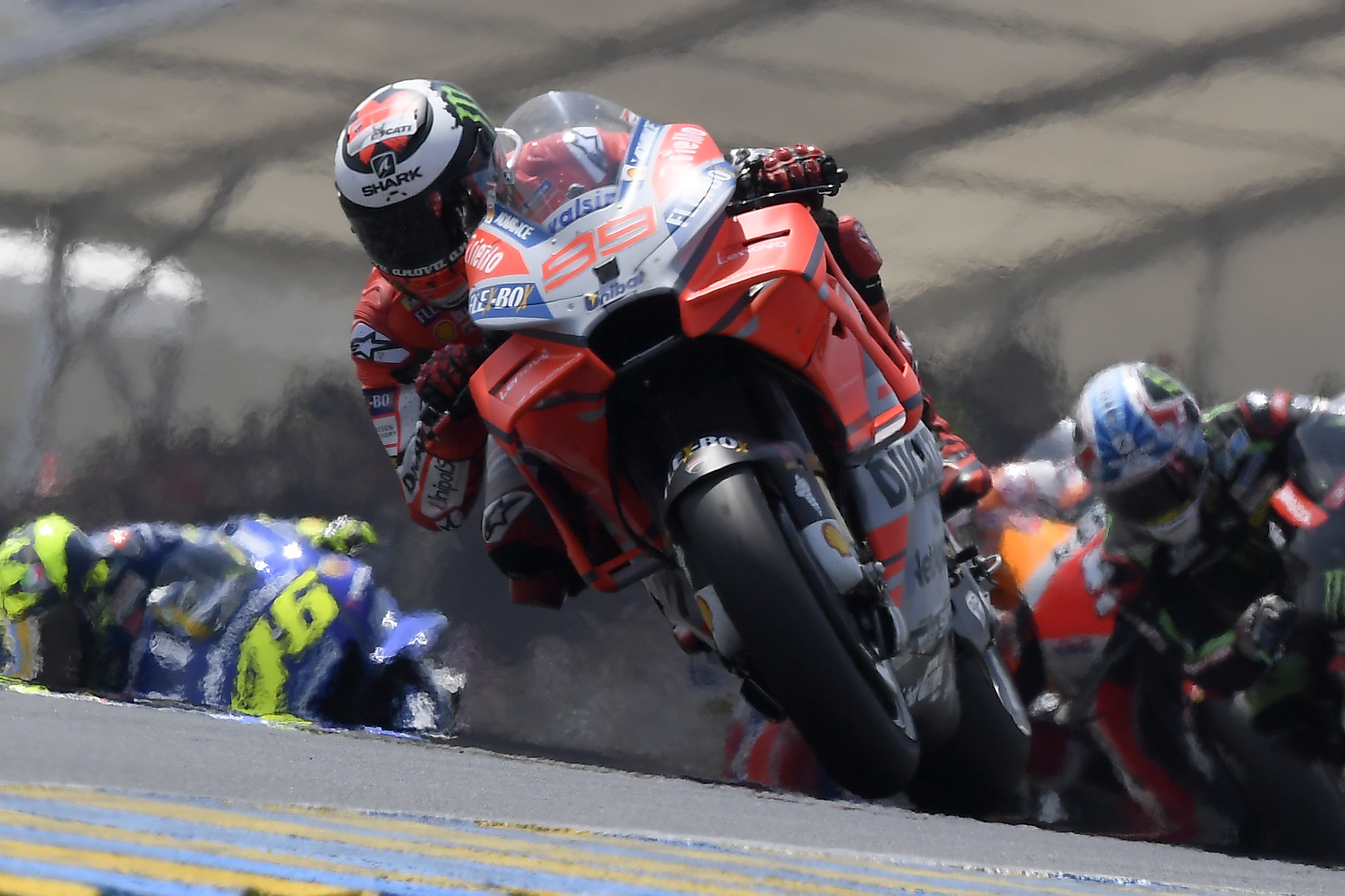 There was no positivity for Jorge Lorenzo, though. He started the race well, leading nine laps, but after he was passed, he collapsed, falling to sixth by the end of the race. Lorenzo blamed ergonomics of the Ducati GP18, saying that the fuel tank doesn't offer him sufficient support in braking, which leaves him too tired by the end of the race. Being beaten by both Pramac rider won't help his chances of staying in Ducati in 2019, but with his favourite track up next, Mugello, he could redeem himself at the Italian Grand Prix.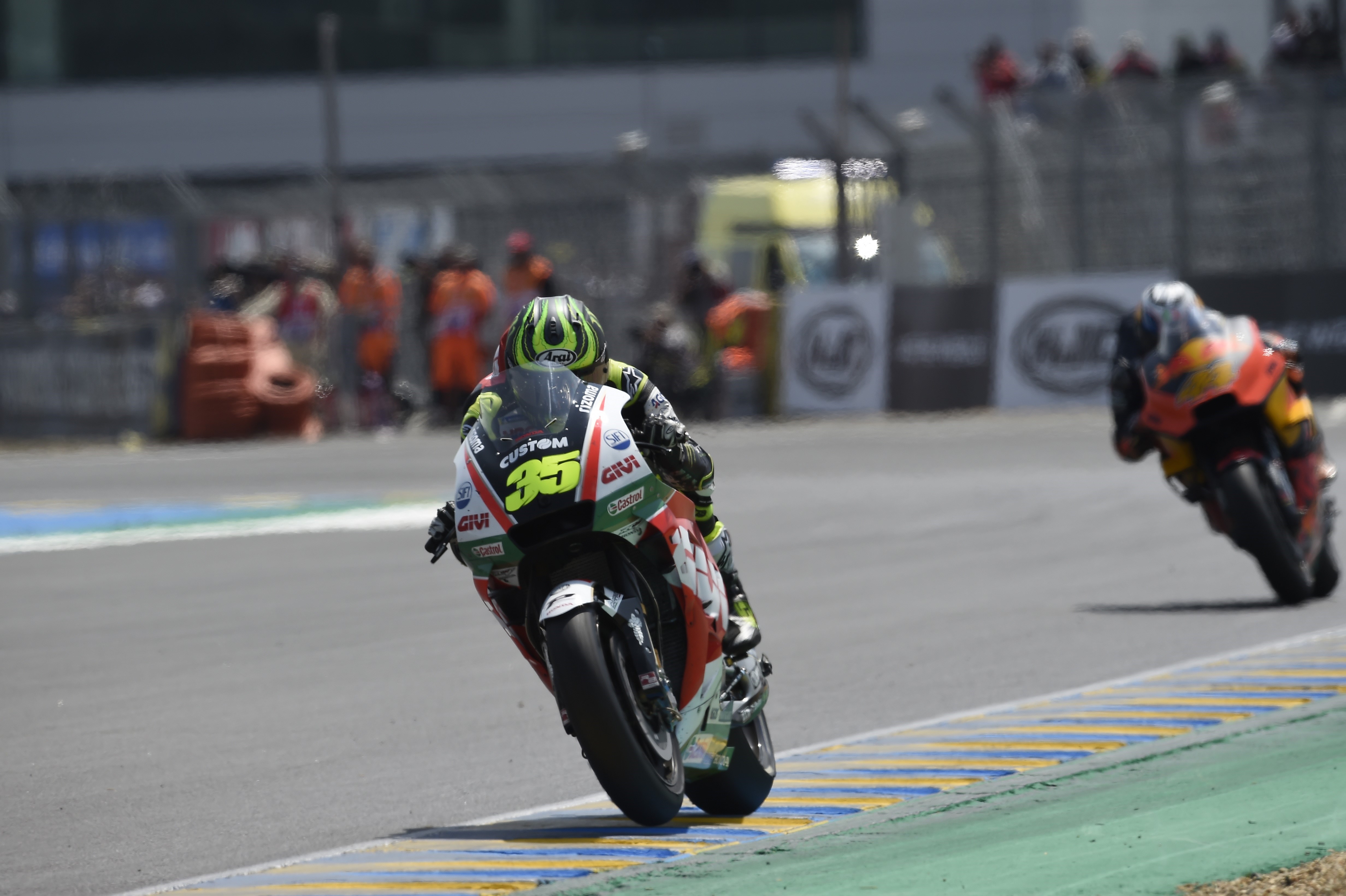 Cal Crutchlow spent the night in hospital on Saturday after his high side in Q1 at Garage Vert. He had blood in his lungs, and several other internal injuries, but just six hours after he was discharged from hospital he was on the grid and he finished eighth, just two seconds from last year's winner, Vinales. Before Mugello it will be important for Cal to recover, especially for a circuit which is so physical, with many changes of direction. Ninth place went to Aleix Espargaro, who will have just been happy to finish after such a difficult start to the season. It was a good finish, too, ahead of Alex Rins on the factory Suzuki who rounded out the top ten, and the finish was just as important for Alex as Aleix, as the number 42 had also only had one finish from the opening four races. The pair will hope that from now they can build some consistency into their seasons, although there is nothing to lose for either of them, as they both have contracts for next year to stay put in their respective teams.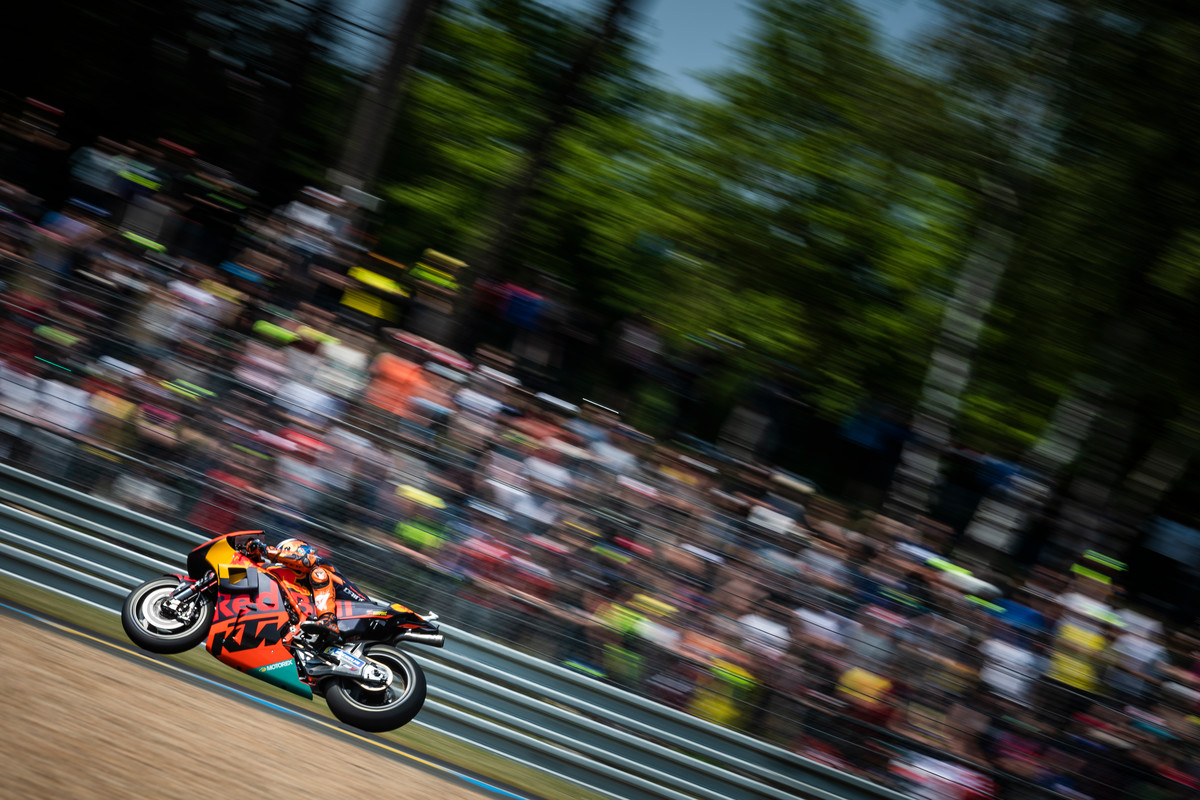 Pol Espargaro took KTM's best finish of the season in eleventh place, and the result showed the progress KTM have made since Le Mans last year, as their race time was 20 seconds faster than 12 months ago. Hafizh Syahrin took twelfth place as he returned to more regular form after a difficult Jerez where he suffered with injury. Thirteenth went to Franco Morbidelli, who was running
as high as ninth before his tyre let go. The final result is not what he will have been after, but the weekend shows continued progress for the reigning Moto2 World Champion. Bradley Smith and Takaaki Nakagami rounded out the points, and fifteenth will be a welcome result for Taka, after an injury sustained on Friday. Andrea Iannone's slim Suzuki chances for 2019 perhaps went up in smoke on Sunday when he crashed at La Chapelle on lap one. The next lap Iannone was joined on the side lines on the next lap by Alvaro Bautista, who felt he had the potential for a top ten, and then Dovizioso two laps later. Zarco fell with 19 laps to go, and the final fallers came on lap ten when Scott Redding and Tito Rabat fell.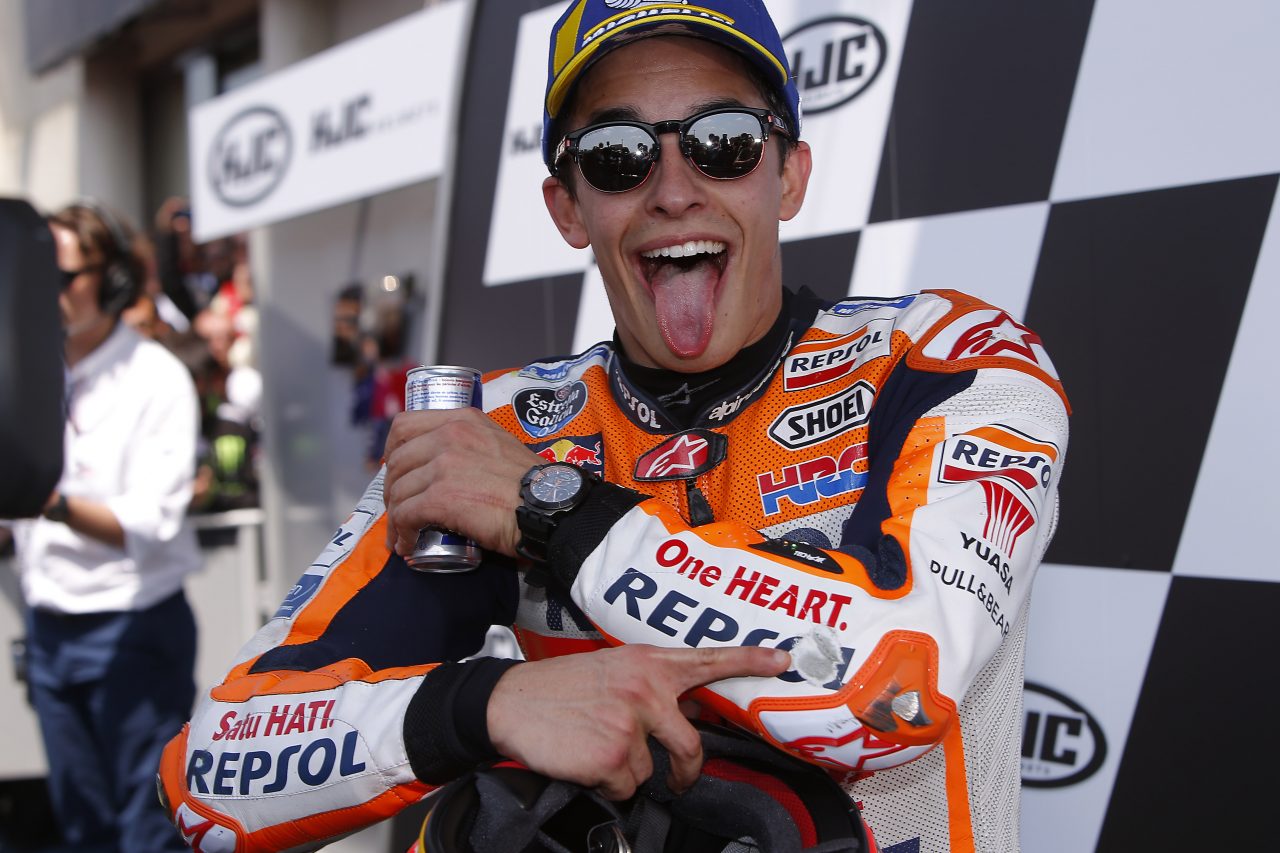 A race which started with a stunning double overtake from Johann Zarco in turn three and turned into a fairly dull affair has potentially decided the championship. There are still fourteen races to go, but the worrying thing is that they could all follow the same path. The 2018 MotoGP field is perhaps the most competitive in years, but it is at risk of producing one of the most predictable seasons. Maybe something will change when the paddock arrives in the home of the Italian Grand Prix in Mugello in two weeks time.
Featured Image courtesy of Hondanews.eu